Looking for a delicious and comforting casserole that will have everyone at the table asking for seconds? Look no further than our corn pudding casserole! Made with yummy corn with a creamy pudding texture and topped with cheesy goodness, this casserole is sure to become a new family favorite. Once you taste this recipe, your taste buds (and your loved ones) will thank you!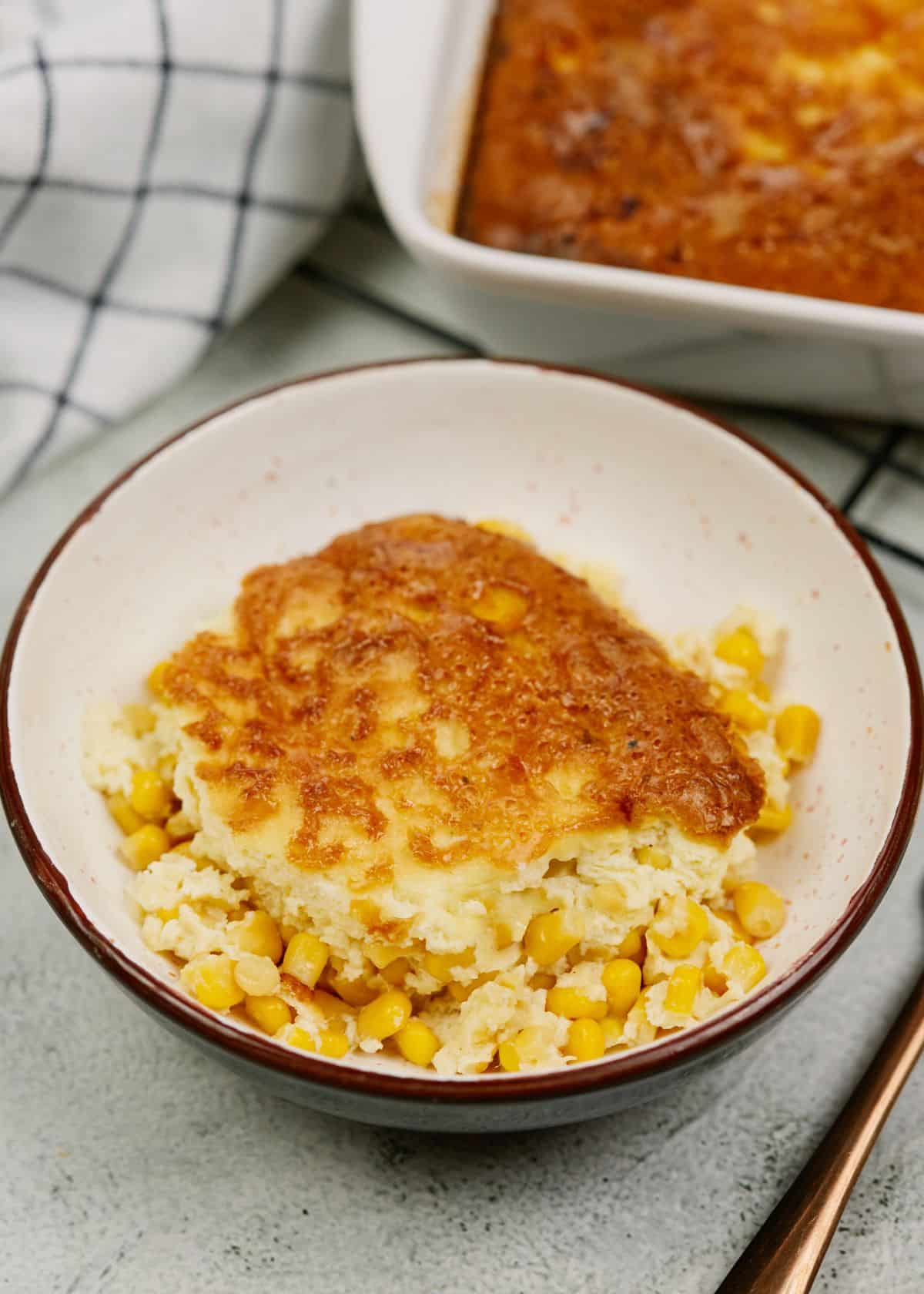 Jump to:
Corn Pudding Casserole
Looking for a delicious and easy side dish to serve at your next holiday party? Look no further than this corn pudding casserole! This recipe is simple to follow and can be made ahead of time, so you can focus on the rest of your meal. Plus, it's sure to please even the pickiest of eaters.
Whether you are looking for a simple side dish for dinner or you need a recipe to bring your holiday dinner over the top, this recipe is exactly what you need. So give this casserole a try next time you're in need of a tasty side dish!
Want another tasty side? You might want to try this Paula Deen corn casserole or this delicious twice-baked potato casserole too!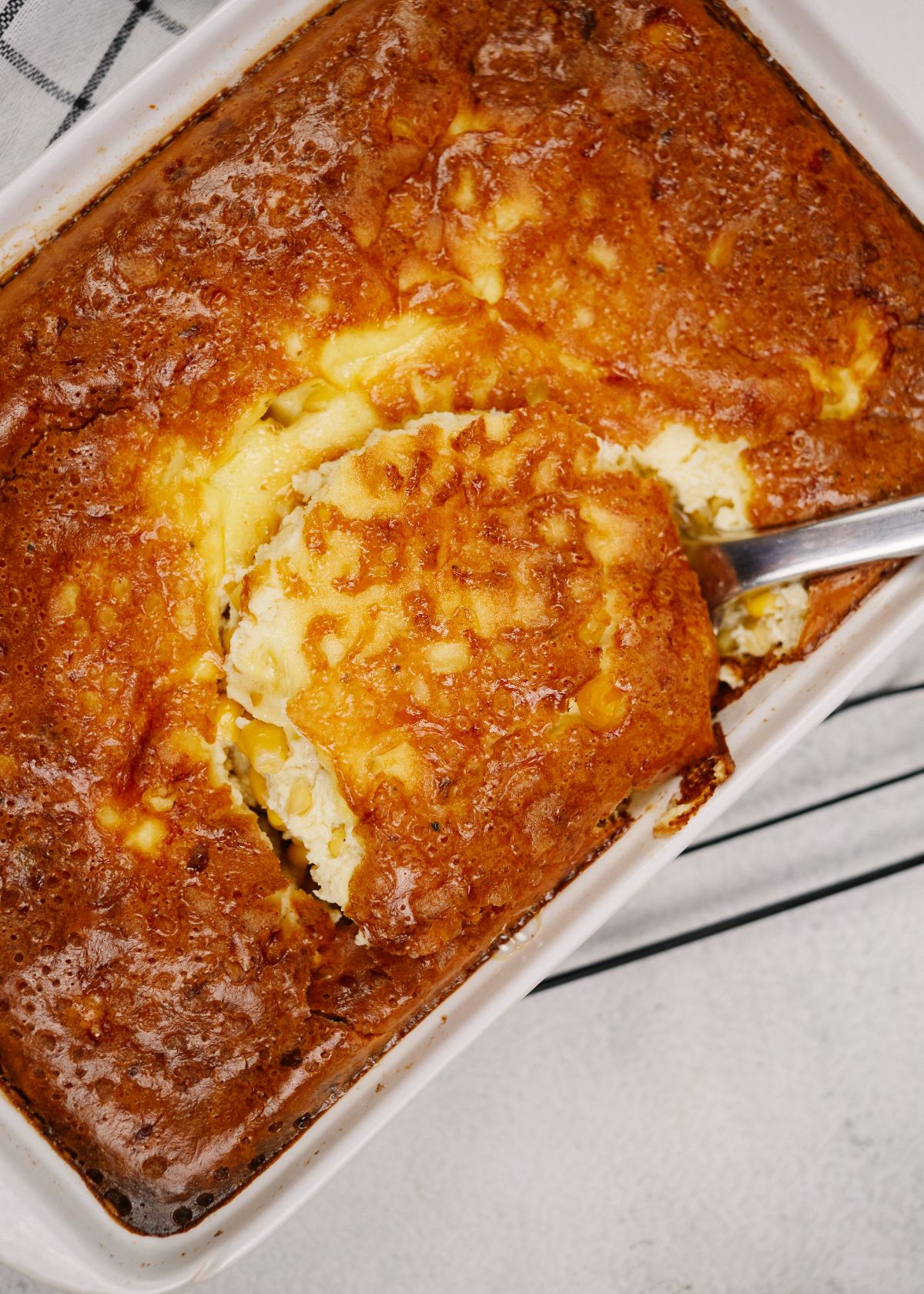 Ingredients
6 large eggs
3 cups whole kernel corn, drained (492g)
¼ cup salted butter, melted(56g)
4 tablespoons cornstarch (30g)
⅓ cup sour cream (82g)
1 cup chicken stock (250ml)
1 ½ cups cream cheese (180g)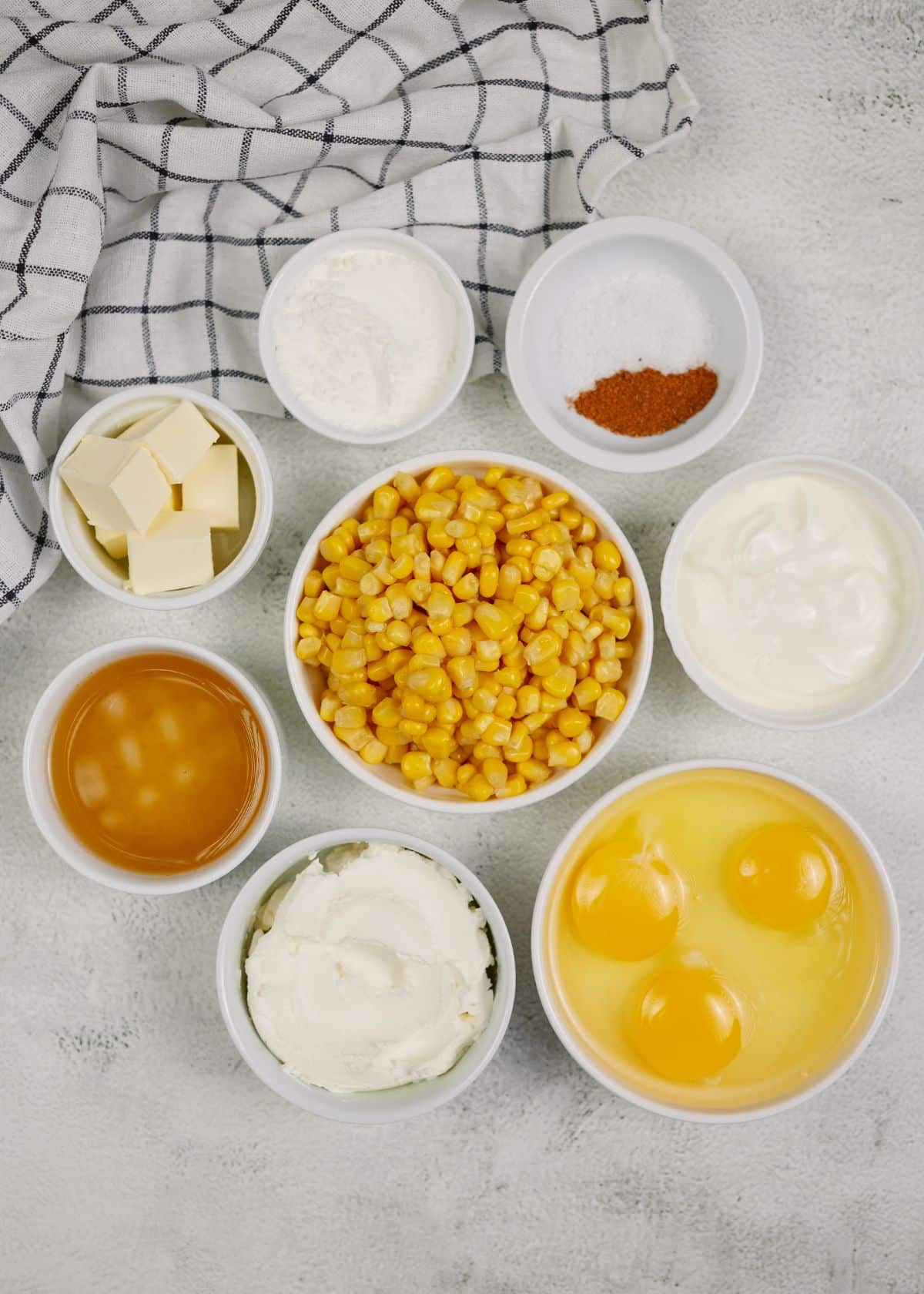 Useful Kitchen Tools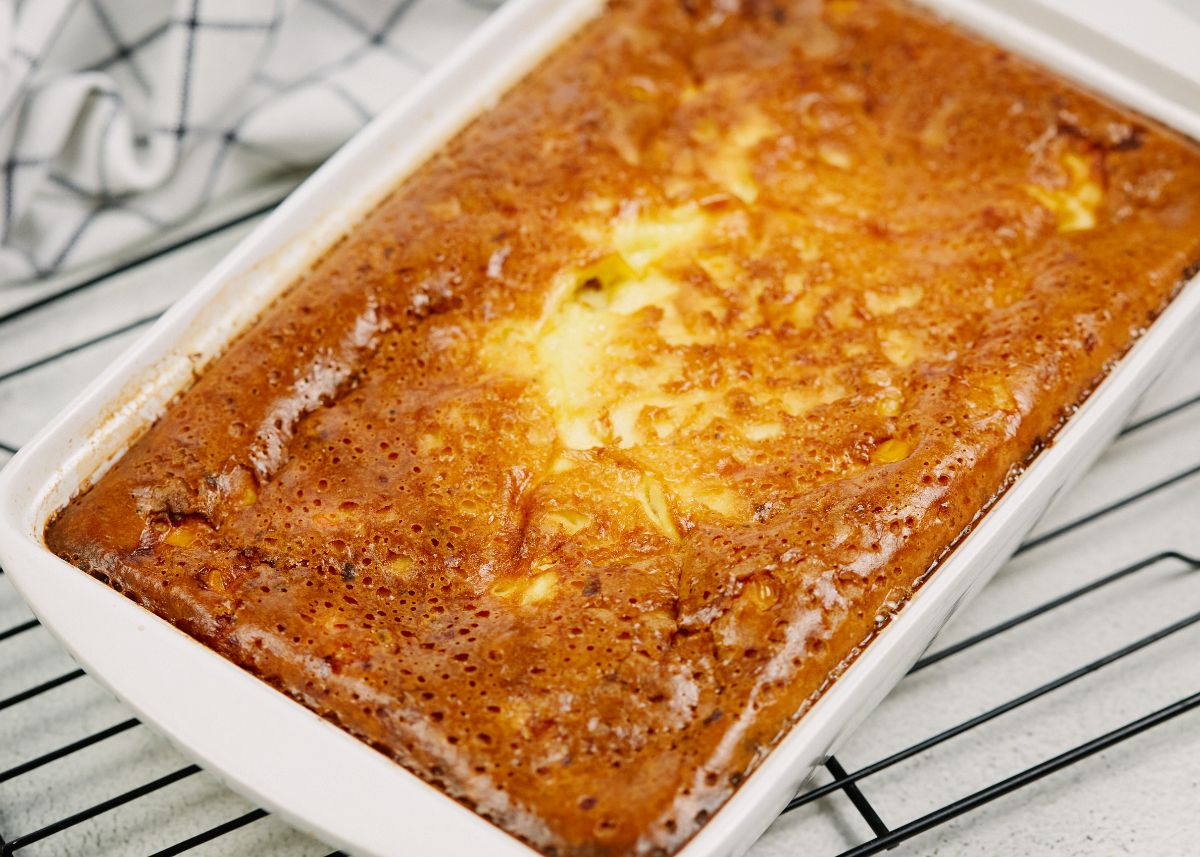 How to Make Corn Pudding Casserole
Video Recipe
Rinse and drain the whole kernel of corn and set it aside. Then, spray a baking dish with non-stick spray. This fits easily into a 9"x13" baking dish. Set this aside.
Now, in a large bowl, you will combine the softened cream cheese, sour cream, cornstarch, salt, and black pepper together until smooth.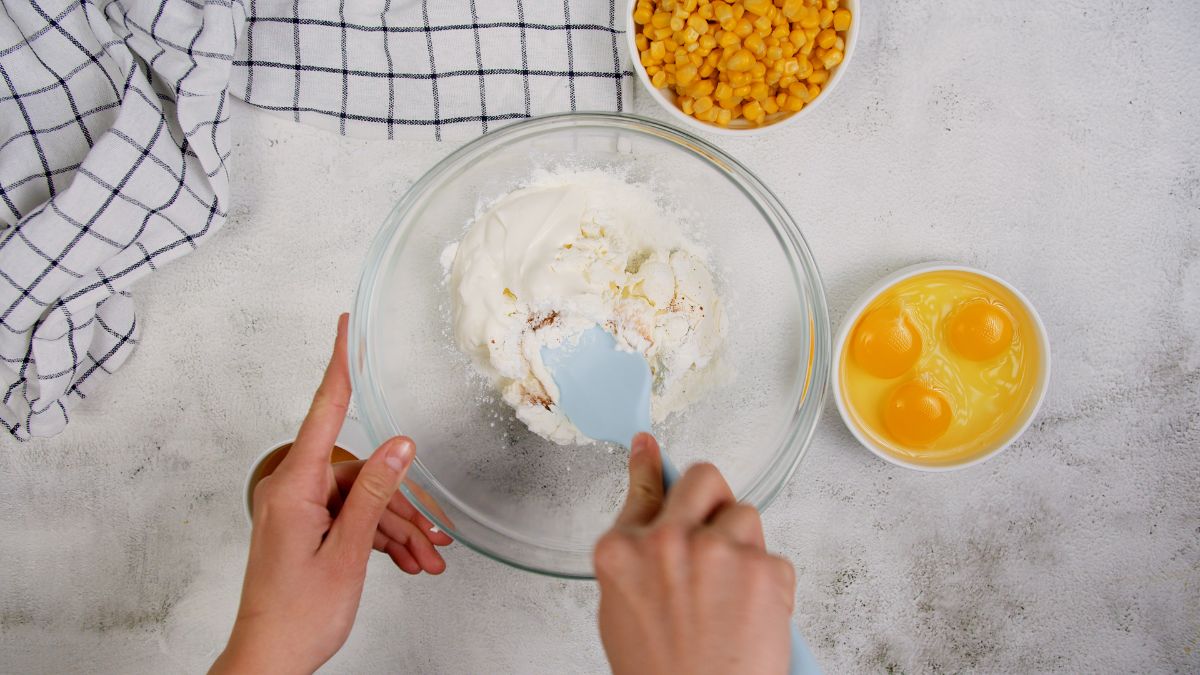 Then whisk in the eggs and cooled melted butter until no lumps remain in the mixture.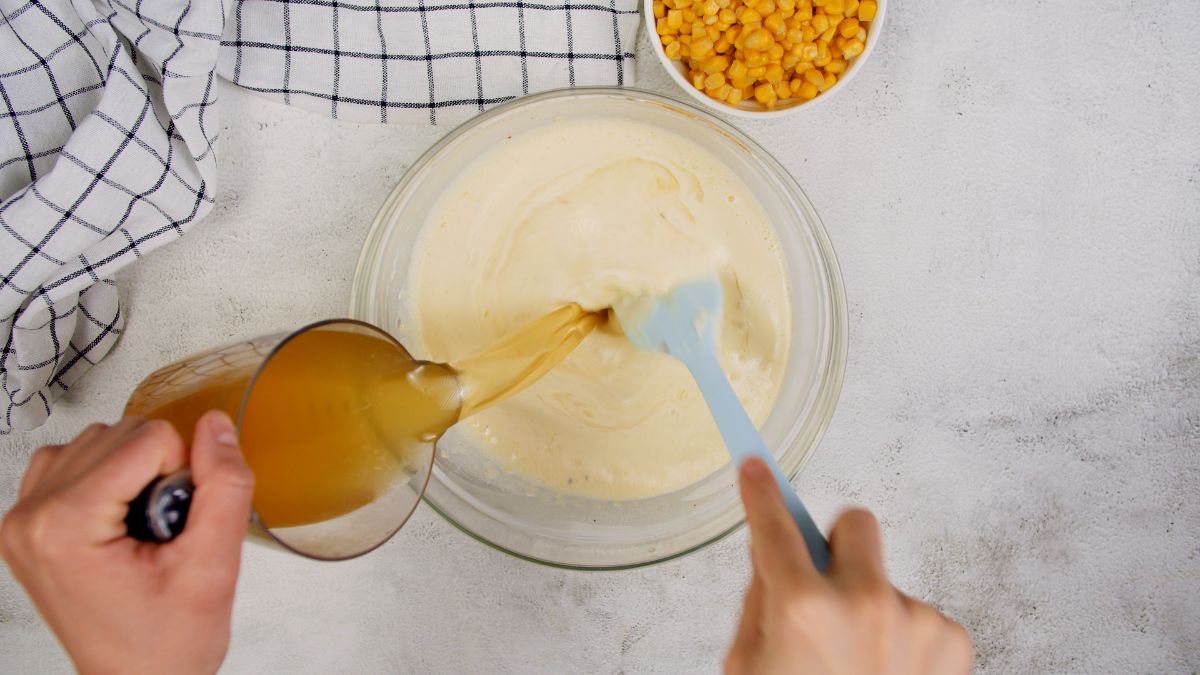 Spread the corn into the bottom of the baking dish.
Then pour the egg and cream cheese mixture over the corn.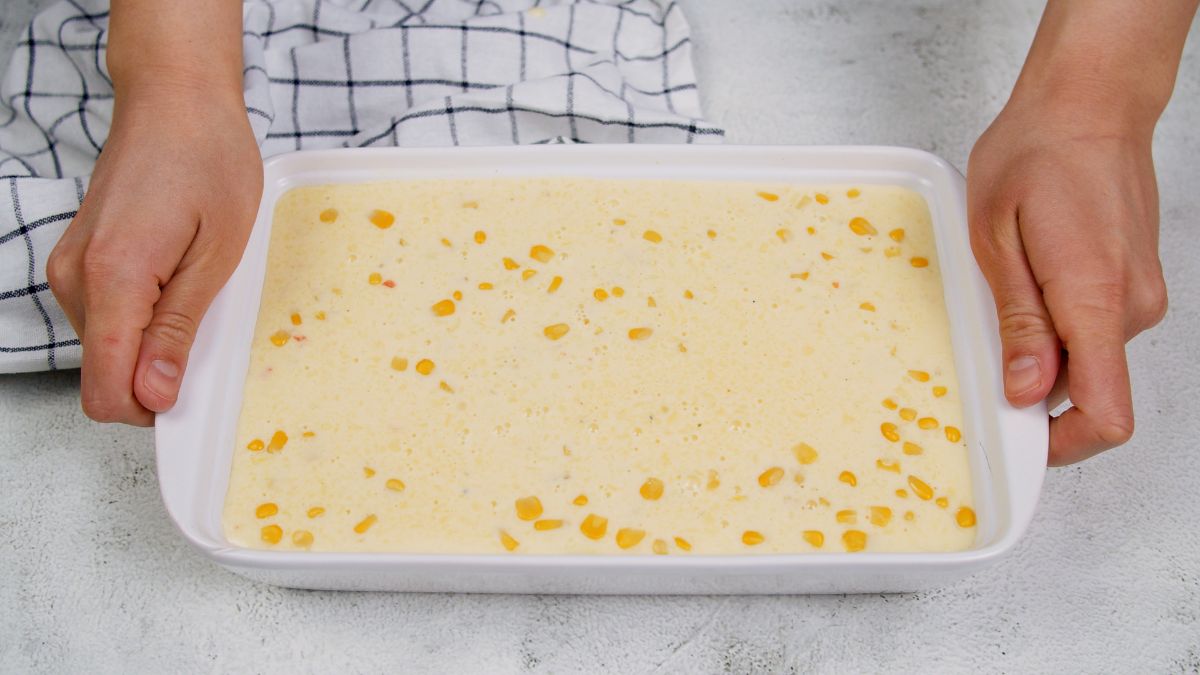 Bake this for 1 hour until it is set in the middle and golden brown on top.
Note: if desired sprinkle the top with shredded cheddar cheese before baking.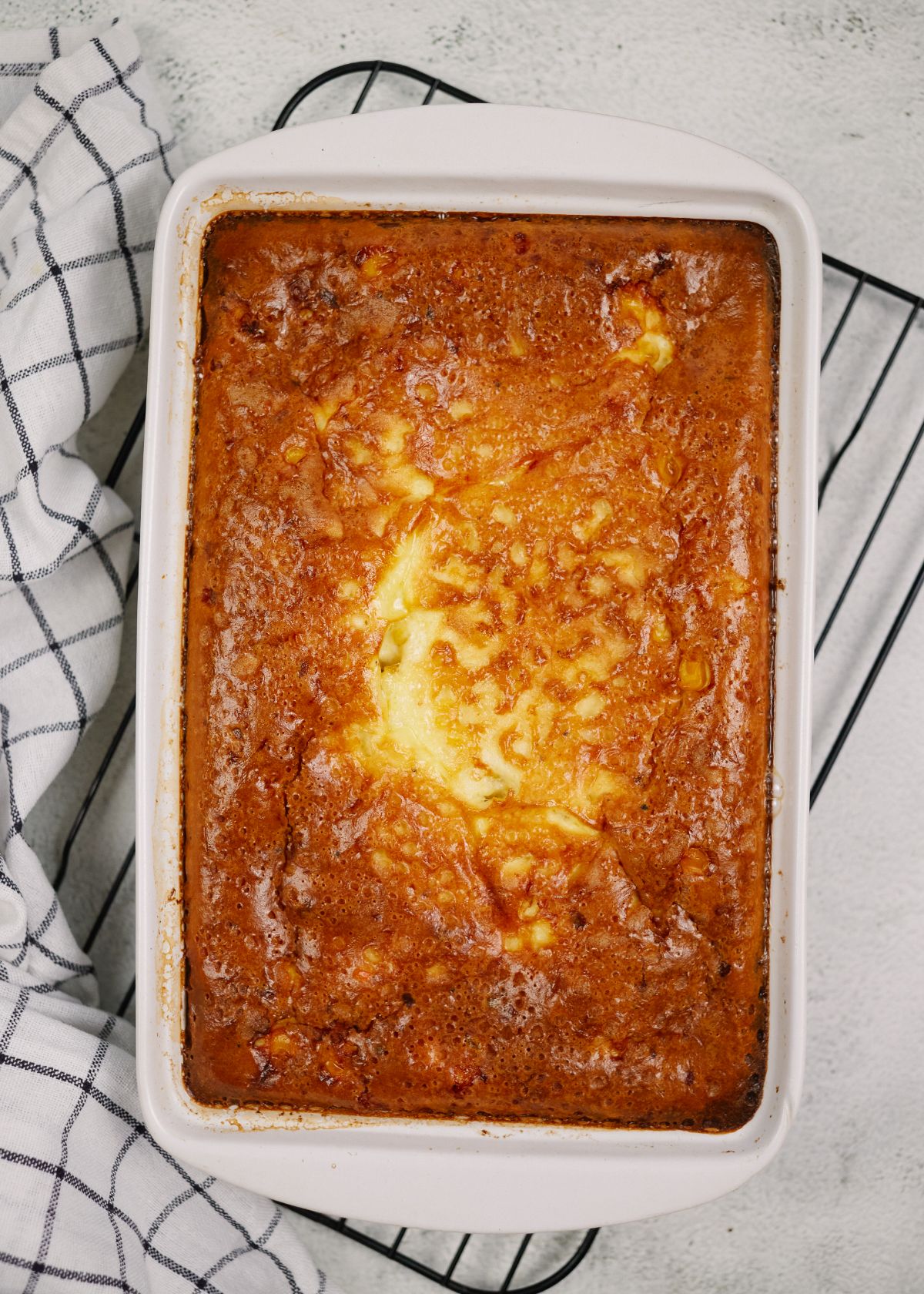 Frequently Asked Questions
Is Corn Pudding the Same as Cornbread?
No, corn pudding is not the same as cornbread. Corn pudding is a custard-like dish made with eggs, milk, and cornstarch, while cornbread is more like a quick bread, leavened with baking soda or baking powder. Both dishes include corn, but cornbread is typically made with cornmeal while corn pudding includes whole kernel corn instead. The texture and flavor are quite different.
Why Is It Called Corn Pudding?
The name corn pudding comes from the fact that this dish is custard-like, or pudding-like. It's made with eggs and milk, which gives it a thick and creamy texture. The addition of whole kernel or cream corn adds texture and flavor to the pudding giving it some body.
What Does Corn Pudding Taste Like?
Corn pudding tastes like a cross between cornbread and custard. It's creamy and dense, with a slight sweetness from the corn. Typically, corn pudding is flavored with butter, salt, and pepper. The mixture is combined with sour cream and cream cheese. This creates a delicious flavor that mixes well with the sweet corn.
Do You Put Eggs in Corn Pudding?
Yes, you will put eggs in the corn pudding. This will help to bind everything together and create a smooth, creamy texture. Without the eggs, your corn puddings will be more like cornmeal mush. Eggs and milk are the base of most custards and puddings, and the same applies to this delicious side dish casserole.
How Do I Know When Corn Pudding is Done?
When corn pudding is done, it will be set in the center and slightly jiggly. You don't want it to be too firm, as this will result in a dry pudding. You also don't want it to be too runny, as this will make it difficult to eat. The best way to test for doneness is to insert a toothpick into the center of the pudding. If it comes out clean, then the pudding is done.
Can I Freeze Corn Pudding?
Absolutely! You can easily freeze corn pudding after it has been baked. Just bake as directed, then allow it to cool completely. I prefer to cut it into portions and wrap each piece individually in plastic wrap. Then they can be stacked in a freezer storage bag or a freezer storage container. Just make sure to date and label this before it is frozen. It can be frozen for up to 3 months. Thaw overnight in the refrigerator or reheat in 30-second increments in the microwave before serving.
Like tips like this? Then check out my latest cookbook, The Complete Cookbook for Beginners. This book is filled with essential skills and step-by-step techniques that are ideal for new home cooks.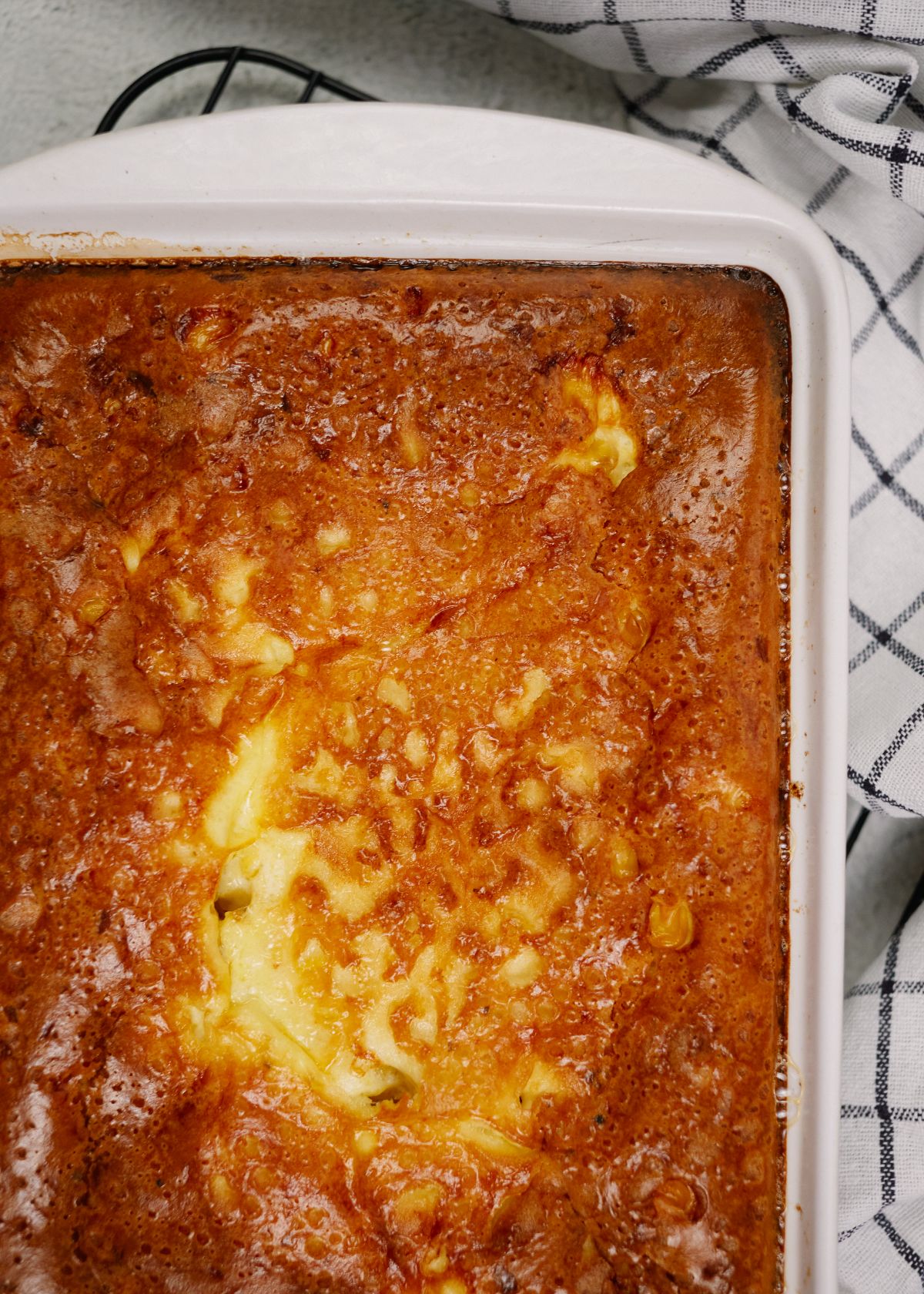 More Easy Vegetable Casseroles
Need more ideas to serve as sides to your main entree? Don't miss some of my own favorite casserole recipes below that are filled with veggies and mostly tons of flavor. Make sure you bookmark these, print out the recipes, or pin them to Pinterest to make soon!
Yield: 6
Corn Pudding Casserole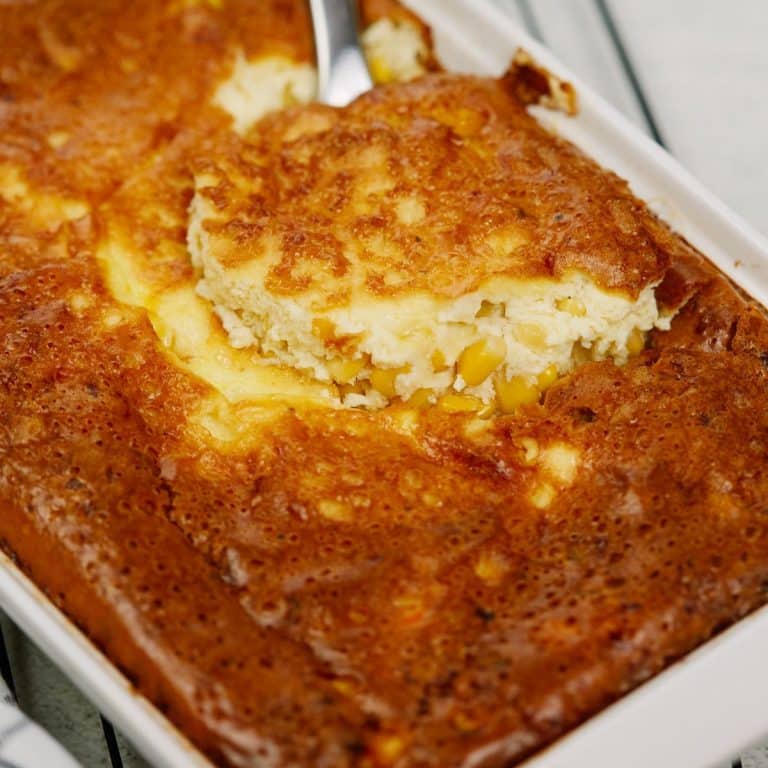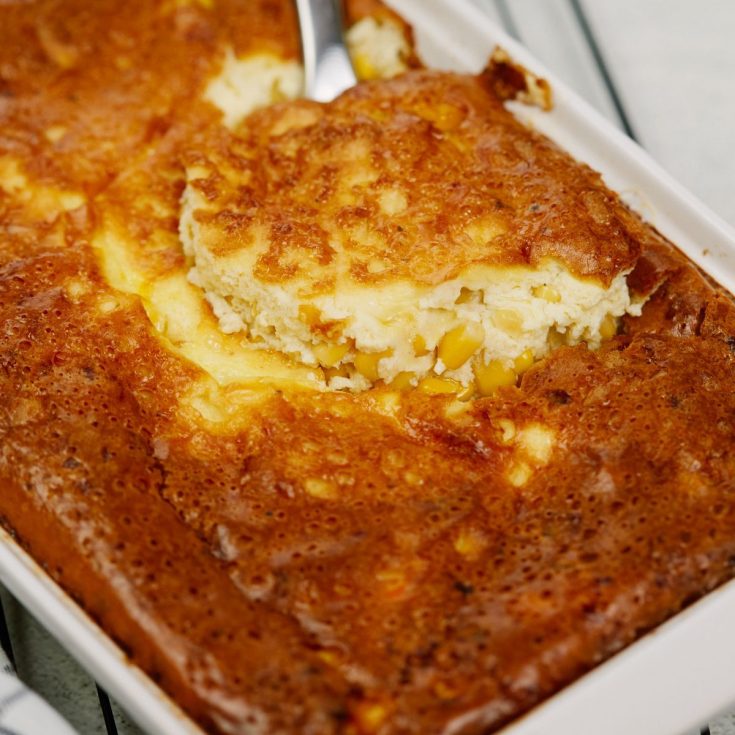 A delicious and easy corn pudding casserole is the perfect side dish for any occasion. A budget-friendly and simple side everyone loves!
Total Time
1 hour
15 minutes
Ingredients
6 large eggs
3 cups whole kernel corn, drained (492g)
¼ cup salted butter, melted (56g)
4 tablespoons cornstarch (30g)
⅓ cup sour cream (82g)
1 cup chicken stock (250ml)
1 ½ cups cream cheese, room temperature (180g)
Instructions
Preheat the oven to 400°F/200°C and spray a 9"x13" baking dish with nonstick spray.
In a large bowl, combine the softened cream cheese with the sour cream, cornstarch, salt, and black pepper until smooth.
Then, add the eggs and melted butter. Whisk until no lumps are left.
Now, whisk in the chicken stock until combined.
Pour the drained corn into the prepared baking dish and spread evenly.
Then, pour the egg mixture over the top of the corn.
Bake for 1 hour until golden brown on top and cooked through. It should be set in the center.
Notes
Top this with a sprinkle of salt and black pepper or some shredded cheese before baking for added flavor.
Nutrition Information:
Yield:
6
Serving Size:
1
Amount Per Serving:
Calories:

474
Total Fat:

36g
Saturated Fat:

20g
Trans Fat:

0g
Unsaturated Fat:

13g
Cholesterol:

274mg
Sodium:

376mg
Carbohydrates:

26g
Fiber:

2g
Sugar:

7g
Protein:

14g