Cauliflower Casserole is a naturally vegetarian dish that is full of cauliflower florets, a white cream sauce, nutmeg, dijon mustard, and topped with mozzarella cheese. It's a delicious and healthy dish for four people made in under 45 minutes. It's also perfect as a main or side dish at a holiday party or potluck.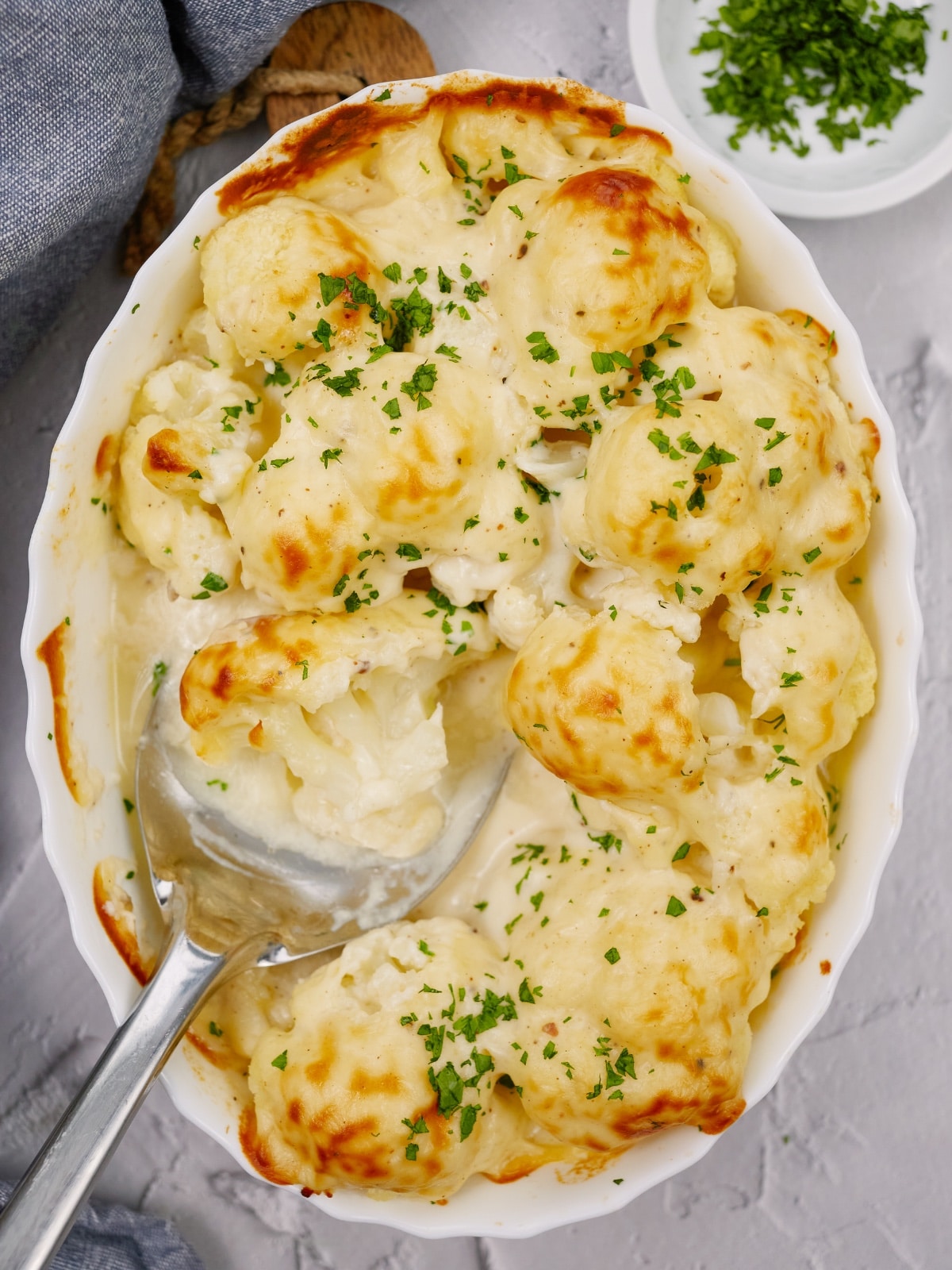 Jump to:
What is Cauliflower Casserole?
This cauliflower casserole recipe is easy to make and only has nine ingredients. With a quick dunk of the cauliflower to blanch it before baking, stirring everything together, and then baking, it's a quick and easy meal. It's also easily adjustable to make it exactly how you like by adding ingredients or changing them around. Your whole family will love this creamy comfort food.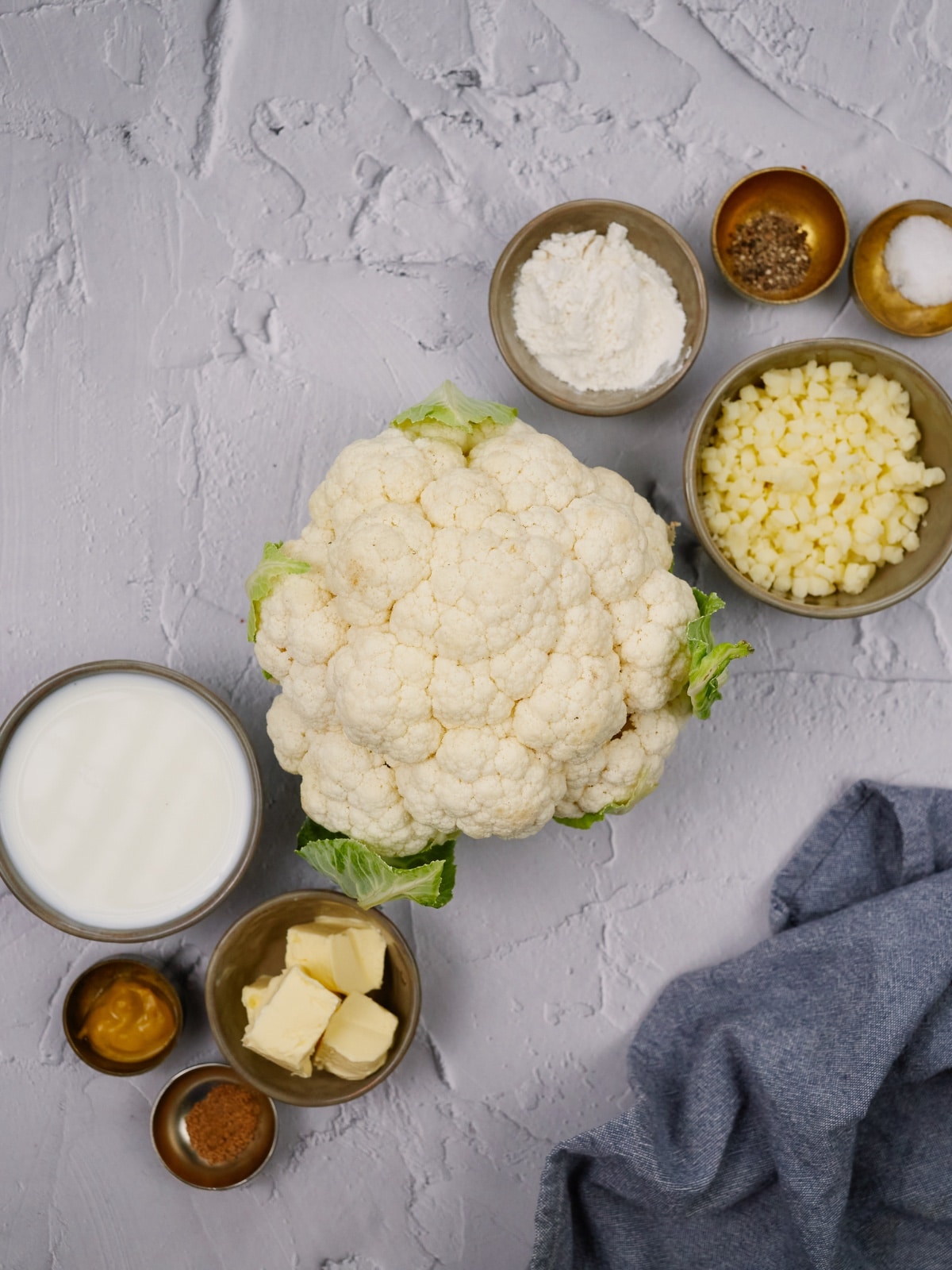 Ingredients:
1 medium cauliflower florets: Cut the head of a cauliflower by the florets and then in half to make them all the same size so they cook evenly and are bite-size pieces.
3 tablespoons butter, 3 tablespoons flour, 2 cups milk: These ingredients make a roux and then a white sauce that is thick and bubbly.
Salt, pepper, nutmeg: Some seasoning is important to make this dish really stand out.
½ teaspoon dijon mustard: A little dijon mustard gives the dish a tangy flavor and helps bring them all together.
½ cup mozzarella cheese: Sprinkle cheese on top to make a cheesy and golden brown casserole.
Video Recipe
How to make cauliflower casserole:
1. Preheat the oven.
2. Boil the cauliflower to soften them.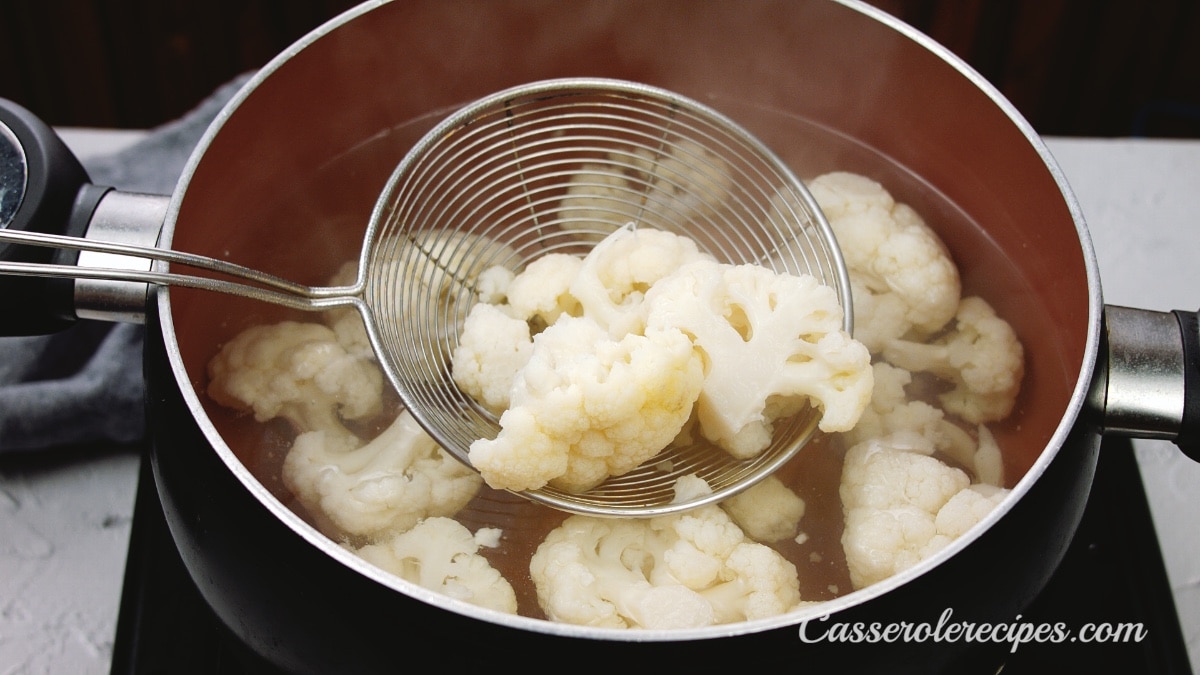 3. Cook the butter and flour until a light roux forms, whisking constantly.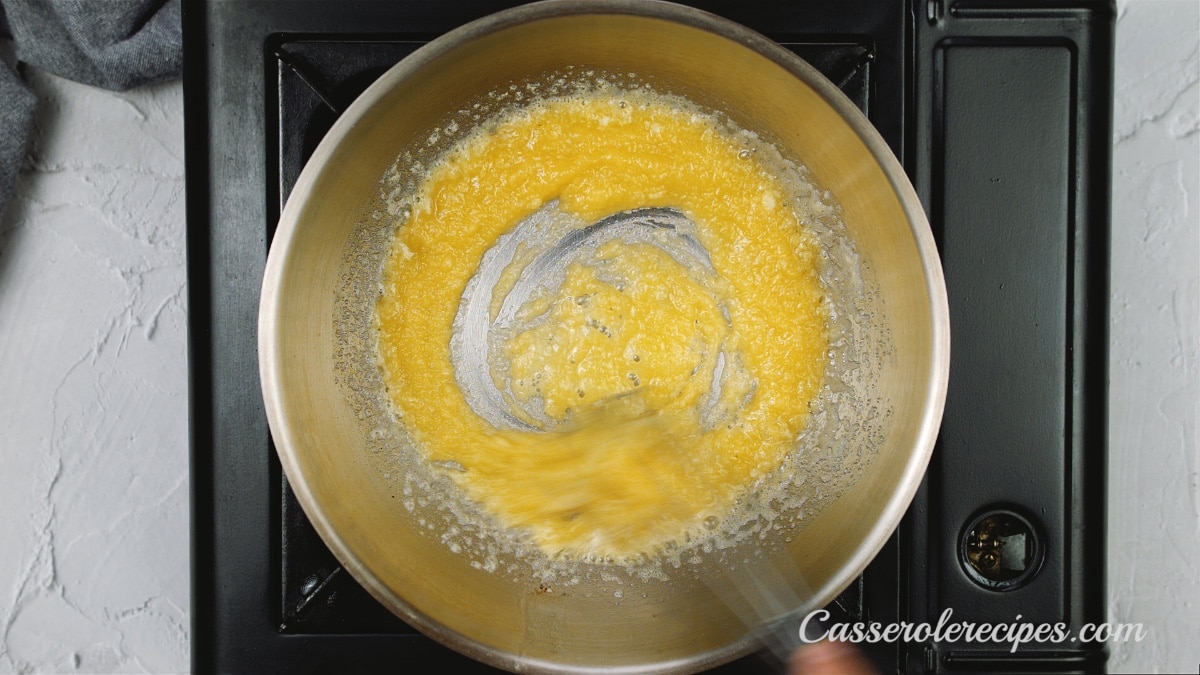 4. Pour in the milk and whisk while simmering.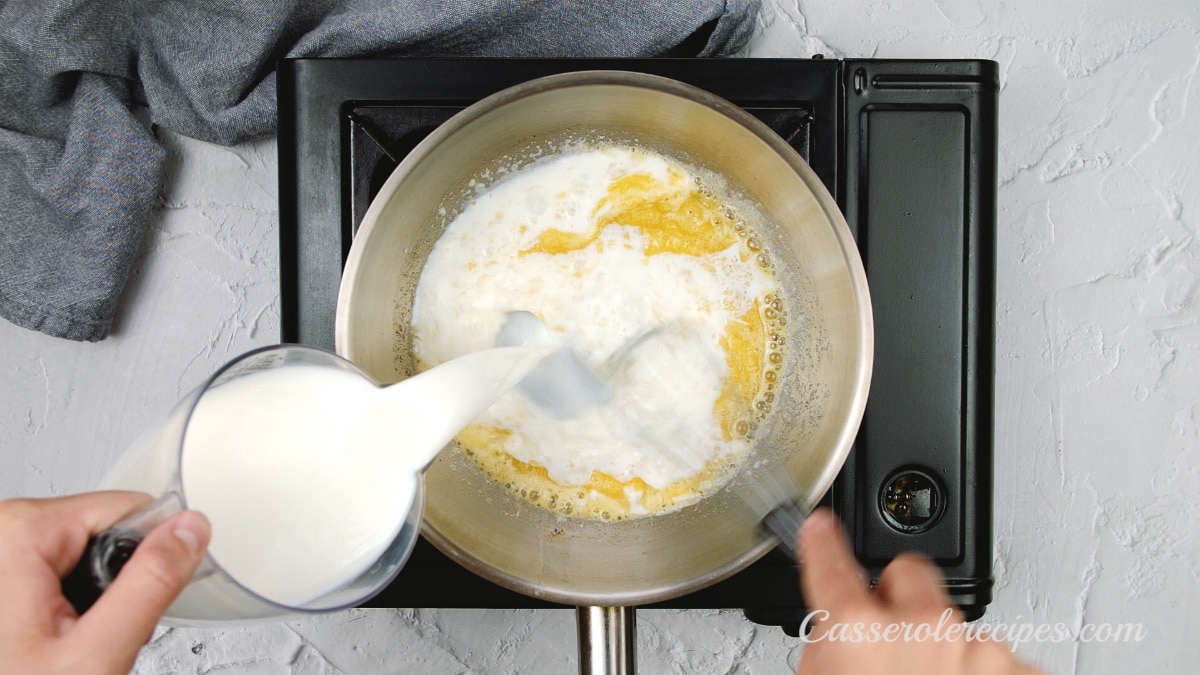 5. Season the sauce.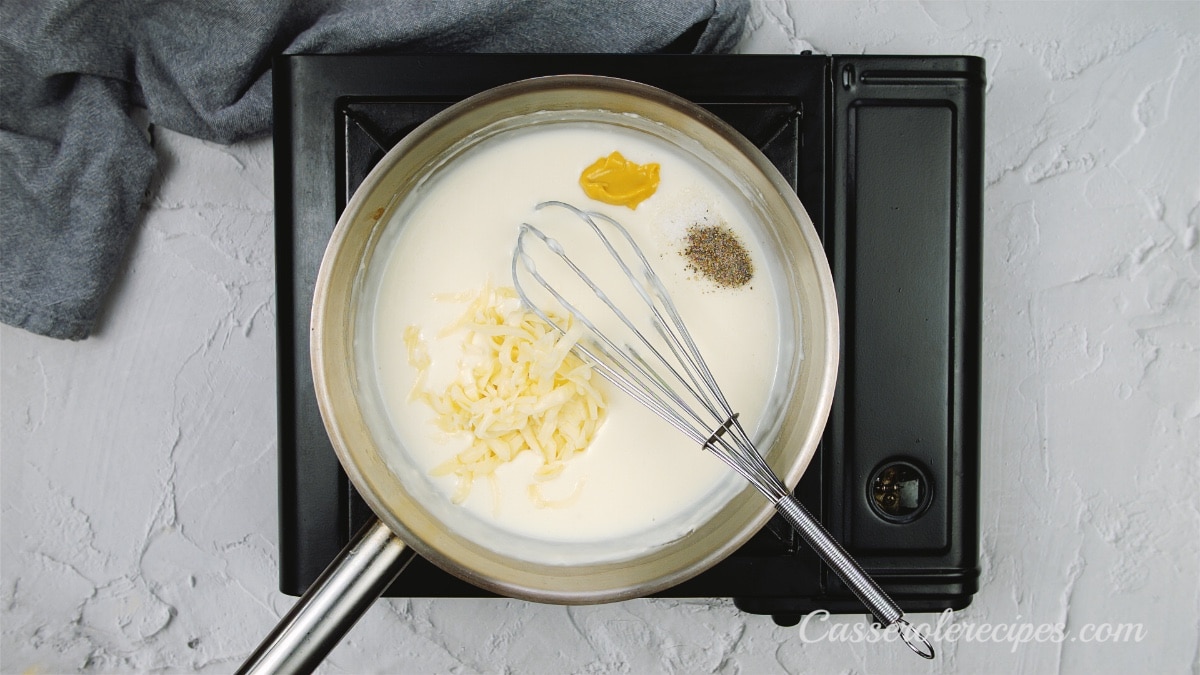 6. Place the cauliflower in a baking dish and then pour the sauce over the top.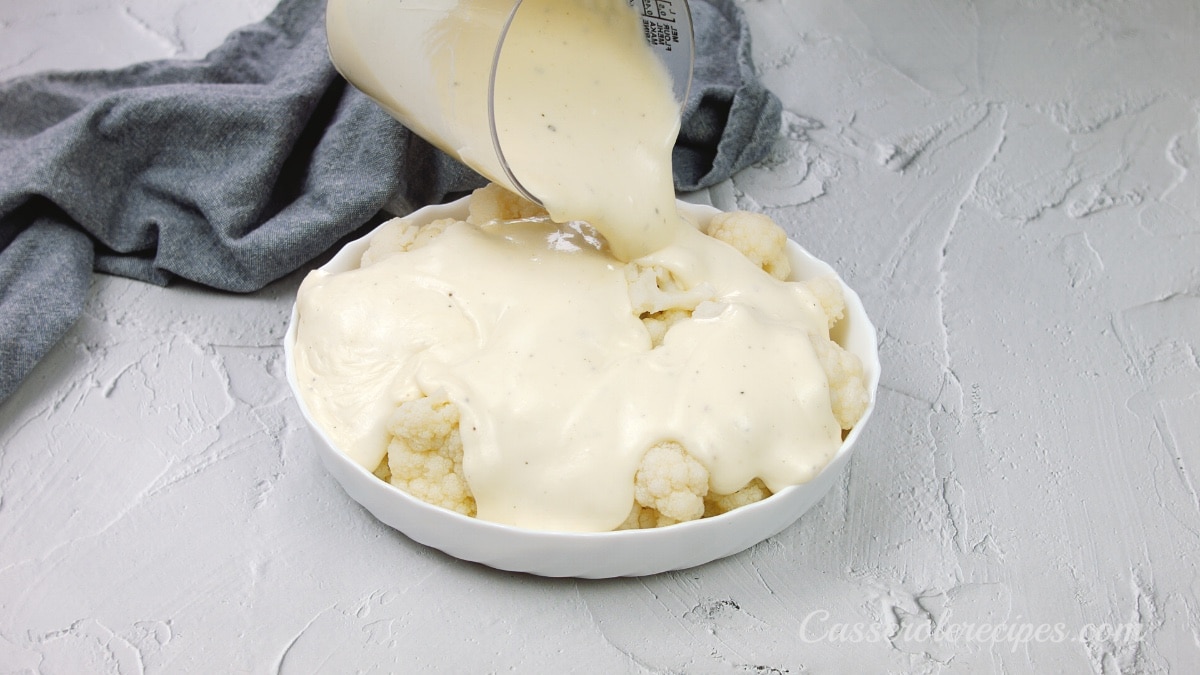 7. Bake until bubbly and golden brown.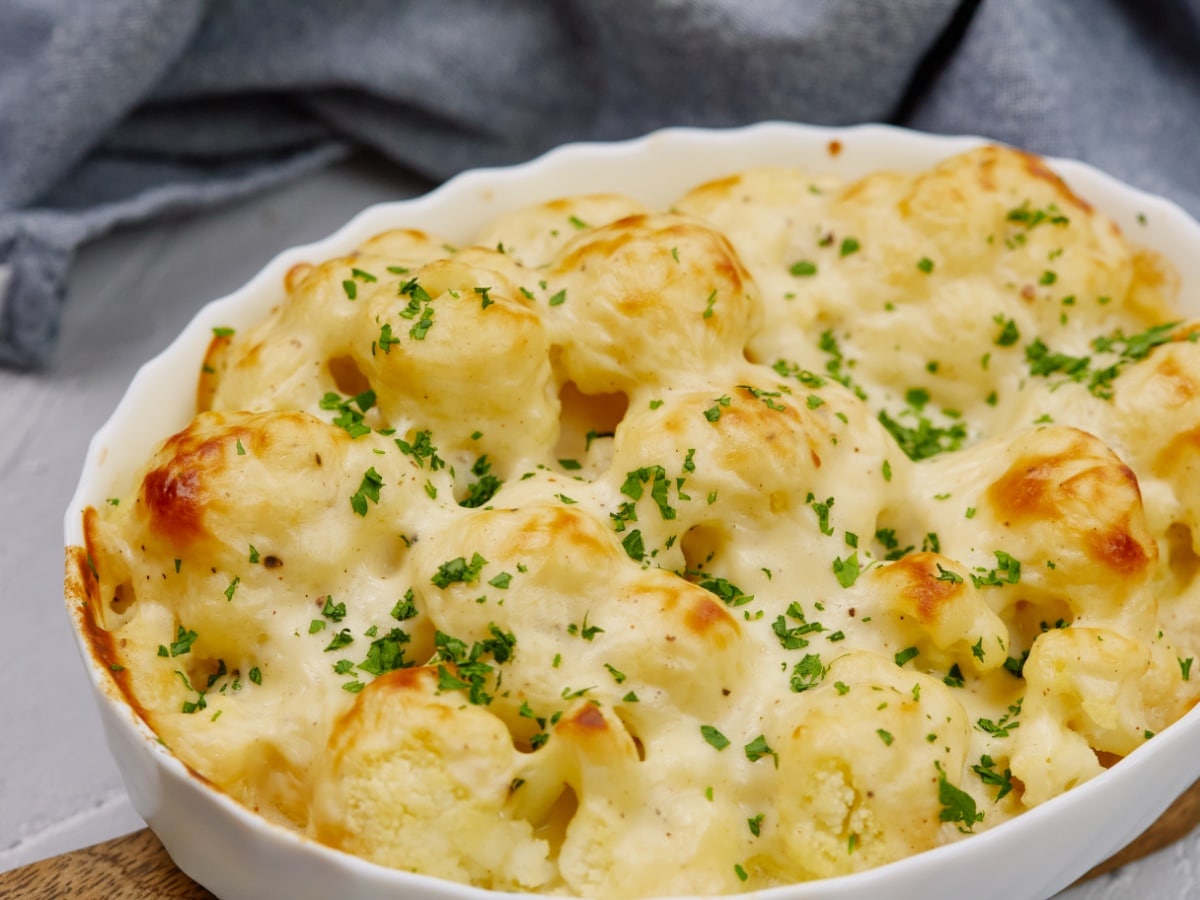 Tips for success:
Here are a few tips for success and variations you can try to make this the best cauliflower casserole you've ever had.
This baked cauliflower casserole is delicious as it is, but if you want to add some additional ingredients try some broccoli, cheddar cheese, rice, carrots, butternut squash, or sweet potato.
This recipe calls for chunks of cauliflower but you can also use cauliflower rice if you'd rather. You can buy this in the store or make it with a large cheese grater or food processor at home.
You can also make this dish vegan by using dairy-free butter and cheese.
What meat can I add to cauliflower casserole?
There are lots of options if you want to add meat to this dish. Try diced ham, tuna, crumbled bacon, shredded chicken, or buffalo chicken. Any of these will taste great and make the casserole more filling.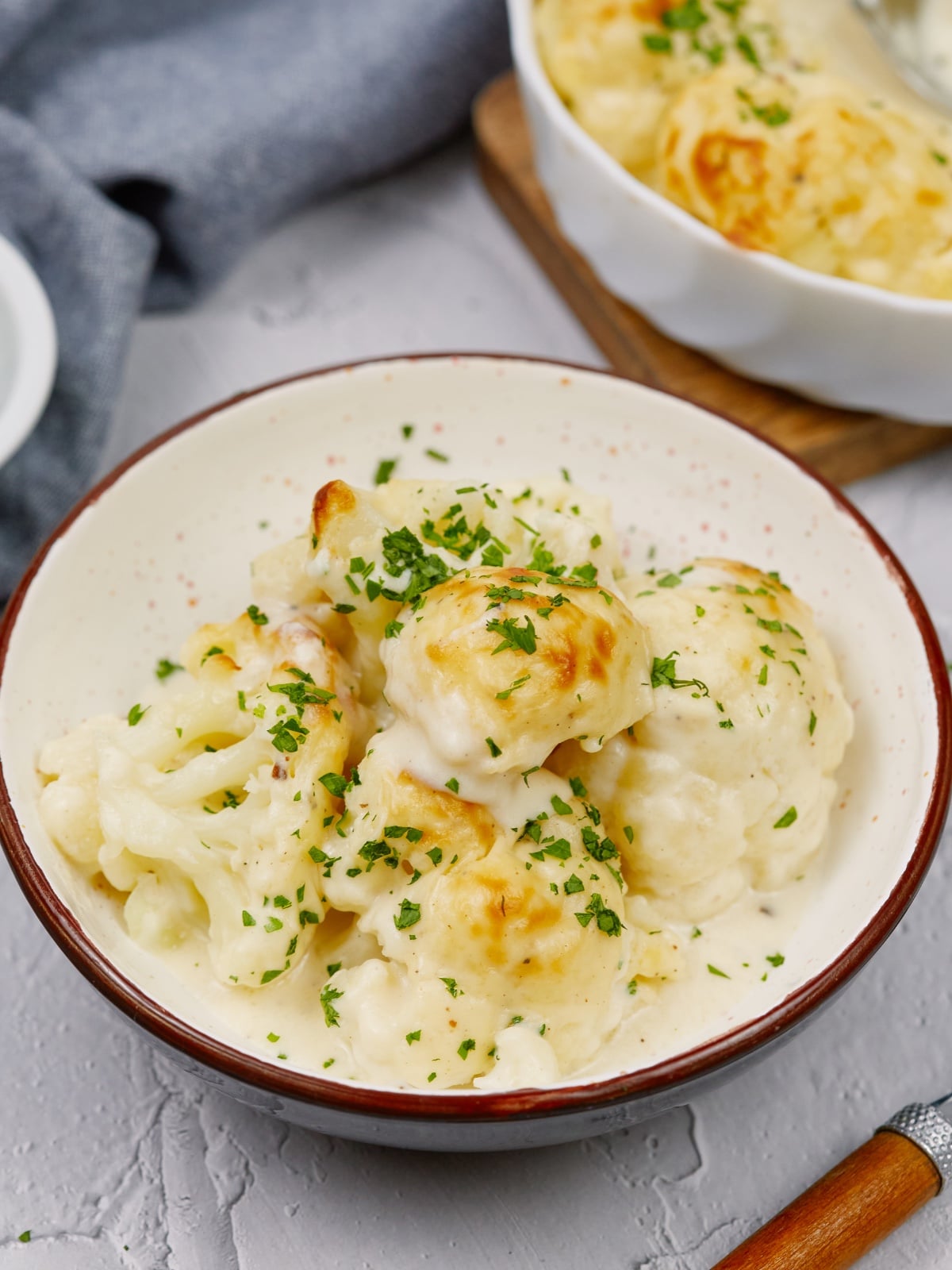 Can I make this dish keto-friendly?
Good news, this cauliflower casserole is already keto! The ingredients already fit into a keto diet so there's no need to make any changes. Keep in mind that if you do add any extra ingredients, you'll need to make sure they match what you can eat.
How can I make cauliflower casserole more creamy?
This dish already has a white cream sauce made with flour, butter, and milk, but you can add cream cheese or cream of mushroom soup. Either of these options would thicken up the sauce and the casserole and make it creamier.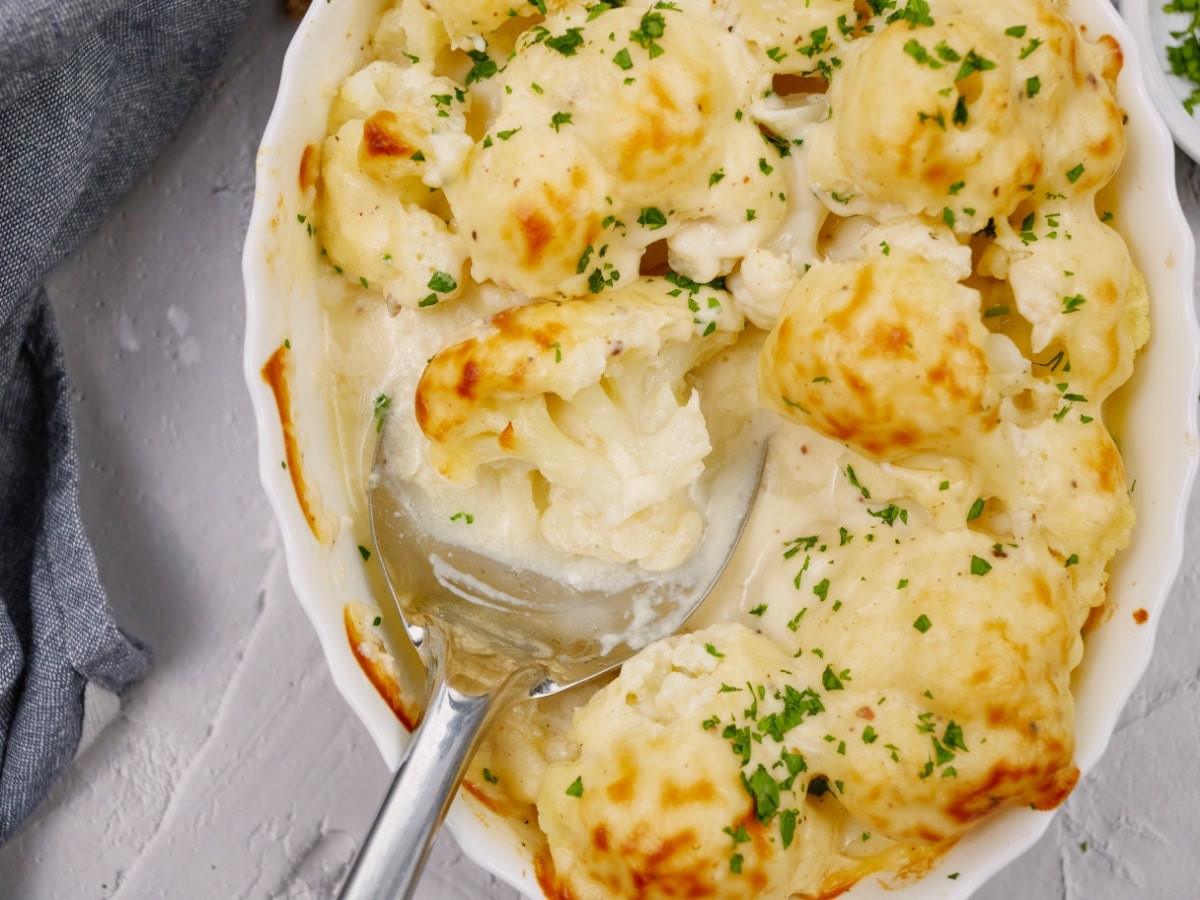 How to store:
Store any leftover casserole in an airtight container in the refrigerator for up to five days. Reheat it in the microwave with 30-second increments until it's hot all the way through.
To freeze the entire casserole, wrap it in aluminum foil and then plastic wrap. Label it with what it is, how to cook, and the date. This will help you remember later. Remember that if you cook it from frozen, without thawing first, it will take longer to cook in the oven. Keep the foil on until the last 30 minutes of cooking so the top can brown.
FAQs:
Can I make cauliflower casserole with mayo?
If you want to add mayonnaise, you definitely can. It's a good idea to balance it with sour cream or cream of mushroom soup to make sure it's not too thick and has a good flavor.
Can I use prepackaged cauliflower florets?
Yes, if you want to buy cauliflower in a bag, you can use them in this dish. Keep in mind that buying a head of cauliflower is usually less expensive than buying it in a bag.
How can I make this dish crunchier?
You can add pecans or walnuts to make this casserole crunchier and balance the texture.
Yield: 4 servings
Cauliflower Casserole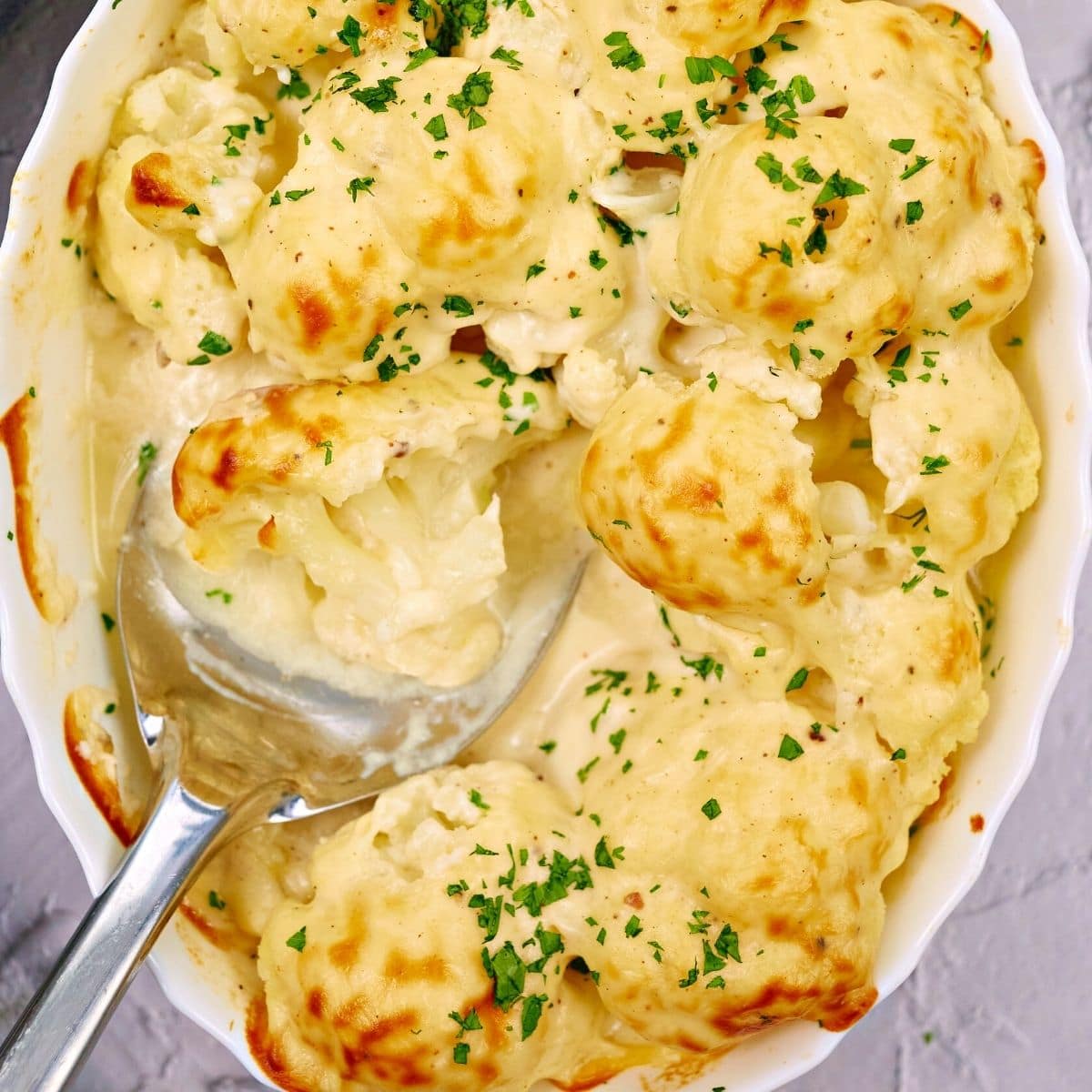 Cauliflower Casserole is a naturally vegetarian dish that is full of cauliflower florets, cream sauce, nutmeg, mustard, and mozzarella.
Ingredients
1 medium cauliflower, cut into florets
3 tablespoons butter
3 tablespoons flour
2 cups milk
Salt, pepper, nutmeg to taste
1⁄2 teaspoon mustard
1⁄2 cup mozzarella
Instructions
Boil cabbage florets for 5 minutes in a large pot of salted water. Remove and let cool down slightly. Transfer into a baking dish.

Whisk melted butter with flour over medium heat. Start pouring in milk slowly, while whisking constantly. Simmer the sauce for 10 minutes.

Season the sauce with salt, pepper, nutmeg, and mustard.

Pour the sauce on top of the cabbage and bake everything for 20 minutes at 190C/375F.

Nutrition Information:
Yield:
4
Serving Size:
1
Amount Per Serving:
Calories:

238
Total Fat:

15g
Saturated Fat:

9g
Trans Fat:

0g
Unsaturated Fat:

5g
Cholesterol:

44mg
Sodium:

388mg
Carbohydrates:

17g
Fiber:

4g
Sugar:

9g
Protein:

11g