Your Thanksgiving table won't be complete without this delicious Southern sweet potato casserole. A sweet and slightly savory dish that is filled with classic sweet potato flavor and just a hint of brown sugar and pecans in every bite. This easy side dish is a family favorite and is sure to please a crowd!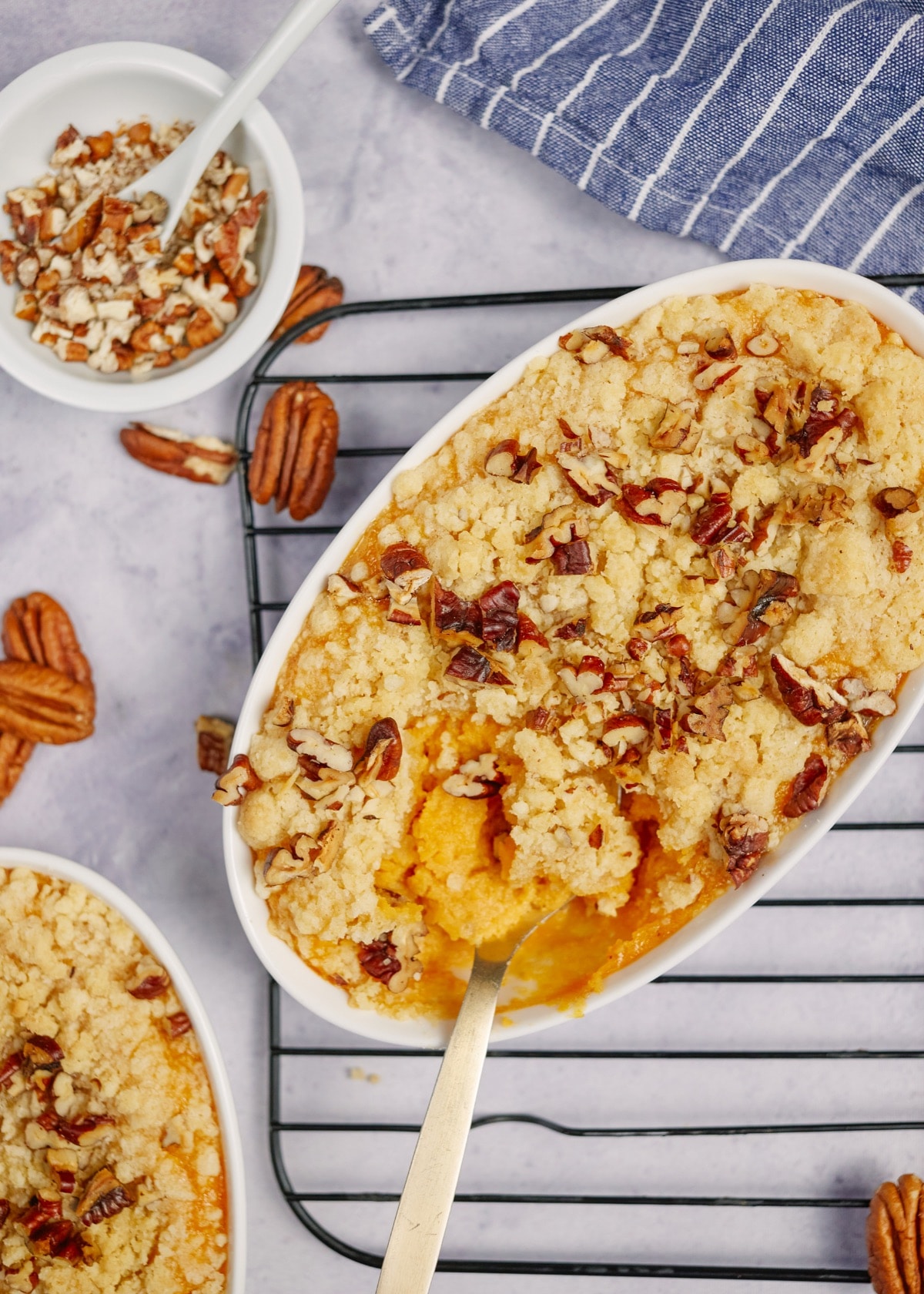 What is Southern Sweet Potato Casserole?
This mashed potato casserole recipe is baked and ready to eat in just 40 minutes and serves two people. It's made in individual dishes so each person can have their own little side dish or dessert. It's easy to make ahead of time and pop in the oven when you're ready to eat or keep in the refrigerator overnight.
If you want a unique but similar dish, try this sweet potato recipe with purple sweet potatoes. It looks great on the dining table!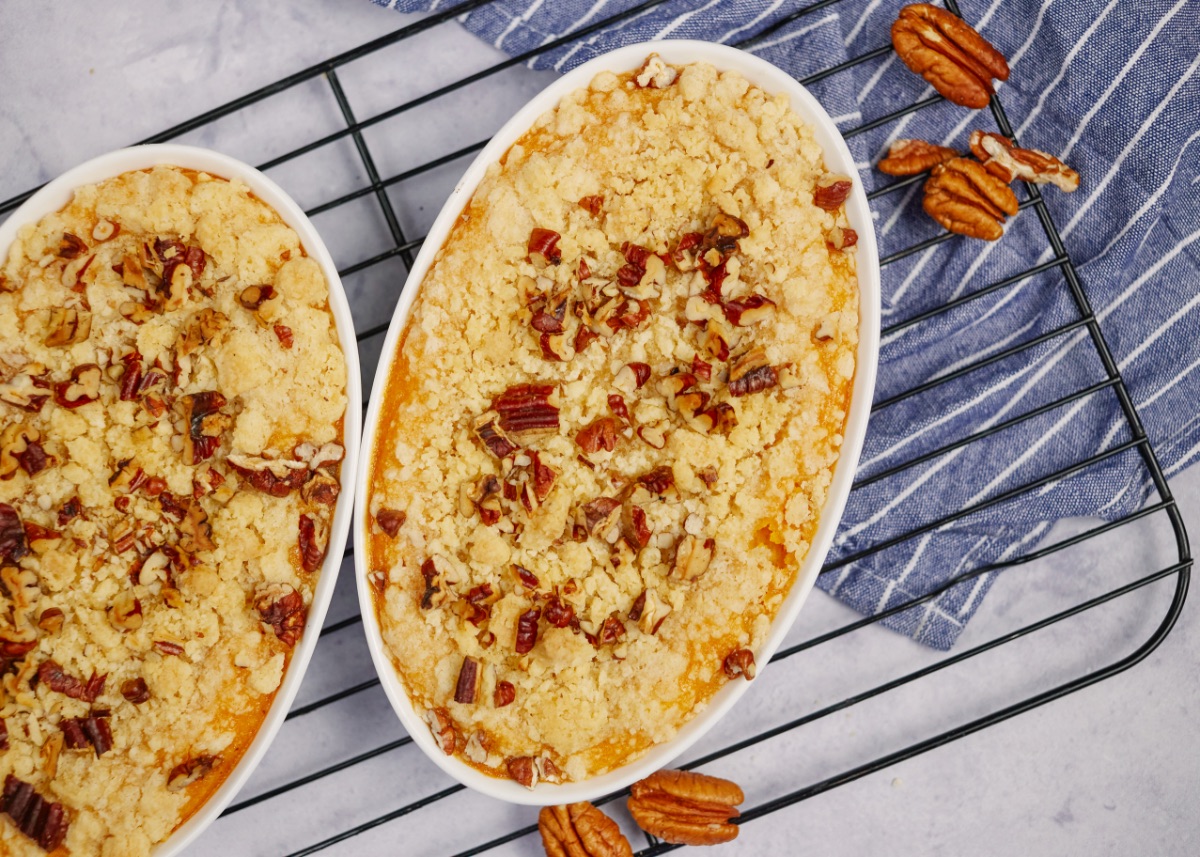 Ingredients:
28 oz (880g) sweet potato purée: You can buy sweet potato purée at the grocery store or you can make your own at home by baking sweet potatoes and then mashing or blending them.
1 teaspoon vanilla extract: Use pure vanilla extract from the grocery store or make it at home.
1⁄4 cup brown sugar: You can use light or dark brown sugar in this recipe.
2 eggs: Use large AA eggs to help bind the ingredients together.
¼ teaspoon salt: A little salt enhances the flavors of the ingredients in this recipe.
1⁄2 cup flour: All-purpose flour helps make the topping crumbly.
1⁄2 cup brown sugar: Light or dark brown sugar works for the topping as well.
1⁄2 cup butter: Melted butter is blended with flour and brown sugar to make a sweet topping.
chopped pecans: You can buy a bag of chopped pecans or whole pecans and chop them yourself at home.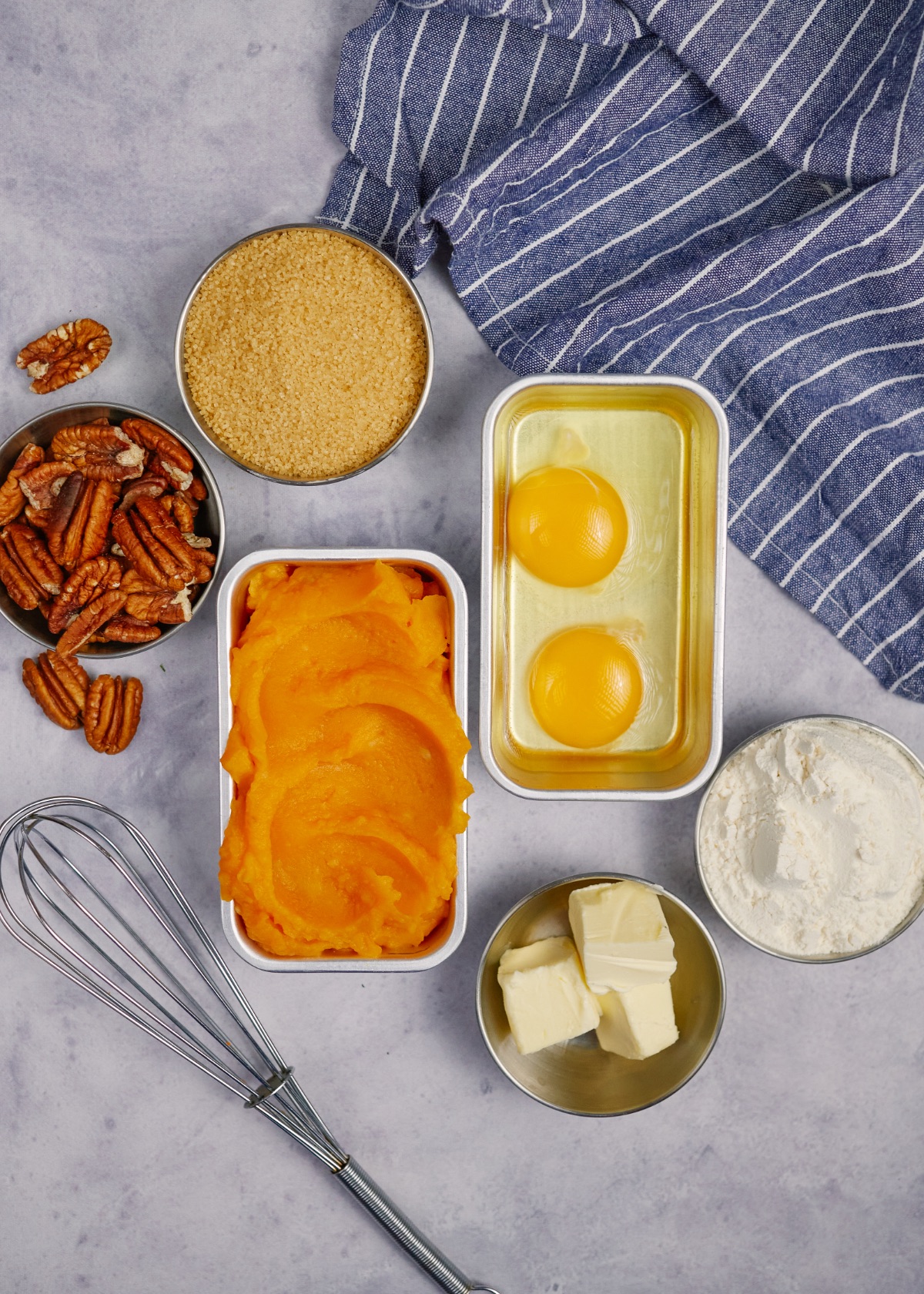 How to make Southern Sweet Potato Casserole:
Video Recipe:
Here's a brief overview of how to make this dish. See the recipe card below for the specific recipe instructions.
1. Preheat the oven to 350F/180C and coat the bottom and sides of a baking dish with non-stick spray or butter then set it aside.
2. In a large bowl, whisk together the cooked sweet potato puree with the vanilla, eggs, brown sugar, and salt until a smooth mixture is formed.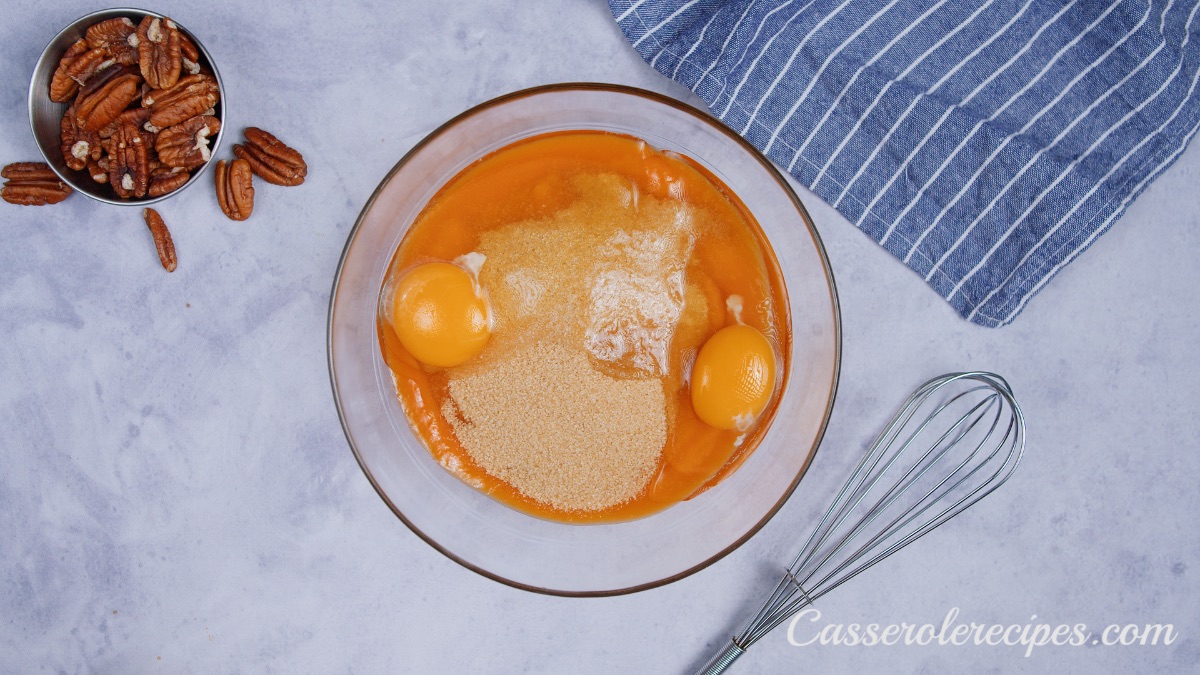 3. Using a separate bowl, combine the flour, sugar, and butter until crumbs form. This will be your crumble topping.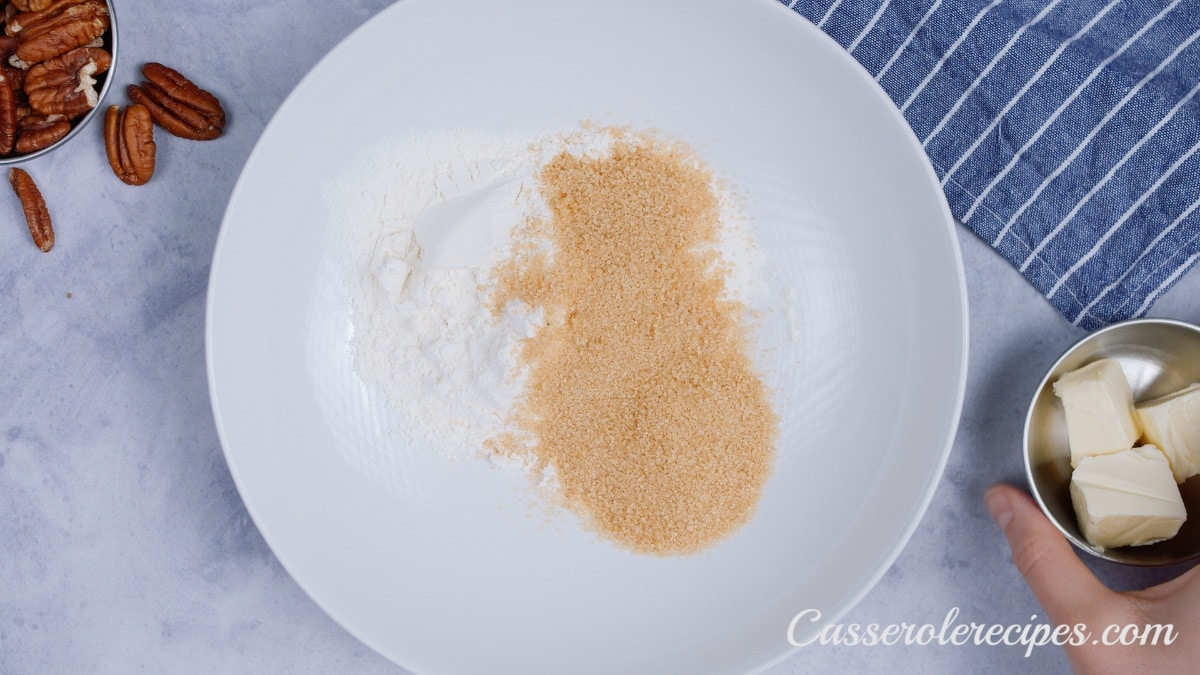 4. Pour and spread the potato mixture into the prepared baking pan(s) and then sprinkle the crumble over the top evenly. Finish with a few chopped pecans on top of the crumble.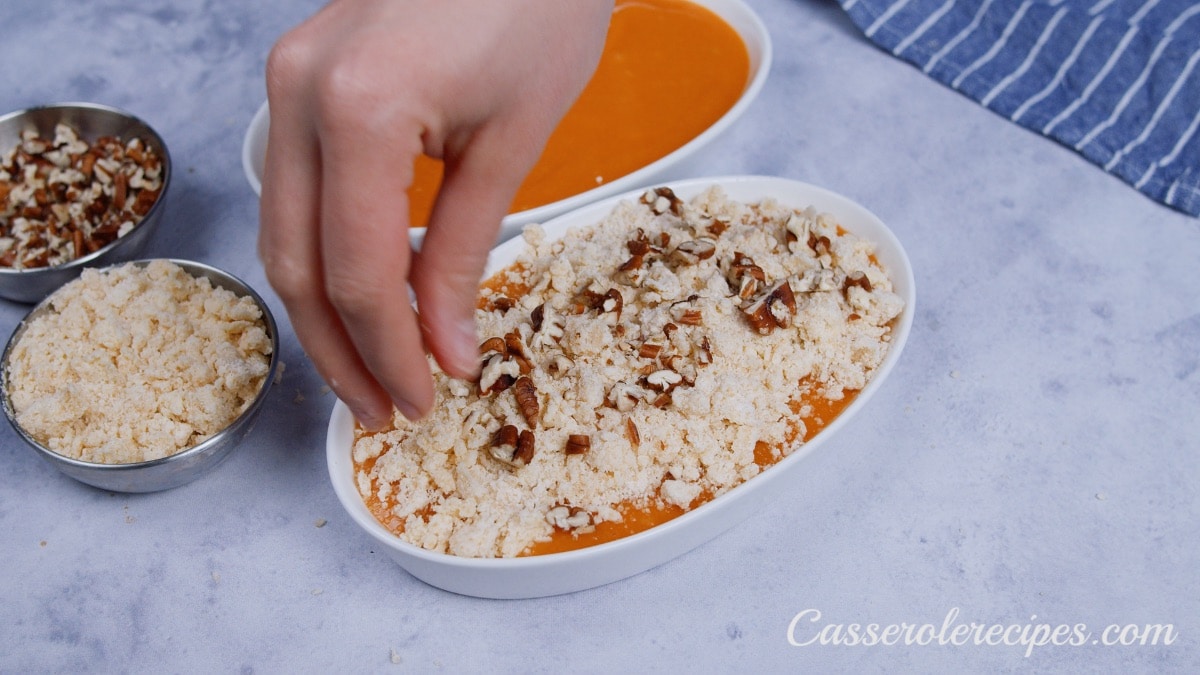 5. Bake for 30 minutes until heated through and the crumble is browned nicely.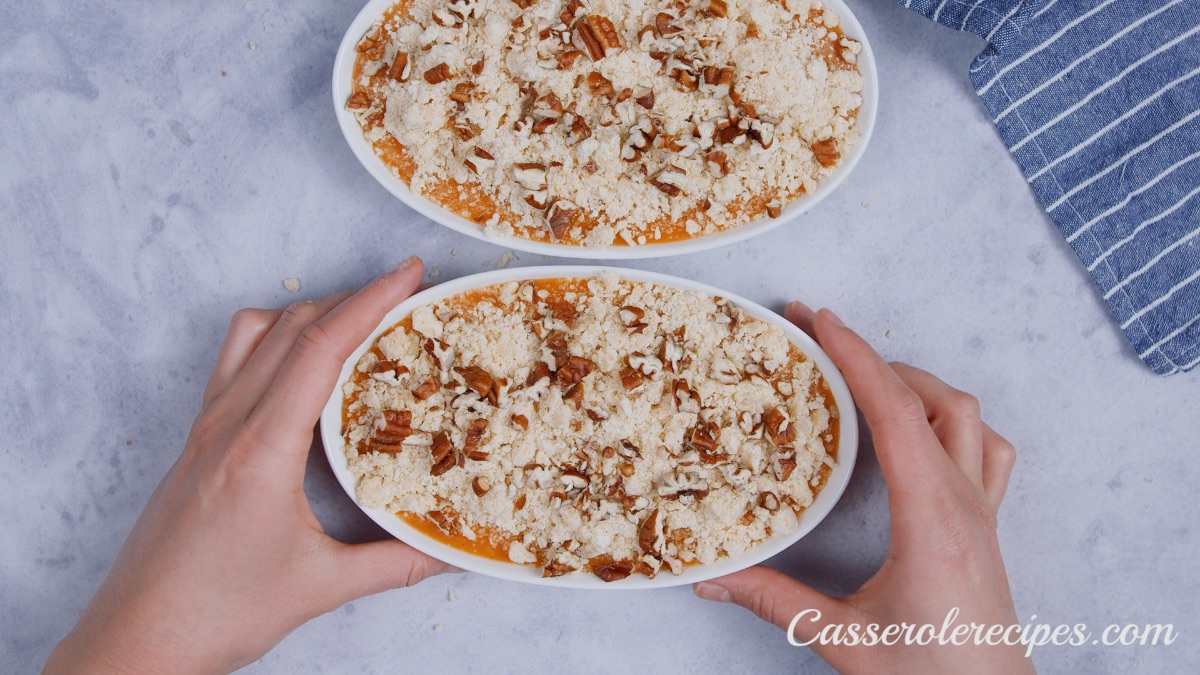 6. Serve immediately, or let cool and cover to store for a later time.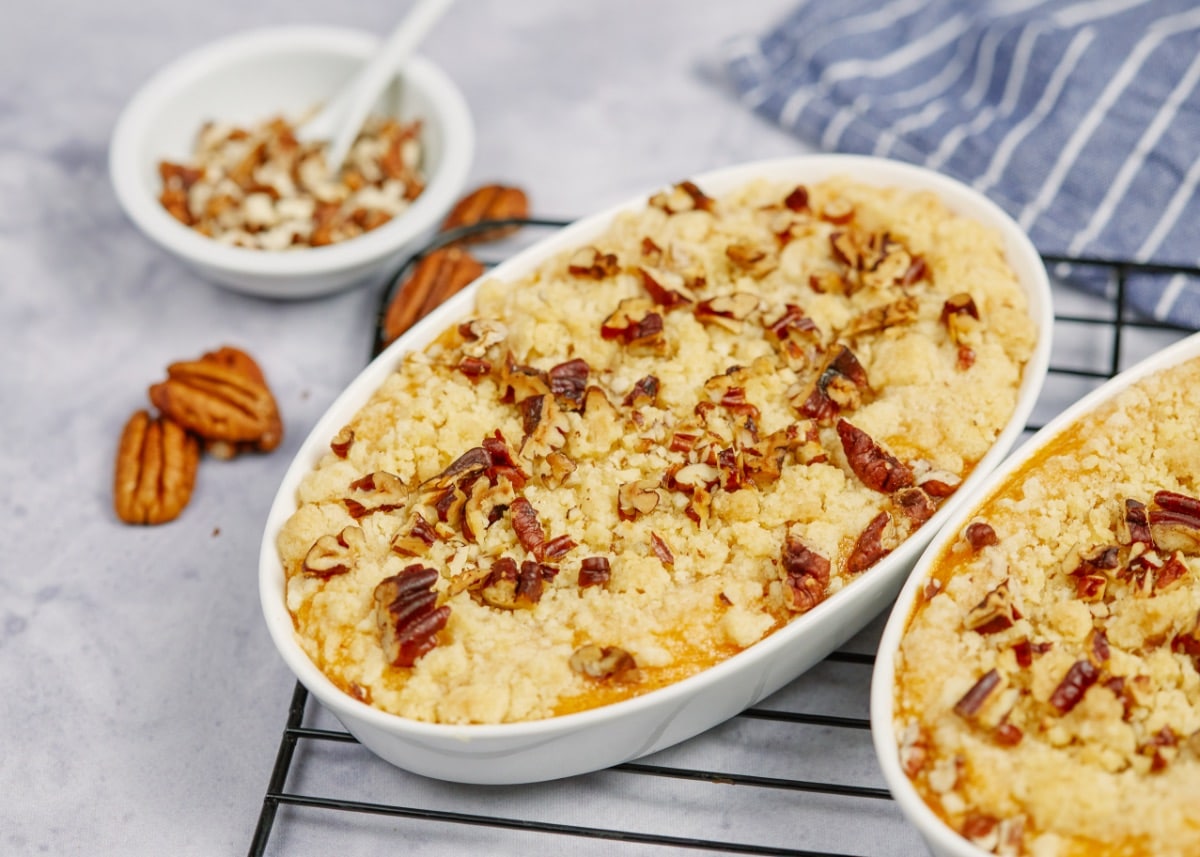 Tips for success:
If you want to make this perfect every time, below are a few more ideas that can really amp up the flavor and texture of this sweet potato casserole. Try it a different way every time to find your favorite!
Substitute canned yams for sweet potatoes if you like the flavor of yams as well. You can even use pumpkin puree in a pinch for a different flavor.
Instead of or in addition to the vanilla extract, add a shot of bourbon before baking. This adds a unique rich flavor.
Stir ½ cup of chopped pecans or walnuts into the puree for texture throughout rather than on top of the casserole.
Sprinkle the top with mini marshmallows before baking for a more traditional sweet flavor.
Replace the brown sugar with 1 can of sweetened condensed milk and an additional ¼ cup of flour. It won't cook as thick, but will be rich and sweet.
What else can I top this casserole with?
Make this dish without nuts if you're allergic or have an aversion to them.
Substitute them with marshmallows, ritz cracker breadcrumbs, sliced almonds, walnuts, coconut flakes, or just mix oatmeal into the crumble for more texture.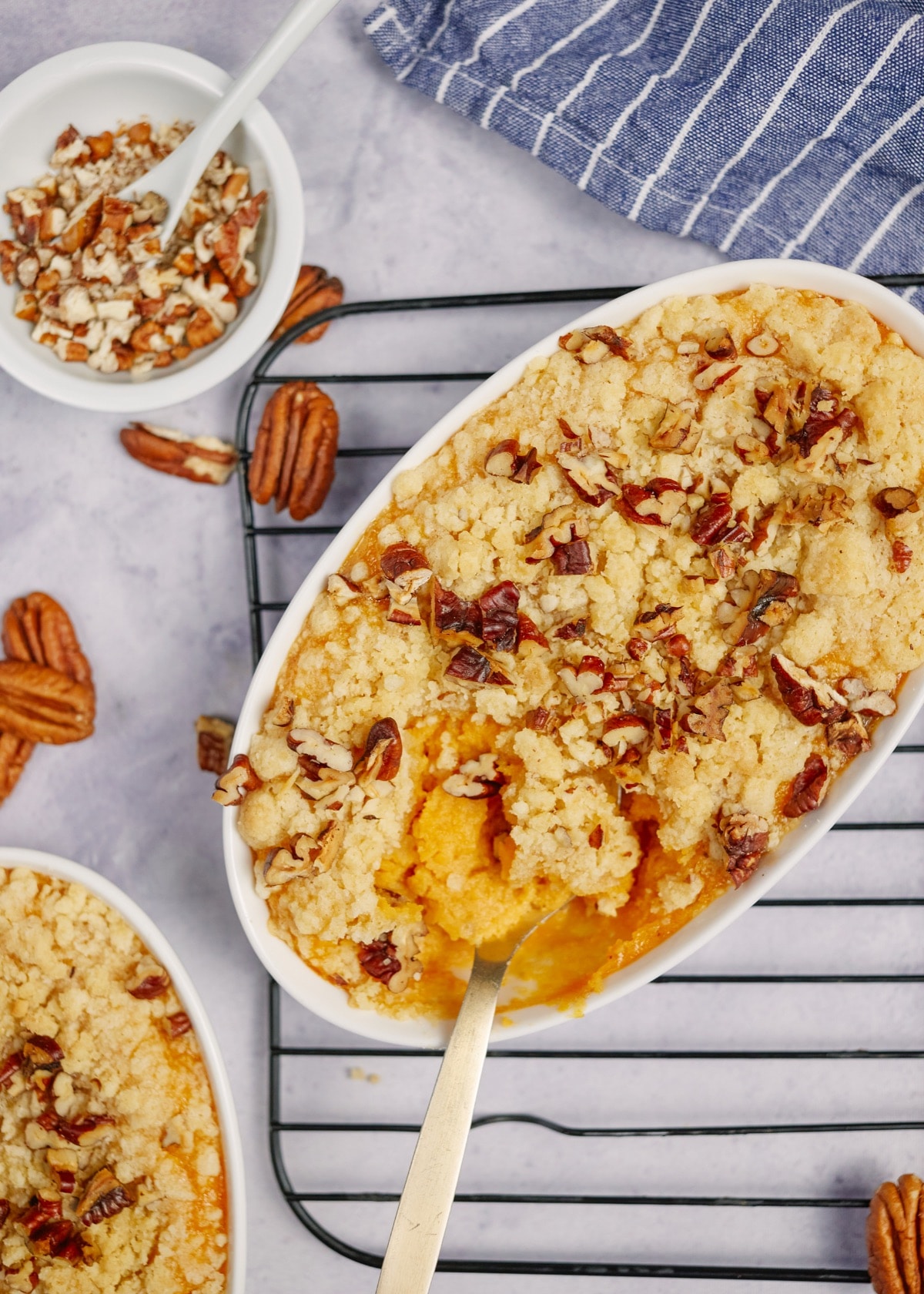 How can I make southern sweet potato casserole in a crockpot?
You can use the slow cooker for this casserole if you prefer. This makes it easier on holidays by freeing up the oven. To make this in the slow cooker, you will follow the steps below.
Spray the inside of the slow cooker with non-stick spray or grease with butter to prevent sticking. You can also use a slow cooker liner if you prefer.
Combine the puree mixture as directed, and then pour it directly into the slow cooker.
Make the crumble topping, and pour it over the top of the casserole in the slow cooker. Then top it with the pecans.
Place a paper towel over the top of the slow cooker, just on top, then place the lid on top. This will prevent condensation from dripping onto the top while it bakes.
Cook on low for 4 to 6 hours.
If you want the crumble topping to be brown and crisp, you can sprinkle it onto a baking sheet and bake for 10 minutes at 400F then pour over the top of the casserole just before serving.
What can I serve with this dish?
This is the perfect Thanksgiving side dish. You can also serve it with baked apples, pineapple slices, roast turkey or chicken, pork chops, grilled steak, steamed broccoli, sauteed asparagus, fruit salad, or a crunchy green salad. When you choose a side dish, try to balance it with opposing flavors and textures.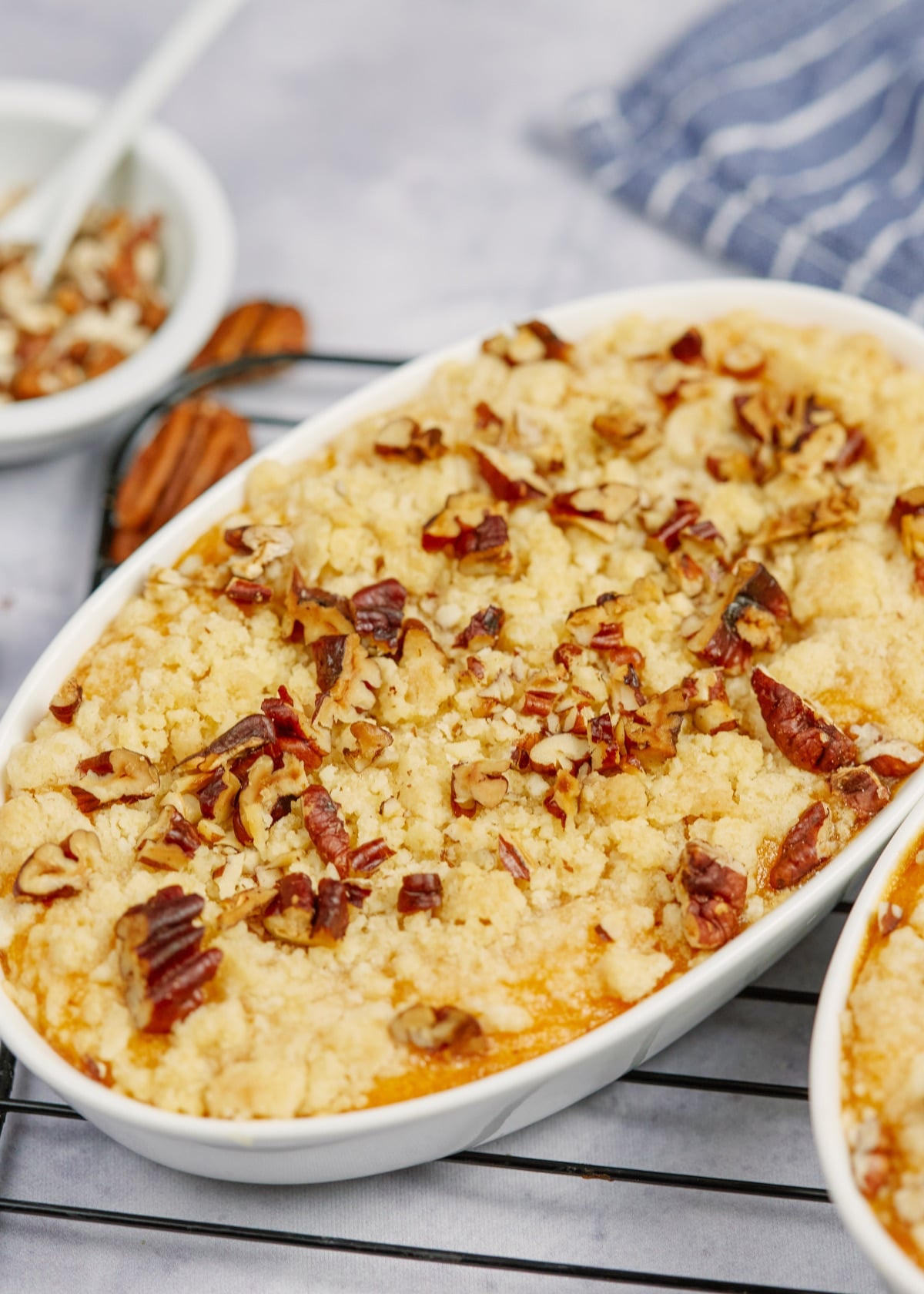 How to store:
This southern sweet potato casserole is good for up to 5 days in the refrigerator after baking. To store it, simply cover it with plastic wrap or place it into an airtight container.
If you want to make it ahead of time to reheat weeks later, then you can prepare it in a disposable baking dish up to the point of baking. Cover it with plastic wrap, then a layer of aluminum foil. Label this with the date, recipe name, and cooking directions then freeze for up to 3 months.
When ready to cook, thaw in the refrigerator overnight then cook as directed.
FAQs:
Is this dish keto-friendly?
No, sweet potato casserole isn't low-carb because it's made with potatoes. You can make it with butternut squash which is lower in carbs and acceptable for some keto dieters, but you will need to adjust the filling and crumble to replace the sugar(s) with keto-friendly substitutes as well.
Can I make this dish vegan?
To make this recipe vegan-friendly, you will need to replace the eggs with a vegan option. There are many ready-mades or powdered vegan egg options in the market, or you can make your own with the flax egg method.
More Thanksgiving Side Dishes
If you are looking for something else to serve alongside your favorite turkey at Thanksgiving, look no further. Below are some great recipes that pair perfectly with classic holiday meals. Make sure you bookmark these, print out the recipes, or pin them to Pinterest to make soon.
Yield: 4 servings
Southern Sweet Potato Casserole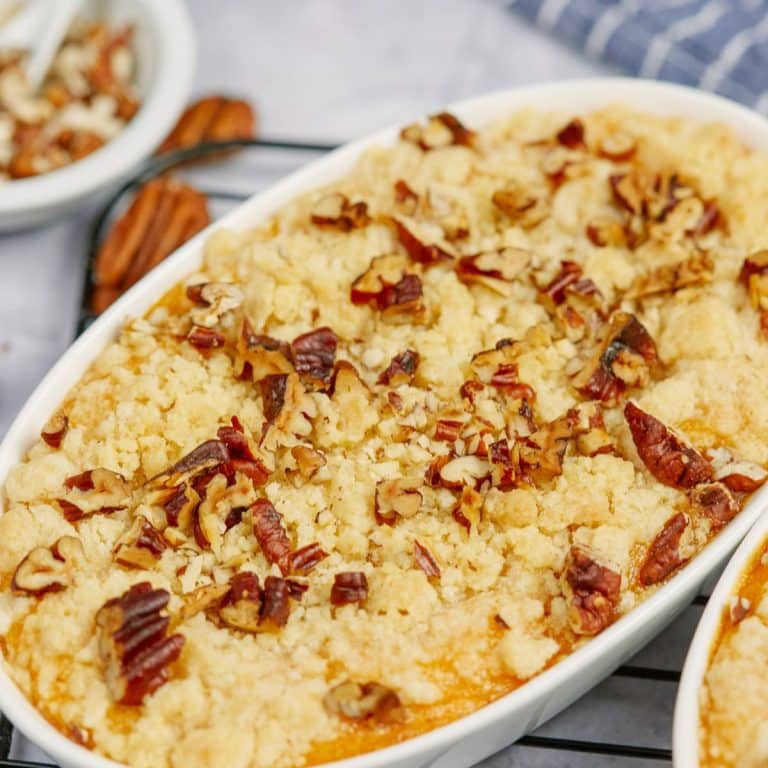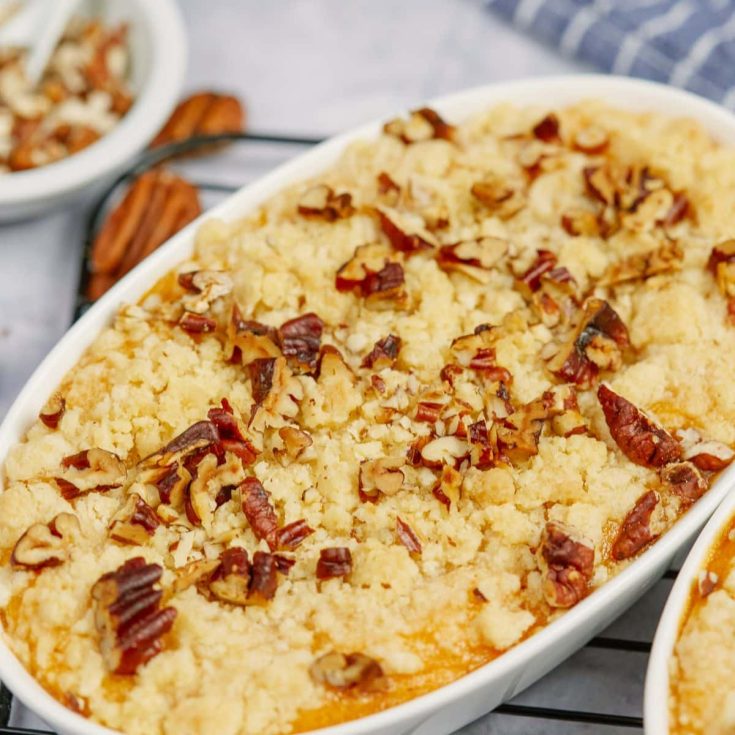 Southern Sweet Potato Casserole is a sweet and savory dish made with sweet potato puree, vanilla, brown sugar, eggs, salt, flour, butter, and pecans.
Ingredients
28 oz (880g) sweet potato puree
1 teaspoon vanilla extract
1⁄4 cup brown sugar
2 eggs
a pinch of salt
1⁄2 cup flour
1⁄2 cup brown sugar
1⁄2 cup butter
chopped pecans
Instructions
Preheat the oven to 350F/180C.
Whisk sweet potato puree with vanilla, eggs, brown sugar, and salt.
In a large bowl combine flour, sugar, and butter until crumbs form.
Pour potato mixture into a baking pan of 2 large ramekins, sprinkle crumbs on top, and add chopped pecans.
Bake for 30 minutes.
Notes
Make in individual ramekins for serving guests to create a unique and fun experience.
Nutrition Information:
Yield:
4
Serving Size:
1
Amount Per Serving:
Calories:

1744
Total Fat:

47g
Saturated Fat:

17g
Trans Fat:

1g
Unsaturated Fat:

26g
Cholesterol:

154mg
Sodium:

382mg
Carbohydrates:

306g
Fiber:

30g
Sugar:

49g
Protein:

38g