Pineapple Casserole is a sweet and salty dish made with pineapple chunks, cheese, brown sugar, and topped with breadcrumbs. It's baked until it's hot and melty and the top is golden brown. It's the perfect side dish or meal for two.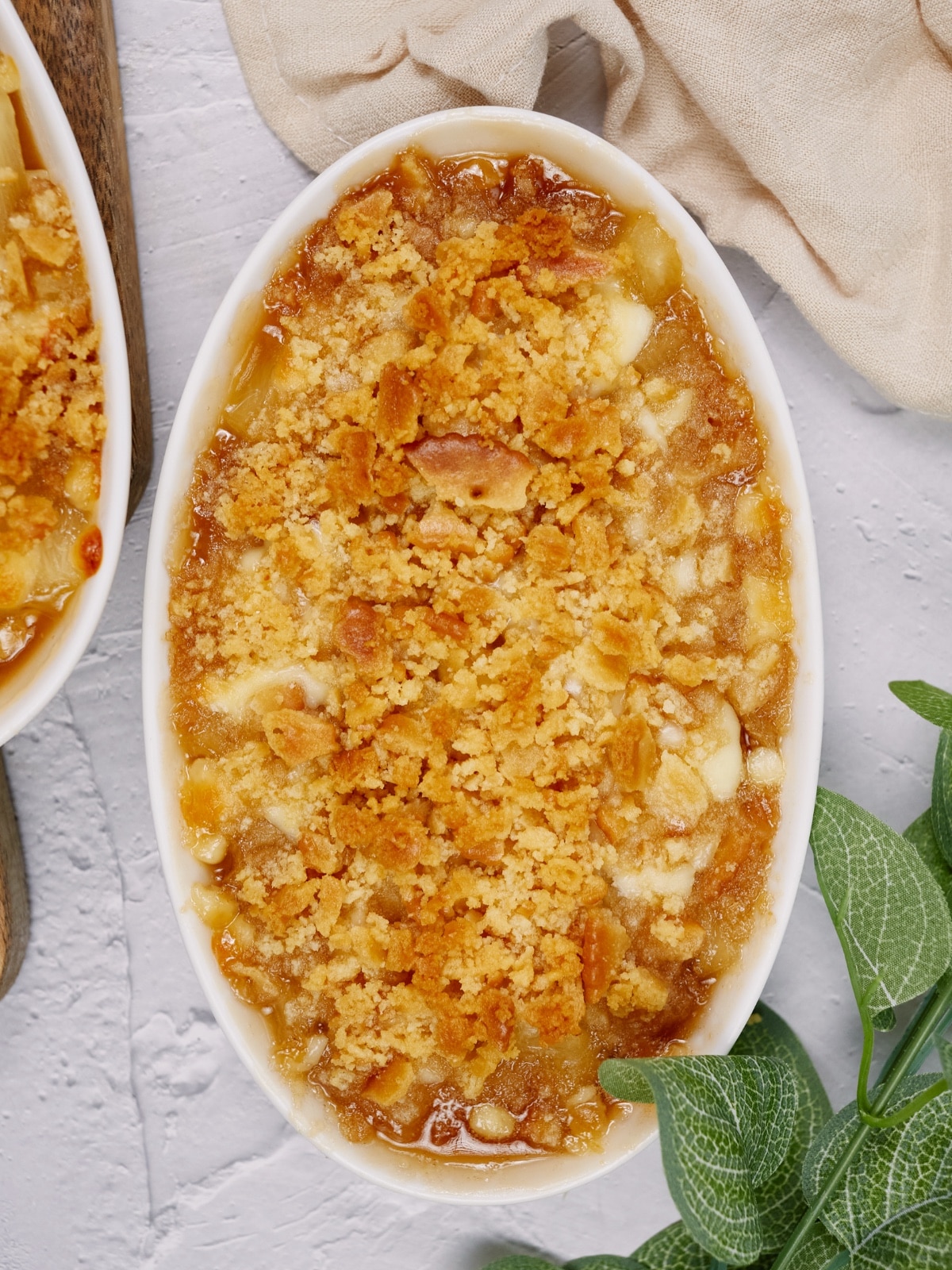 Jump to:
What is Pineapple Casserole?
This pineapple casserole recipe is popular in the southeast United States and is an easy weeknight baked meal with two servings. This is just like Grandma's original dish that you grew up eating. If you've never had it before, you'll see why it's been passed down for so many years. This southern dish is fresh, cheesy, and ready to eat in just 35 minutes.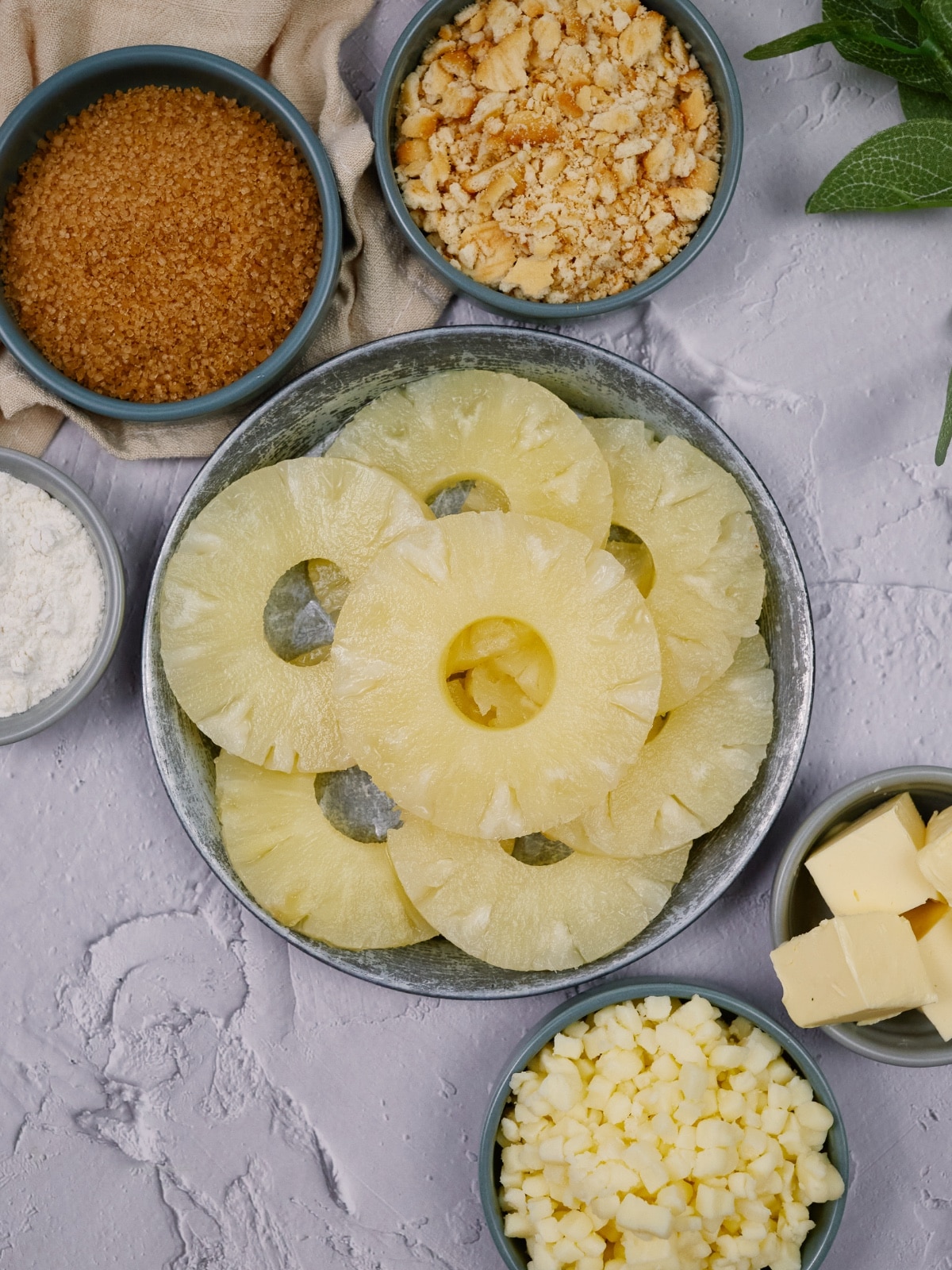 Ingredients:
1 can pineapple chunks: This recipe uses canned pineapple.
⅔ cup brown sugar: Brown sugar gives the pineapples a richer flavor than using white sugar.
2 tablespoons flour: This helps soak up some of the juice and make the sauce thicker.
½ cup cheddar cheese: Cheddar goes well with pineapples, but you can use a mix with mozzarella if you'd like.
1 cup Ritz crackers: These crackers are crunchy even when baked.
3 tablespoons butter: Butter is mixed with crushed crackers for a richer flavor than using olive oil or another fat.
How to make pineapple casserole :
1. Preheat the oven.
2. Cut the pineapple into chunks.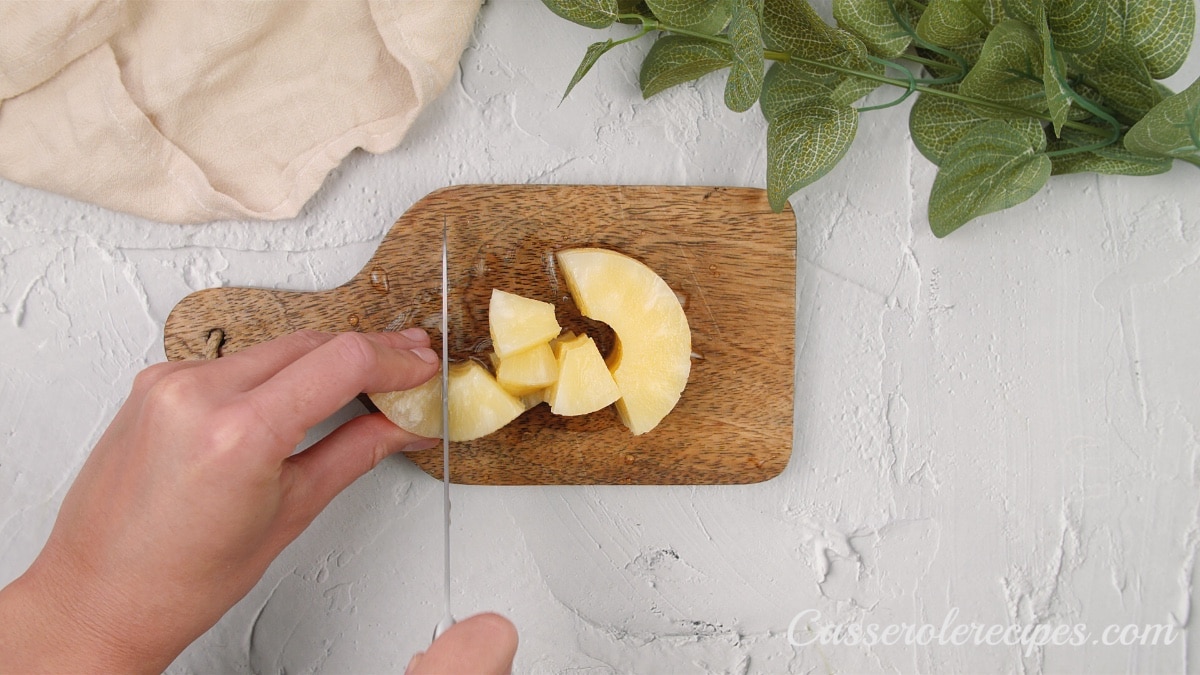 3. Add the flour to the pineapple chunks.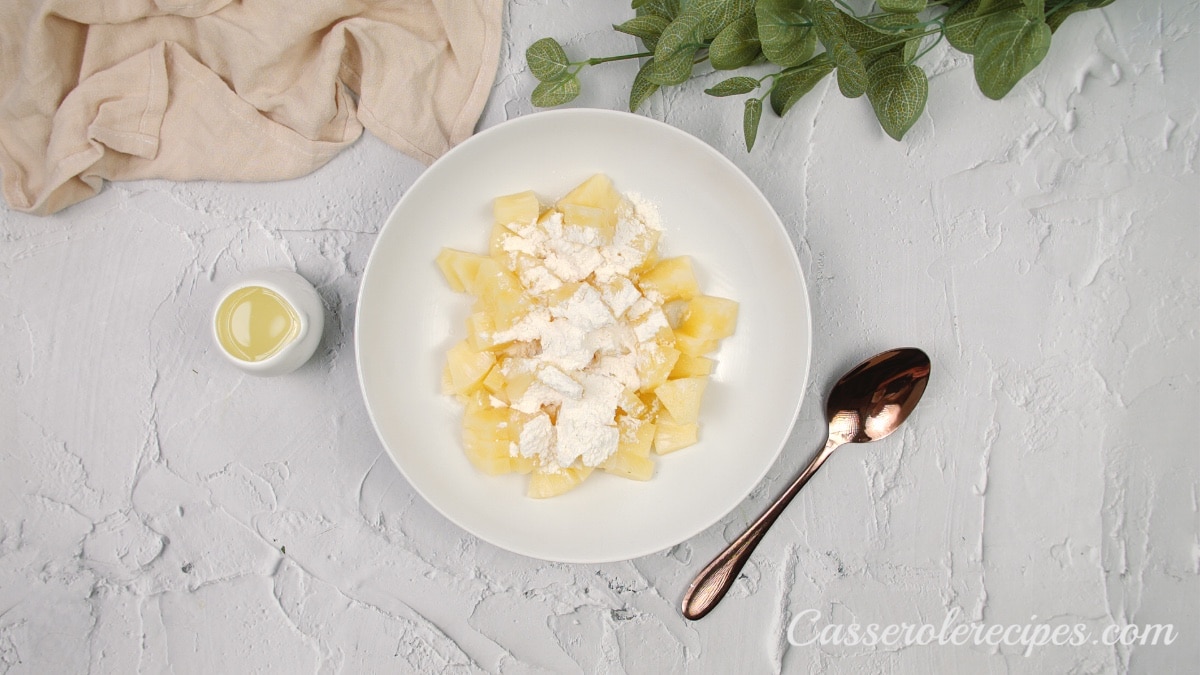 4. Pour in the reserved juice.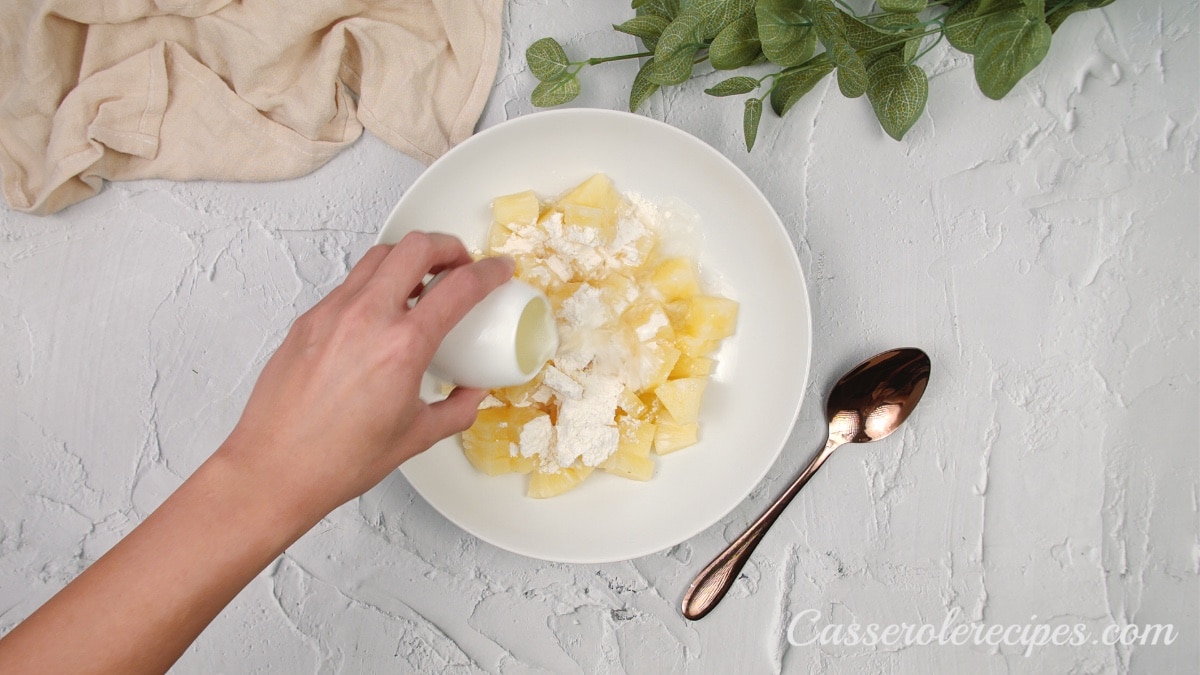 5. Stir it together.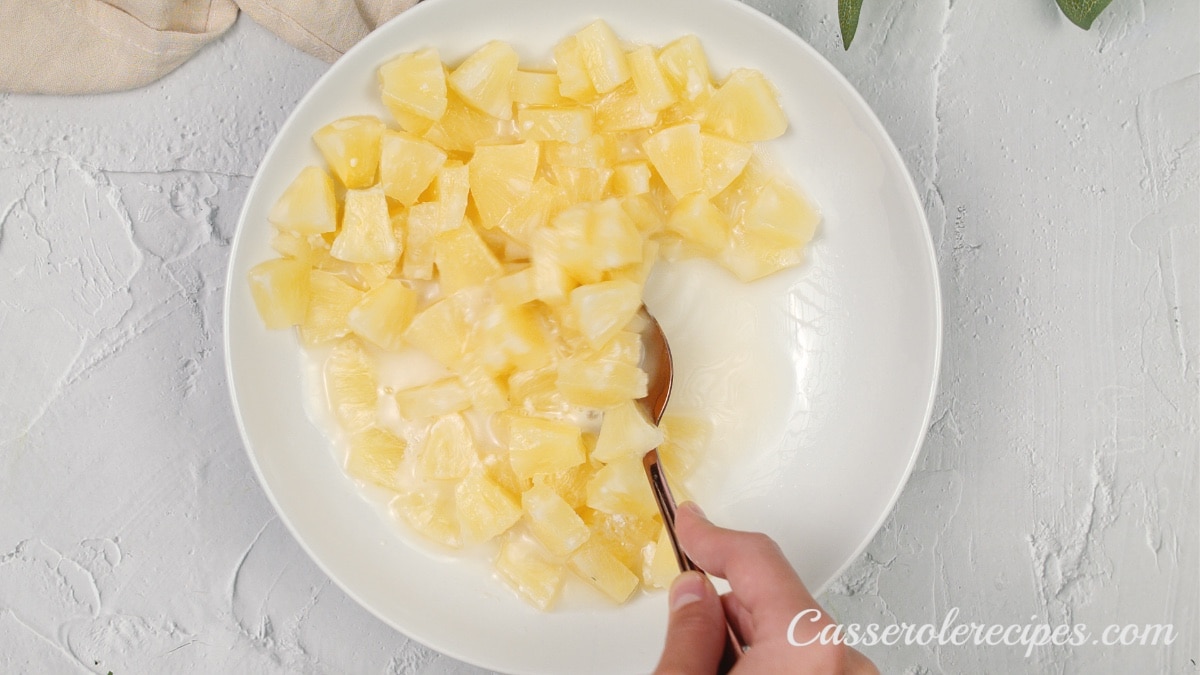 6. Add in the brown sugar.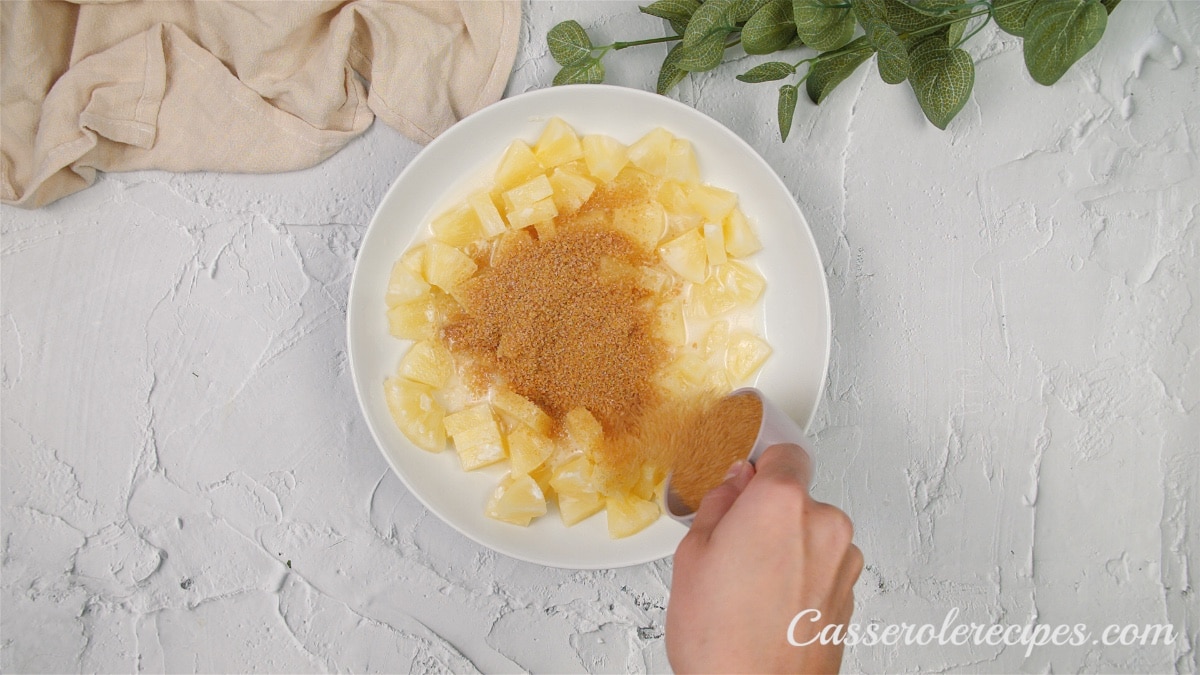 7. Stir it together.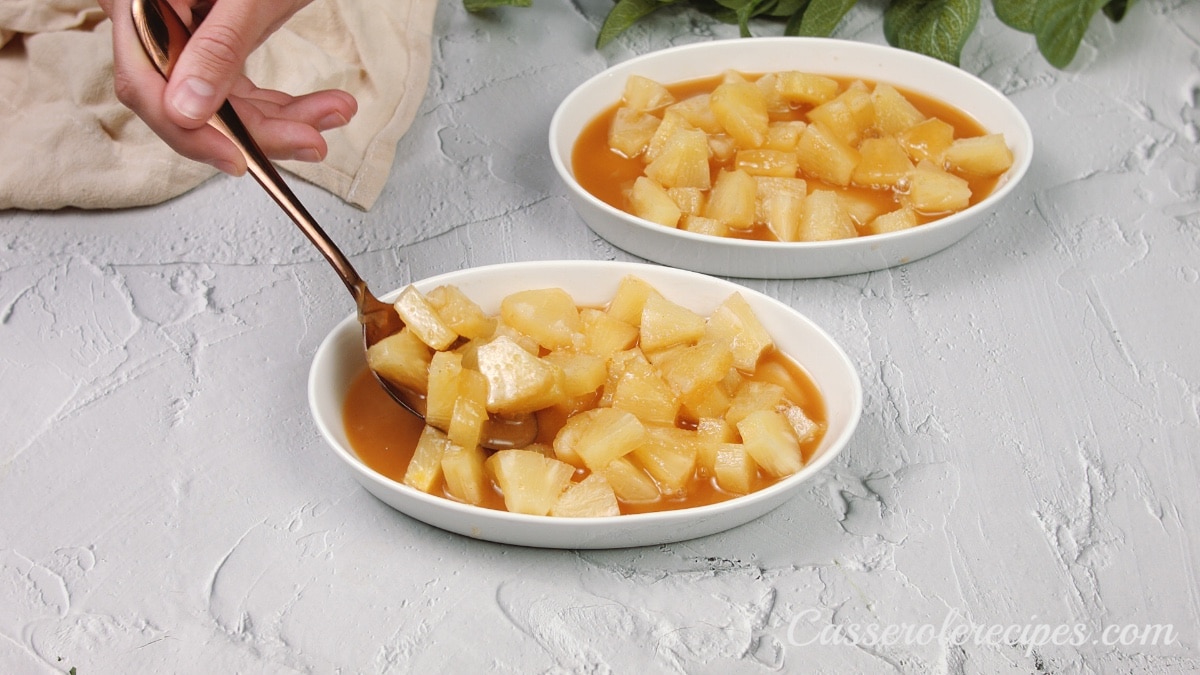 4. Transfer the pineapple casserole into two small ramekin dishes and top with the cheese.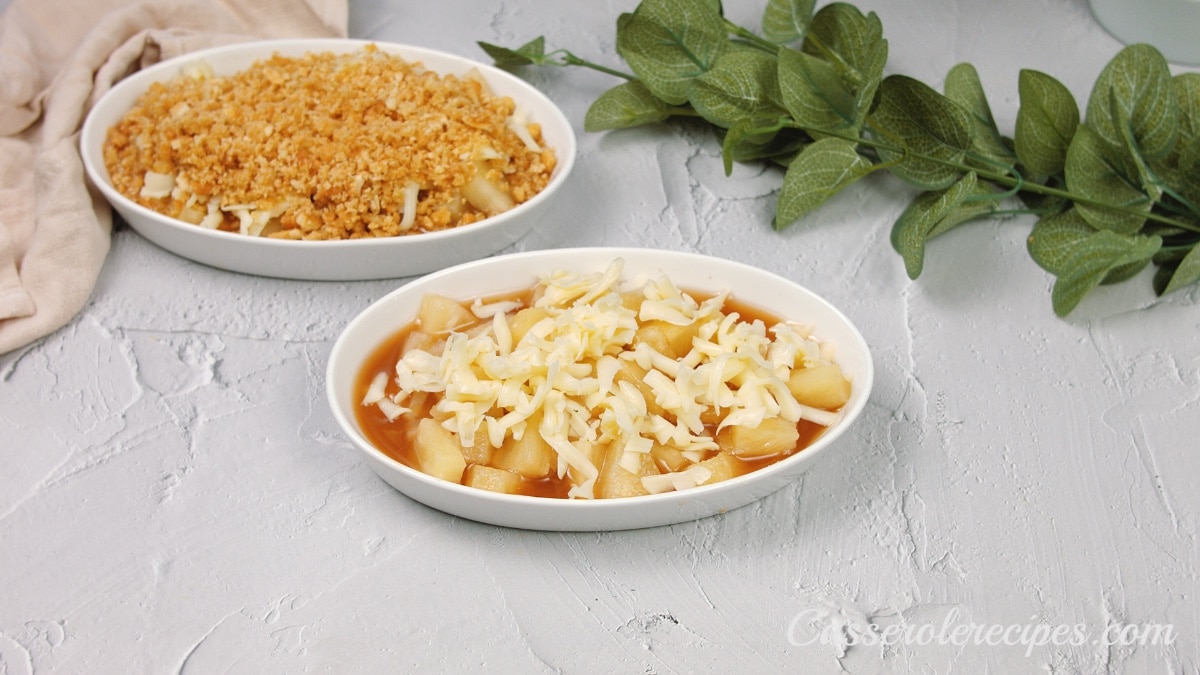 5. Sprinkle the crushed crackers on top.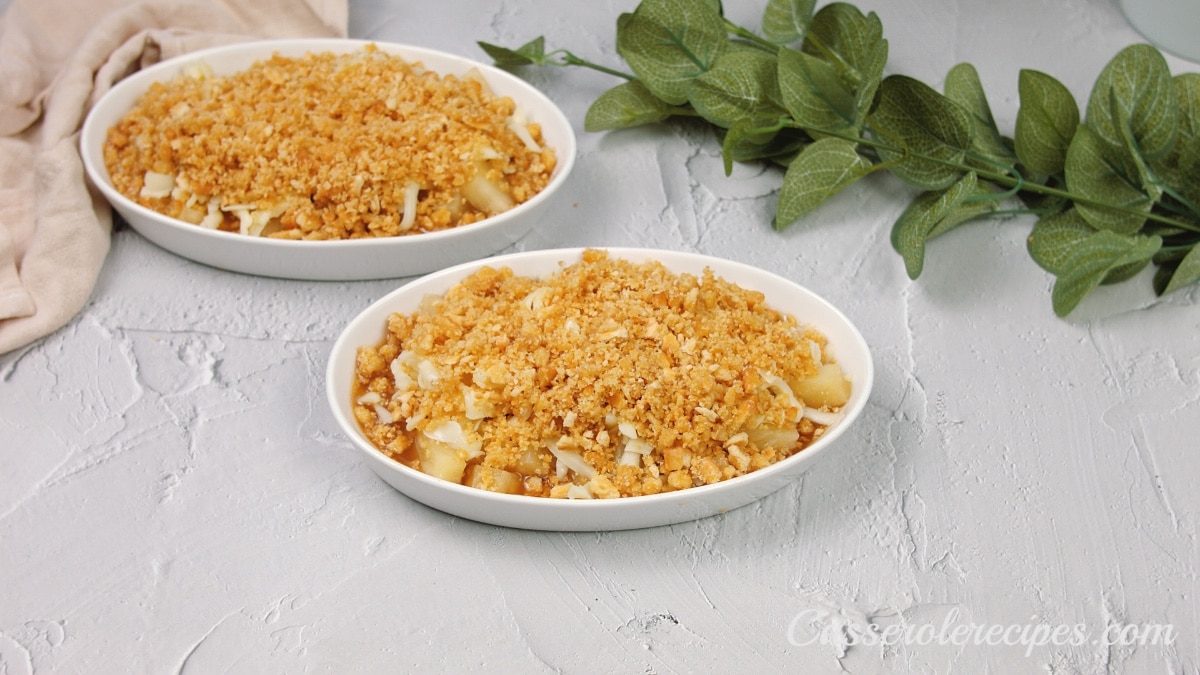 6. Bake until golden brown.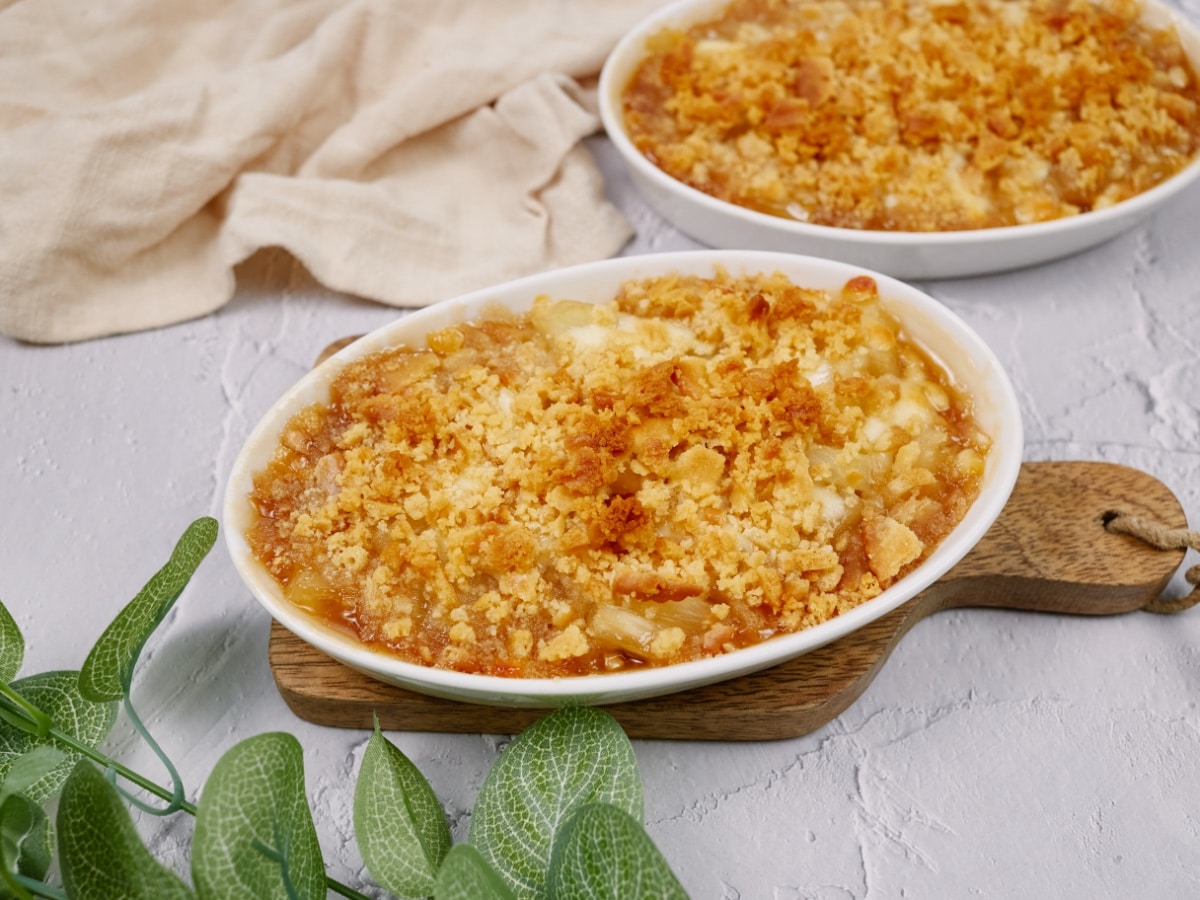 Tips for success:
Here are a few tips for success and variations you can try to make this the best pineapple casserole you've ever had.
Here are some additional ingredients you can add to this dish to make it your own: pecans, coconut flakes, diced ham, or marshmallows.
Be sure to drain the pineapples and only keep the required amount. This is so that the casserole isn't too liquidy.
Top with tater tots instead of using breadcrumbs. This is a filling and fun way to eat this dish.
Make it spicy! If you like a little spice in your food, add a little cayenne pepper to this casserole.
How can I make pineapple casserole into dessert?
If you want to turn this dish into a dessert, you can easily add a few ingredients to do so. Leave out the cheese and add in maraschino cherries, chunks of pears or peaches, coconut flakes, or marshmallows. Bake it for 30 minutes to make it hot and bubbly. Serve it with a scoop of vanilla ice cream.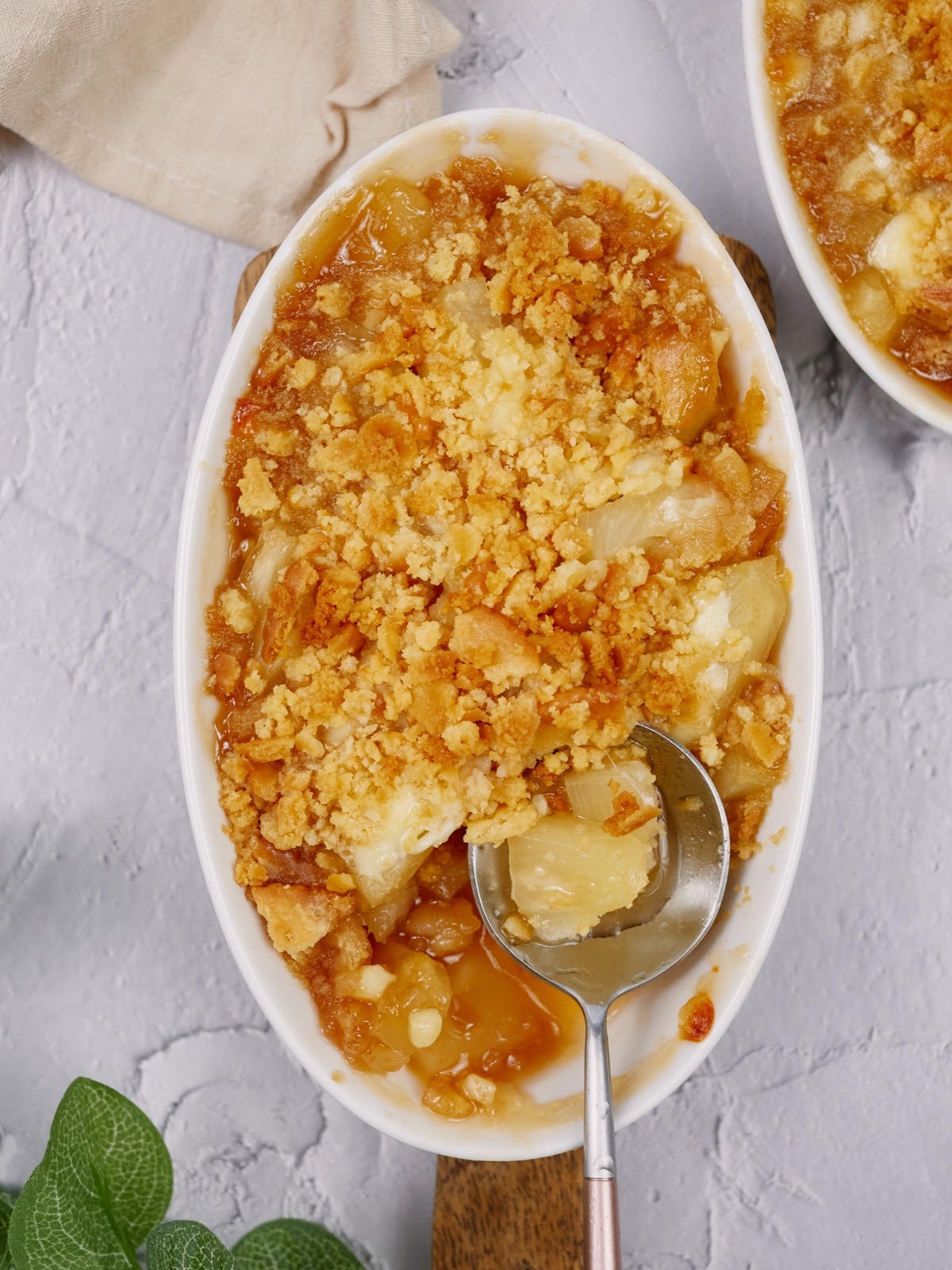 How can I make this dish creamy?
If you want to make this casserole a bit more creamy, add four ounces of cream cheese. This is the best choice because of its thickness. Other options might include sour cream or plain yogurt but they will be more liquidy, so you may need to adjust for that by adding a bit more flour.
Can I add meat to this casserole?
This dish is naturally vegetarian, but you can definitely add shredded chicken to it. You can poach a chicken breast and then shred it with forks or you can use a rotisserie chicken from the grocery store. Either option works great.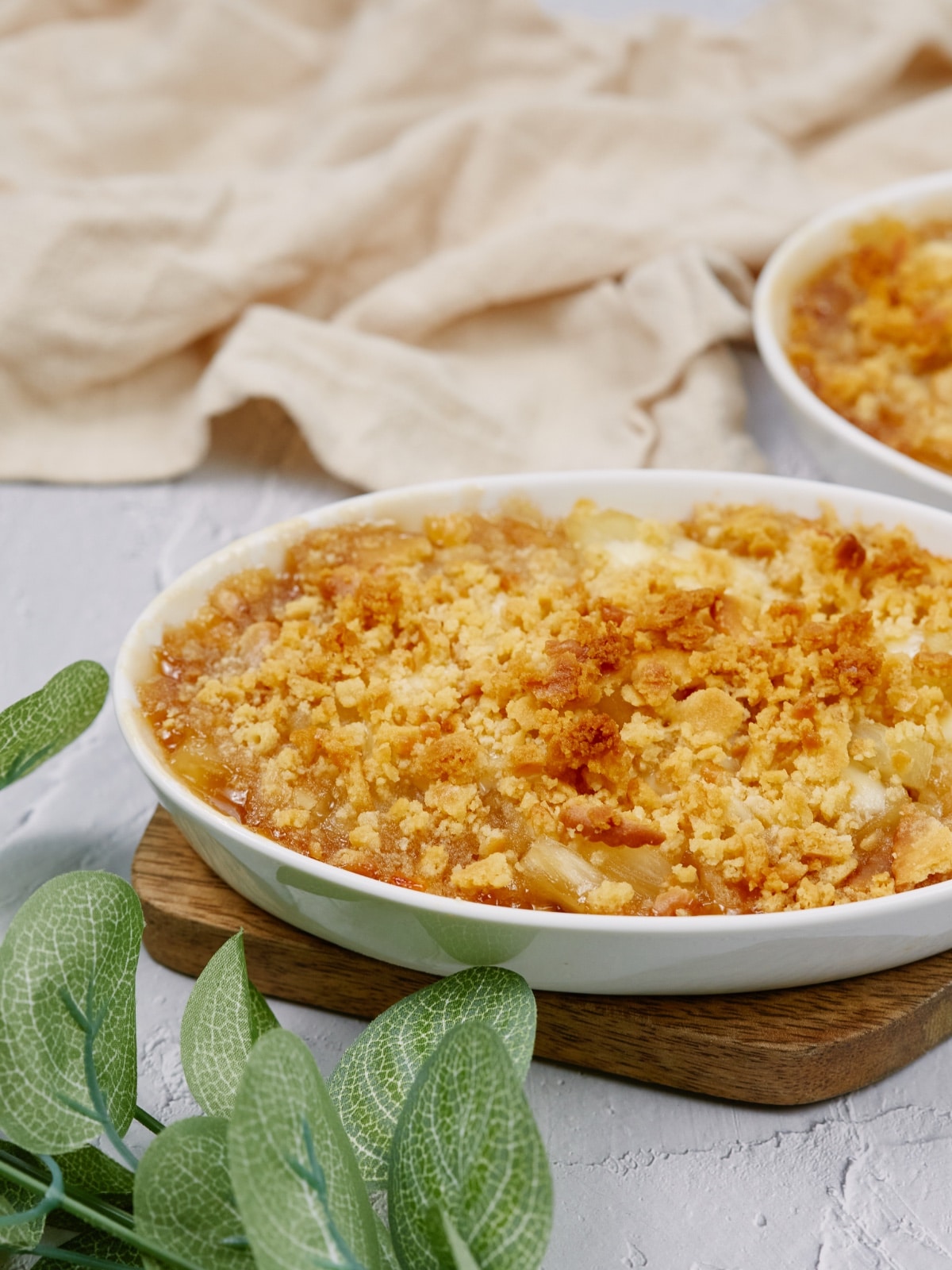 How to store:
Store any leftover casserole in an airtight container in the refrigerator for up to five days. Reheat it in the microwave with 30-second increments until it's hot all the way through.
To freeze the entire casserole, wrap it in aluminum foil and then plastic wrap. Label it with what it is, how to cook, and the date. This will help you remember later. Remember that if you cook it from frozen, without thawing first, it will take longer to cook in the oven. Keep the foil on until the last 30 minutes of cooking so the top can brown.
FAQs:
Can I make pineapple casserole without ritz crackers?
If you have another type of cracker or breadcrumbs you want to use, go for it! Ritz crackers are buttery and salty and taste great as breadcrumbs, but you can use whatever you like or have on hand.
Can I use fresh pineapple in this recipe?
This recipe calls for canned pineapple, but you can also use fresh. The taste may be a little different, but it will still be delicious. It's also how your Grandma most likely made it!
Can I make this pineapple casserole dairy-free?
It's easy to make this casserole dairy-free. All you need to do is leave out the cheese and butter in the breadcrumbs. Use another fat like olive oil or avocado oil with the breadcrumbs.
Yield: 4 servings
Pineapple Casserole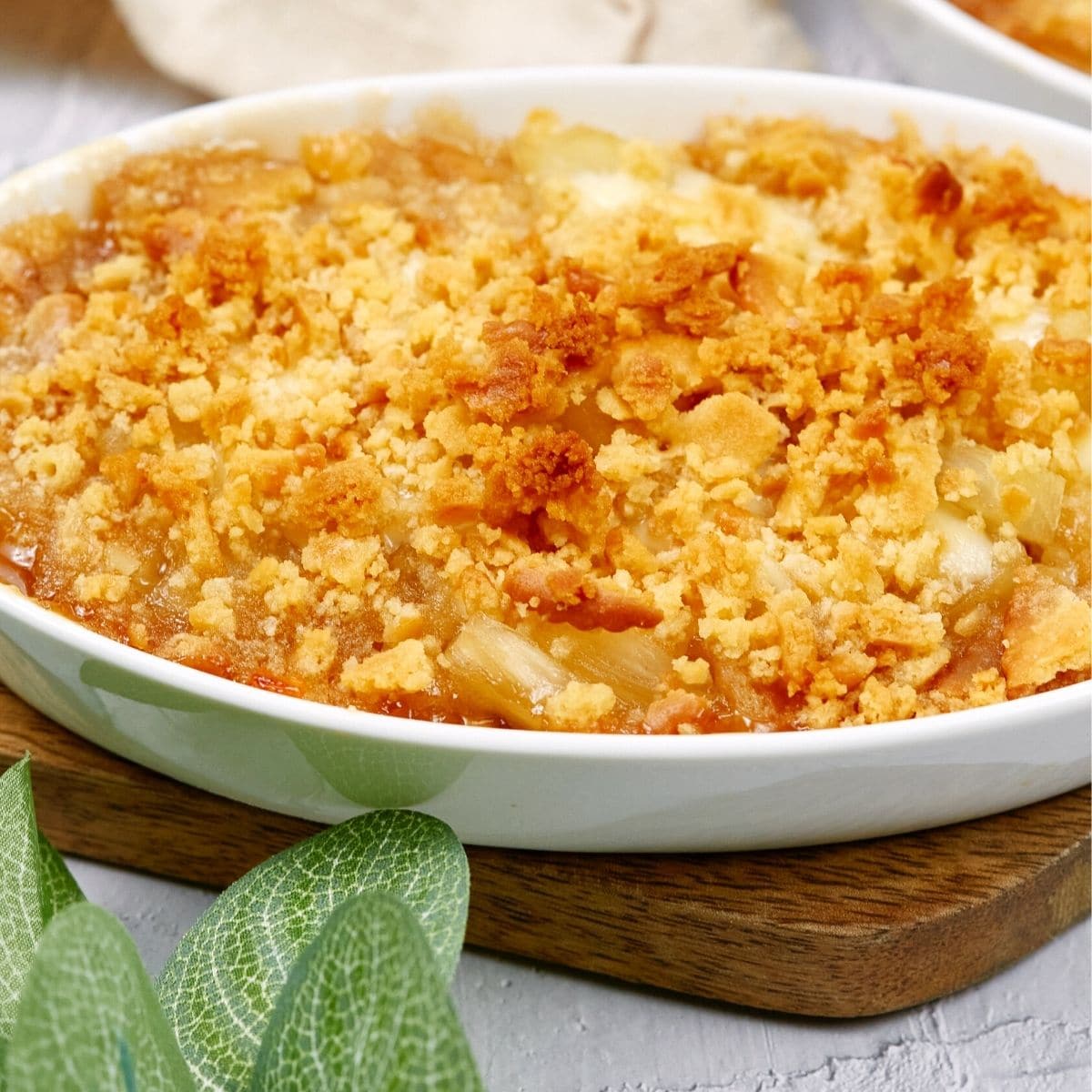 Pineapple Casserole is a sweet and salty dish made with pineapple chunks, cheese, brown sugar, and topped with breadcrumbs. It's baked until it's hot and melty and the top is golden brown. It's the perfect side dish or meal for two.
Ingredients
1 cup crackers, crumbled
1 can pineapple
2⁄3 cup brown sugar
2 tablespoons flour
1⁄2 cup cheddar cheese, shredded
3 tablespoons butter, melted
Instructions
Cut pineapple into chunks, reserving 1⁄4 cup of pineapple juice.

Mix pineapples with reserved juice, flour, and sugar.

Transfer pineapple mixture into 2 ramekins and top with cheese.

Combine cracker crumbs with melted butter and top casseroles with this mixture.

Bake for 30 minutes at 180C/350F.


Nutrition Information:
Yield:
4
Serving Size:
1
Amount Per Serving:
Calories:

351
Total Fat:

17g
Saturated Fat:

9g
Trans Fat:

1g
Unsaturated Fat:

7g
Cholesterol:

37mg
Sodium:

264mg
Carbohydrates:

47g
Fiber:

1g
Sugar:

35g
Protein:

5g