Creamy Brussel Sprout Casserole is a tasty side dish made with Brussels sprouts, cream cheese, milk, garlic powder, onion powder, and cheese. This easy dish is perfect for serving with the main dish at dinner or for bringing to a potluck party. Plus, it's a fantastic way to get kids to eat their green vegetables without complaint!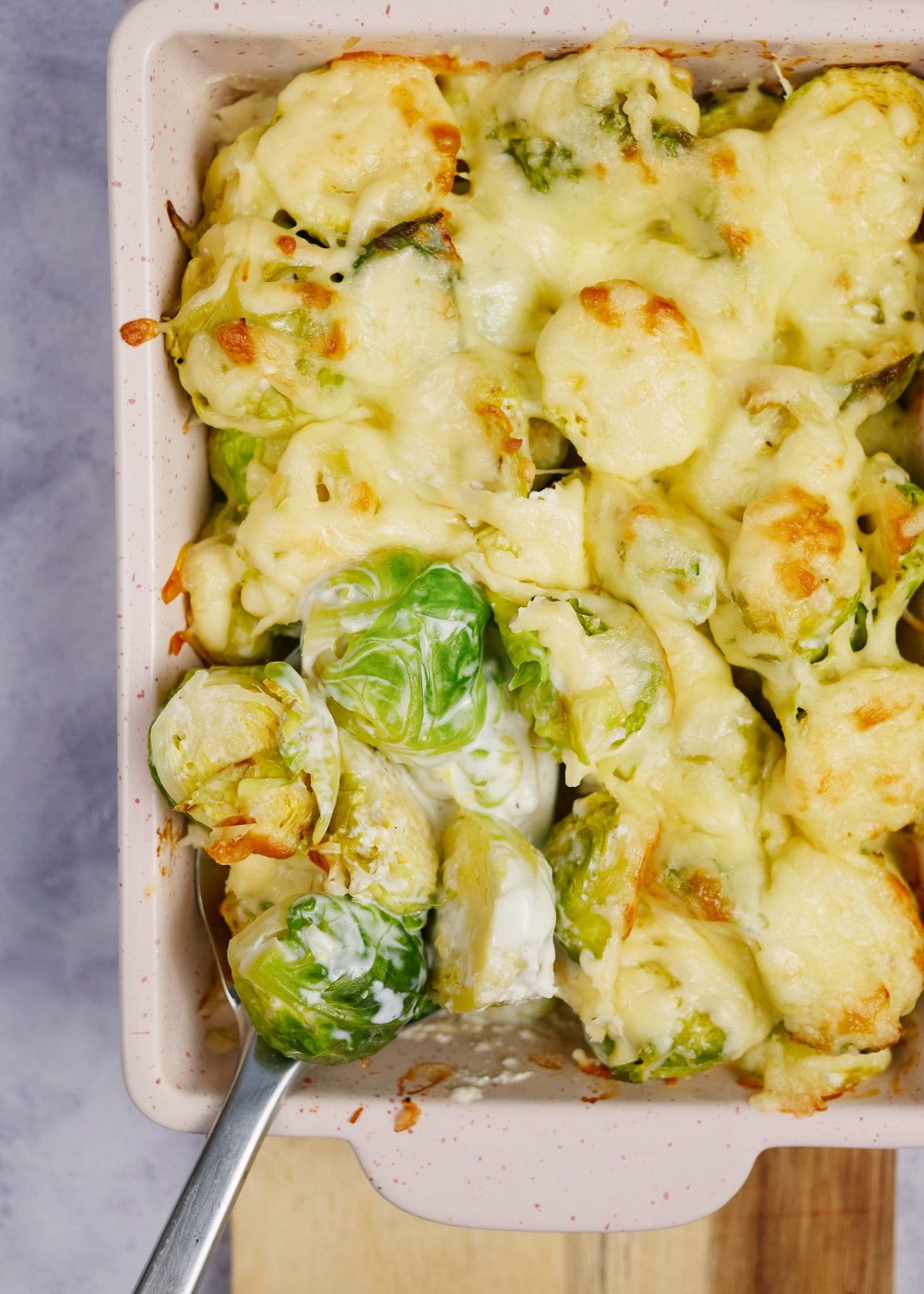 What is Creamy Brussel Sprout Casserole?
This Brussel sprout recipe is creamy and the perfect introductory dish if you've never had Brussel sprouts before or have decided you don't like them. It's all about how they are prepared. These are smothered in a well-seasoned and creamy sauce that balances out the bitterness that you might associate with Brussel sprouts typically.
If you like creamy sauces, you might also like this four-cheese pasta casserole. It's another tasty option that is loaded with flavor and a rich creamy sauce.
Ingredients:
28 oz (800g) Brussel sprouts: Buy fresh Brussel sprouts from the produce section of the grocery store. You can also use frozen in this recipe if you prefer, just thaw before cooking.
7 oz (200g) cream cheese: Soften the cream cheese before adding it to the dish. Leave on the counter for 20-30 minutes at room temperature for best results.
1⁄2 cup milk: Whole milk is best for richness in casseroles instead of low or no-fat milk.
1⁄2 teaspoon garlic powder: You can buy a bottle of garlic powder in the spice aisle of the grocery store. You can use 1 clove of fresh garlic if you prefer.
1⁄2 teaspoon onion powder: Be sure to check your spices for freshness and buy new bottles of ground spices after one year.
salt and pepper: A little salt and pepper enhance the flavors of the other ingredients.
1 cup mozzarella, shredded: Buy pre-shredded mozzarella or a block and shred it yourself.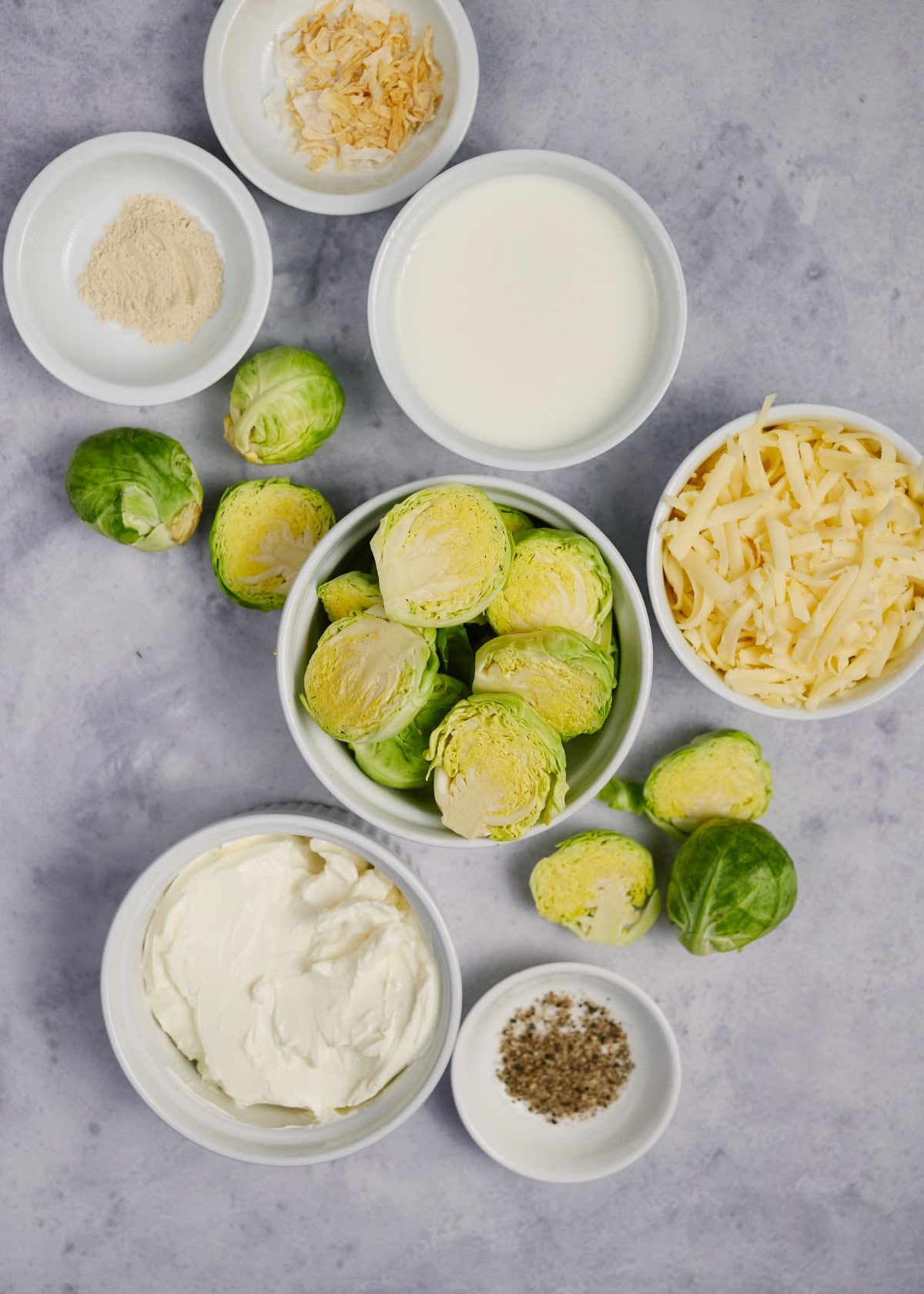 How to make creamy brussel sprout casserole:
Video Recipe
Here's a brief overview of how to make this dish. See the recipe card below for the specific recipe instructions.
1. Preheat the oven to 410F/210C.
2. Cut the fresh or thawed frozen Brussel sprouts in half and then steam for 6 minutes. Once steamed, remove them immediately from the heat source to stop the cooking process. You want them just softened.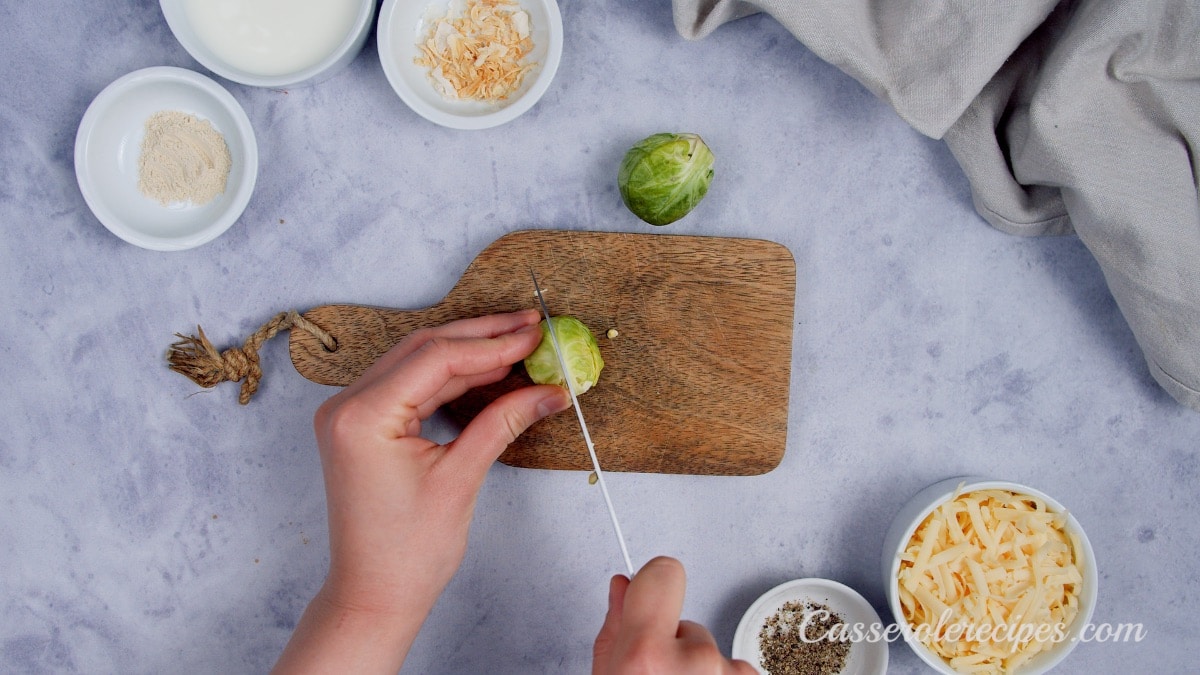 3. Meanwhile whisk the milk, cream cheese, salt, pepper, garlic powder, and onion powder together in a separate bowl. A whisk will incorporate the cream cheese best in this process.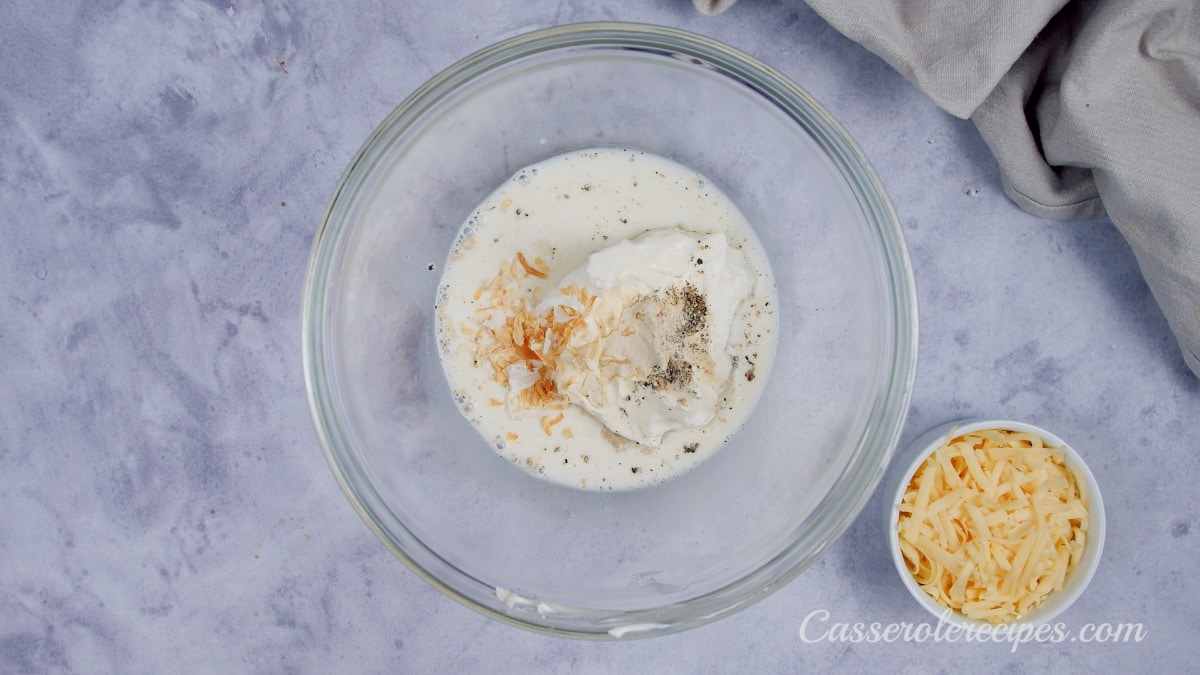 4. Combine the steamed sprouts with the creamy sauce and then transfer them into a prepared baking dish.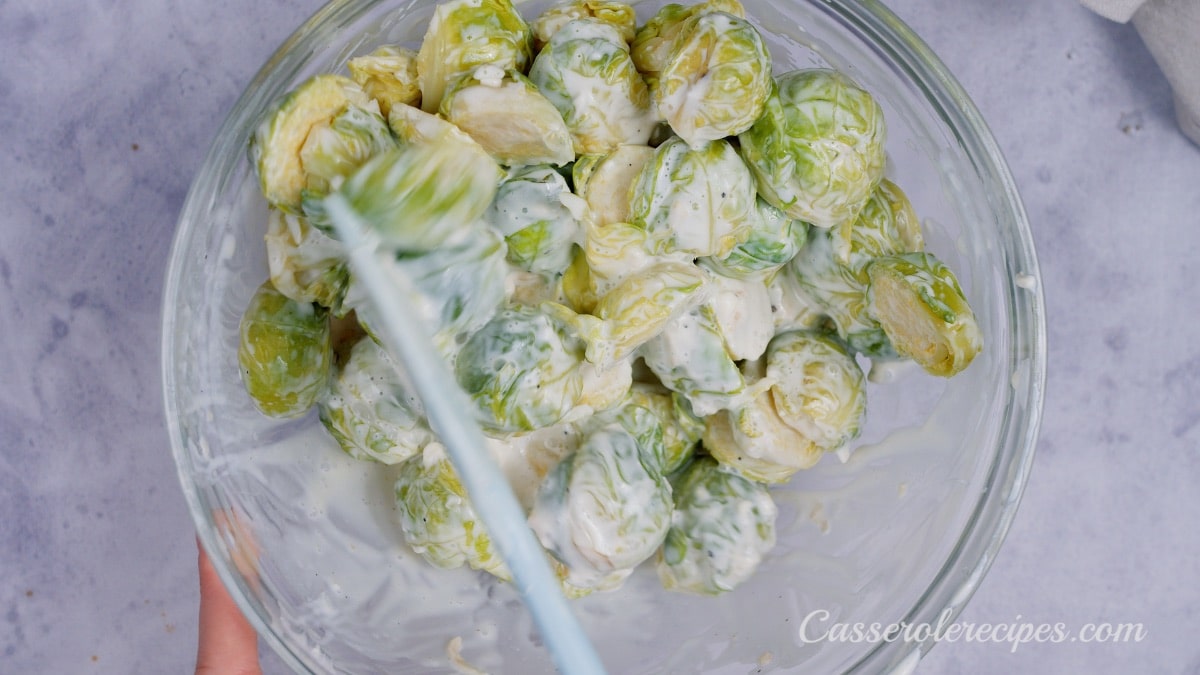 5. Sprinkle the cheese on top and then bake for 10 minutes or until the cheese has melted and the casserole is heated through.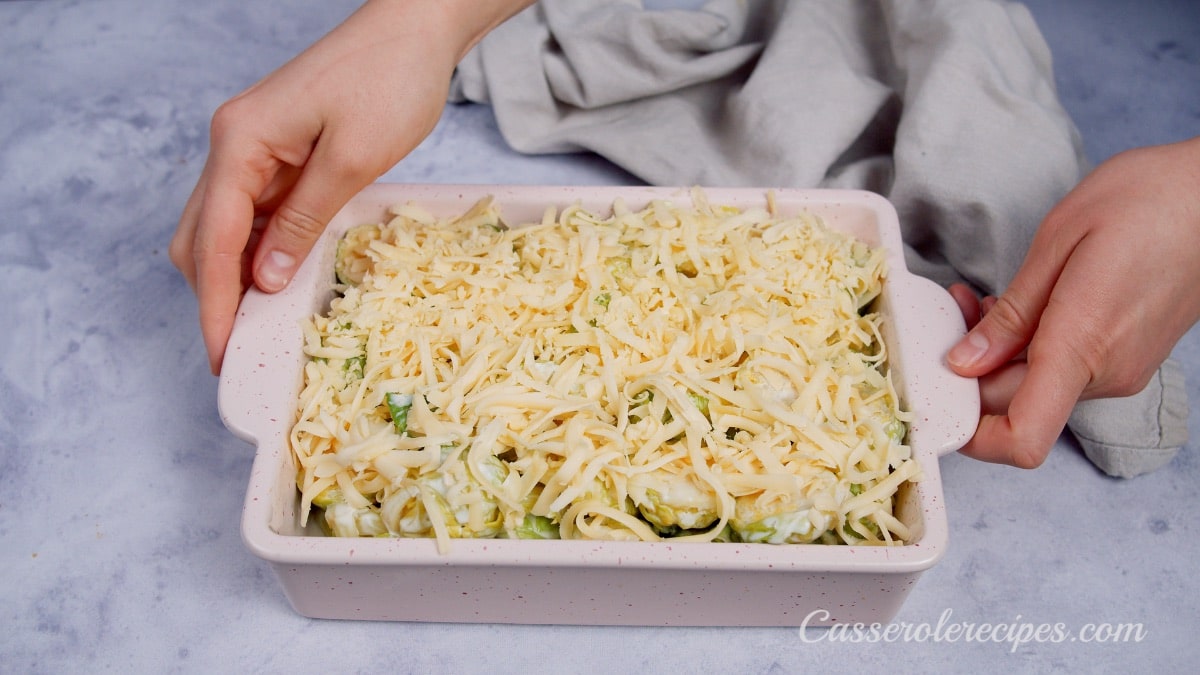 Tips for success:
Here are a few tips for success and variations you can try to make this the best creamy brussel sprout casserole you've ever had.
Try other types of cheese like parmesan, sharp white cheddar, Havarti, or Gruyere. If you prefer a bit of heat, use a mixture of mozzarella with pepper jack cheese.
If you want to add protein, try shredded chicken, cooked and crumbled bacon, or ground sausage. It can easily be stirred in just before baking. Another common option would be to use chopped ham. Perfect for using up leftovers after a holiday meal.
To make this dish even more filling, serve over white rice or a simple egg noodle.
What other vegetables can I add to this dish?
Brussel sprouts don't need to be the only vegetable in this recipe. You can add other complementary veggies that will taste delicious. Try adding broccoli, cauliflower, potatoes, sweet potatoes, mushrooms, green beans, or leeks. Use what you have on hand, or try something new every time to find your favorite mixture.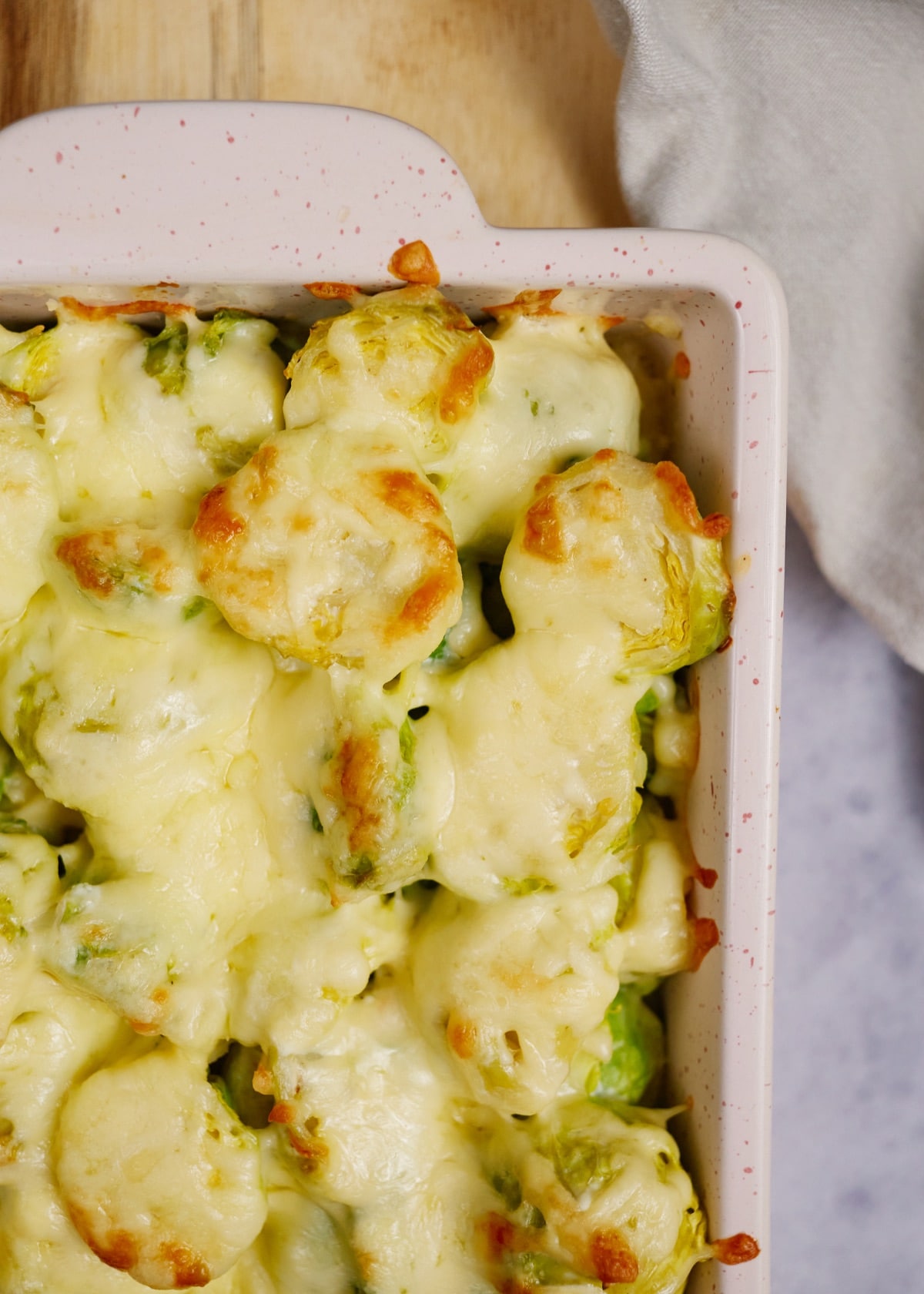 Can I make this creamy brussel sprout casserole in an instant pot?
You can easily make this dish in a pressure cooker. Doing so makes this a one-pan meal which is even better! Less clean-up and more time to spend with your family is the best way to spend the evening.
Halve the Brussel sprouts, remove the outer layer, and place them in the bowl of the instant pot. Pour the milk mixture over the Brussel sprouts, seal on the lid, and cook for 5 minutes. Carefully release the pressure, remove the lid, and top with cheese then serve.
This option or even another easy Instant Pot Brussels sprouts recipe can save time and be perfect for reducing dishes after cooking.
What's the best way to make this recipe ahead of time?
This casserole is perfect to make ahead for dinner or to bring to a party. It's easy to reheat when you're ready to eat. Or, you can simply prep the ingredients, cover them, and refrigerate them until you're ready to bake. This option is great if you have time and oven space to bake them at dinner time.
I like to assemble this in an aluminum baking pan and cover then freeze it until the day before I need to serve it. Thaw overnight in the refrigerator before baking as directed.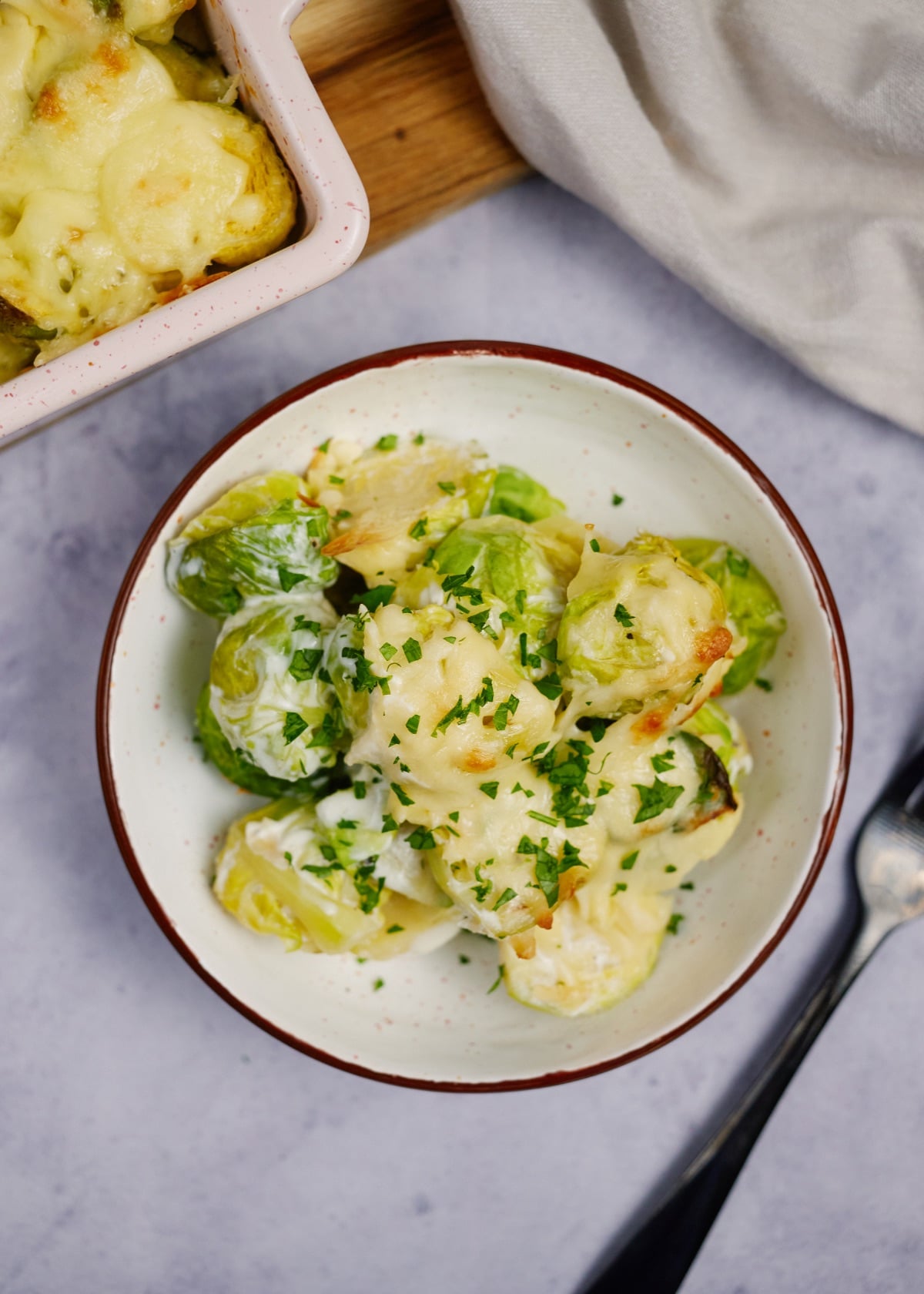 How to store:
Store any leftover casserole in an airtight container in the refrigerator for up to five days. Reheat it in the microwave with 30-second increments until it's hot all the way through.
To freeze the entire casserole, wrap it in aluminum foil and plastic wrap. Label it with what it is, how to cook it, and the date. Labeling will help you remember later.
Remember that if you cook it from frozen, it will take longer to cook in the oven without thawing first. Keep the foil on until the last 30 minutes of cooking so the top can brown.
FAQs:
Is this casserole keto-friendly?
Yes, this dish is low-carb and perfect for a keto diet.
Can I make this brussel sprout casserole dairy-free?
You can make this casserole without dairy by leaving out the cream cheese and milk. Substitute a half cup of vegetable broth for flavor. 
Is this casserole gluten-free?
This dish is made without gluten.  
More Tasty Vegetable Casseroles
If you want more flavor on your menu, add one or all of these tasty side dishes to the mix. Make sure that you bookmark these, print out the recipes, or just pin them to Pinterest to make them easy to find when you are ready to prepare them.
Yield: 6 servings
Creamy Brussel Sprout Casserole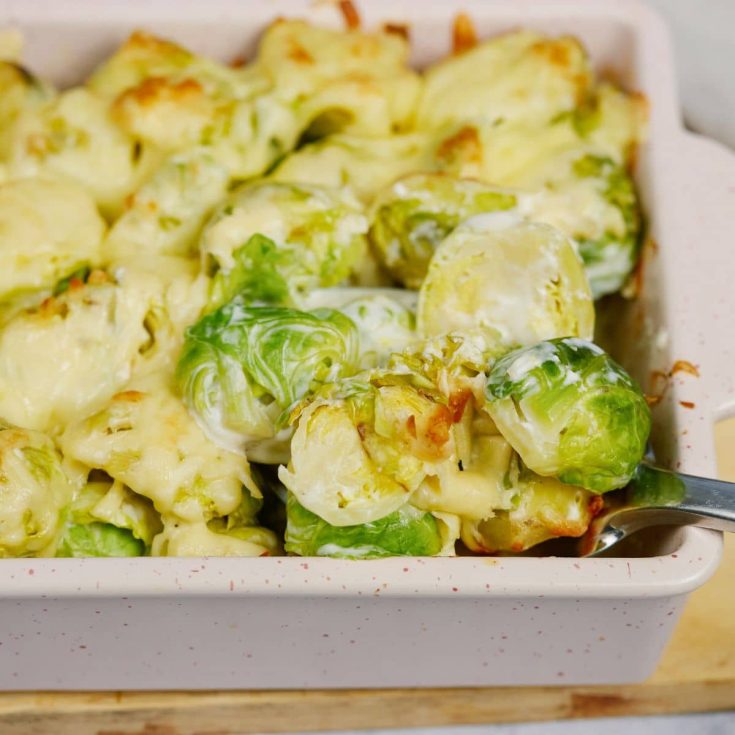 Creamy Brussel Sprout Casserole is a tasty side dish made with brussel sprouts, cream cheese, milk, garlic powder, onion powder, and cheese.
Ingredients
28 oz (800g) brussel sprouts
7 oz (200g) cream cheese
1⁄2 cup milk
1⁄2 teaspoon garlic powder
1⁄2 teaspoon onion powder
salt and pepper to taste
1 cup mozzarella shredded
Instructions
Preheat the oven to 410F/210C.
Cut brussel sprouts in half and steam for 6 minutes.
Meanwhile whisk milk, cream cheese, salt, pepper, garlic powder, and onion powder.
Combine steamed sprouts with creamy sauce and transfer them into the baking dish. Sprinkle shredded cheese on top.
Bake for 10 minutes.
Notes
This sauce and baking method can be used with any favorite vegetable such as asparagus, broccoli, cauliflower, or green beans.
Nutrition Information:
Yield:
6
Serving Size:
1
Amount Per Serving:
Calories:

223
Total Fat:

15g
Saturated Fat:

8g
Trans Fat:

0g
Unsaturated Fat:

5g
Cholesterol:

43mg
Sodium:

379mg
Carbohydrates:

7g
Fiber:

3g
Sugar:

2g
Protein:

18g