Looking for a delicious way to spice up your dinner routine? Then you need to try this delicious chicken cordon blue casserole recipe! It's packed with all the flavors you love about a traditional cordon bleu with chicken, ham, and cheese. The best part is it is in an easy-to-make casserole form. Plus, it's sure to please even the pickiest of eaters.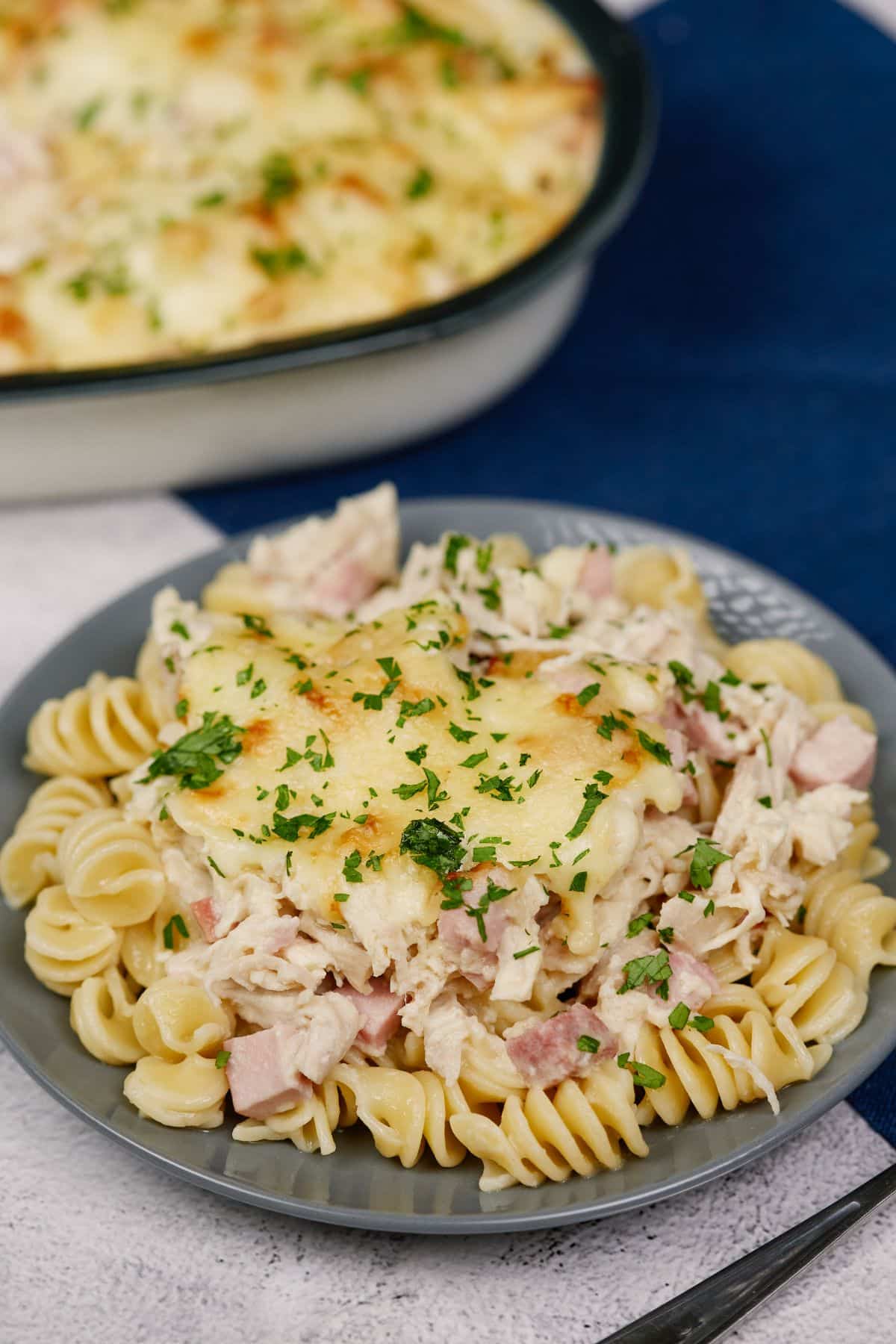 Jump to:
Chicken Cordon Bleu Casserole
Your family will love digging into this hearty casserole that's loaded with tender chunks of chicken, ham, and Swiss cheese. The creamy sauce brings it all together for a dish that's truly comfort food at its finest. Your taste buds will thank you.
This easy casserole is one of our favorite casseroles! It's easy to make, and it always gets rave reviews from family and friends. We know you'll love this casserole as much as we do. It's perfect for busy weeknights when you need something quick and easy, but it also tastes great enough for special occasions. Give it a try – you won't be disappointed!
If you like this, then make sure you check out our simple chicken and ham casserole with similar, but different flavors.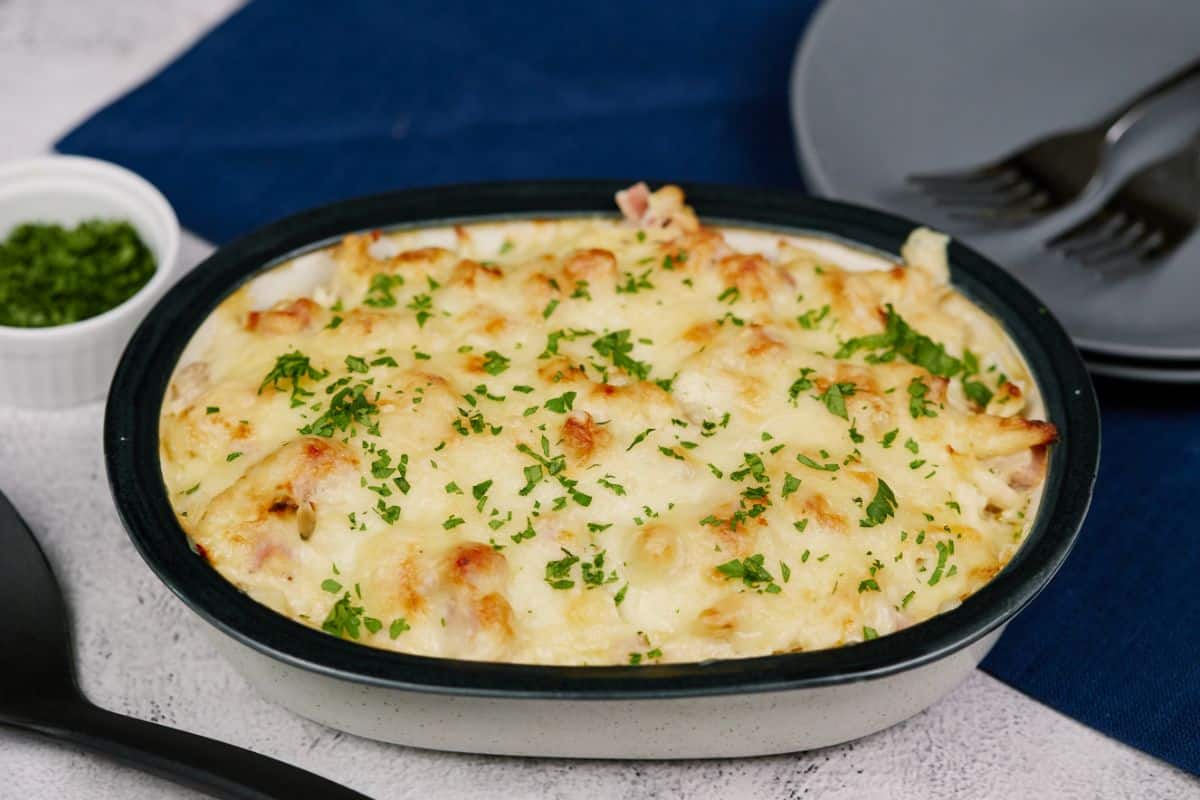 What Goes With Chicken Cordon Bleu?
This casserole is a complete meal in itself, but if you're looking for something to serve on the side, you have tons of choices. Since this is creamy and a bit rich, you may want to go with a simple steamed or roasted vegetable. A side salad is another great option to pair with this recipe.
The mushroom and string bean casserole, spinach casserole, or asparagus casserole are all great green vegetable sides that pair well with these flavors. Of course, it also goes well with simple rice, pasta, or this mashed potatoes casserole too.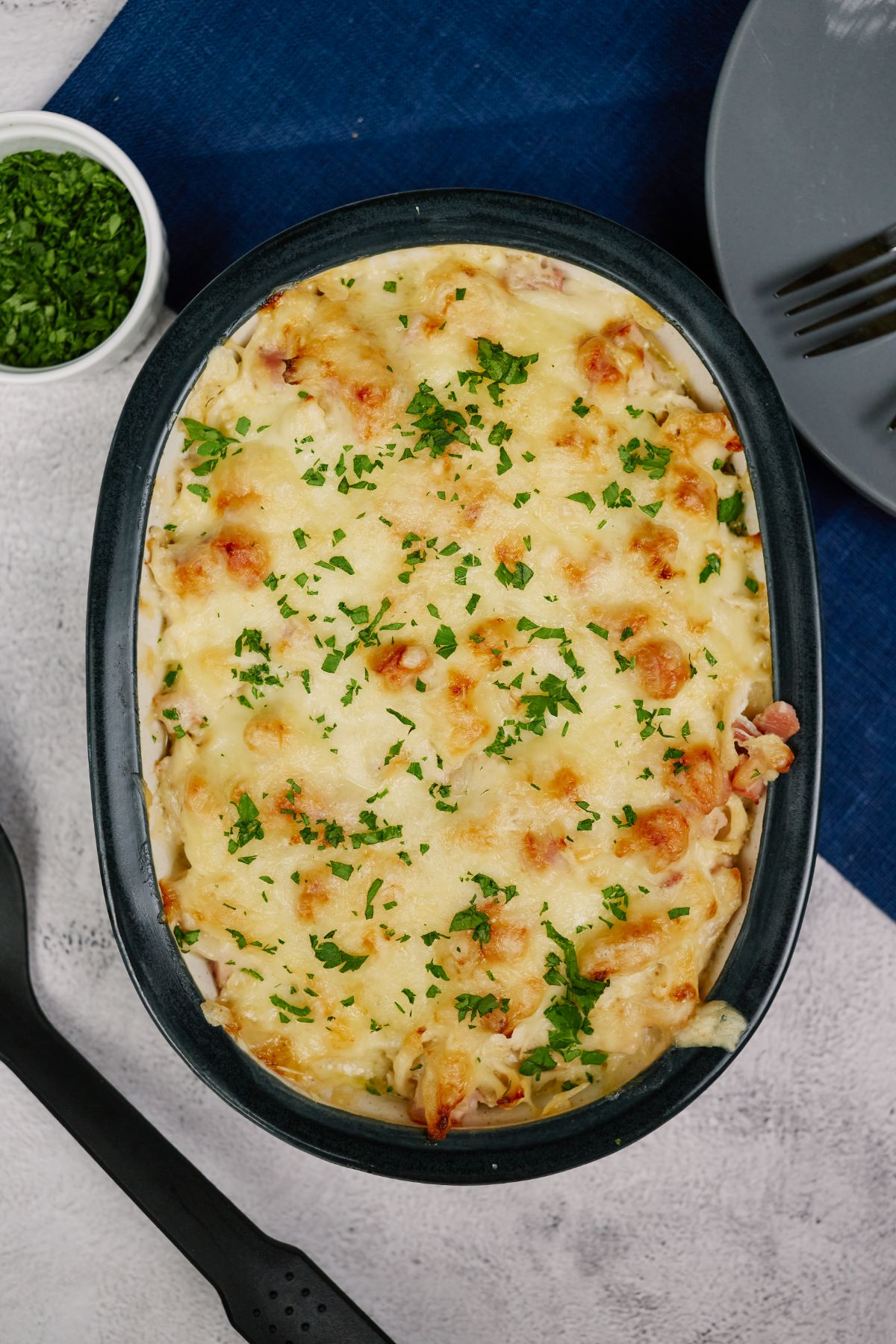 Ingredients
4 cups shredded chicken breasts (500 g)
10 ounces ham (300 g)
1 ½ cups heavy cream
4 tablespoons all-purpose flour
4 tablespoons salted butter
1 teaspoon Dijon mustard
¼ cup shredded Parmesan cheese
1 ⅓ cup shredded Swiss cheese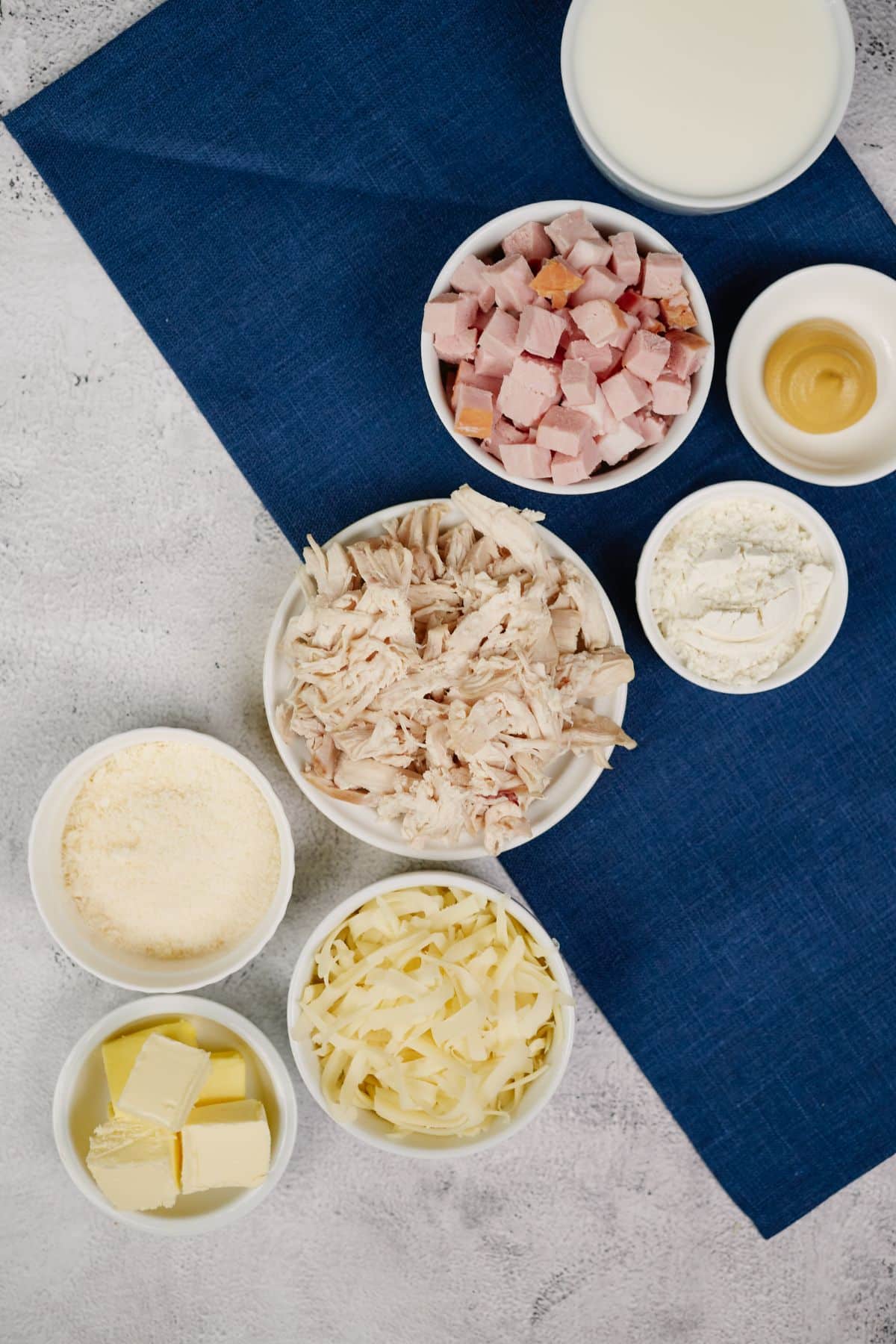 Kitchen Tools You May Need
How to Make Chicken Cordon Bleu Casserole
Begin by preparing your baking dish (I used a 10" dish) with a coating of non-stick spray on the bottom and sides. This helps prevent the sauce and filling from sticking and being difficult to serve. Then, set aside the casserole dish and preheat the oven to 350°F/180°C.
Now, in a saucepan, melt the butter over medium heat. Once it has melted, whisk in the flour for 1-minute. This is the start of the roux base to thicken your sauce.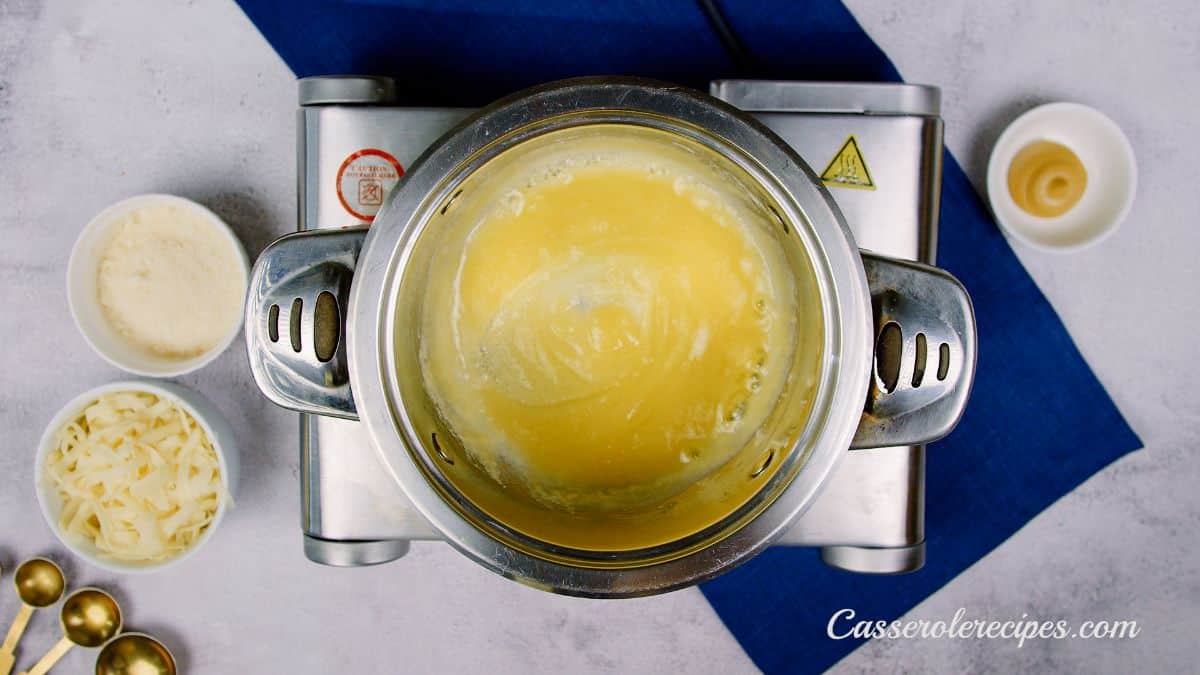 Reduce the heat to low, and then add the heavy cream to the pan, making sure you whisk it until no lumps remain and it has combined well with the flour mixture. If desired, you can season with a bit of salt at this point, then cook for 8 to 10 minutes. Stir the mixture regularly to prevent burning, and remove from the heat source once it has thickened nicely.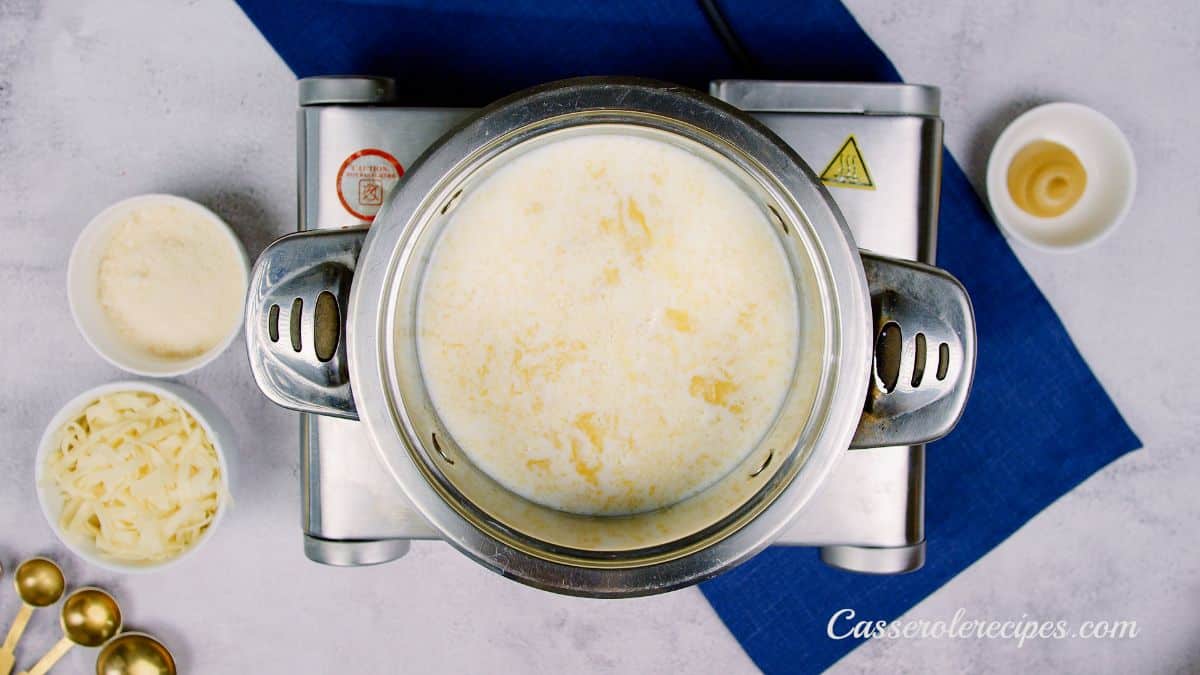 Now, whisk in the mustard, parmesan, and ⅓ cup of the Swiss.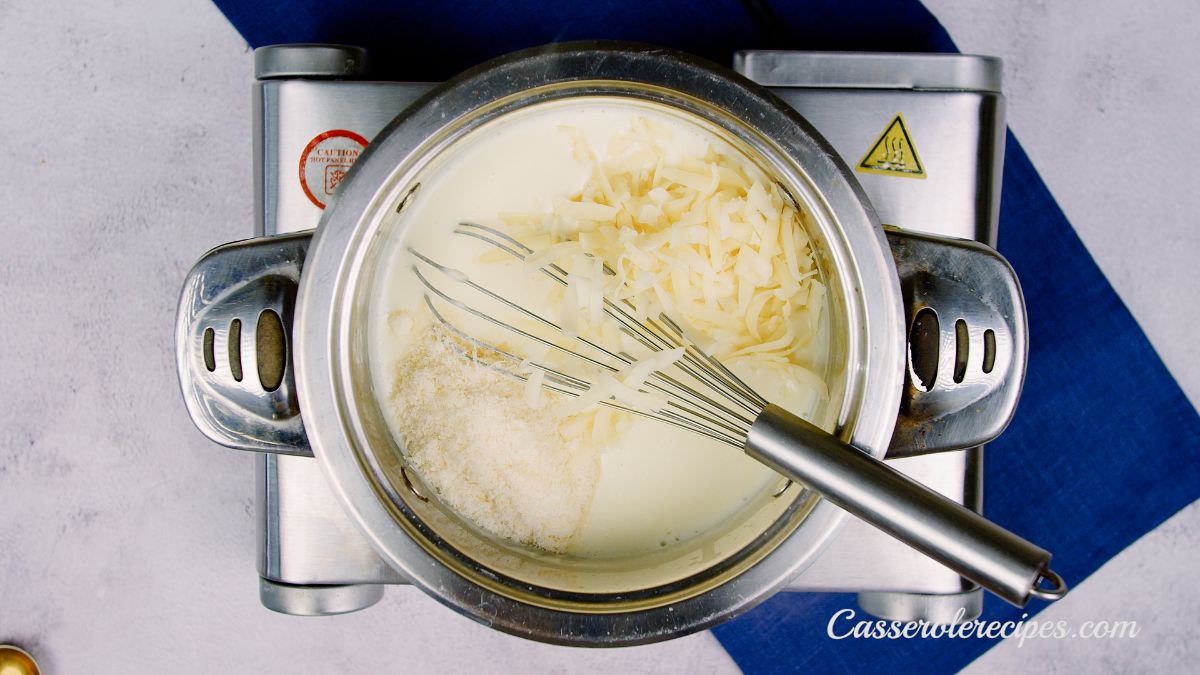 Next, you will add the chicken and ham to the sauce. You can do this in a large bowl, or in the same pan, you cooked the sauce in if large enough. This saves time on cleanup.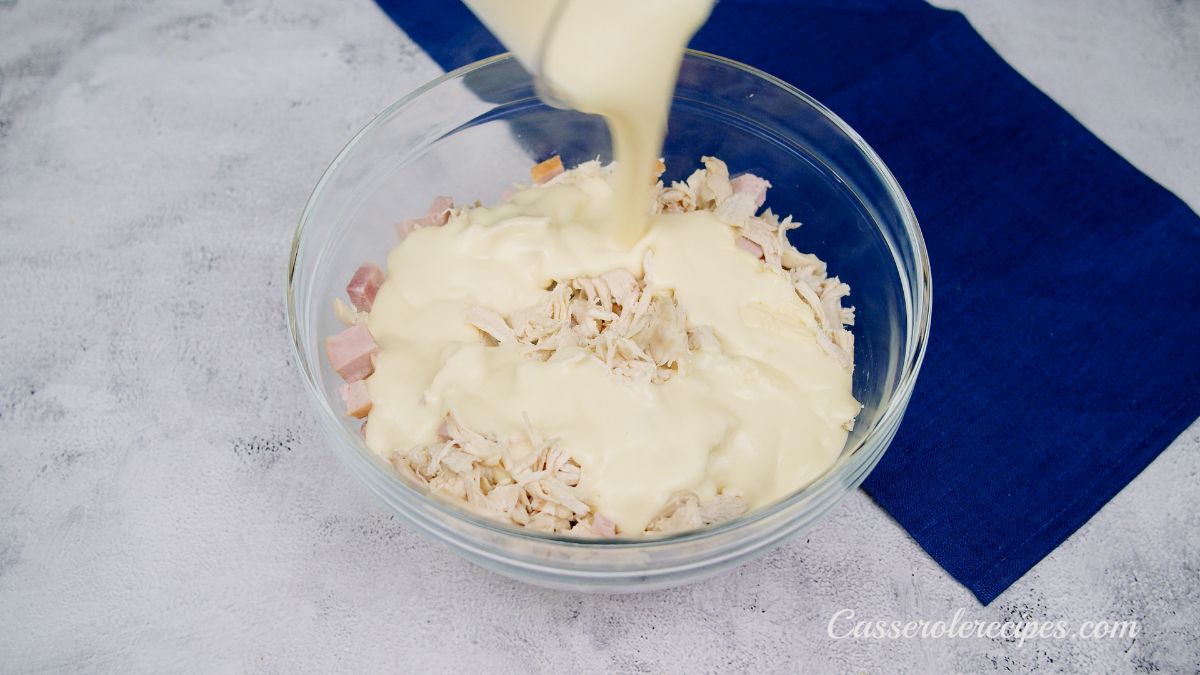 Pour the meat and sauce mixture into the prepared baking dish and spread evenly.
Then, top it with the remaining 1 cup of shredded cheese. Spread this over the top evenly, then pop it into the oven to bake.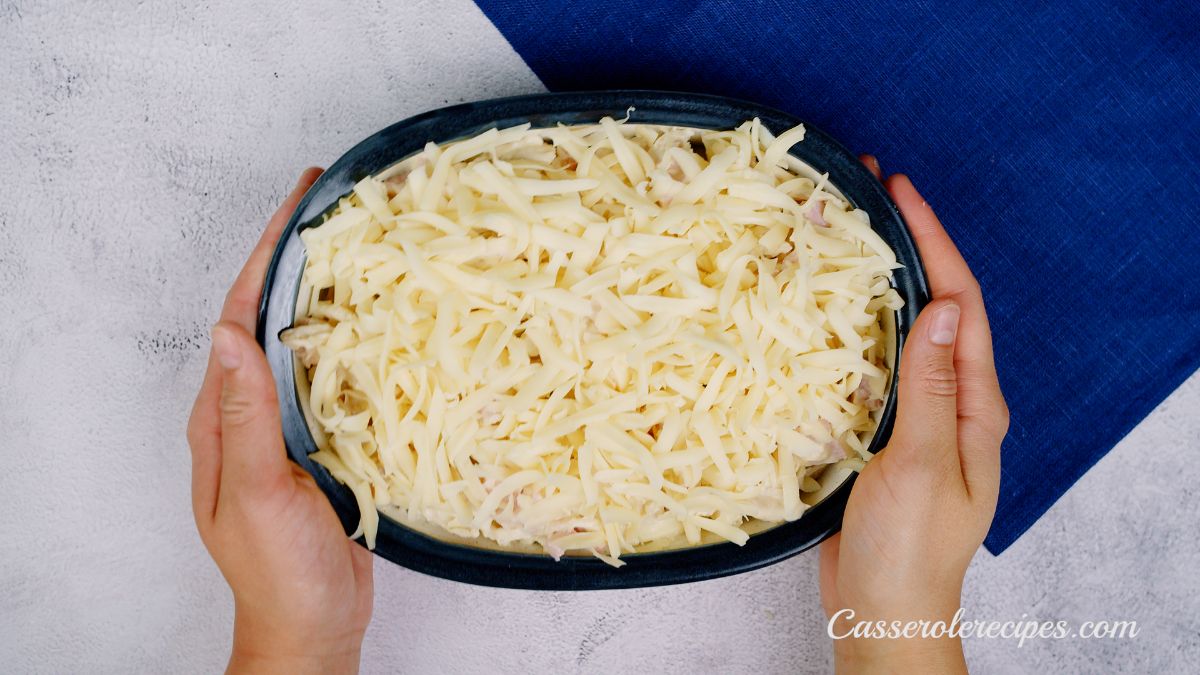 Bake for 25 to 30 minutes, or until the top is beginning to brown, the cheese has melted, and the casserole is heated through and bubbling.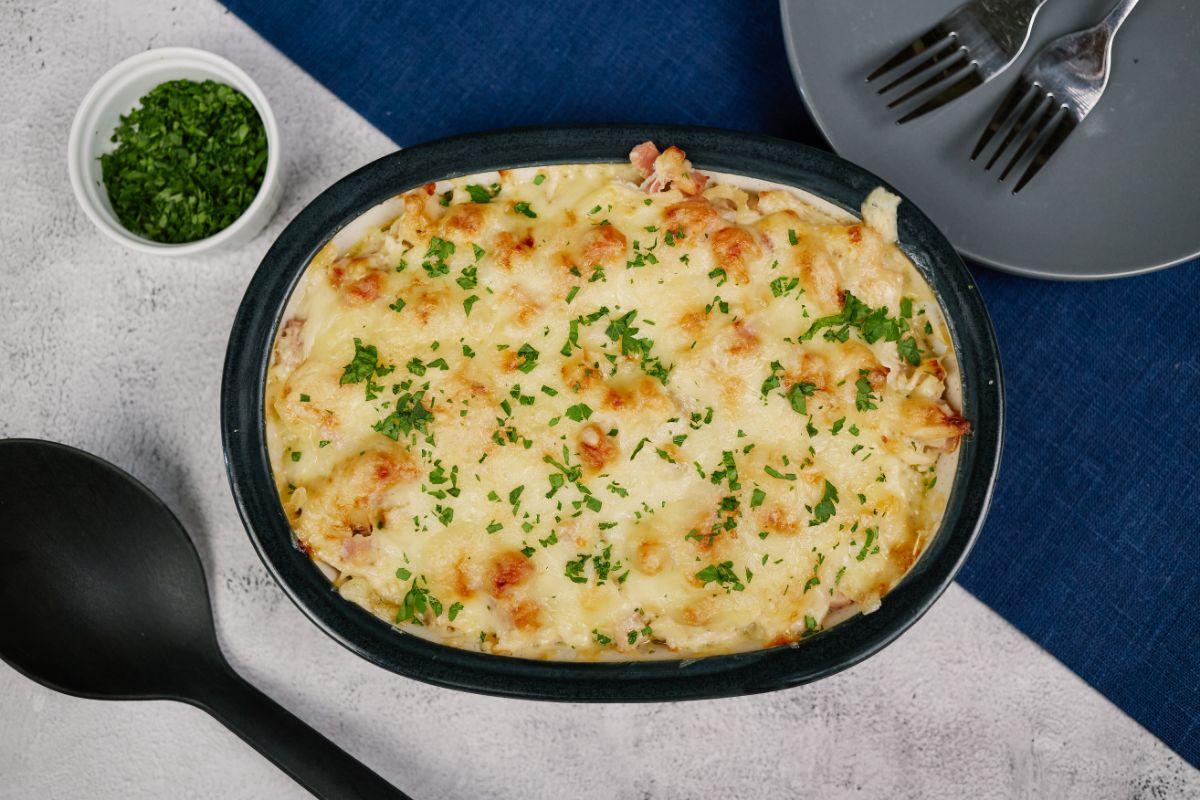 Serve over pasta if desired.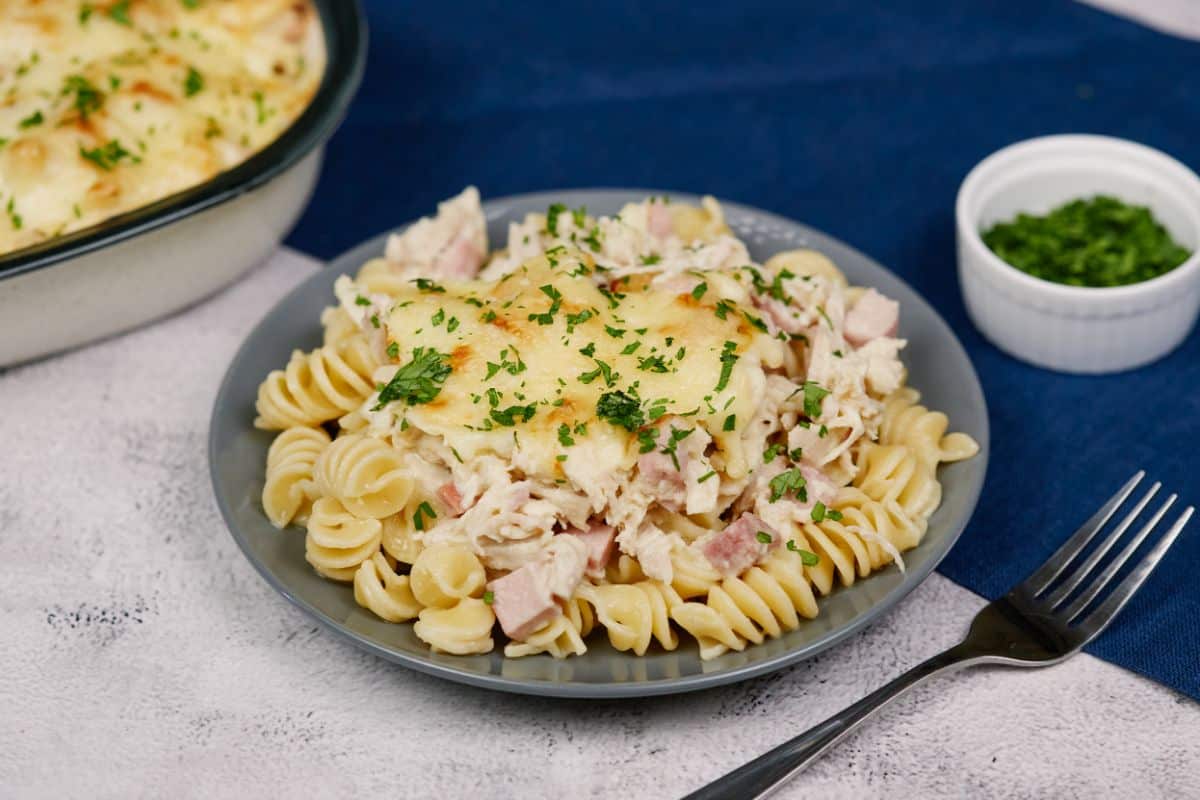 Chef's Tip
When making the sauce, it may seem a bit bland at first. The addition of the ham and Swiss in the baked casserole will add to the flavor, but if you prefer a bit more layered flavor profile, I recommend adding in 1 teaspoon of black or white pepper, a pinch of cayenne, nutmeg, or even smoked paprika. While perhaps not traditional to the recipe, these can all add an elevated flavor profile.
Like tips like this? Then check out my latest cookbook, The Complete Cookbook for Beginners. This book is filled with essential skills and step-by-step techniques that are ideal for new home cooks.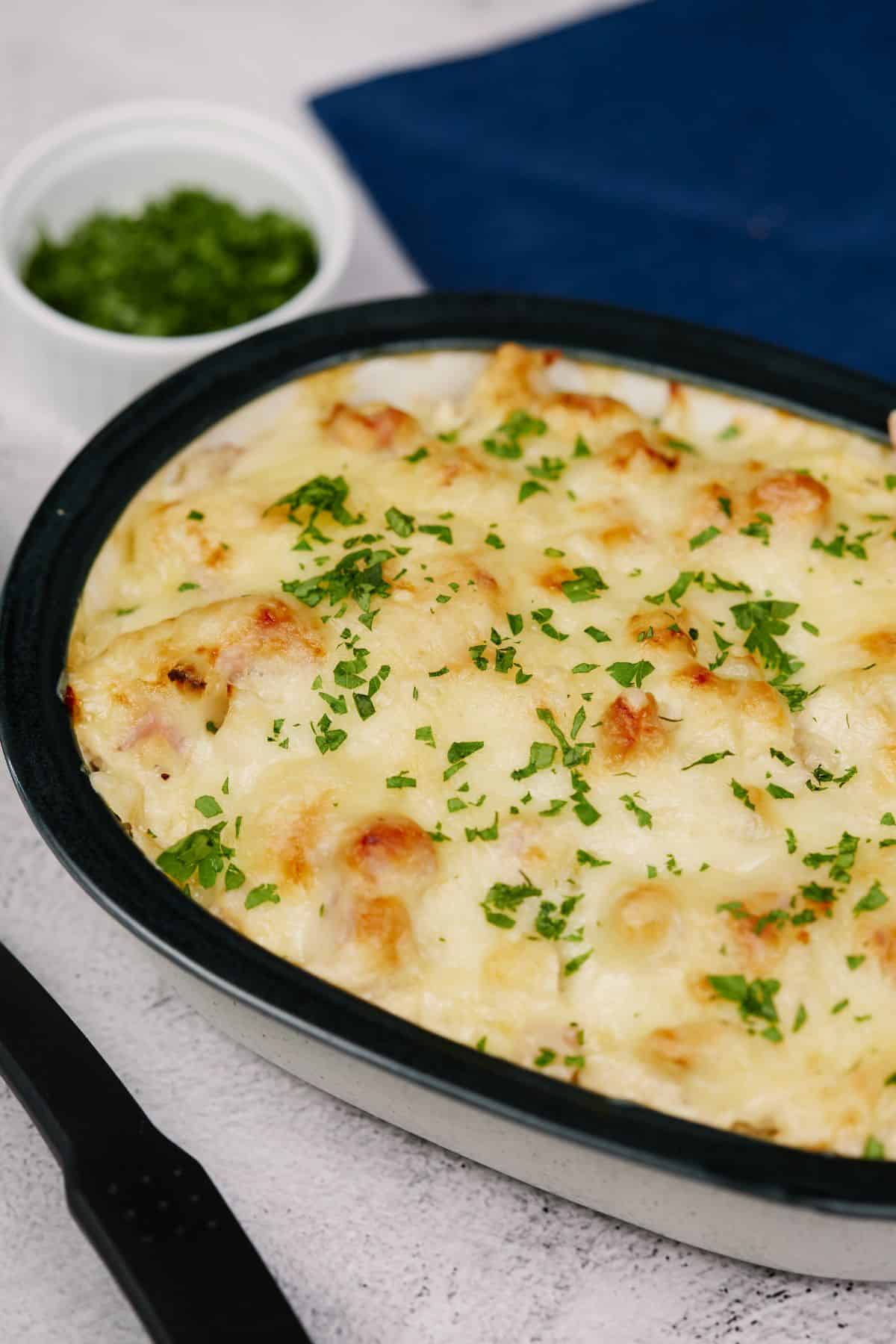 Frequently Asked Questions
What's the Difference Between Kiev and Cordon Bleu?
Kiev and cordon bleu are both chicken dishes that are coated in breadcrumbs and fried. The main difference is that Kiev contains butter inside the chicken, while cordon bleu does not.
This recipe is a casserole that takes the main portions of both of those recipes and makes it easier to prepare. The chicken and ham are tossed in a sauce and then baked until the cheese is golden. This does not have breadcrumbs on top, but they could be added if desired for more texture.
What is the Bleu in Chicken Cordon Bleu
The "bleu" in chicken cordon bleu refers to the blue ribbon that was once awarded to outstanding chefs. Nowadays, it's used to describe a dish that is of superior quality.
A lot of people think that it refers to one of the ingredients but, in fact, it's just a name.
Note: The word bleu is in fact the French term for the color blue, as in the blue ribbon. The spelling means the same thing, just pays homage to the French roots of the dish.
Can I Make Cordon Bleu with Chicken Thighs?
Chicken cordon bleu, whether the dish or this casserole version, is typically made with chicken breast. That doesn't mean it is the only thing that you can use. I am using the convenience of shredded rotisserie chicken in this casserole, but you can use chicken thighs in the original recipe or in this chicken cordon bleu casserole if you prefer.
In fact, some people prefer chicken thighs because they are more flavorful and tend to be juicier than chicken breasts.
If you do use chicken thighs, be sure to trim off any excess fat before cooking. Also, cook the chicken until it is cooked through. Keep in mind that cooking chicken thighs have a different cooking time than cooking chicken breast or if you are using rotisserie chicken.
What Cheese is In Chicken Cordon Bleu?
Traditionally, Swiss cheese is used in the rolled and fried version of this recipe. I have used a combination of shredded Swiss and Parmesan for extra saltiness and flavor.
If you do not like Swiss or want to use something different, this recipe works great with Gouda, white cheddar, fontina, and even mozzarella. I like the added flavor kick of the Swiss, but if you prefer a more mild option, then fontina or mozzarella is a better choice.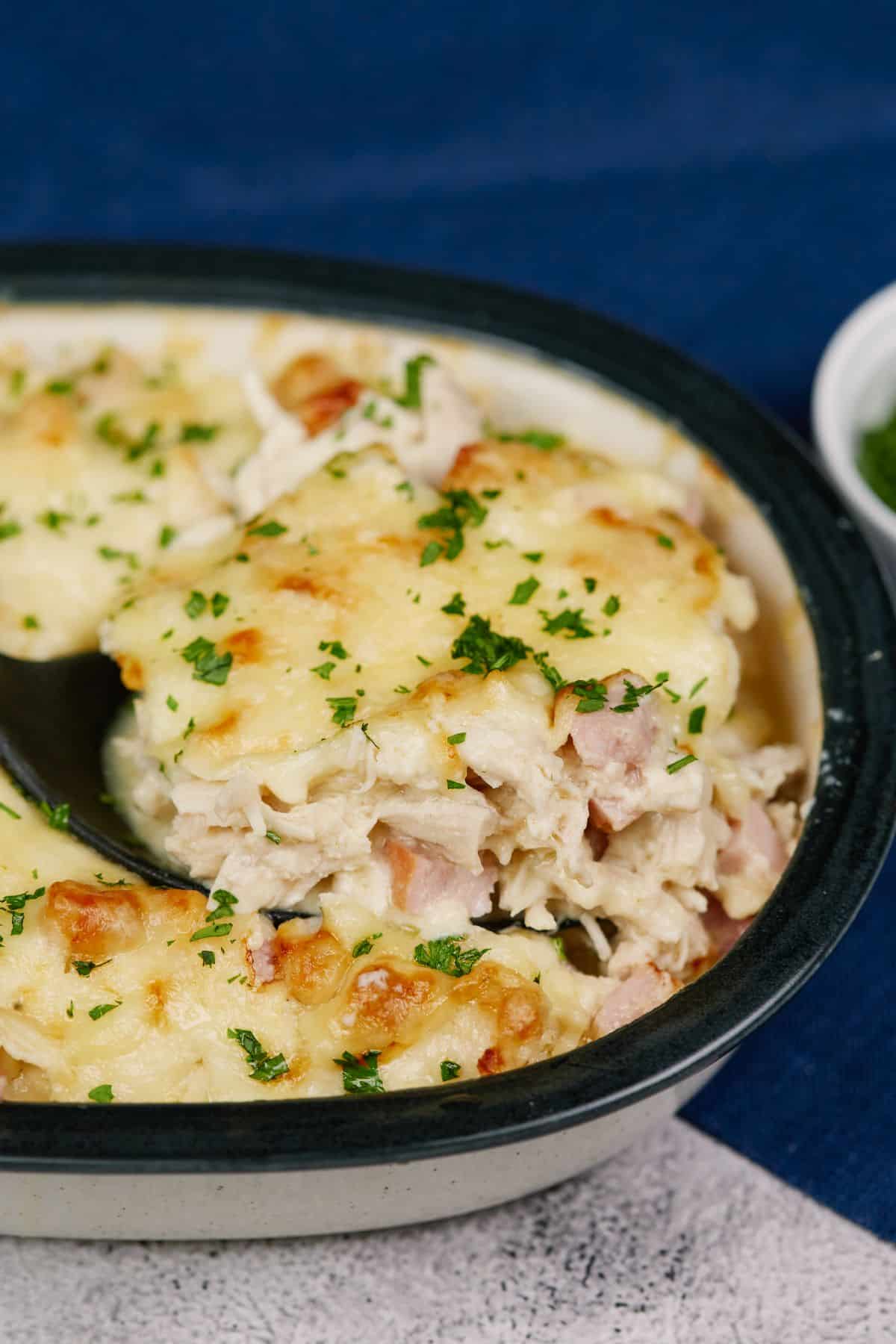 More Chicken Casseroles
Chicken is the most popular protein for good reason. Making sure it isn't boring is one of the biggest hurdles in the kitchen, and this casserole definitely solves that problem. If you want more chicken on your menu but need extra flavor, don't hesitate to check out and make one of the recipes below. Make sure to bookmark these ideas, print out the recipes, or pin them to Pinterest to make soon.
Yield: 6
Chicken Cordon Bleu Casserole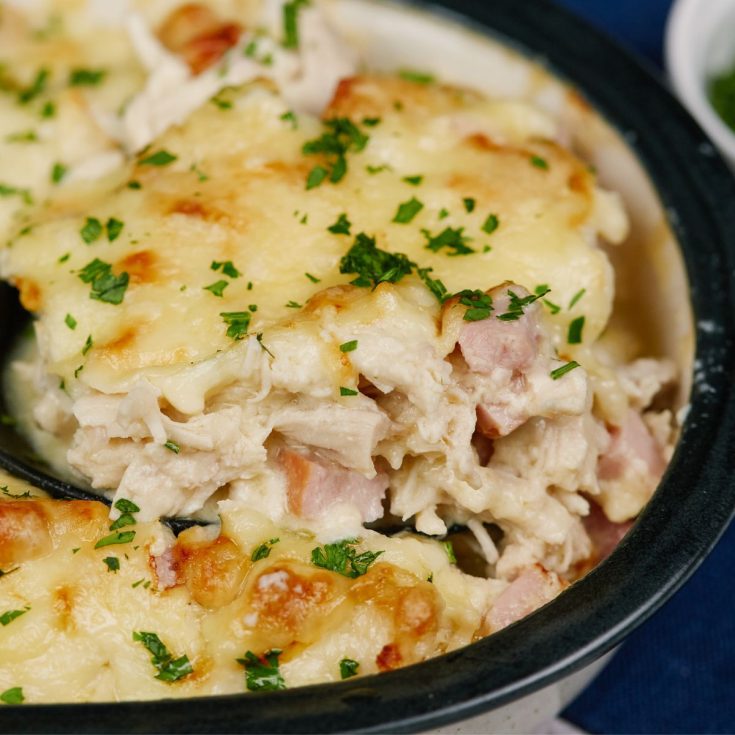 This chicken cordon bleu casserole takes a favorite dish and makes it easier than ever to prepare and share with your family! Loaded with a creamy sauce and salty ham in every bite!
Ingredients
4 cups shredded chicken breasts (500 g)
10 ounces ham (300 g), cubed
1 ½ cups heavy cream
4 tablespoons all-purpose flour
4 tablespoons salted butter
1 teaspoon Dijon mustard
¼ cup shredded Parmesan cheese
1 ⅓ cup shredded Swiss cheese
Instructions
Preheat the oven to 350°F/180°C and lightly spray the bottom and sides of a 10" baking dish with non-stick cooking spray then set it aside.
In a medium saucepan, melt the butter over medium heat. Whisk in the flour and cook for 1 minute.
Reduce the heat and then add the heavy cream to the pan, whisking until combined and no lumps remain. Cook this for 8 to 10 minutes, stirring regularly, until it has thickened.
Add in the Dijon mustard, shredded Parmesan, and ⅓ cup of the shredded Swiss. Stir to combine until it has all melted and formed a thickened sauce.
In a large bowl, stir together the shredded chicken, cubed ham, and the sauce. Stir until coated well. Season with salt and black pepper as desired.
Pour the mixture into the prepared baking dish.
Top with the remaining 1 cup of shredded cheese.
Bake for 25 to 30 minutes until heated through, thickened, bubbling, and the cheese has melted on top.
Notes
Chicken thighs can replace shredded breasts if desired.
Nutrition Information:
Yield:
6
Serving Size:
1
Amount Per Serving:
Calories:

610
Total Fat:

45g
Saturated Fat:

25g
Trans Fat:

1g
Unsaturated Fat:

16g
Cholesterol:

210mg
Sodium:

702mg
Carbohydrates:

8g
Fiber:

0g
Sugar:

3g
Protein:

43g