Nothing is more comforting than this simple and creamy Ritz chicken casserole. A delicious mixture of chicken, creamy sauce, and herbs is topped with crispy and buttery crackers. This baked dish is crunchy, savory, and cheesy. It's prepped in 10 minutes, baked in 30, and ready to eat in just 40 minutes.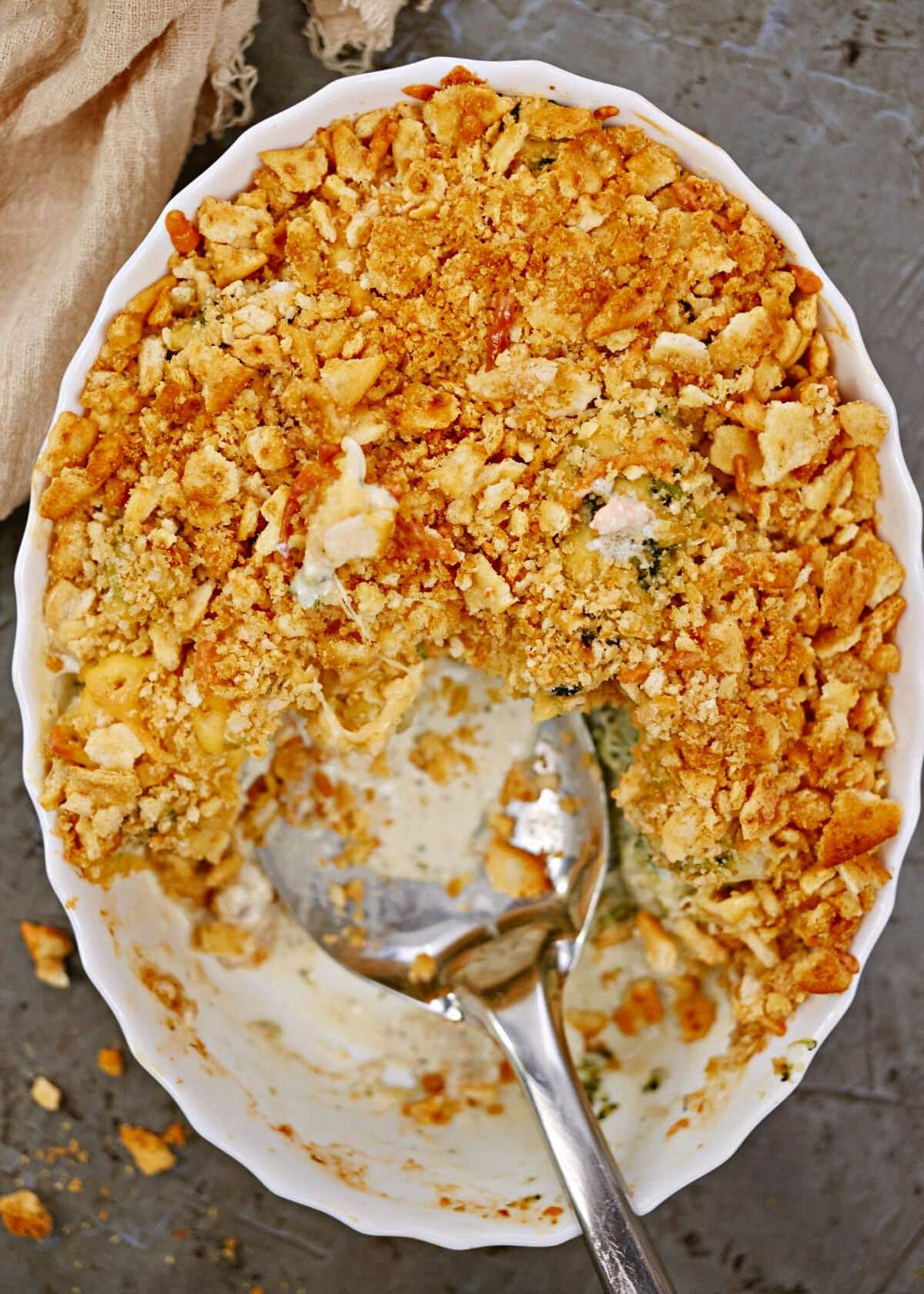 Creamy Ritz Chicken Casserole
This recipe uses chicken thighs or chicken breasts that have been already cooked and shredded as the base. That makes it ideal for using up leftover chicken or even turkey from another meal.
You can use a ready-made bechamel sauce, alfredo sauce, or make a homemade bechamel sauce for this recipe to create that richness you want. Combined with some dried herbs and plenty of garlic, it's a perfect way to create a meal that everyone enjoys at an affordable price.
This pairs wonderfully with our healthy broccoli casserole or asparagus casserole as a side.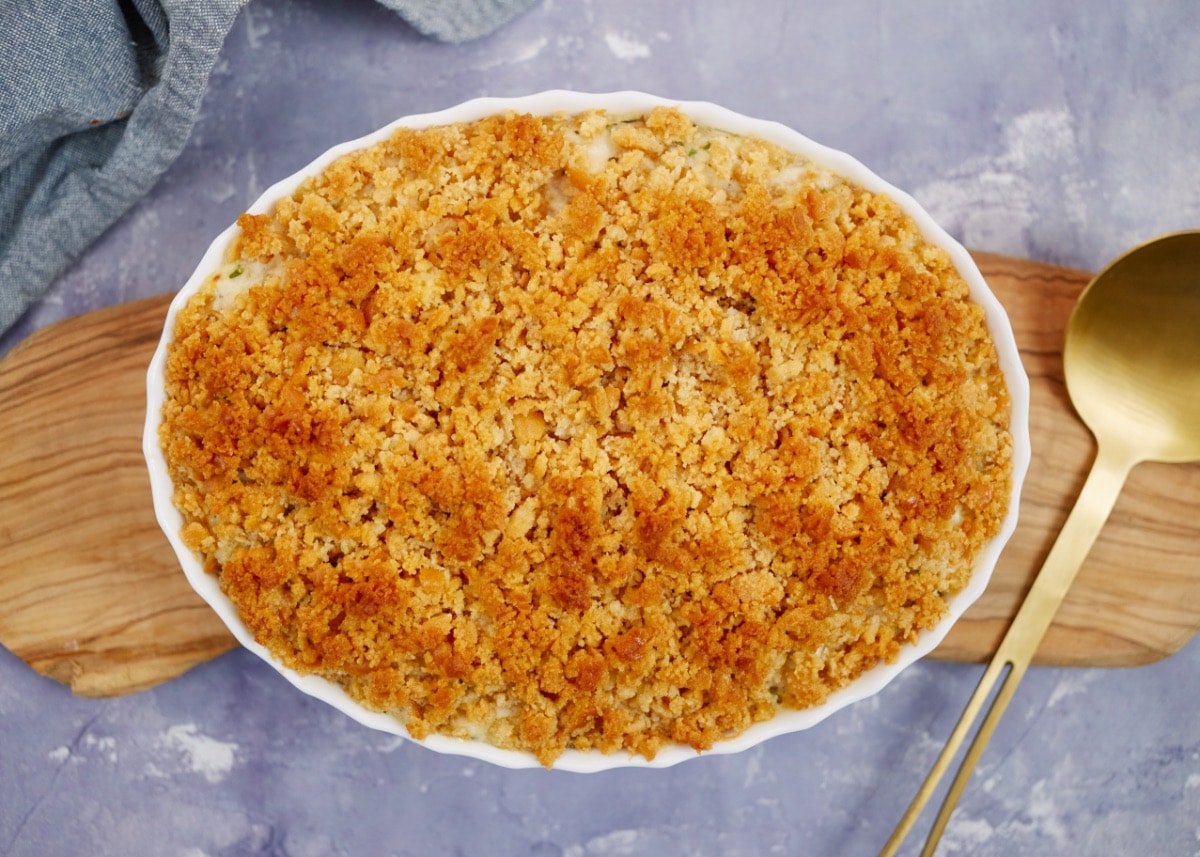 Ingredients:
1 pound (500g) boiled chicken thighs, shredded: Poach the chicken, allow it to cool, and shred it with two forks.
1 1⁄2 cup bechamel sauce: Use jarred bechamel sauce which you can find in the grocery store next to the pesto.
1 cup sour cream: Full-fat or low-fat sour cream will work well for this recipe.
1 tablespoon dried Italian herbs: You can buy a bottle of this in the spice aisle at the supermarket or you can make your own by using dried herbs like rosemary, basil, thyme, oregano, or parsley.
1 tablespoon garlic powder: Use garlic powder and not garlic salt which would make your dish too salty.
1⁄2 teaspoon chili flakes: Dried chili flakes are optional but make this casserole spicy.
3 tablespoon sliced chives: You can use chives or scallions on top of this dish.
1⁄2 cup butter, melted: Unsalted butter is best since you can better control the amount of salt in the topping.
2 cups Ritz crackers, crumbled: Buttery Ritz crackers are crunchy, salty, and delicious on top of this casserole.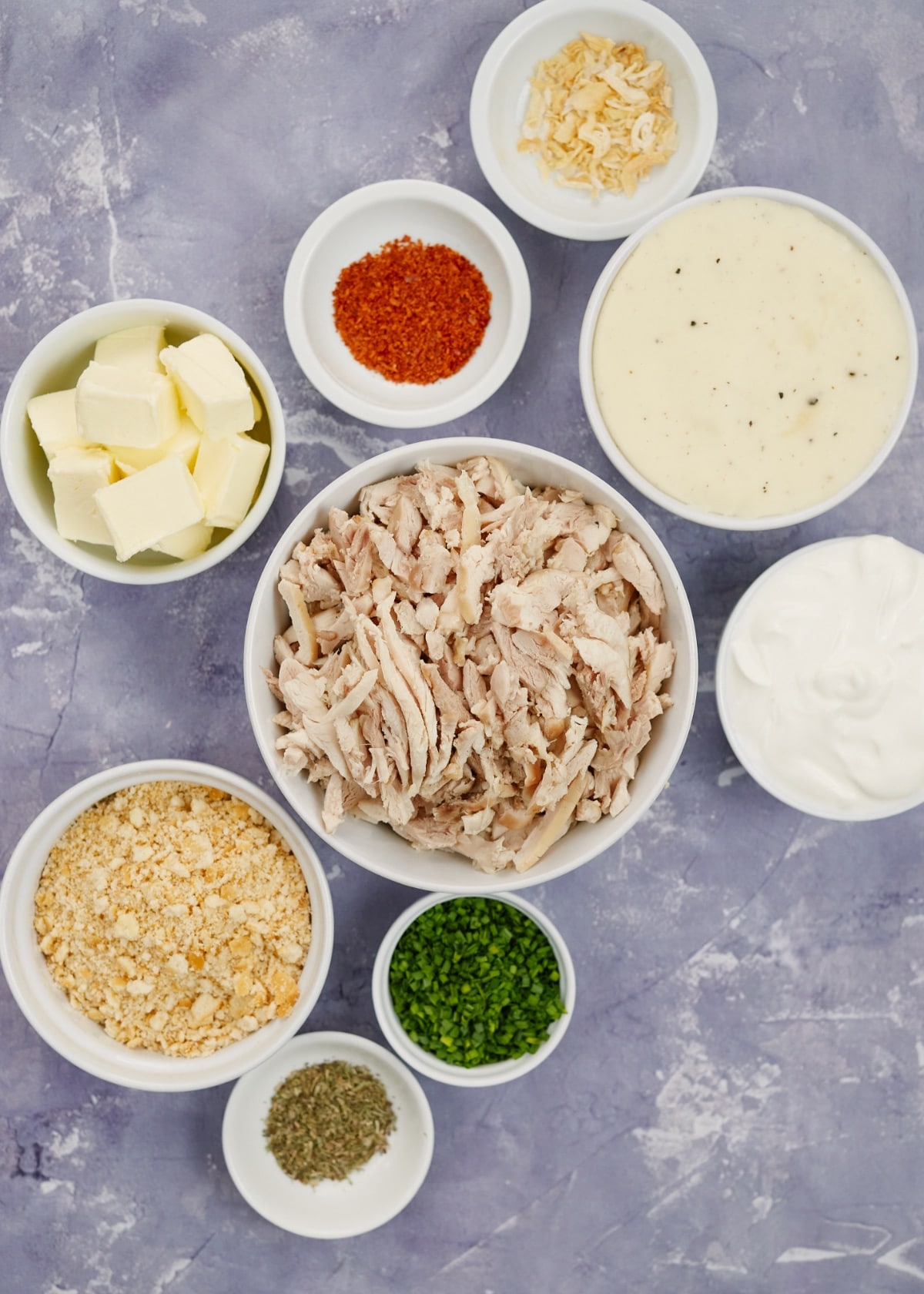 How to Make Ritz Chicken Casserole
Start by preparing all ingredients by measuring things, dicing, or shredding as needed. This makes assembling this much easier to manage. Then, I recommend spraying your baking dish with non-stick spray to make cleanup easier to manage.
1. Preheat the oven to 350°F/180°C.
2. Combine chicken with bechamel sauce, sour cream, garlic, herbs, chili, and chives.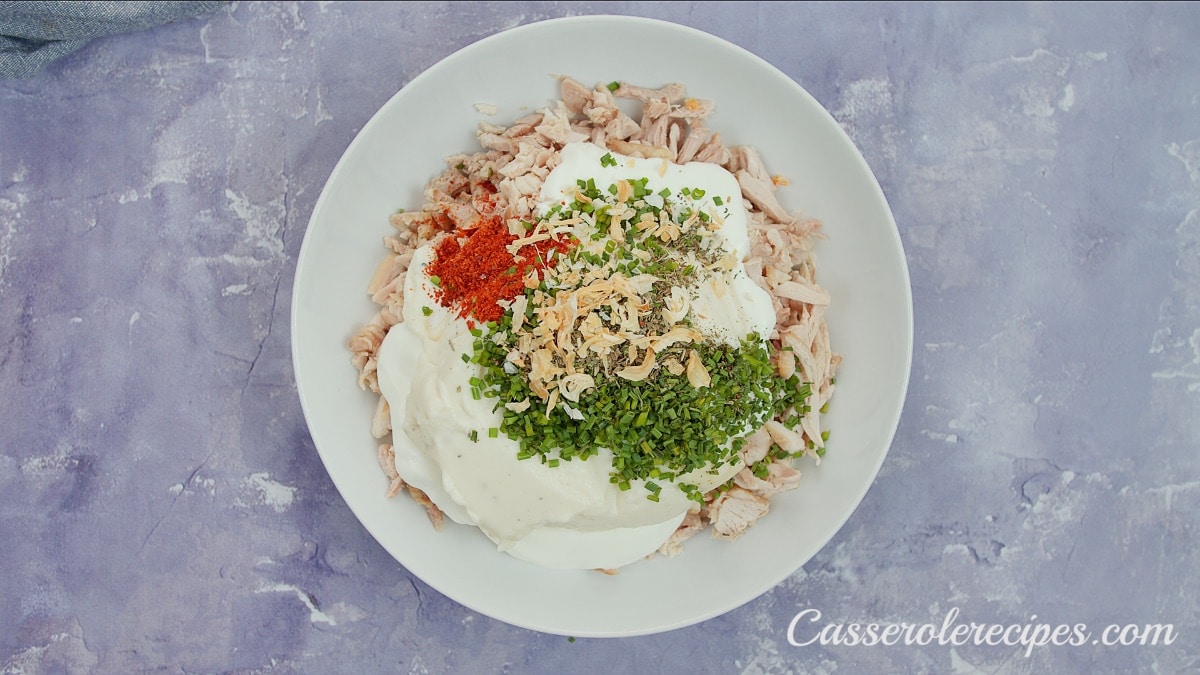 3. Mix the chicken together.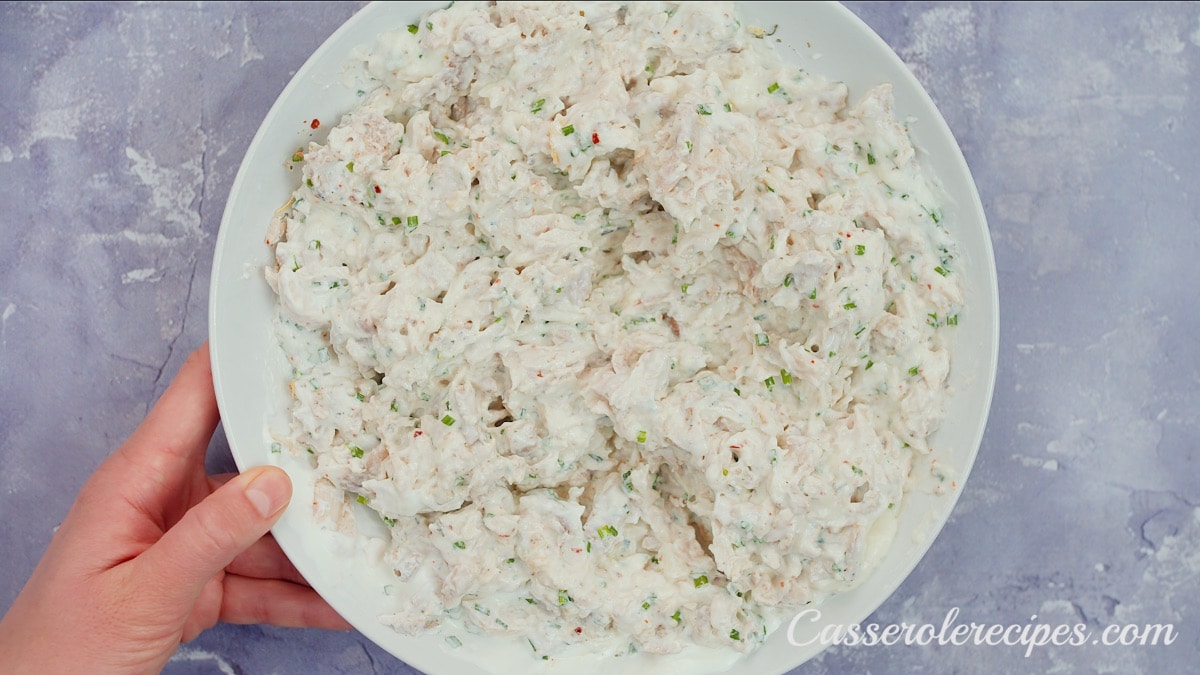 4. Combine crumbled crackers with melted butter.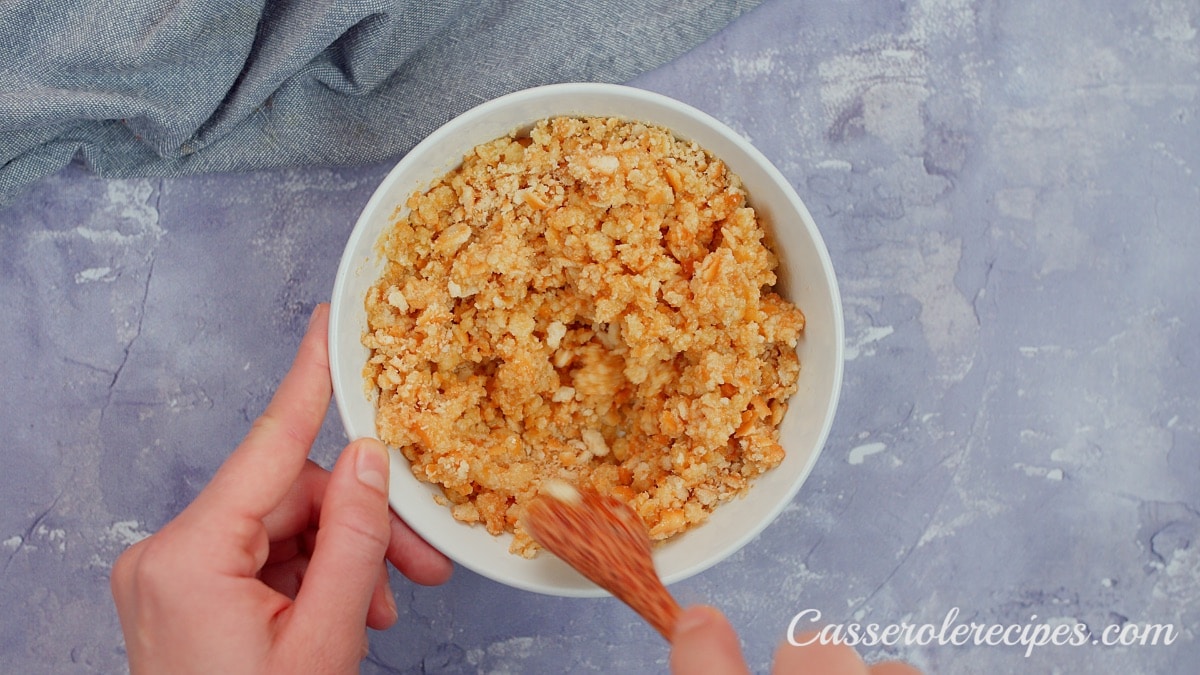 5. Spread the chicken in the baking dish and top with the breadcrumbs.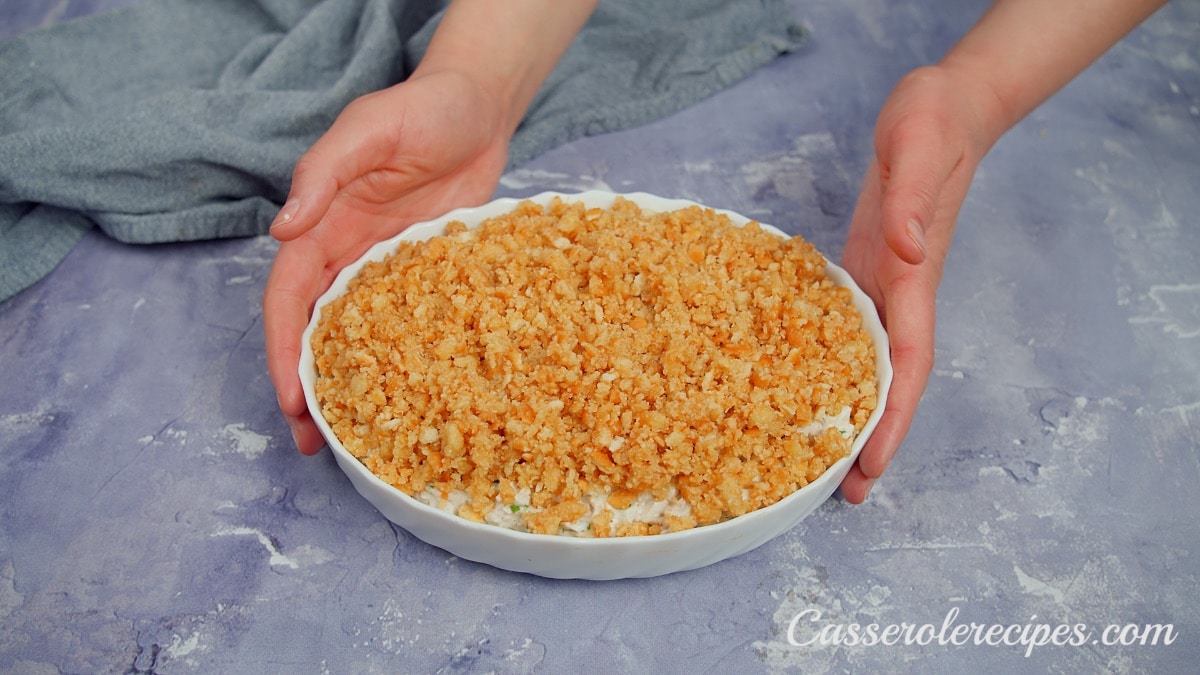 6. Bake for 30 minutes.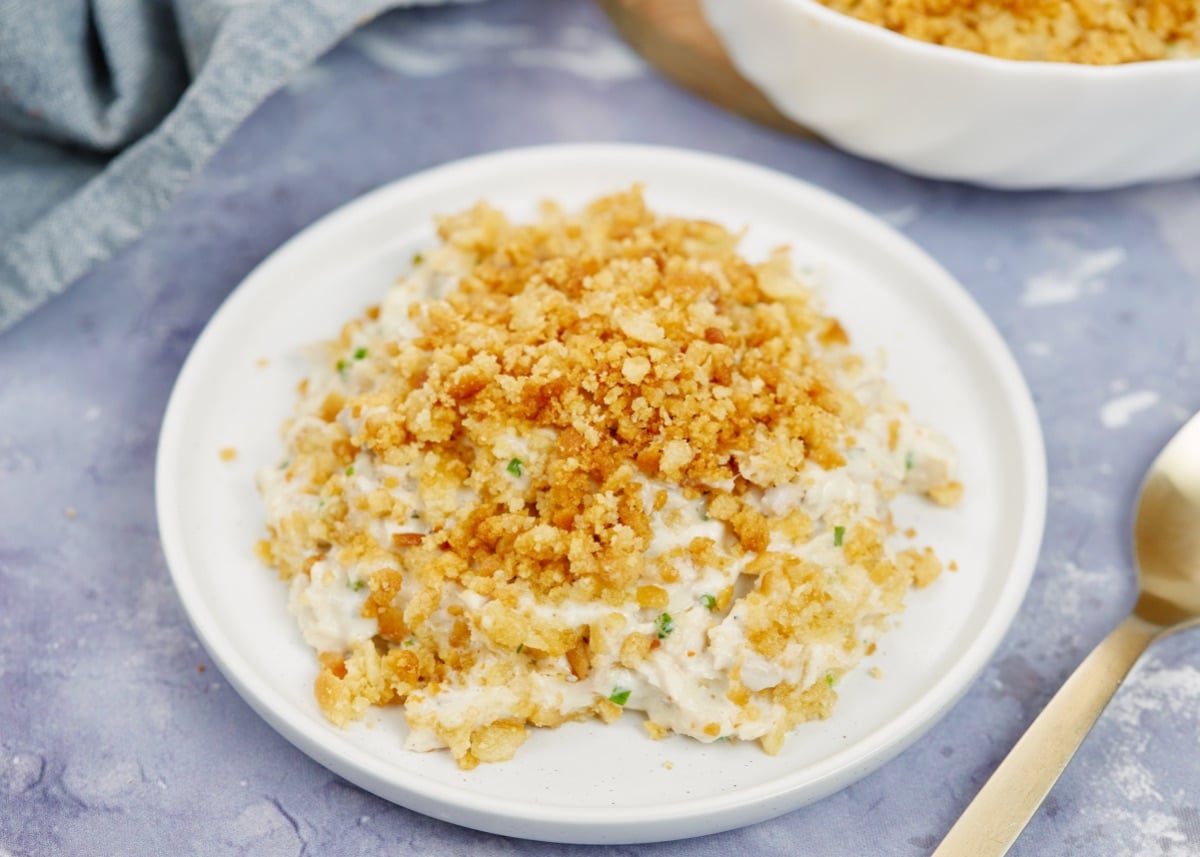 FAQ's
Is this dish keto-friendly?
This Ritz chicken casserole is not keto-friendly. The Ritz cracker topping could easily be replaced to create a keto topping, but the bechamel sauce does contain a small amount of flour. You would want to replace that to make it truly keto-friendly and low-carb.
How can I make this chicken casserole in a crockpot?
To make this dish in a slow cooker, combine the ingredients in the bowl, except the breadcrumbs, stir, and cover. Cook on low for six hours or on high for four hours, remove the lid, and serve immediately.
Can You Make Ritz Cracker Chicken Ahead of Time?
Yes! One of the best things about this easy casserole is that it can be made ahead of time. You can prepare it up to the baking portion, cover it with plastic wrap, and refrigerate it for up to 2 days before baking.
If you wish to freeze it for later, just follow the plastic wrap with a layer of aluminum foil. Then you will date and label it with cooking directions to store it for up to 3 months.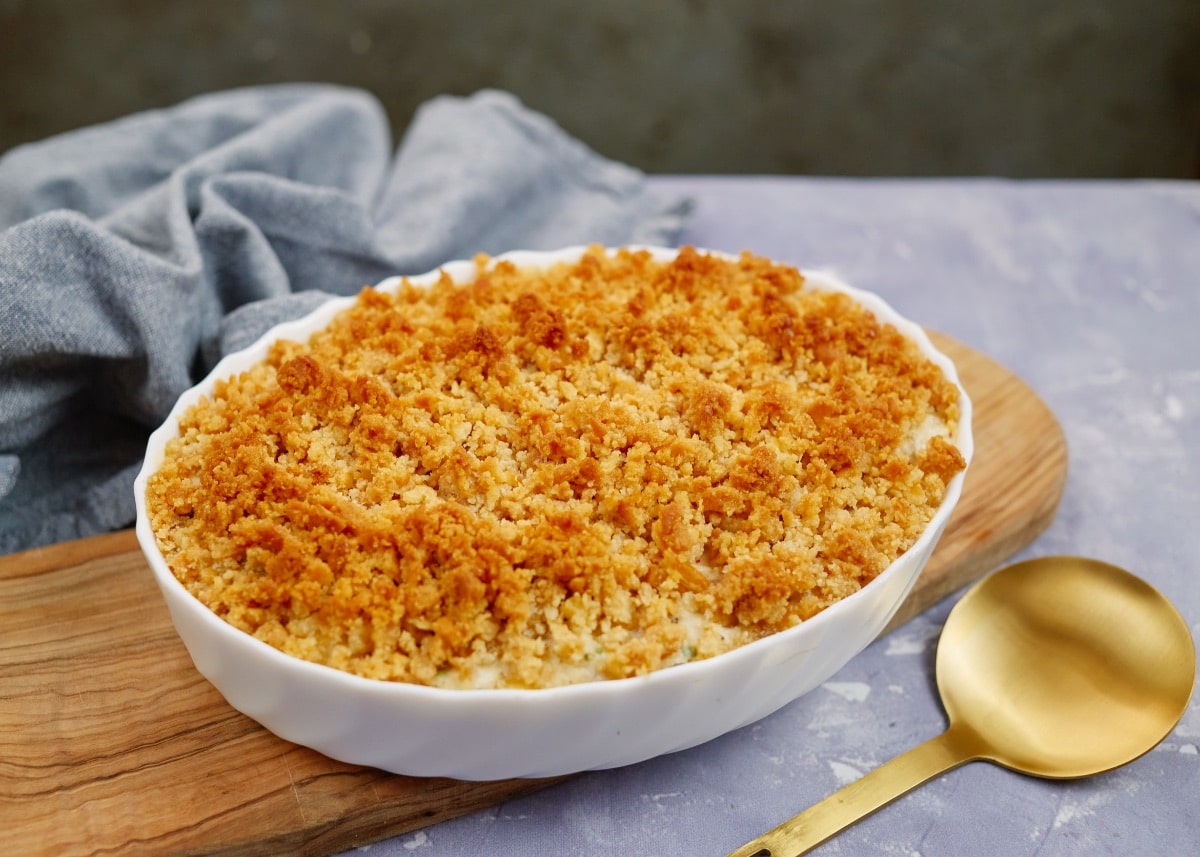 Tips for success:
Here are a few tips for success and variations you can try to make this the best creamy ritz chicken casserole you've ever had.
Use different crackers on top of the chicken casserole such as a garden vegetable cracker or even Panko breadcrumbs for a different texture and flavor.
Add a layer of cheese under the crackers using cheddar, mozzarella, pepper jack, or Havarti.
Substitute the jarred bechamel sauce with alfredo sauce if you can't find bechamel in your grocery store.
Mix in broccoli florets to add bulk to the casserole.
Always spray your baking dish with non-stick spray or grease well with butter to help clean up after it is baked.
Can I Make Ritz Chicken Casserole in the Instant Pot?
If you want to use an Instant Pot instead of the oven, you can do so by using the "pot-in-pot" method. This is when you put the recipe into a baking dish that is then placed on a trivet inside the Instant Pot. When doing this, you put the liquid at the bottom of the Instant Pot liner and set the dish above that to allow steam to build up.
If choosing this method, you can mix all ingredients and then place them into a baking dish safe for the Instant Pot. A 6" to 8" round dish usually will fit depending upon the model you are using. Then, cook at high pressure for 3 minutes. Let it naturally release pressure for 5 minutes, then release any remaining pressure.
Instead of adding the crackers before cooking, toast them in the oven or in a skillet then sprinkle them on top just before serving.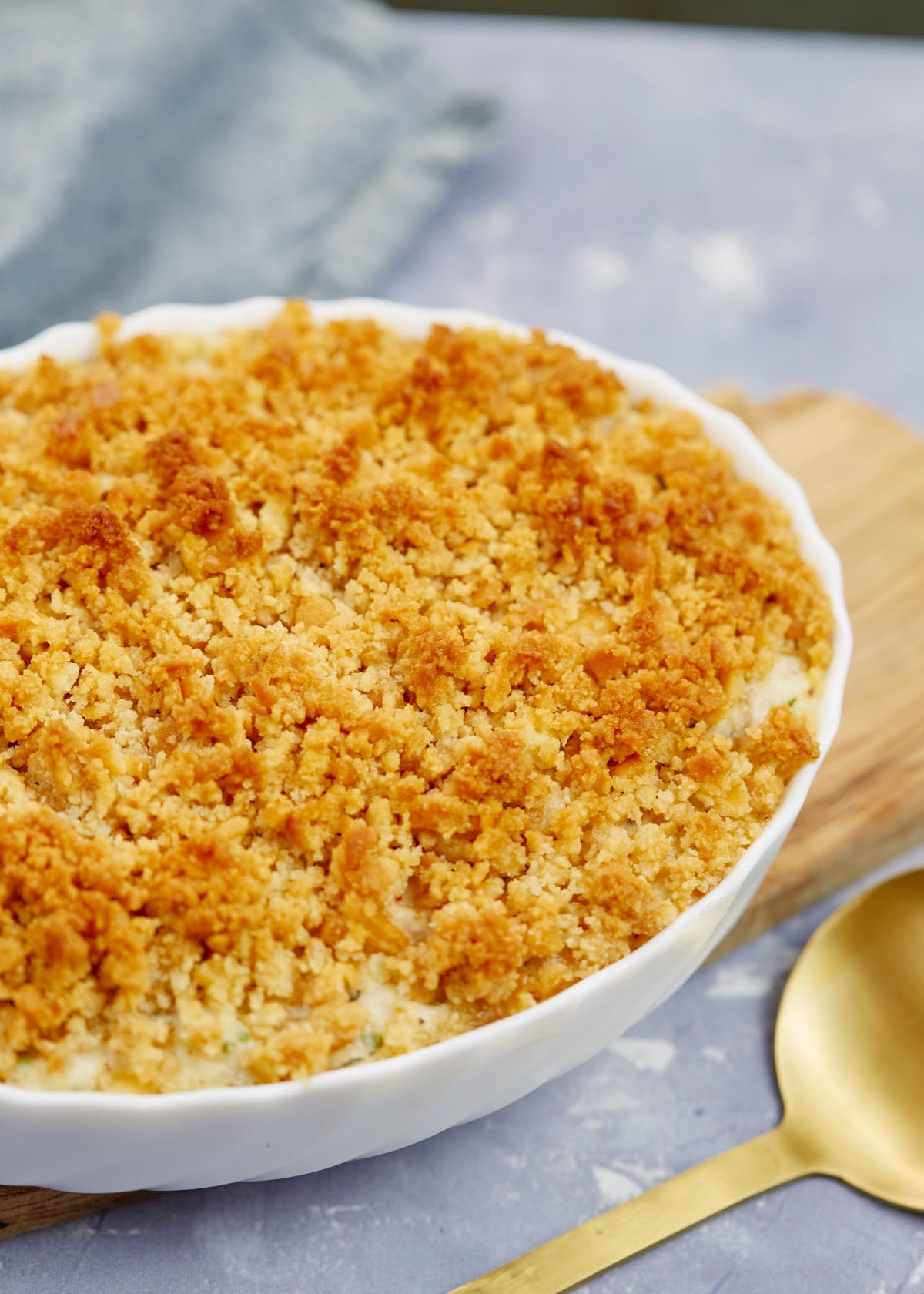 Which vegetables can I add to this dish?
This casserole recipe doesn't include any vegetables, but you can easily add some to make the dish healthier and lighter.
Try using spinach, broccoli, squash, mushrooms, asparagus, bell peppers, cauliflower, or anything you have in your fridge that needs to be used in the next couple of days.
Casseroles are wonderful for using up lonely vegetables.
What can I serve with Ritz chicken casserole?
To make this a whole meal to feed even more people add a side dish that balances the flavors and textures of the casserole.
This dinner dish goes great with crusty white bread, steamed broccoli, dinner rolls, sautéed asparagus, fruit salad, or crunchy green salad.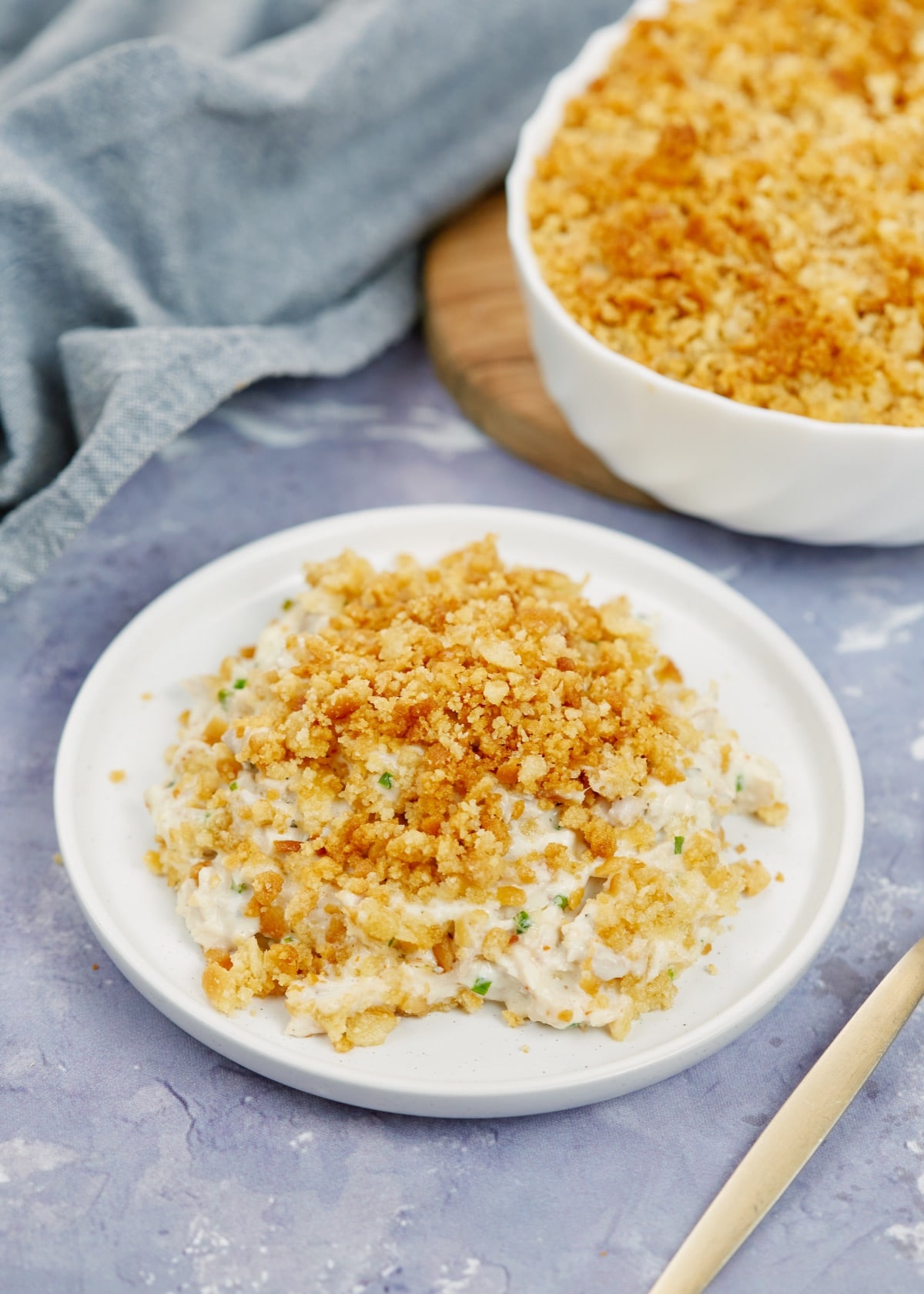 How to store:
Store any leftover casserole in an airtight container in the refrigerator for up to four days. Reheat it in the microwave with 30-second increments until it's hot all the way through.
To freeze the entire casserole, wrap it in aluminum foil and plastic wrap. Label it with what it is, how to cook, and the date. Labeling will help you remember later.
Remember that if you cook it from frozen, it will take longer to cook in the oven without thawing first. Keep the foil on until the last 30 minutes of cooking so the top can brown.
More Chicken Casserole Recipes
Have more chicken thighs to use? Check out the recipes below for inspiration. These are some of our favorite easy weeknight meal ideas. Bookmark these, print out the recipes, or pin them to Pinterest to make soon!
Yield: 6 servings
Creamy Ritz Chicken Casserole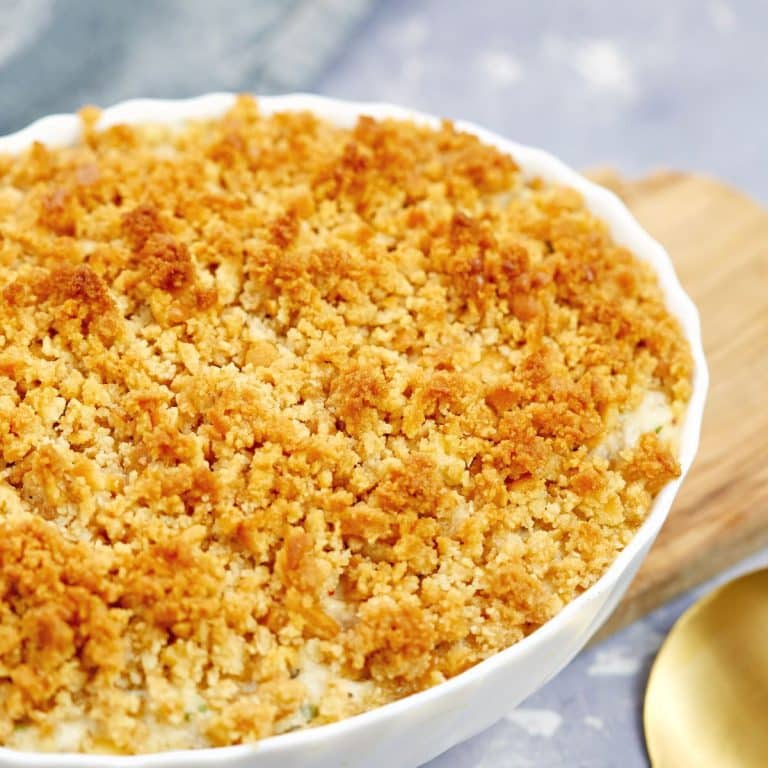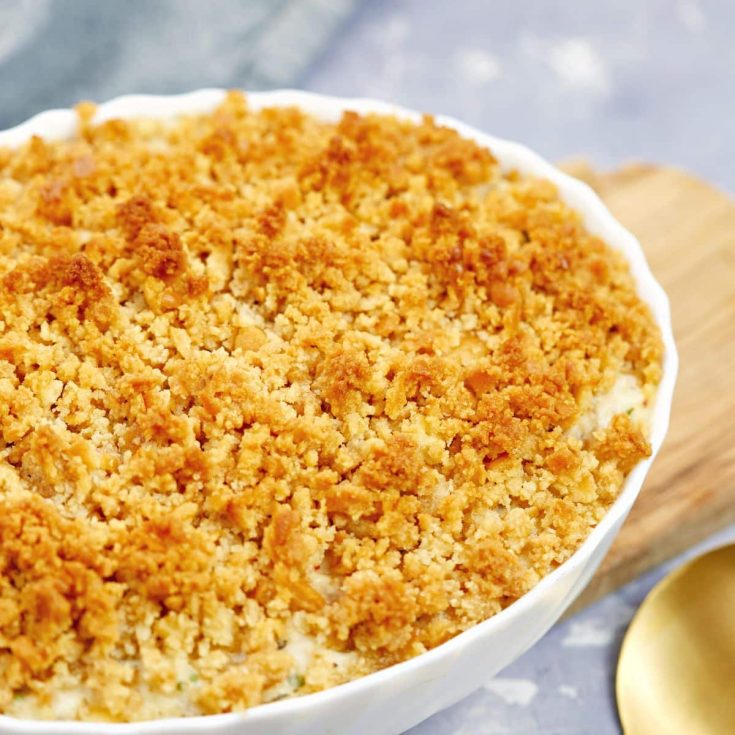 This cream Ritz chicken casserole is a perfect addition to the comfort food weeknight menu with tons of rich flavor and crispy texture on top!
Ingredients
1 pound chicken thighs, cooked and shredded (500g)
1 1⁄2 cup bechamel sauce (350ml)
1 cup sour cream (225g)
1 tablespoon dry Italian herbs (3g)
1 tablespoon garlic powder (5g)
1⁄2 teaspoon chili flakes (1g)
3 tablespoon chives (9g)
1⁄2 cup butter, melted (113g)
2 cups Ritz crackers, crumbled (300g)
Instructions
Preheat the oven to 350F/180C.
Combine chicken with bechamel sauce, sour cream, garlic, herbs, chili, and chives.
Spread the chicken mixture in the baking pan.
Combine crumbled crackers with melted butter and sprinkle them on top of the chicken.
Bake for 30 minutes.
Notes
This can be made with chicken breasts if preferred.
Nutrition Information:
Yield:
6
Serving Size:
1
Amount Per Serving:
Calories:

587
Total Fat:

46g
Saturated Fat:

22g
Trans Fat:

1g
Unsaturated Fat:

20g
Cholesterol:

179mg
Sodium:

541mg
Carbohydrates:

24g
Fiber:

1g
Sugar:

6g
Protein:

23g