Kids will love this easy-to-make hot dog casserole. A tasty and savory dish with hot dogs, a simple homemade sauce, and biscuits topped with cheese. Sometimes called a chili dog casserole or a bubble-up casserole, this is one meal that you can have ready in no time and the whole family will devour it! This savory dish is perfect for dinner any weeknight, to give to a friend in need, or to freeze and save for later. The bold flavors combine to make a delicious meal.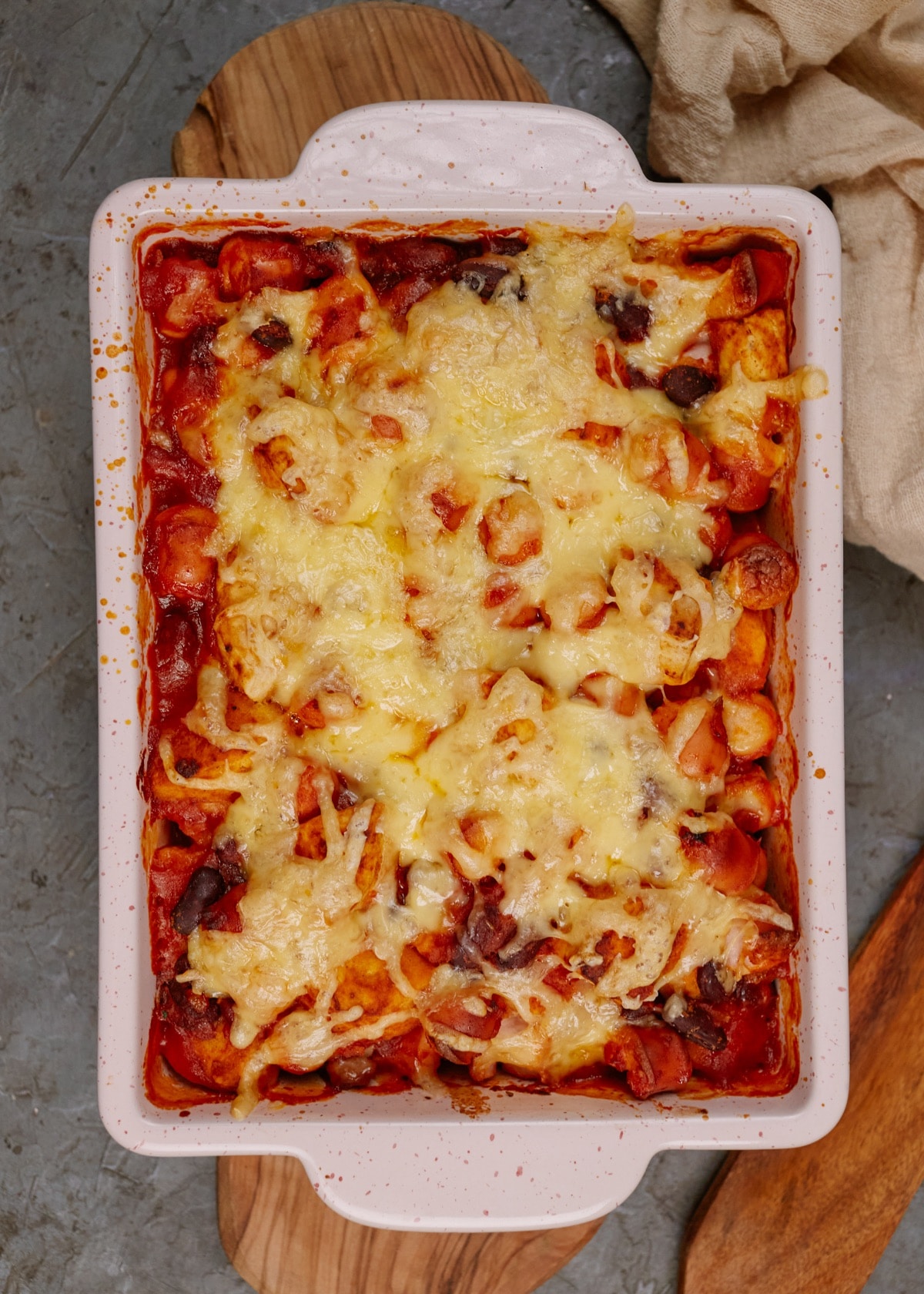 Hot Dog Casserole
If you like hot dogs or chili dogs, then you will enjoy this meal. There is something comforting about a childhood classic. Serve this up with a side of our favorite four-cheese pasta casserole and you will have a kid-friendly meal they will beg you to make over and over again.
This biscuit casserole recipe is uniquely made with hot dogs instead of ground beef or shredded chicken. The kids will love the surprise slices of hot dogs hidden inside this fun dish. The beans, onions, garlic, tomato sauce, and spices are combined and poured into a baking dish which is topped with small biscuits and shredded cheese. The biscuit topping bakes up and the cheese gets melty and golden brown in just one hour.
Ingredients:
10 oz (300g) hot dogs, sliced: Buy a pack of hot dogs from the grocery store to chop or slice for this recipe.
1 onion, chopped: White onions work best in this casserole.
2 garlic cloves, minced: Be sure the garlic is fresh and smells strong after peeling off the outer layer.
1 can red beans, drained: Use canned kidney beans for convenience.
1 can (400 g) tomato sauce: You can substitute a can of diced tomatoes as well.
2 teaspoon chipotle powder: Seasonings add a bold, Mexican flavor to this dish.
1 teaspoon ground cumin: Cumin is a classic Mexican spice that tastes a bit smoky.
7 oz (200g) frozen biscuits, cut into quarters: You can use frozen biscuits or thawed biscuits on top of the casserole. If you prefer fresh, you can make buttermilk biscuits to go in this casserole.
4 oz (120g) shredded cheese: Cheddar cheese combines well with the other ingredients in this recipe.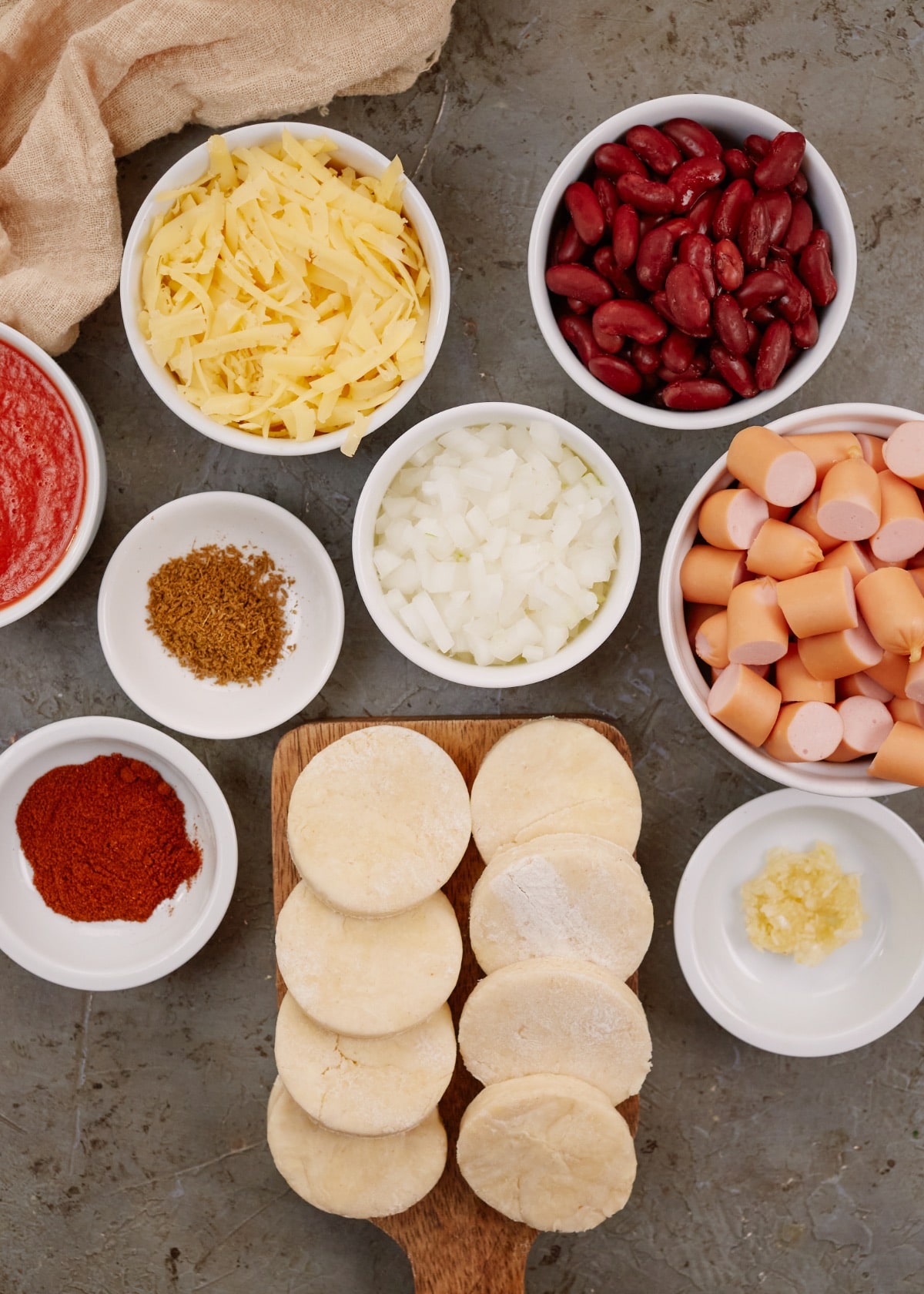 Kitchen Tools Needed
How to make hot dog casserole:
Video Recipe:
Here's a brief overview of how to make this dish. See the recipe card below for the specific recipe instructions.
1. Preheat the oven to 350F/180C.
2. Saute onions with some butter or olive oil for 5 minutes. Add sausages and cook for 5 minutes more.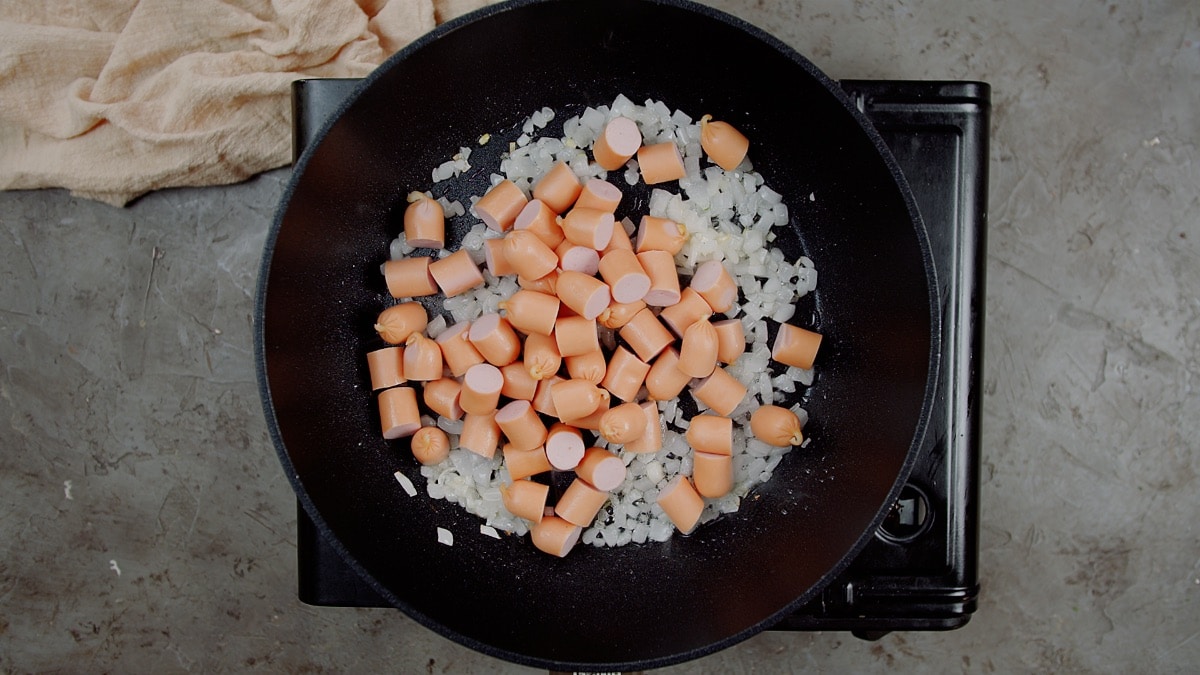 3. Add garlic, beans, cumin, and chipotle powder into the pan.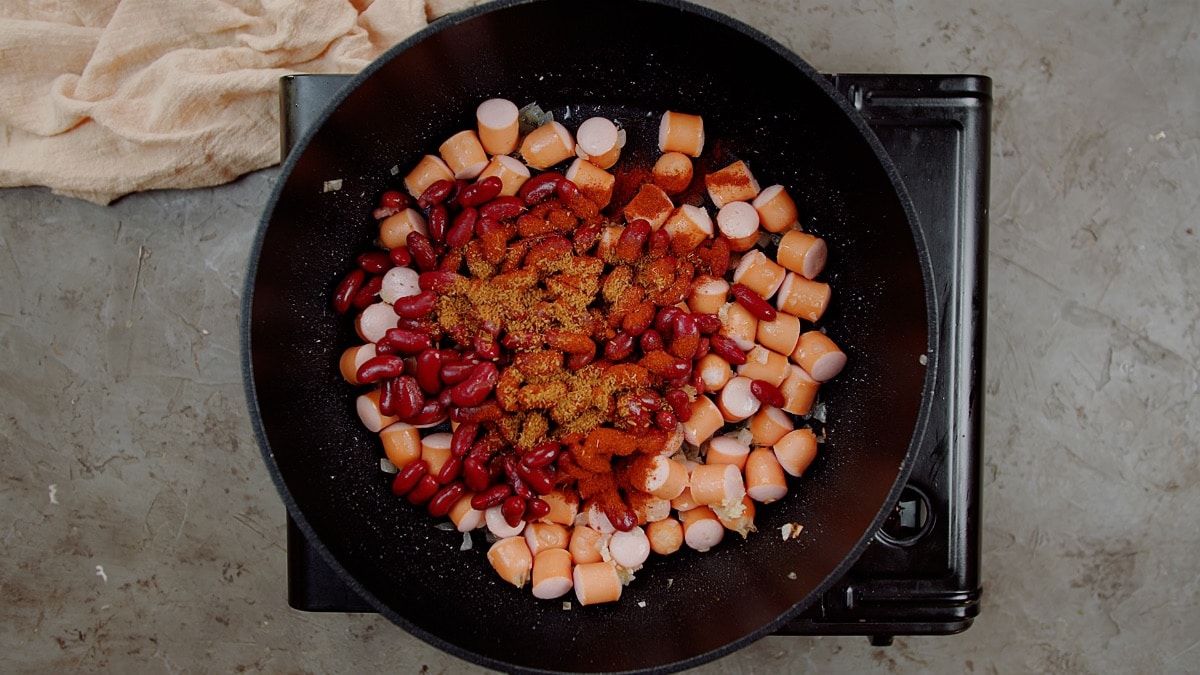 5. Pour in the tomato sauce. This creates a sauce that is similar in flavor to chili.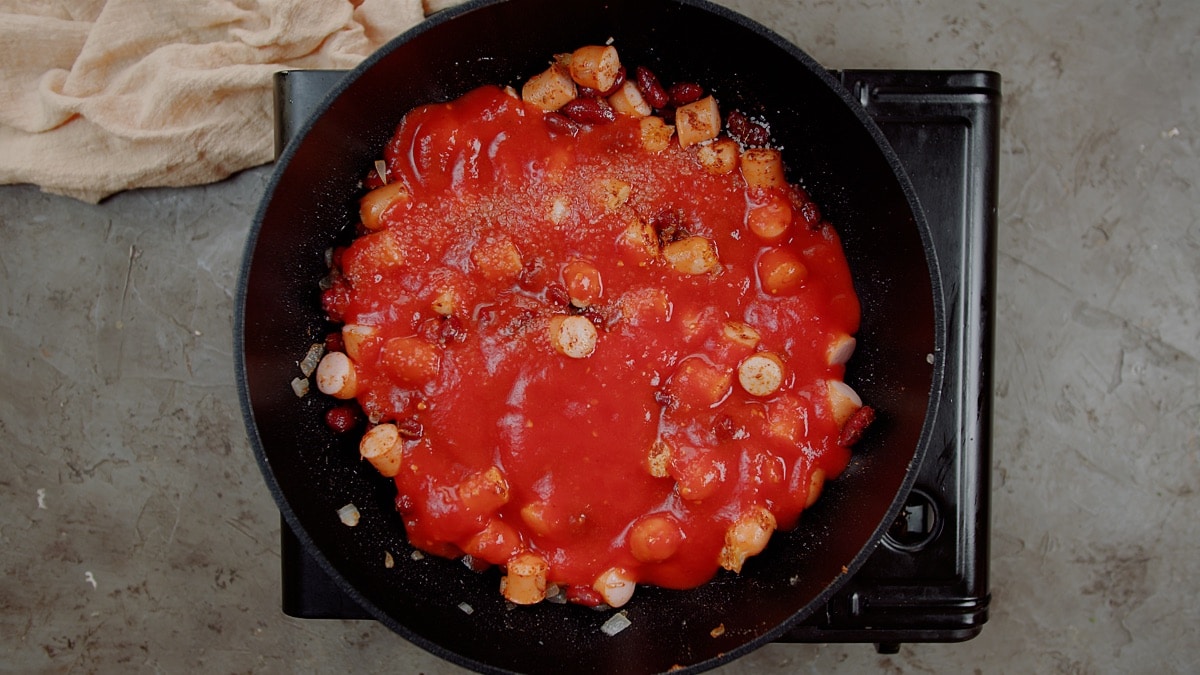 6. Slice the biscuits in into quarters.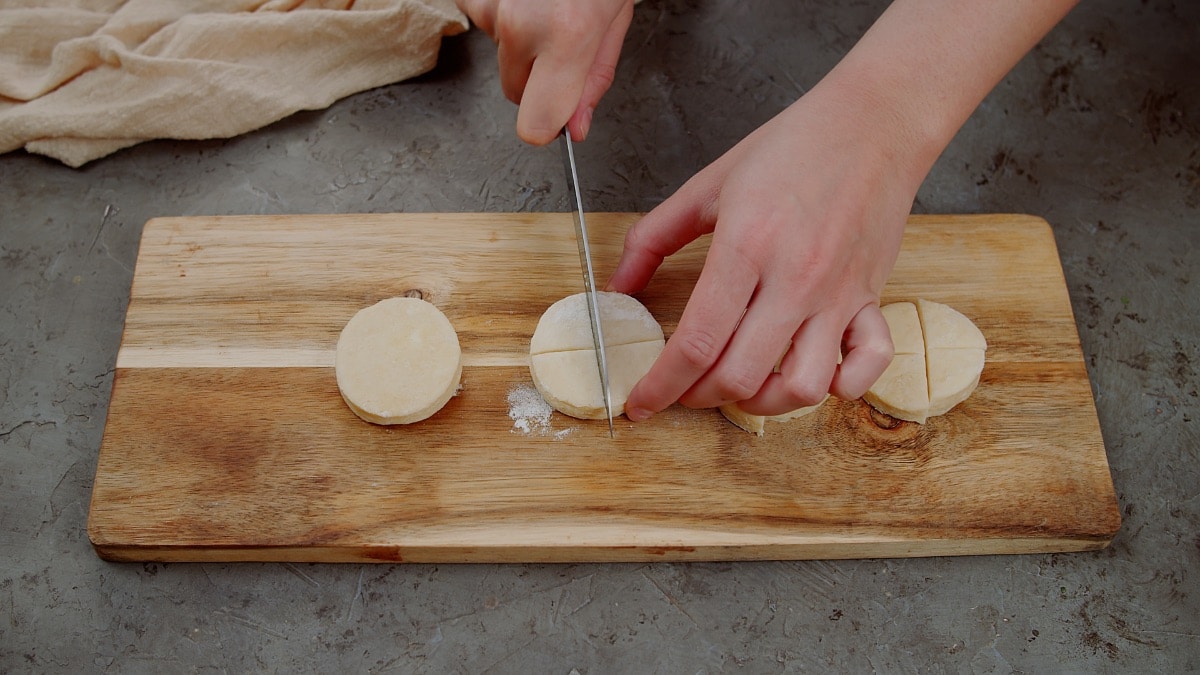 7. Stir the biscuits into the hot dog mixture.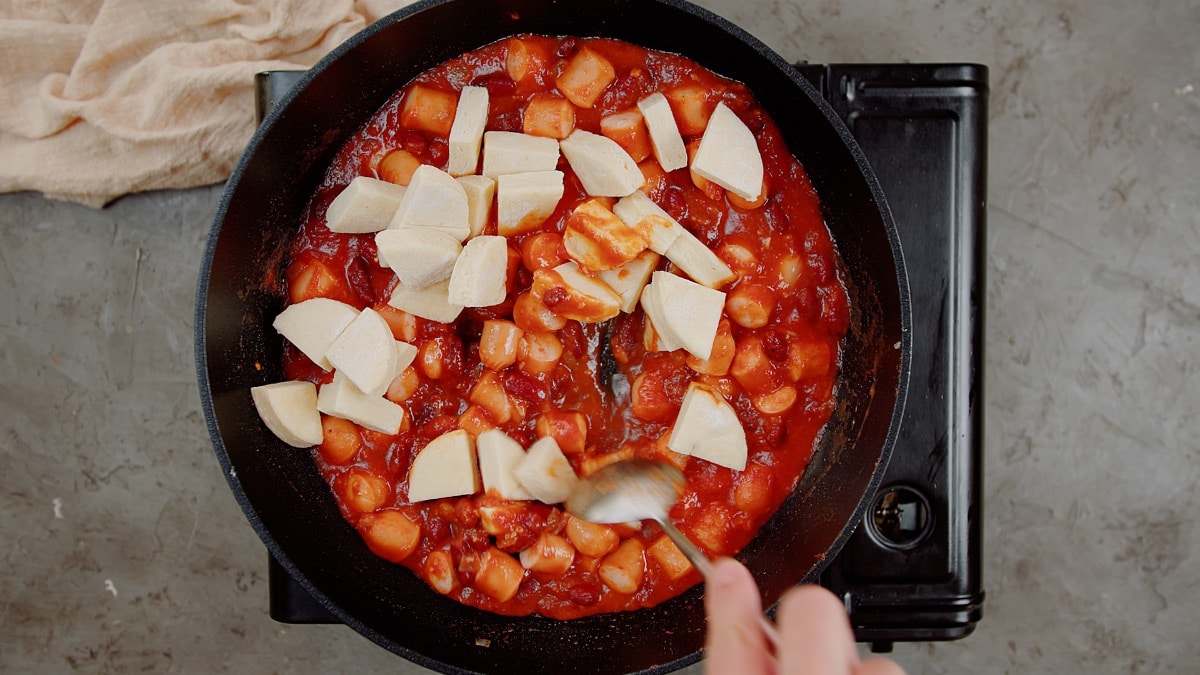 8. Transfer everything into the baking pan and bake for 25 minutes.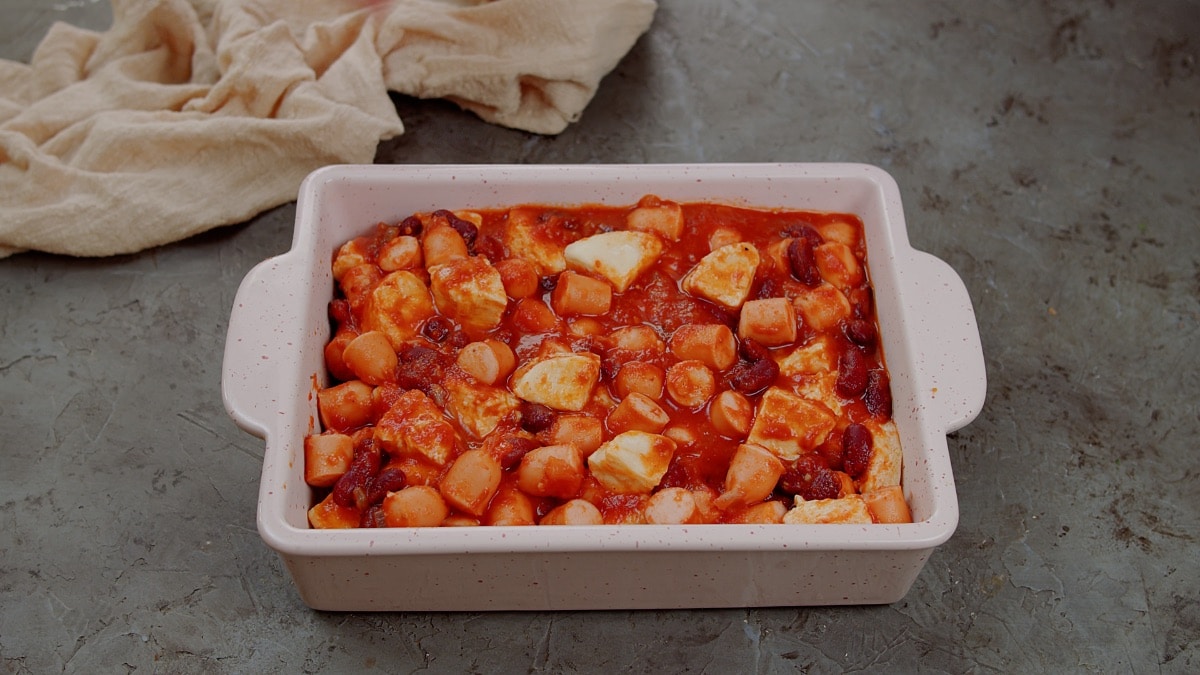 9. Top the casserole with cheese and bake for 15 minutes more.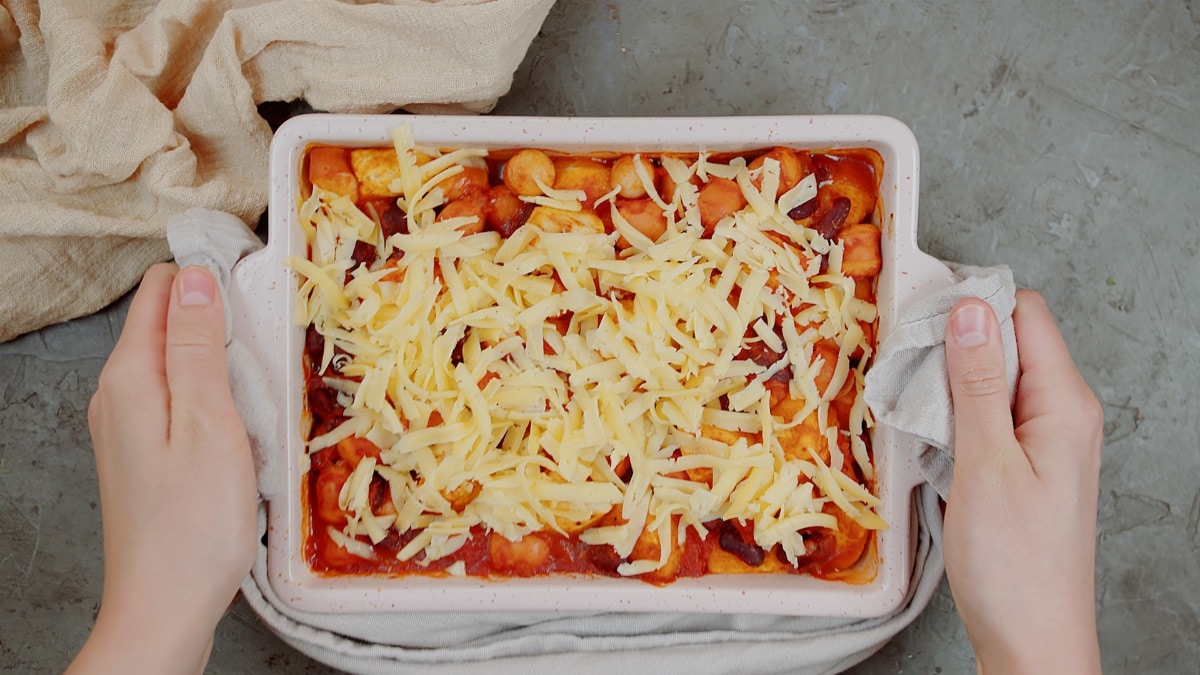 Frequently Asked Questions
Can I substitute the biscuits for something else?
If you'd like to use something other than biscuits, try hash browns, tater tots, or small diced potatoes on top. You can also remove the biscuits altogether to cut out the carbs. This step makes the dish keto-friendly too.  
Can I make this dish overnight?
Yes, you can prepare the dish the night before, wrap it in plastic wrap before baking, and refrigerate it overnight. When you're ready to bake the hot dog casserole, heat up the oven, and cook until the cheese is bubbly and the biscuits are golden brown.
What can I serve with hot dog casserole?
This dish is carb-heavy, so it's best to serve lighter side dishes that complement the casserole. Some great ideas include steamed vegetables, fruit salad, or a crunchy green salad.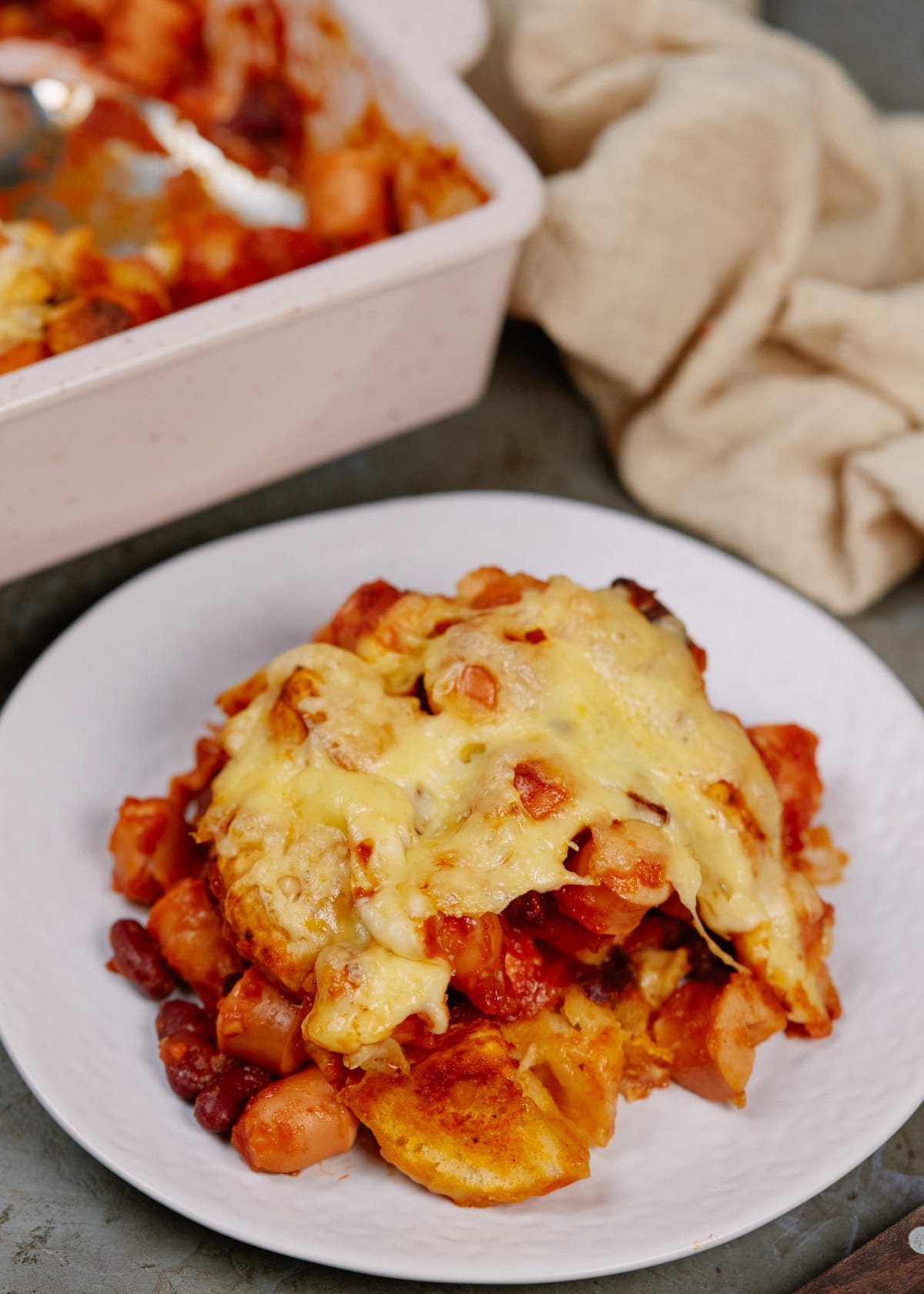 Tips for success:
Here are a few tips for success and variations you can try to make this the best hot dog casserole you've ever had.
Substitute taco seasoning for the chili powder and cumin to get a slightly different flavor.
Cheddar works well with these flavors, but you can use other types of cheese like mozzarella, parmesan, gruyere, or Havarti.
The best biscuits to use are canned, Pillsbury Grands. You can find them in the refrigerated section of the grocery store.
What other types of meat can I use for this dish?
Hot dogs are a fun and different meat to use in casserole dishes. They are rich, savory, and salty which satisfies a lot of flavor needs. But, if you're averse to using them, you can substitute a different type of meat like ground beef, ground sausage, pulled pork, chopped chicken, or ground turkey. Any of these options will taste amazing in this dish.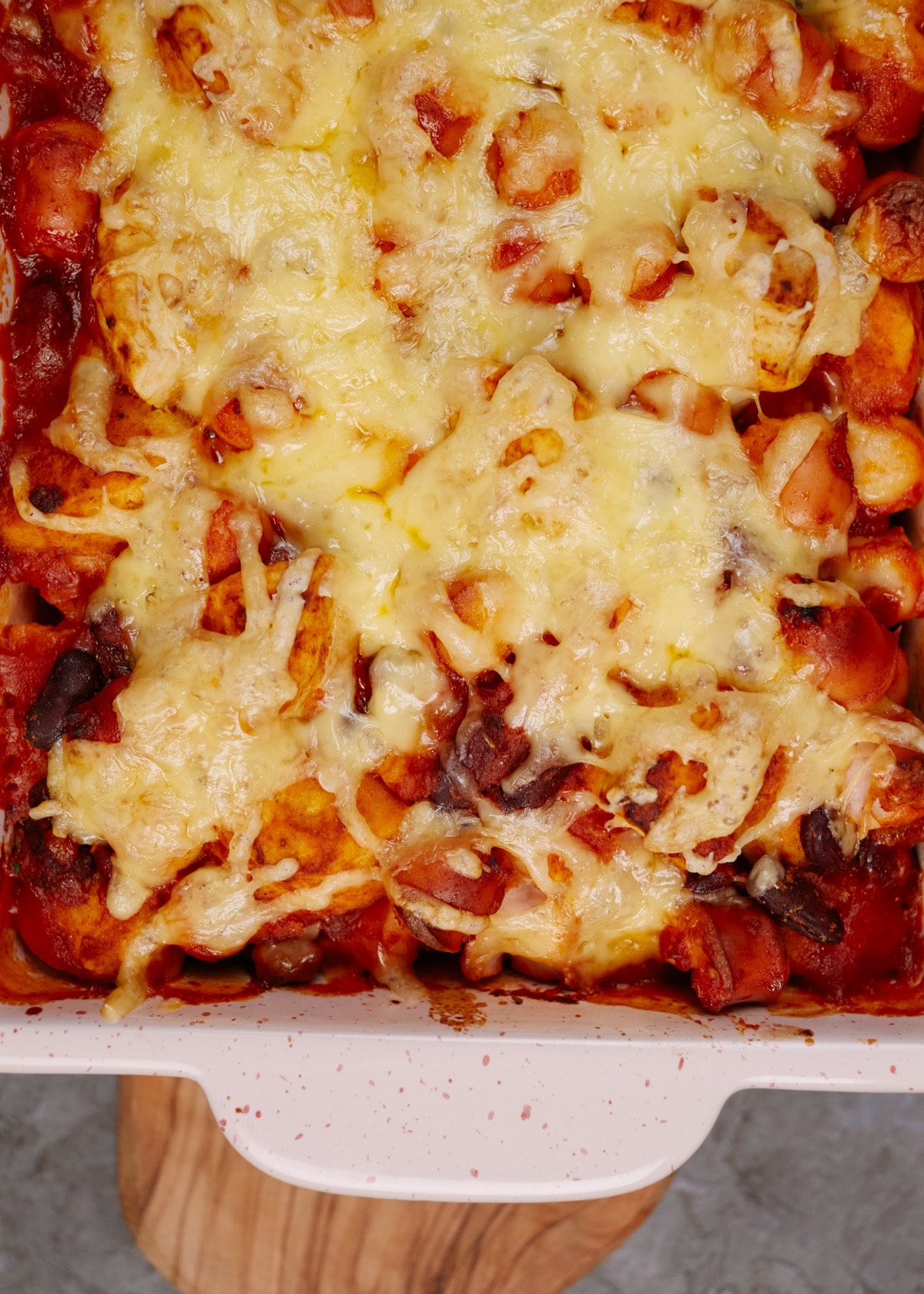 Can I make this hot dog casserole in an instant pot?
Sometimes it's fun to pull out and use your pressure cooker or maybe you have another dish to cook in the oven. You can easily make this casserole in your instant pot instead.
Note that, while it is possible to make this in your Instant Pot, I would not recommend doing so. The cook time and process will take longer than if you simply use the oven method.
To make this in a pressure cooker:
Use the saute feature to cook the onions, hot dogs, and sauce.
Then, you will remove that from the IP and pour the mixture with biscuits into a baking dish that will fit inside the Instant Pot liner with room to spare. Depending upon the model, this would usually be between 6" and 8" wide. A round deep dish is best for this recipe.
Clean the pot out well. Once clean, pour 1 cup of water into the pot and set it back inside the pressure cooker.
Now, place the casserole dish, with cheese on top, onto a trivet and place it into the Instant Pot so it is a "pot in pot" method.
Cook on high heat for 2 minutes, then release naturally for 5 minutes before releasing the remaining steam manually.
For color, you can then pop this into the oven on broil for 2 minutes.
Can I add other vegetables to this hot dog casserole?
You can increase the nutritional value of this dish by adding fresh vegetables. While it already has onions, you can add diced bell pepper, tomatoes, or mushrooms for a bit of a richer flavor in your sauce. Chili typically includes beans, tomato sauce, onion, bell pepper, and spices, so these suit the dish well.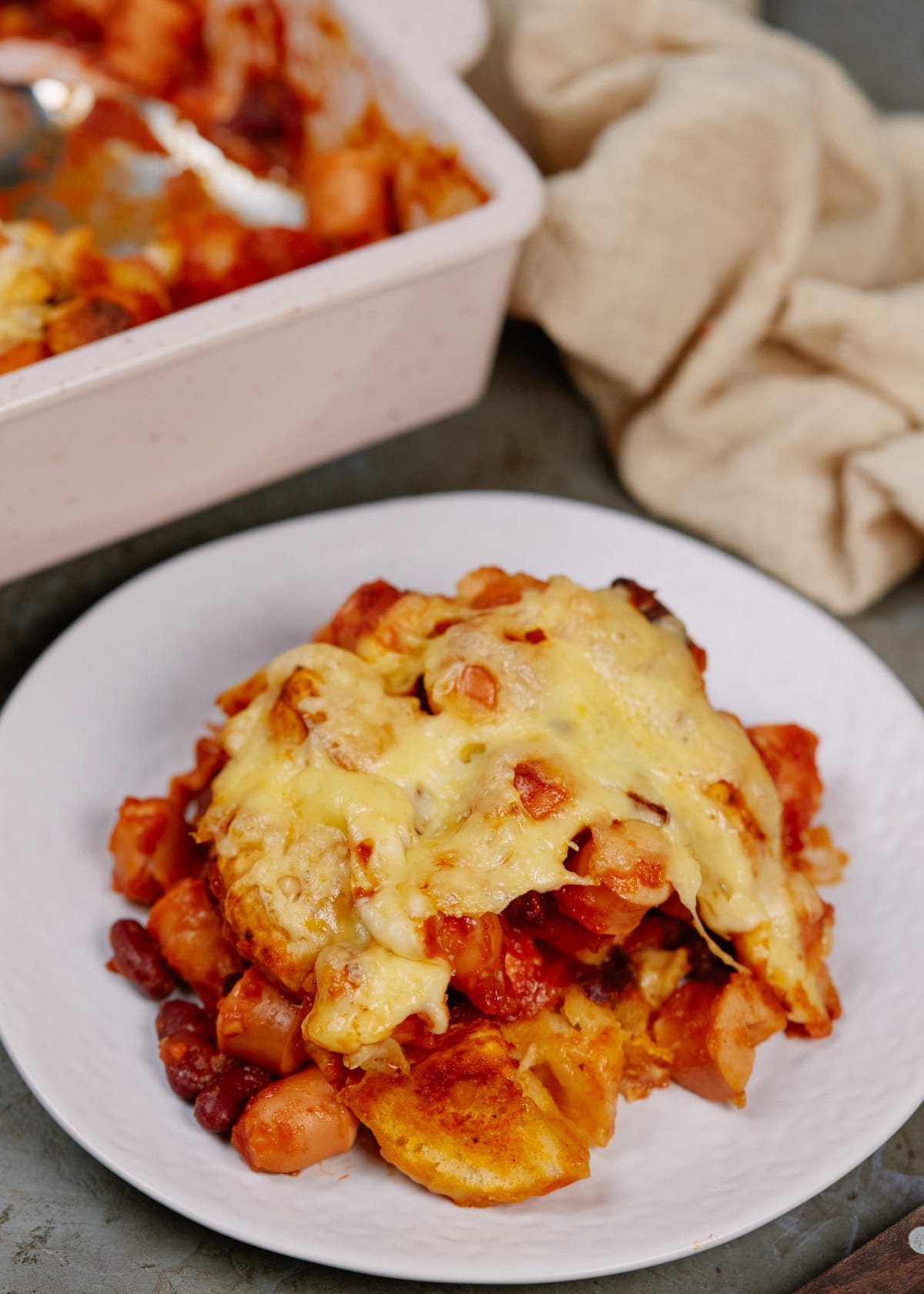 How to store:
Store any leftover hot dog casserole in an airtight container in the refrigerator for up to five days. Reheat it in the microwave with 30-second increments until it's hot all the way through.
To freeze the entire casserole, prepare as directed up to baking. Then, pour into a disposable baking dish, go ahead and top it with the cheese, and warp it tightly with plastic wrap. Cover this with aluminum foil and label, then date the recipe with instructions for cooking.
Thaw overnight in the refrigerator before baking as directed. It can be frozen for up to 4 months.
More Tasty Casseroles
If you need more kid-friendly recipes for your menu, look no further than the ones below. We love making meals that everyone at the table will devour, and the list of casseroles here is a great start. Build your menu around these, and remember to bookmark, print out the recipes, or pin these to Pinterest to make soon!
Yield: 6 servings
Hot Dog Casserole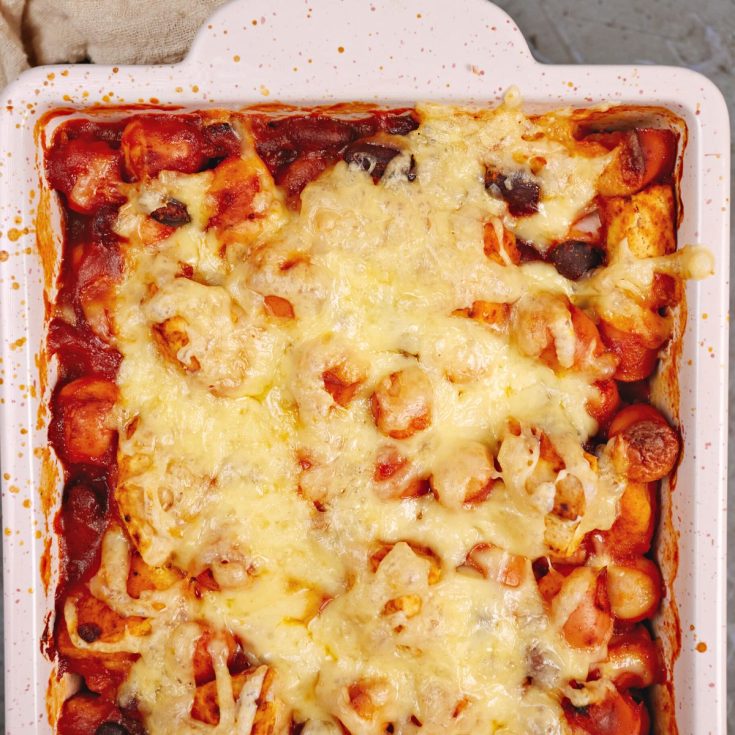 A delicious hot dog casserole is loaded with flavor and easy to prepare. Hot dogs, a simple sauce, and biscuits for the perfect kid-friendly meal!
Ingredients
10 oz hot dogs (300g), sliced
1 onion, chopped
2 garlic cloves, minced
1 (15 oz) can red kidney beans, drained (425g)
1 (15 oz) can tomato sauce (425g)
2 teaspoon chipotle powder (4.5g)
1 teaspoon ground cumin (2.5g)
7 oz frozen biscuits, cut into quarters (200g)
4 oz shredded cheddar cheese, (120g)
Instructions
Preheat the oven to 350F/180C.
Saute onions with some butter or olive oil for 5 minutes. Add sausages and cook for 5 minutes more.
Add garlic, beans, tomato sauce, cumin, and chipotle powder into the pan. Wait until the sauce reaches boiling point, then add biscuits and stir to combine.
Transfer everything into the baking pan and bake for 25 minutes.
Top the casserole with cheese and bake for 15 minutes more.
Notes
For added flavor, use a cheddar hot dog or jalapeno hot dog.
Nutrition Information:
Yield:
6
Serving Size:
1
Amount Per Serving:
Calories:

417
Total Fat:

26g
Saturated Fat:

11g
Trans Fat:

0g
Unsaturated Fat:

12g
Cholesterol:

47mg
Sodium:

944mg
Carbohydrates:

30g
Fiber:

4g
Sugar:

5g
Protein:

16g