Mexican Casserole is a one-of-a-kind dish. It's made with ground chicken, onions, taco seasoning, refried beans, cheese, and topped with olives, lettuce, crushed tortilla chips, and tomatoes. This refreshing dish is crunchy and delicious!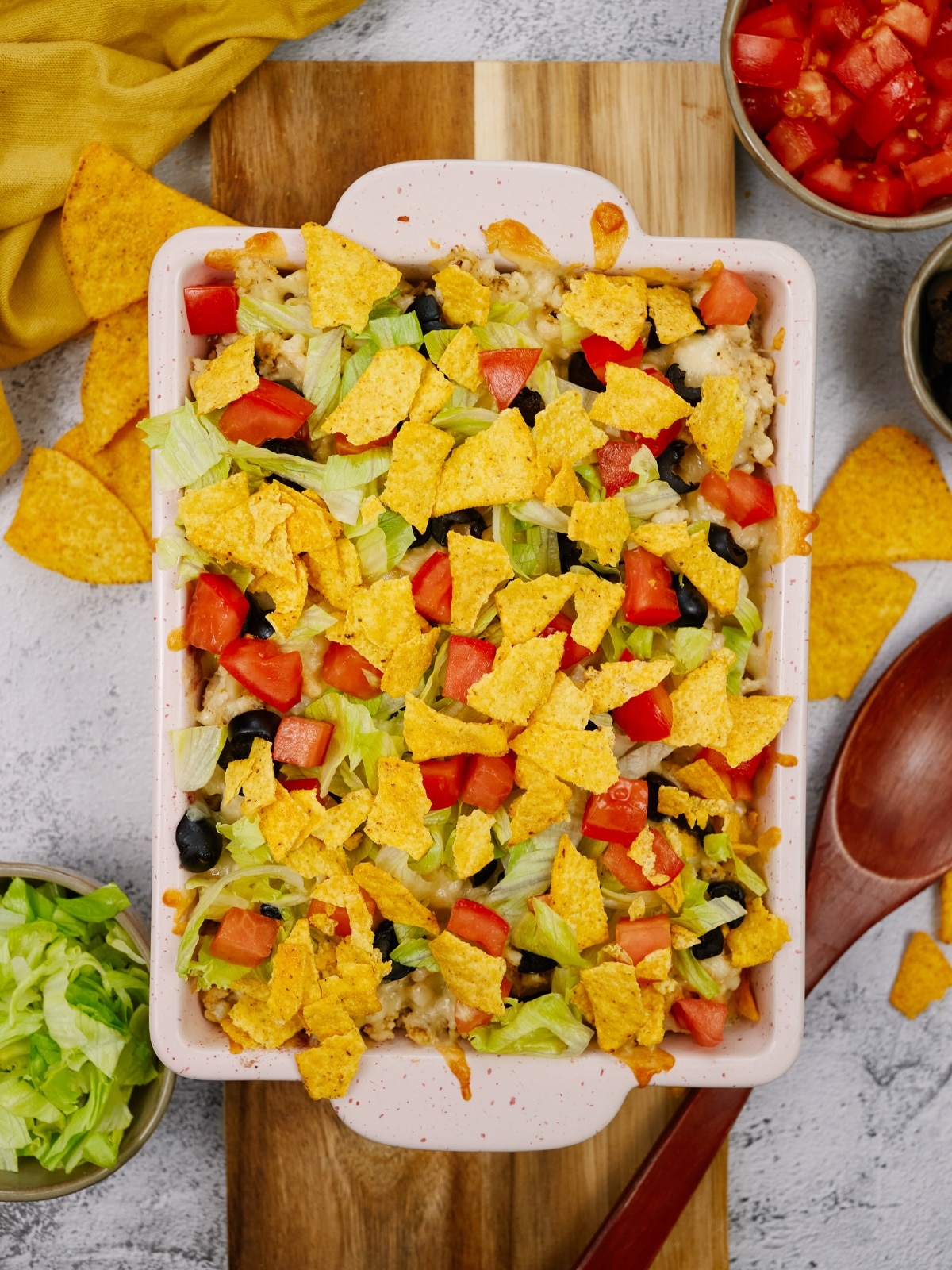 Jump to:
What is Mexican Casserole?
This Mexican casserole recipe is easy to make any night of the week. There are no complicated steps or hard-to-find ingredients here. This combination packs so much flavor you'll wonder where this casserole has been all your life.
The best casserole recipes are crafted to make your life easier and more delicious. This one does not disappoint. Start by sauteing the ground chicken and onions, spread the beans on the bottom of the baking dish, then top with sour cream, the chicken mixture, cheese, and olives. Bake until it's golden brown then sprinkle with crushed tortilla chips, chopped lettuce, and diced tomatoes. It's crunchy and savory all at the same time!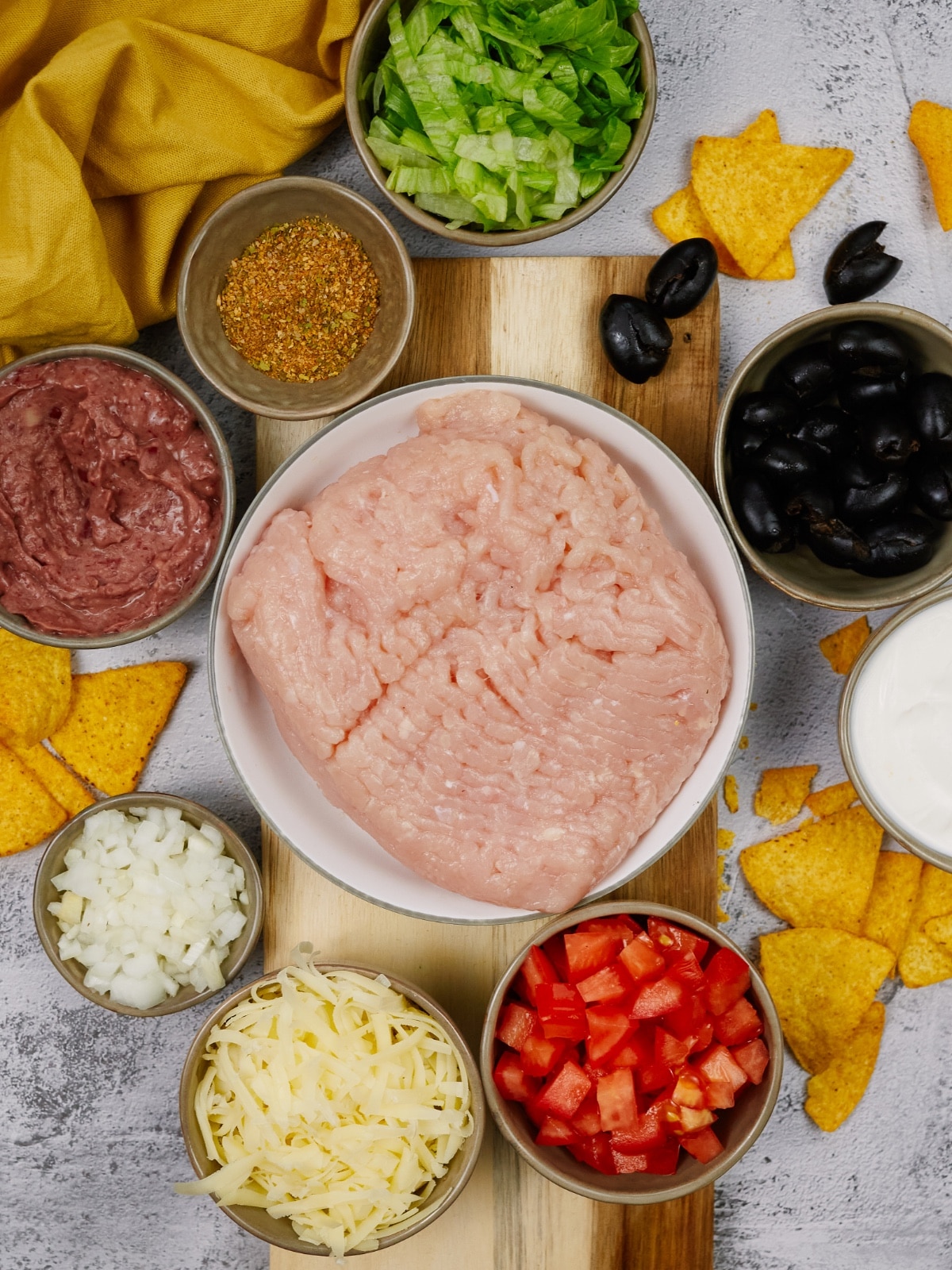 Ingredients:
1 pound ground chicken: Cooked and seasoned chicken is flavorful and adds texture to the dish.
1 medium onion: Diced white onions add flavor.
2 tablespoons taco seasoning: What would Mexican casserole be without some bold taco seasoning?
15 ounces refried beans: These savory and creamy beans helps the ingredients come together nicely.
¾ cup sour cream: A burst of tangy sour cream is a fun surprise in the middle of the casserole.
2 cups cheese: Shredded cheddar cheese makes this dish melty and golden brown.
Toppings: tortilla chips, lettuce, olives, and tomatoes
Video Recipe
How to make Mexican Casserole :
1. Preheat the oven.
2. Saute the onions.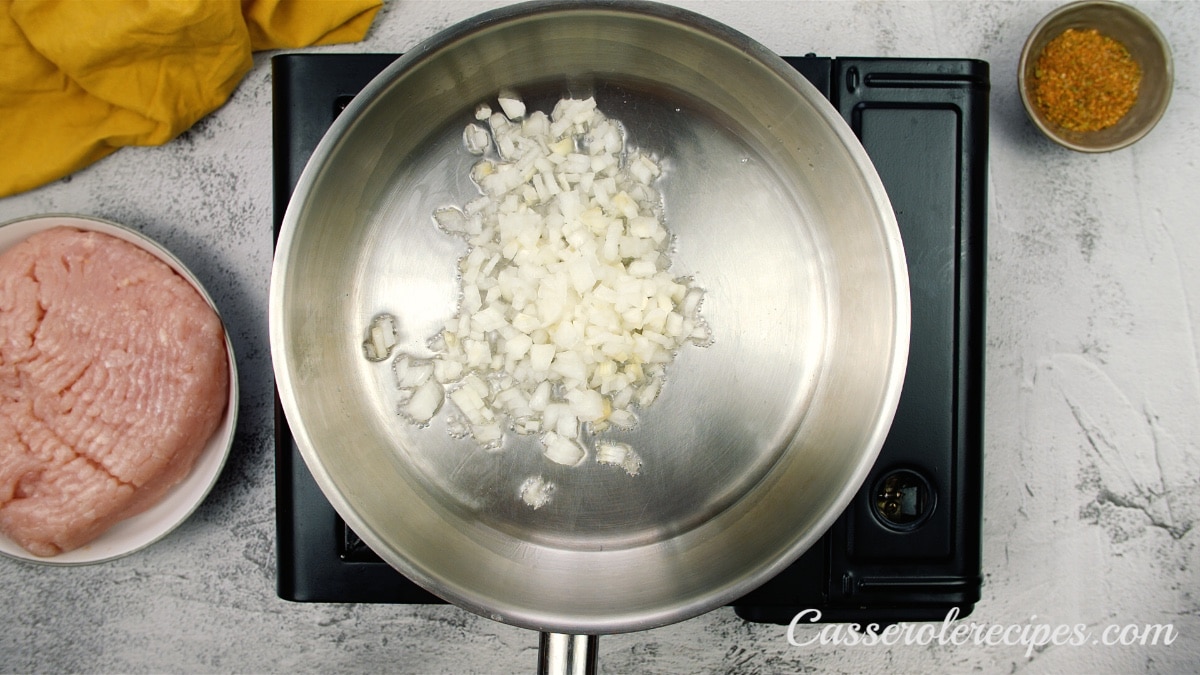 3. Add in the ground chicken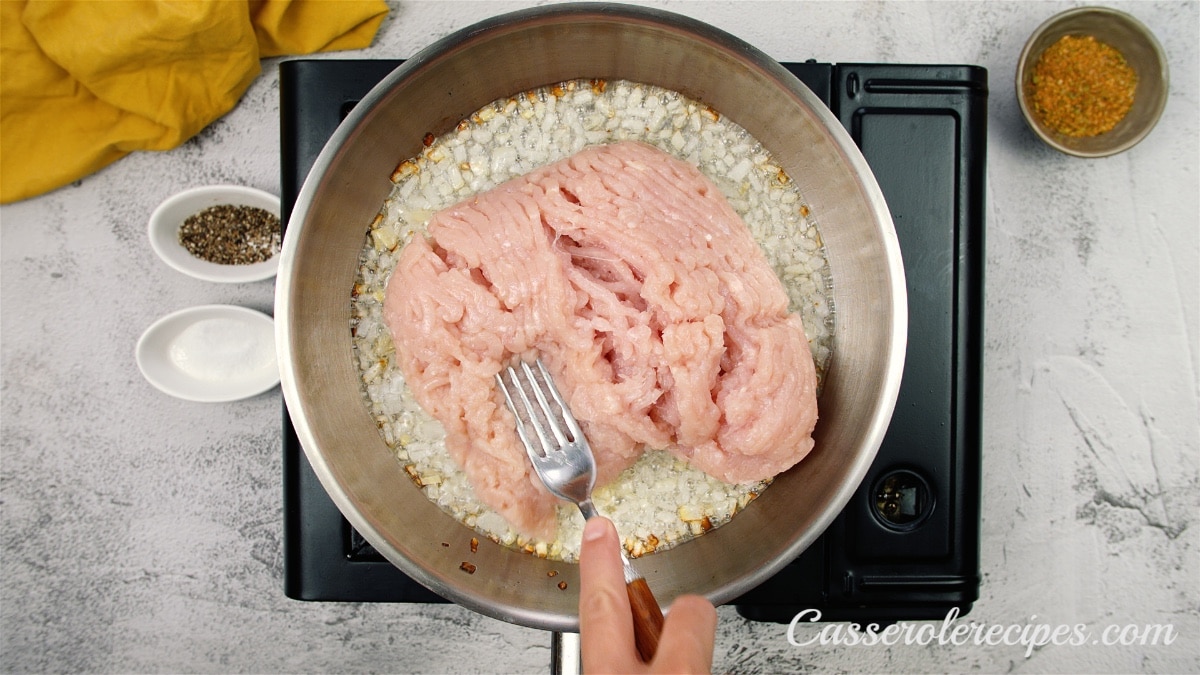 4. Then add the taco seasoning and some water.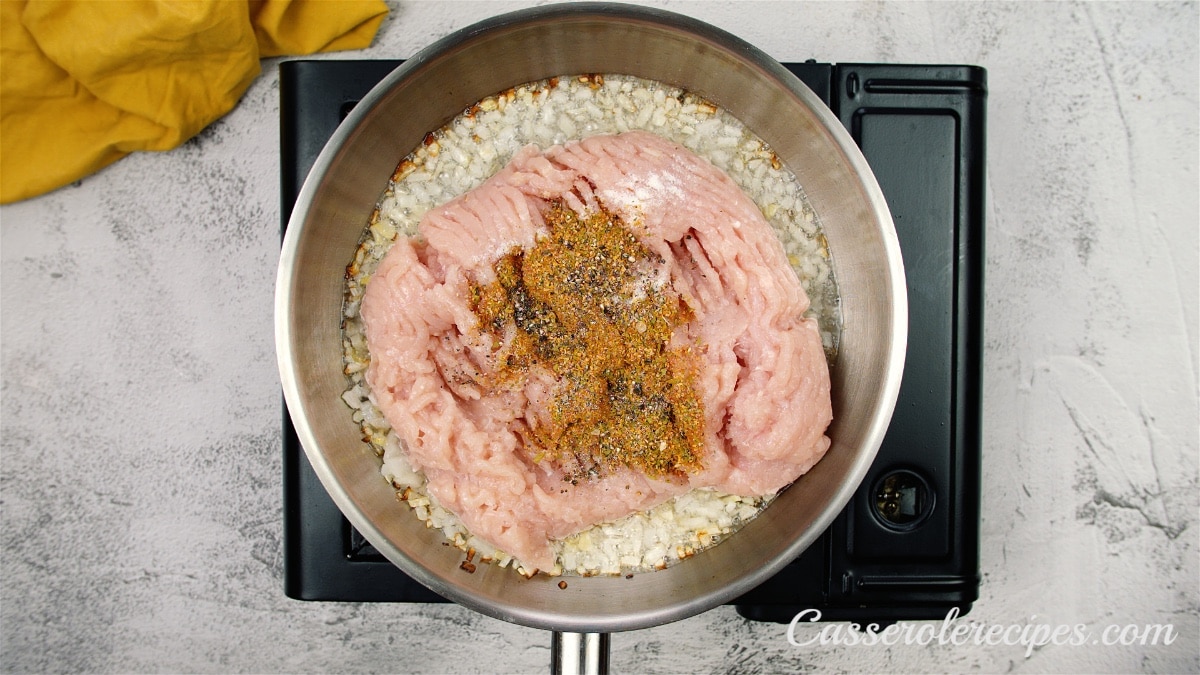 5. Cook until browned and cooked all the way through.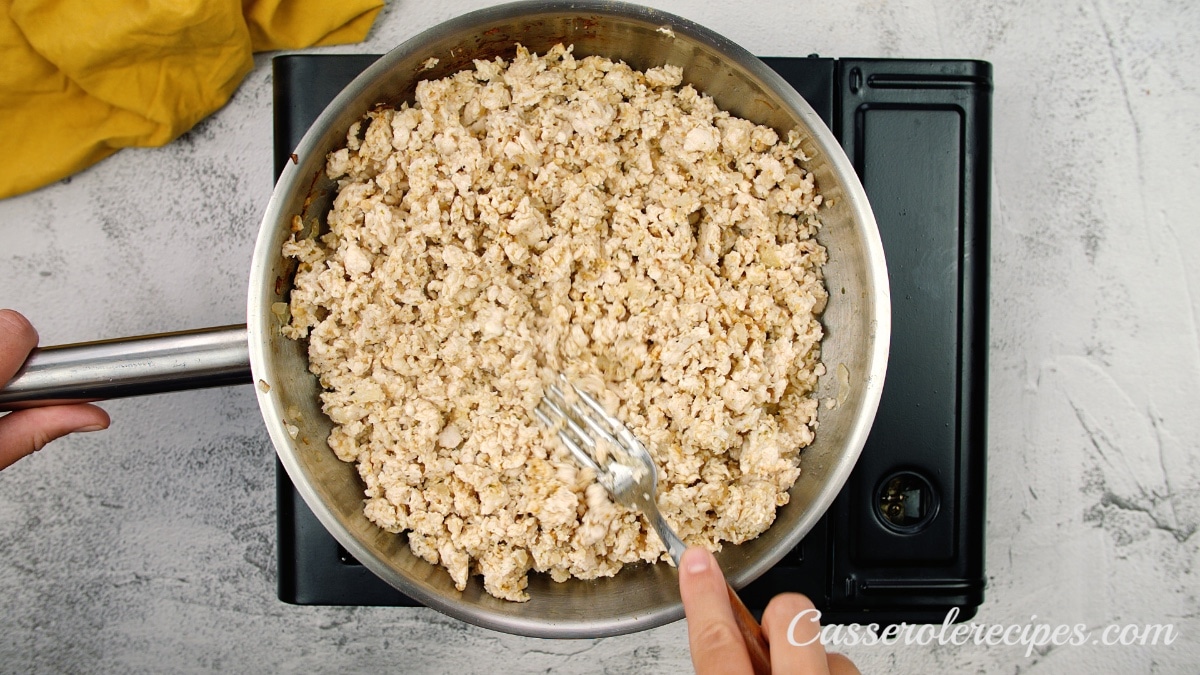 6. Spread the refried beans on the bottom of the baking dish.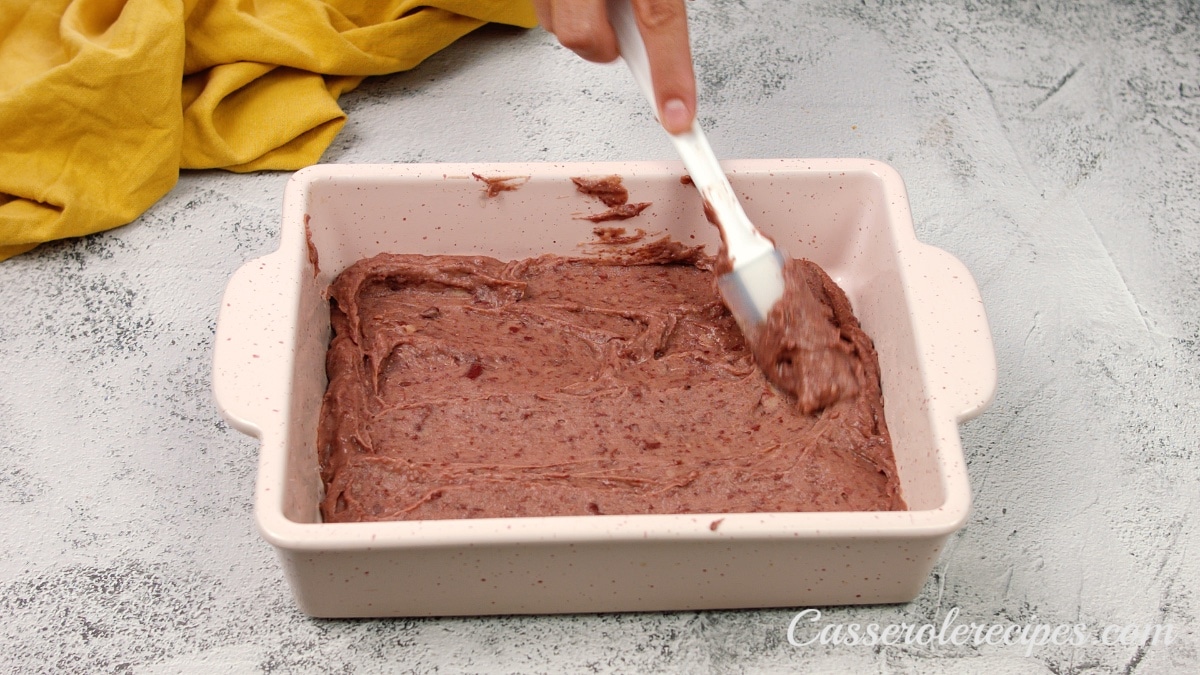 7. Then spread a layer of sour cream on top of the beans.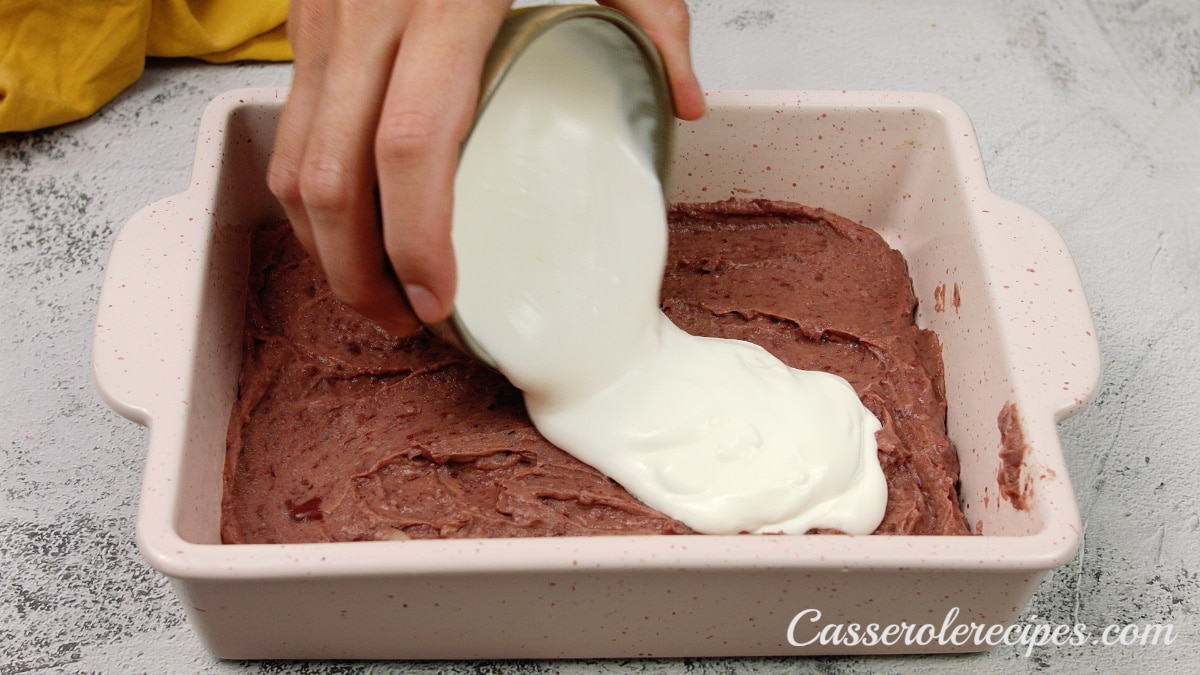 8. Spread the chicken mixture into the dish.
9. Sprinkle the cheese on top.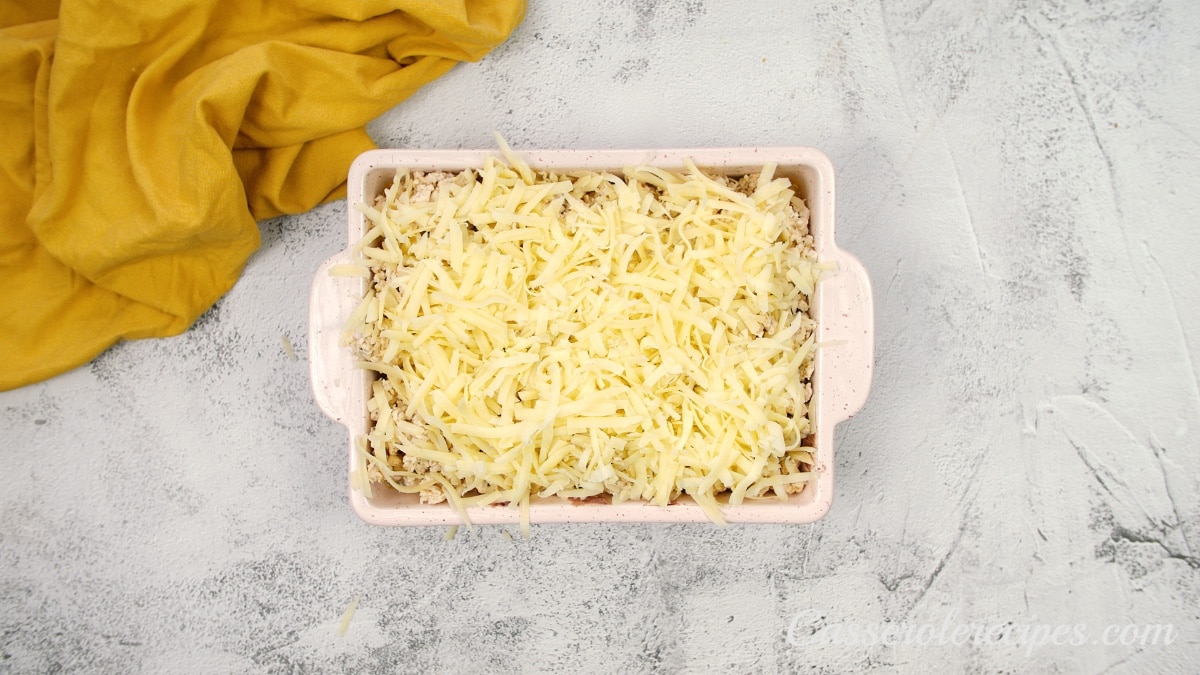 10. Spread out the olives over the cheese next.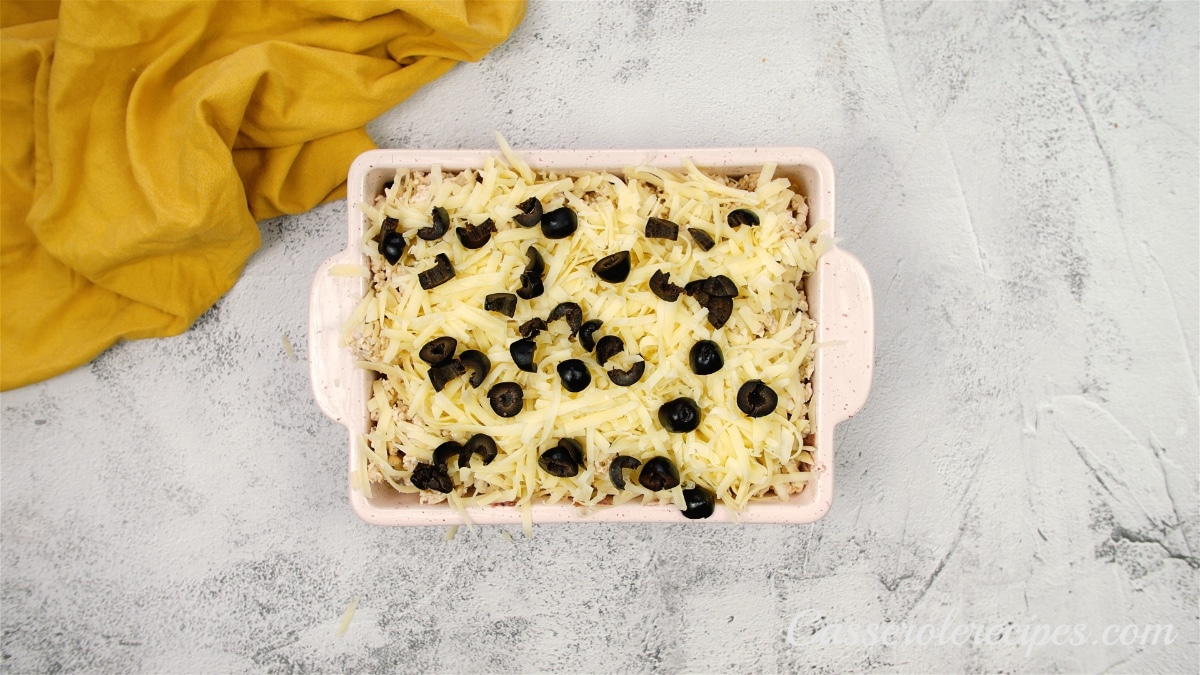 11. Bake until the cheese is melted and golden brown.
12. Top with crushed tortilla chips, lettuce, and tomatoes.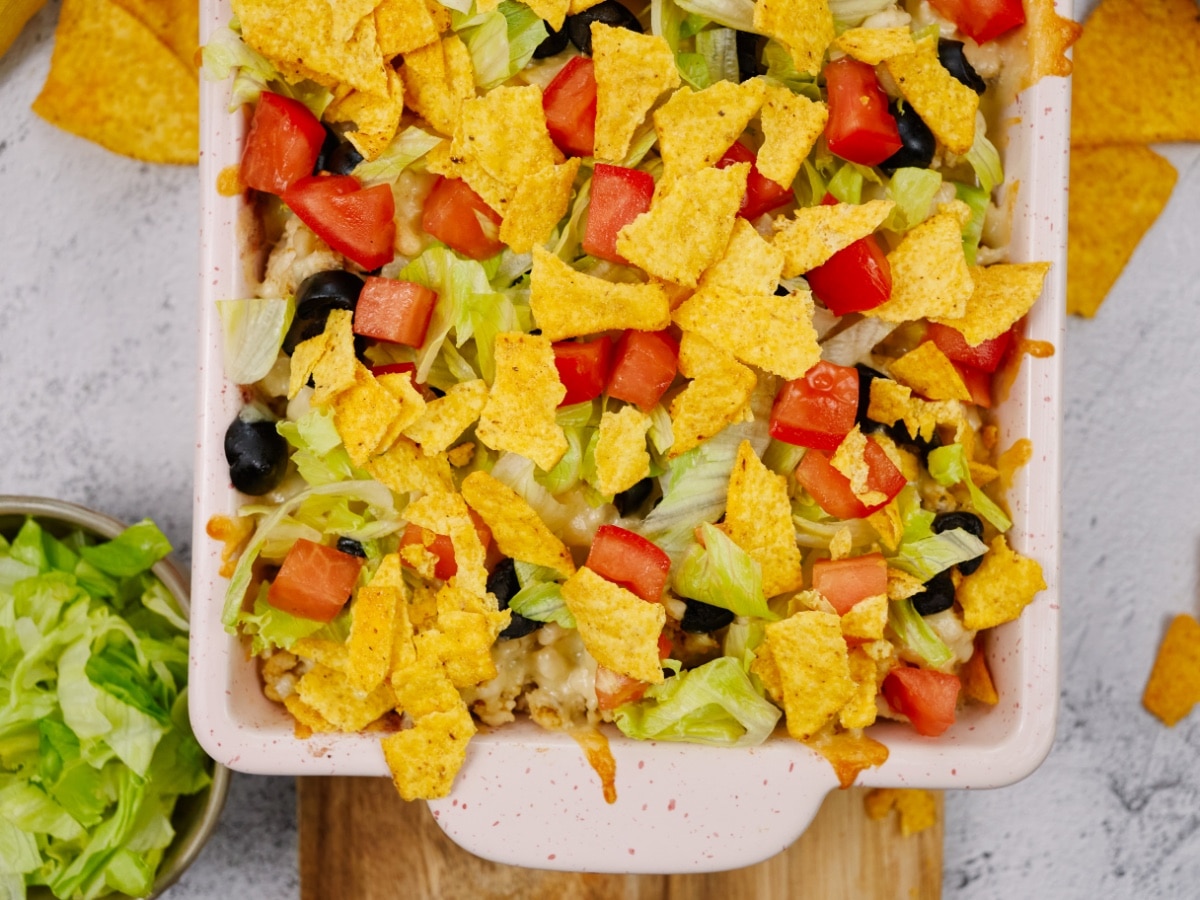 Tips for success:
Here are a few tips for success and variations you can try to make this the best Mexican Casserole you've ever had.
Some other ingredients you can add to make this dish your own are ground beef, rice, corn, tater tots, quinoa, torn flour or corn tortillas, Rotel salsa, or an egg nestled on top.
This 7 layer taco salad-type casserole is perfect for bringing to parties or pot lucks.
Instead of topping with cheese and olives before baking, you could spread a layer of cornbread dough mixture on top. It would add an extra layer of goodness to the dish.
Can you make a keto-friendly Mexican Casserole?
Yes, it's entirely possible to make a keto-friendly and low-carb version of this dish. The only thing you need to do is leave out the refried beans or just use dollops of them instead of spreading a layer. The other ingredients are already keto-friendly.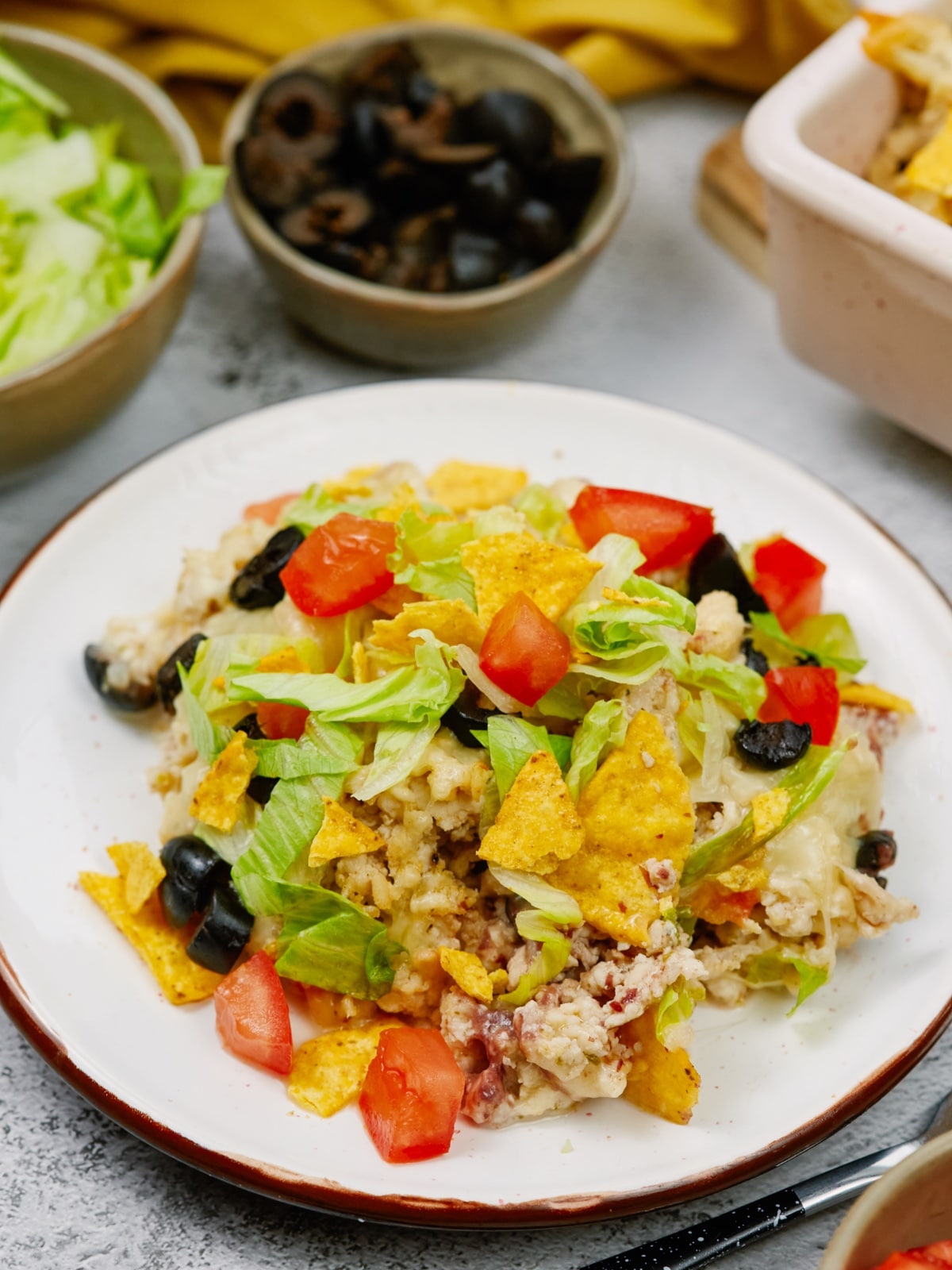 Can you make this dish vegetarian?
Yes, this Mexican casserole recipe is easily adapted for vegetarians. All you need to do is leave out the ground chicken. You may also want to add some corn, rice, or cauliflower as well.
Can you make Mexican Casserole in a crockpot?
Absolutely, you can! All you need to do is follow the same instructions as above and place it in a greased slow cooker bowl. Cover and set to high and cook for three hours. Easy peasy!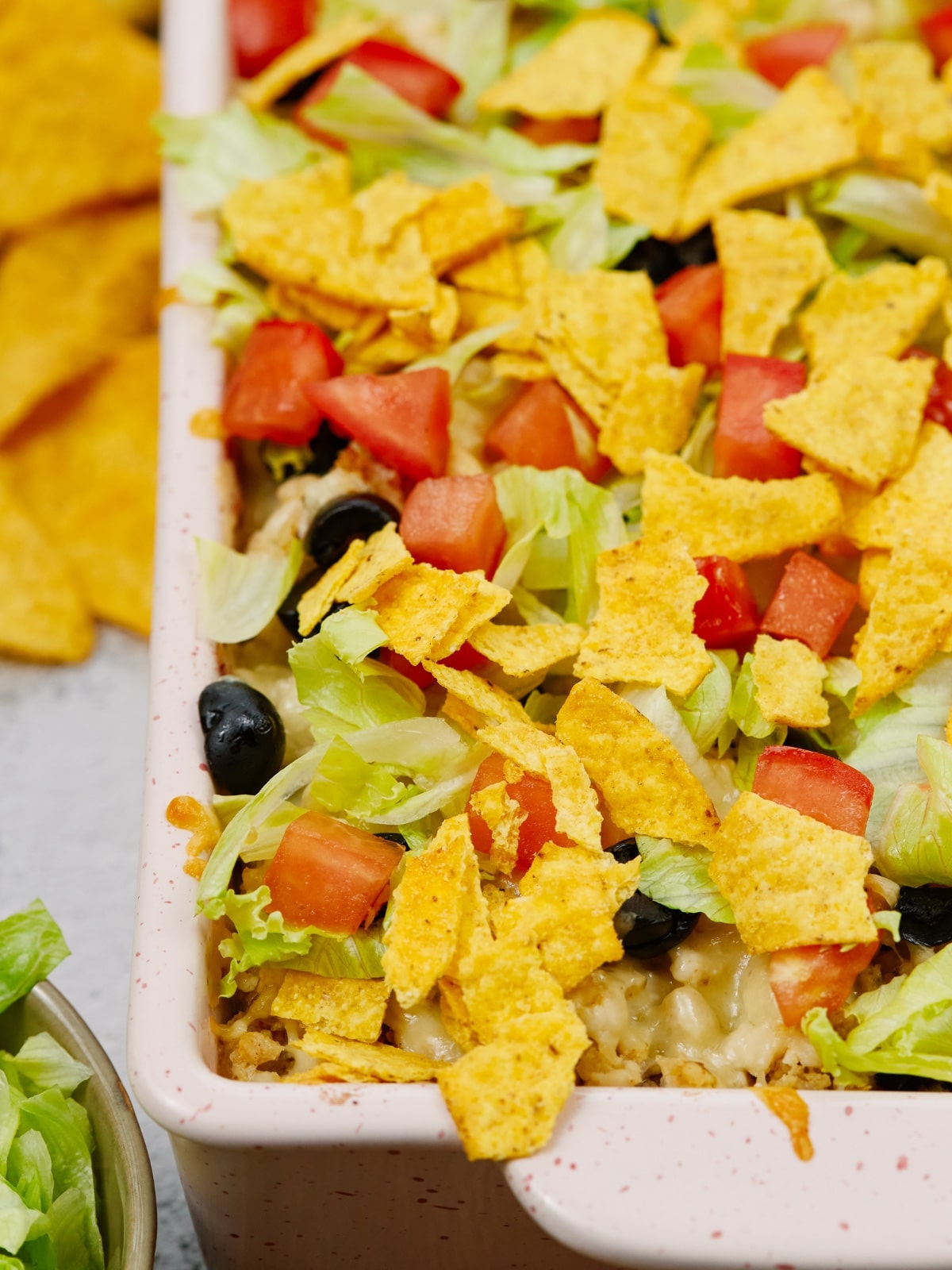 How to store:
Store any leftover Mexican Casserole in an airtight container in the refrigerator for up to five days. To reheat, just microwave in 30-second increments until it's heated all the way through.
You can also freeze this casserole before baking and tightly covered it with plastic wrap and aluminum foil. Be sure to label it and write the baking instructions on top. This way you won't need to dig to find the instructions later. You'll need to bake it longer if you cook it straight from frozen. Cook it covered with aluminum foil only until the last 30 minutes and then remove the foil to allow the top to brown.
FAQs
How can you make this a breakfast casserole?
Easily make this dish for breakfast by adding some hearty vegetables like yellow squash, mushrooms, or cauliflower. Try topping it with tater tots or hashbrowns instead of tortilla chips, lettuce, and tomatoes.
Can you make this casserole vegan?
Yes, you can omit the ground chicken, sour cream, and cheese to make this dish vegan. Substitute black beans, other vegetables, and dairy-free cheese.
How can I make this dish into a burrito bowl?
Simply make the casserole per the directions, grab a bowl, and pile it all in to make yourself a burrito bowl. Serve it with warm corn or flour tortillas.
Yield: 6 servings
Mexican Casserole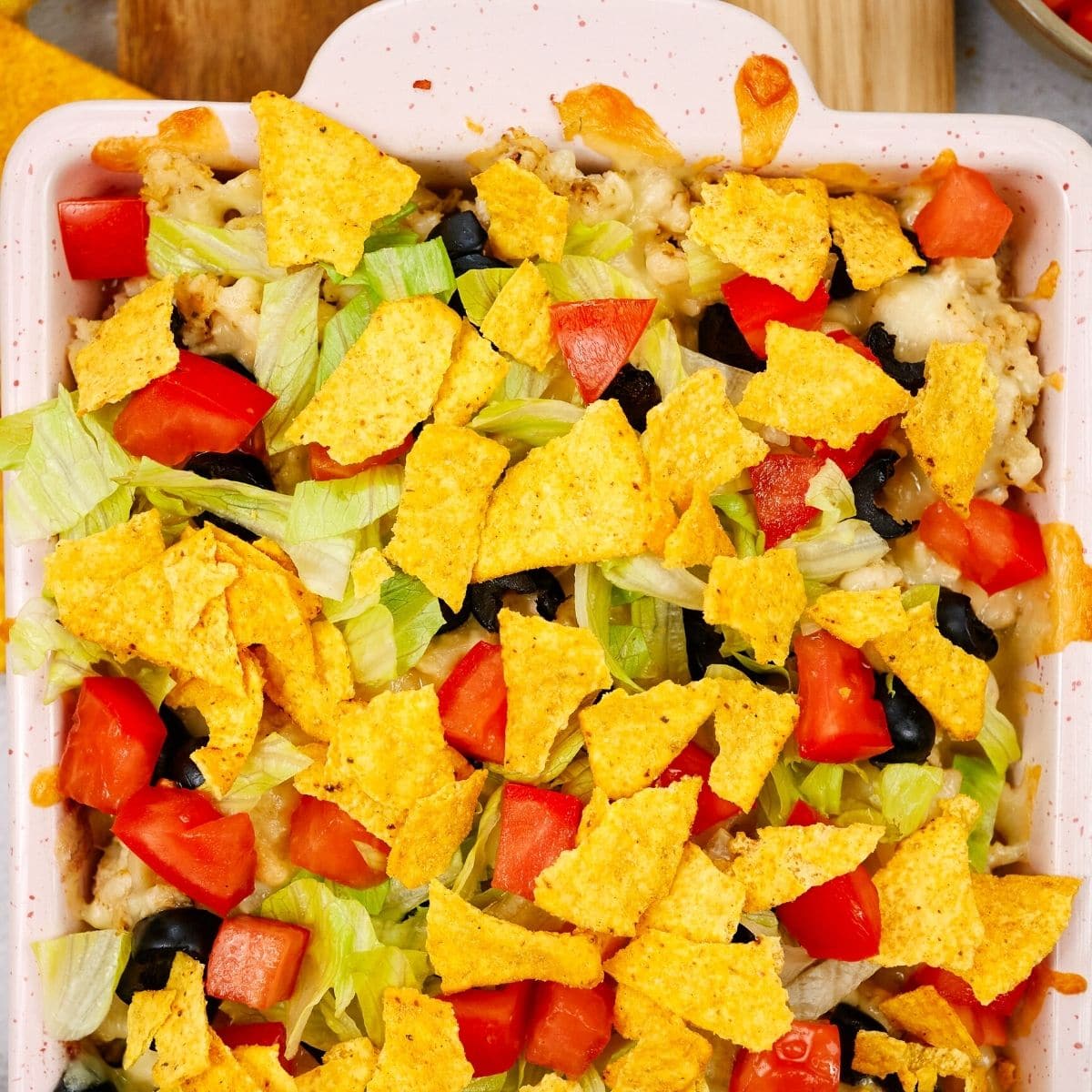 Mexican Casserole is a one-of-a-kind dish. It's made with ground chicken, onions, taco seasoning, refried beans, and cheese.
Ingredients
1 pound ground chicken
1 onion, chopped
2 tablespoon taco seasoning
15 ounces refried beans
3⁄4 cup sour cream
2 cups shredded cheddar cheese
Tortilla chips, olives, lettuce, and tomatoes for topping
Instructions
Preheat the oven to 350F.

Sauté onions in some olive oil for 3-4 minutes, until slightly golden.

Add ground chicken, salt, pepper, and taco seasoning. Break the meat with a fork and cook for 10 minutes. Pour out as much excess liquid as you can.

Spread refried beans on the bottom of the baking pan, add sour cream on top, then transfer chicken into the pan.

Top casserole with cheese and black olives. Bake for 15 minutes.

Serve topped with chips, lettuce, and tomatoes.

Nutrition Information:
Yield:
6
Serving Size:
1
Amount Per Serving:
Calories:

441
Total Fat:

28g
Saturated Fat:

13g
Trans Fat:

1g
Unsaturated Fat:

12g
Cholesterol:

135mg
Sodium:

788mg
Carbohydrates:

17g
Fiber:

4g
Sugar:

3g
Protein:

31g