Keto Taco Casserole is a delicious low-carb dish that is filled with onions, ground beef, seasonings, garlic, tomato paste, and cauliflower rice. You may make it because it's keto-friendly, but it's a dish the whole family will love.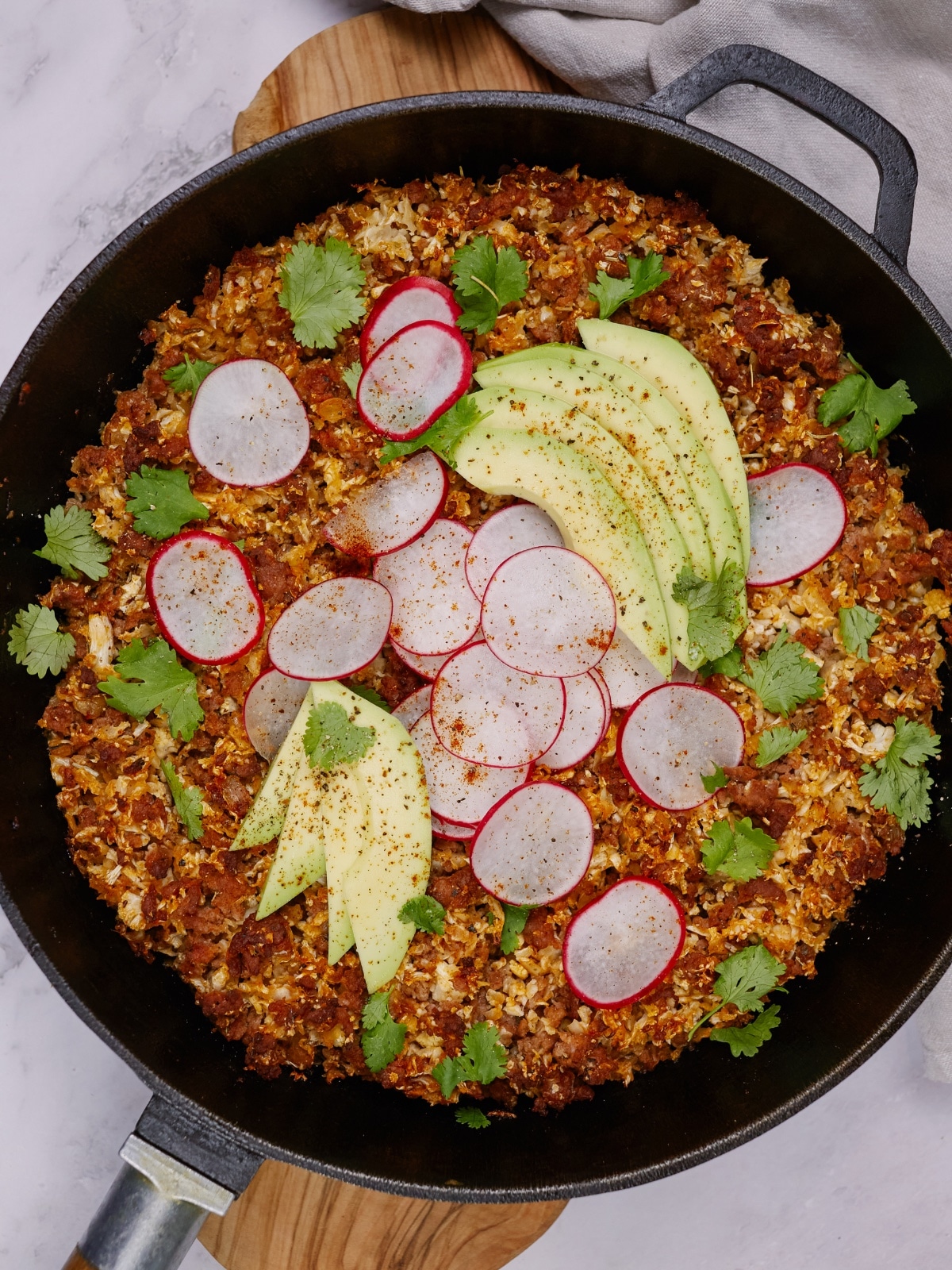 Jump to:
What is Keto Taco Casserole?
This low-carb keto taco recipe is very easy to make any night of the week. Its Mexican seasonings are comforting and the dish is so filling you won't need to make any additional sides. That makes it the perfect dish for nights when you're busy and need to get a healthy meal on the table with little time or effort.
This is a great dish to make ahead of time as well. For those nights when you don't feel like cooking, all you need to do is pull this casserole out of the fridge or freezer and bake. What could be easier than that?? You'll have extra time to spend with your family whether you make it ahead or cook the same night.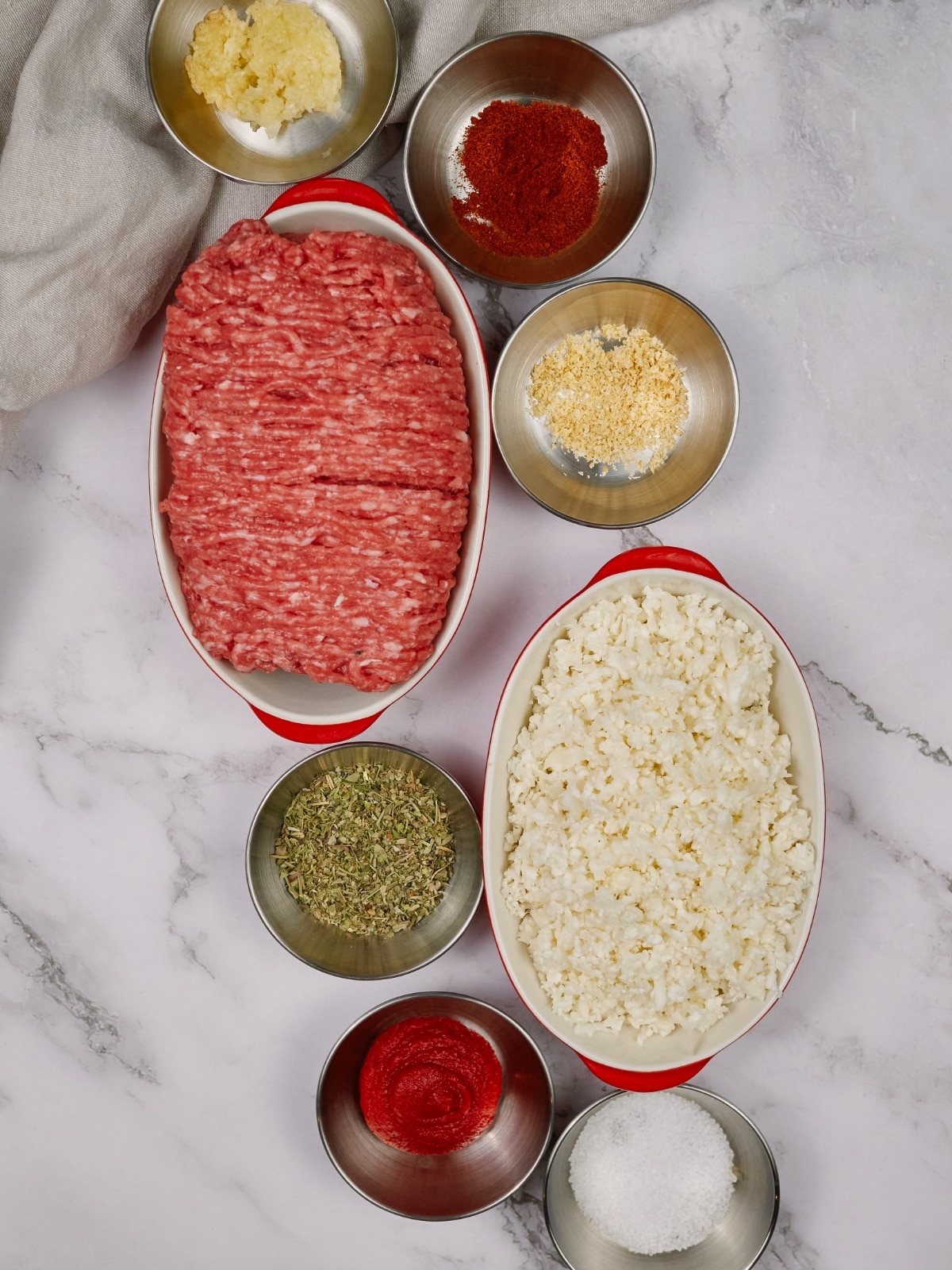 Ingredients:
1 medium onion: The combination of onions and hamburger is classic and delicious.
1 pound ground beef: What would a keto taco bake be without some well-seasoned ground beef? Its savory flavor is perfect in this dish.
2 tablespoons Italian herbs: Some mixed Italian herbs give the casserole even further depth.
1 ½ teaspoons chipotle powder: This gives the dish a warm and distinctly Mexican flavor.
1 ½ teaspoon salt: Every dish needs a little salt. It's the ultimate flavor enhancer.
1 teaspoon garlic: Minced garlic goes a long way in making this casserole taste amazing.
1 teaspoon onion powder: A little extra seasoning ensures this dish is anything but bland.
2 ½ cups cauliflower rice: Cauliflower is healthy and filling. It's perfect in this casserole.
2 tablespoons tomato paste: This gives the dish a rich tomato flavor without adding additional tomatoes.
How to make Keto Taco Casserole:
1. Preheat the oven.
2. Saute the onions.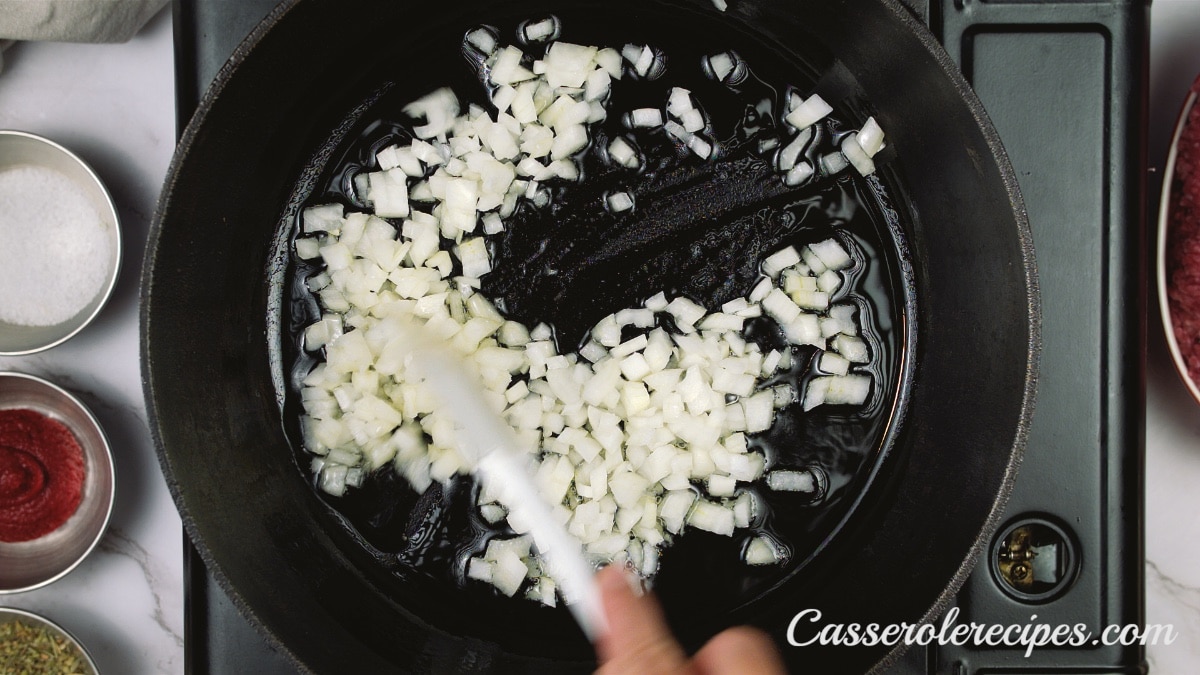 2. Add the ground beef and cook until browned.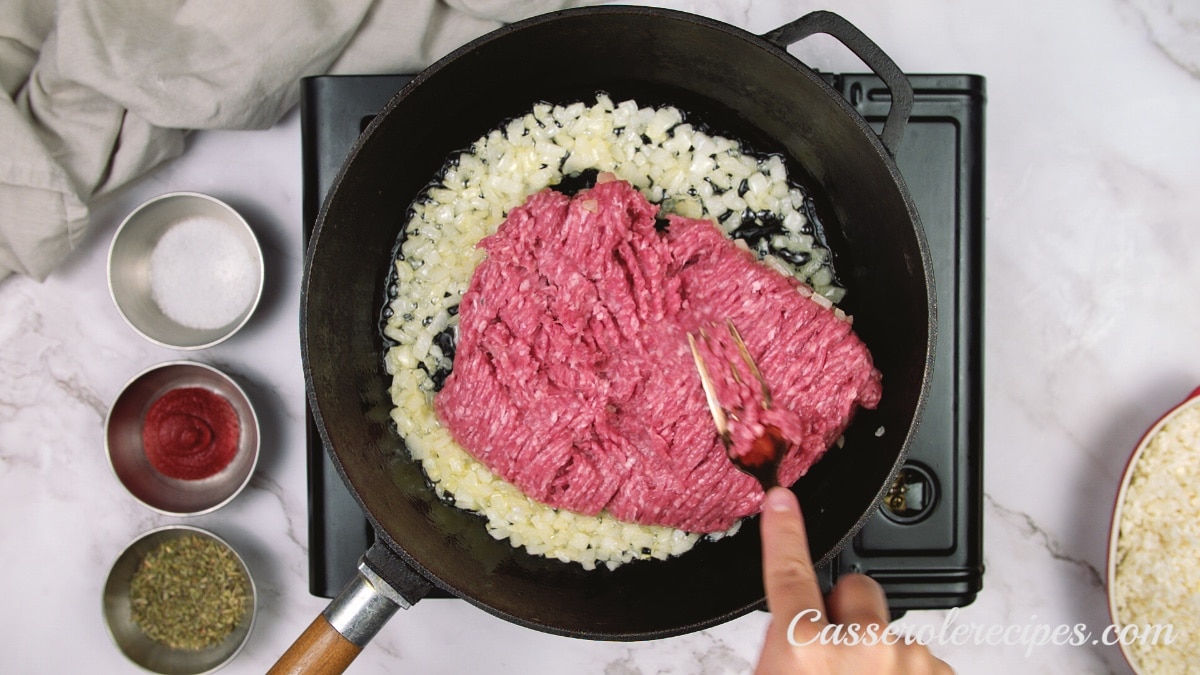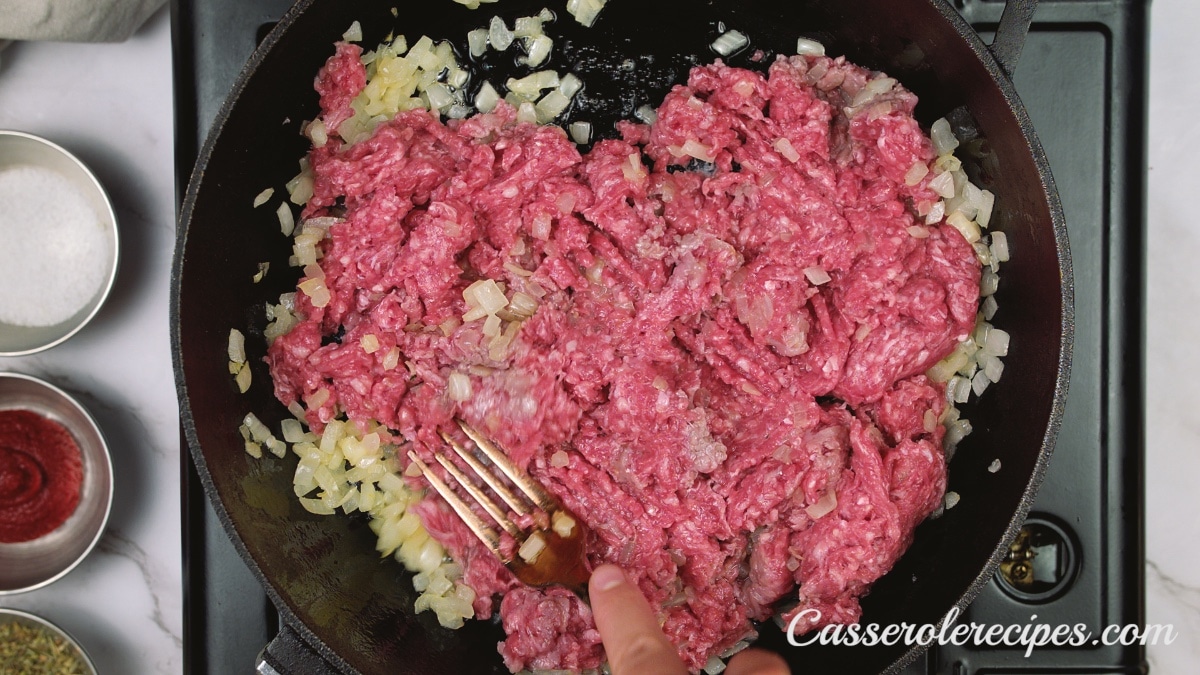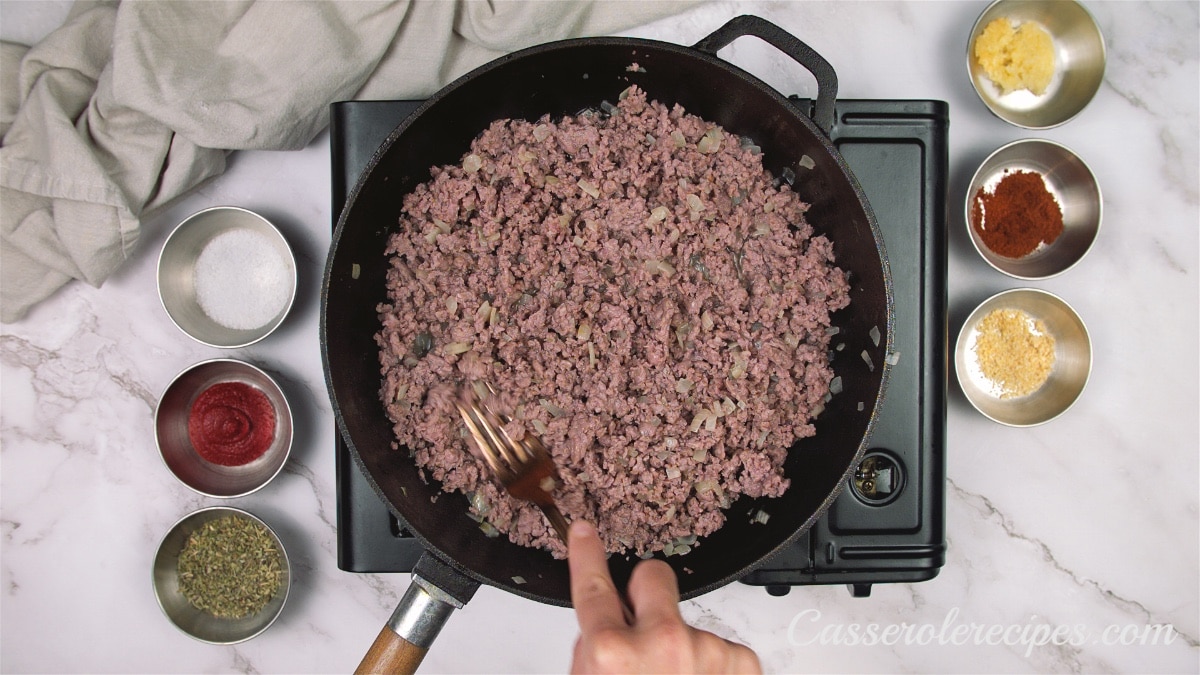 3. Stir in the seasonings.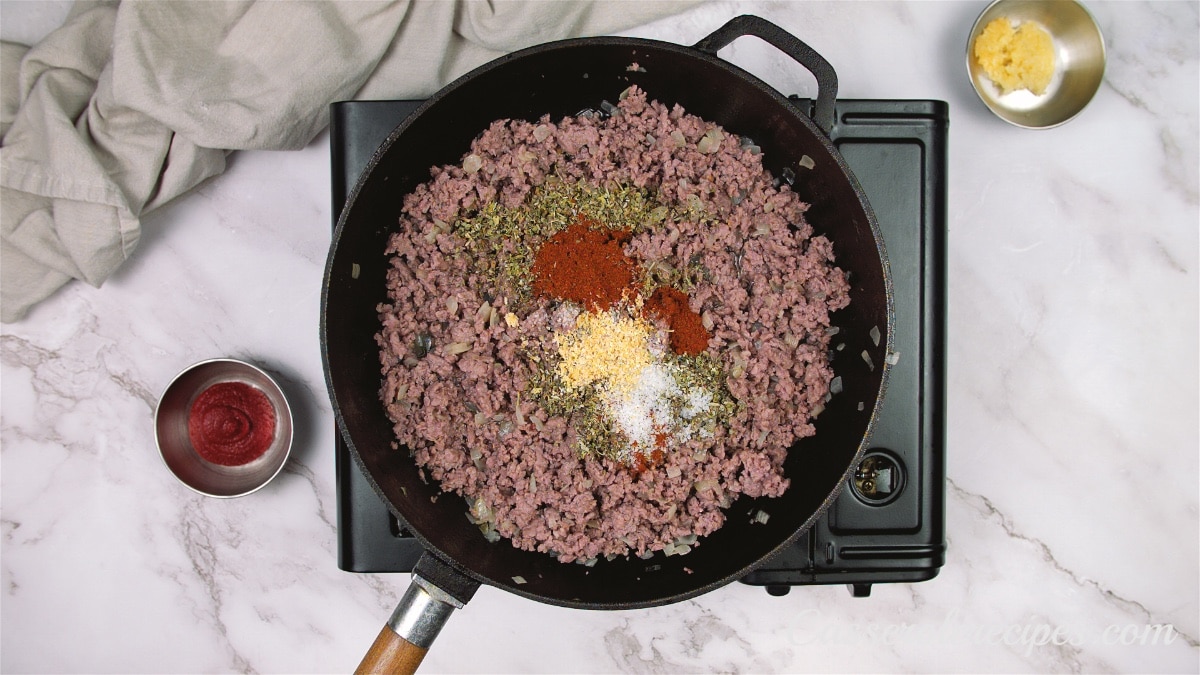 3. Stir in the garlic and tomato paste.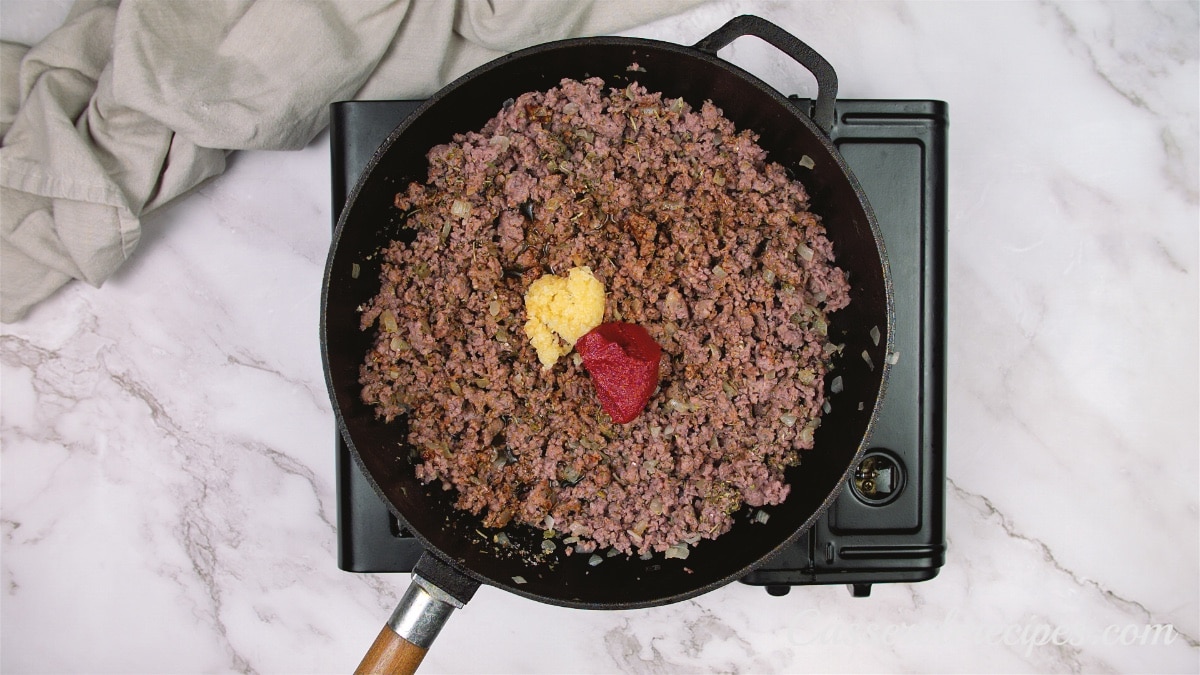 4. Mix the cauliflower rice and meat mixture together in the pan.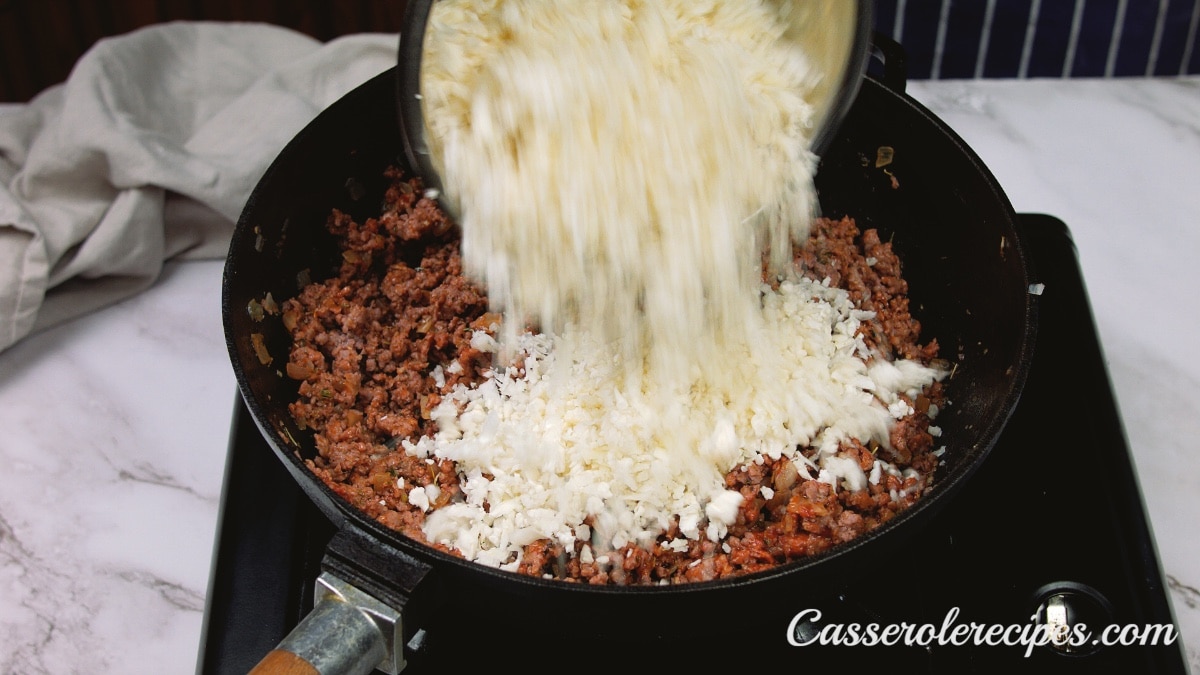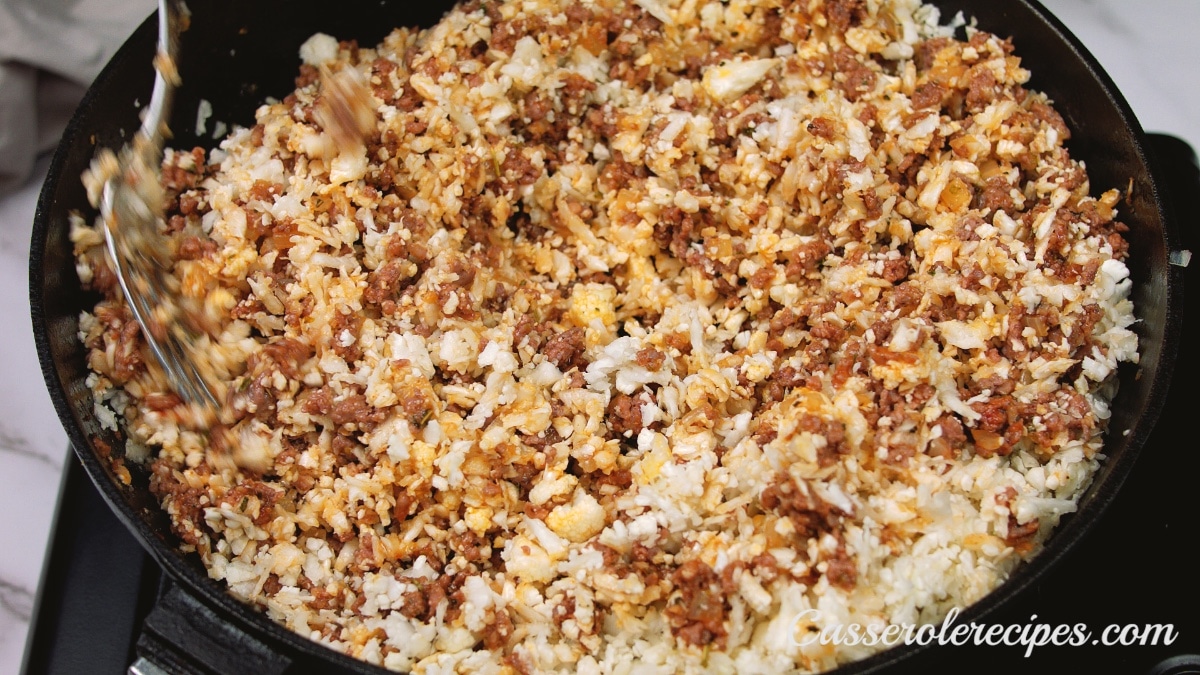 5. Bake it in the oven-proof skillet for 20 minutes. Add sliced avocados, radishes, and cilantro leaves for a topping.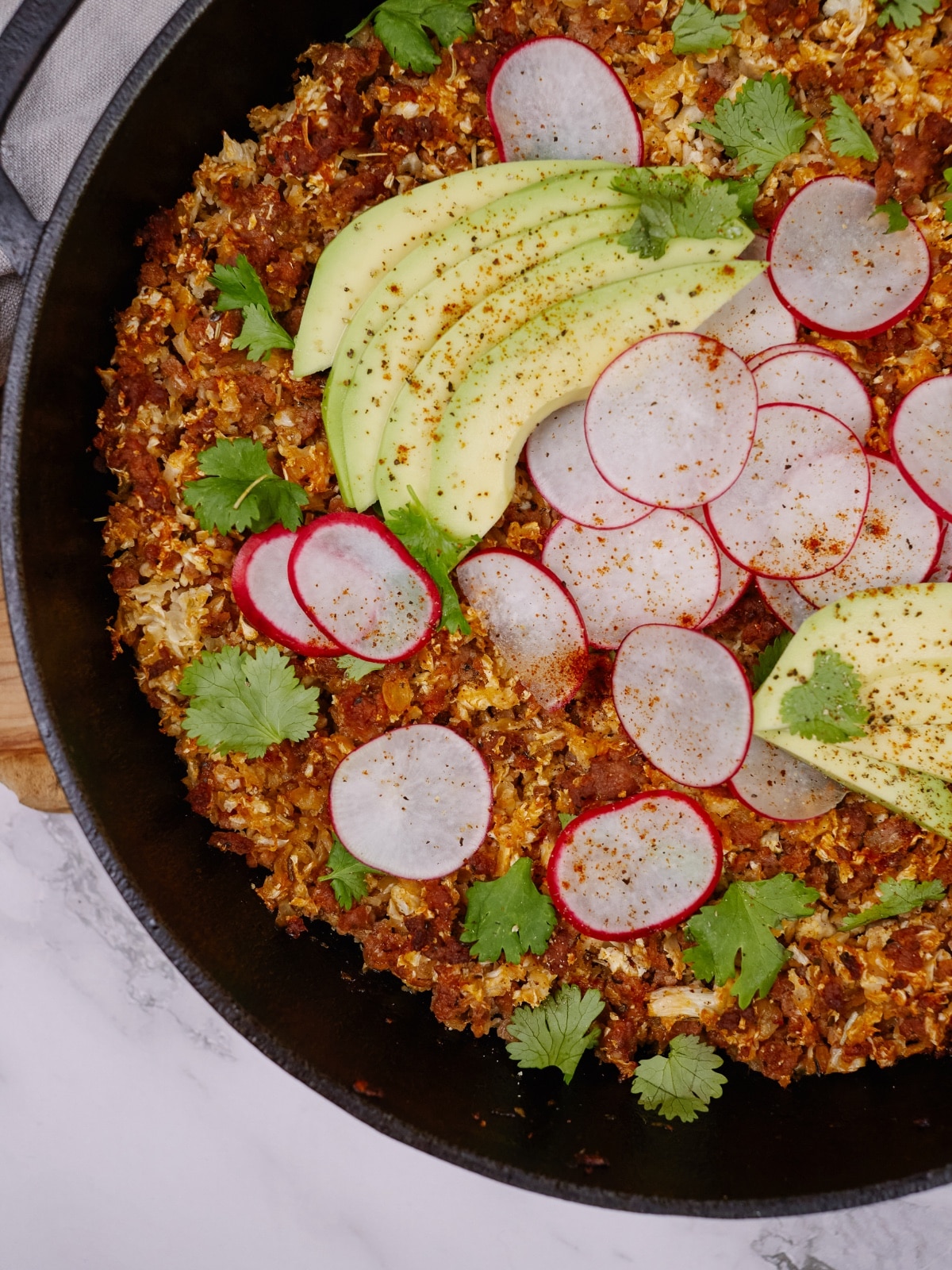 6. Serve hot.
Tips for success:
Here are a few delish tips for success and variations you can try to make this the best keto taco casserole you've ever had.
Add some Monterey jack cheese or pepper jack cheese to the top before baking to make this dish cheesy, melty, and delicious.
Add some low-carb tortillas on the side for scooping and dipping.
Easily convert this casserole into a taco salad by adding chopped lettuce, diced tomatoes, and a couple of tortilla chips for crunch.
If you don't want to use ground beef, try adding cooked shredded chicken or ground turkey in its place.
A quick and easy way to get all the best seasonings in this casserole is to use a packet of taco seasoning instead of the ones called for in this recipe.
Can I make this in an Instant Pot?
Yes, using a pressure cooker is a great alternative to baking in the oven. Use the saute feature on the Instant Pot to cook the ground beef. After combining all the ingredients, place the lid on, set the pressure and time, and cook. Use the quick release and serve it hot.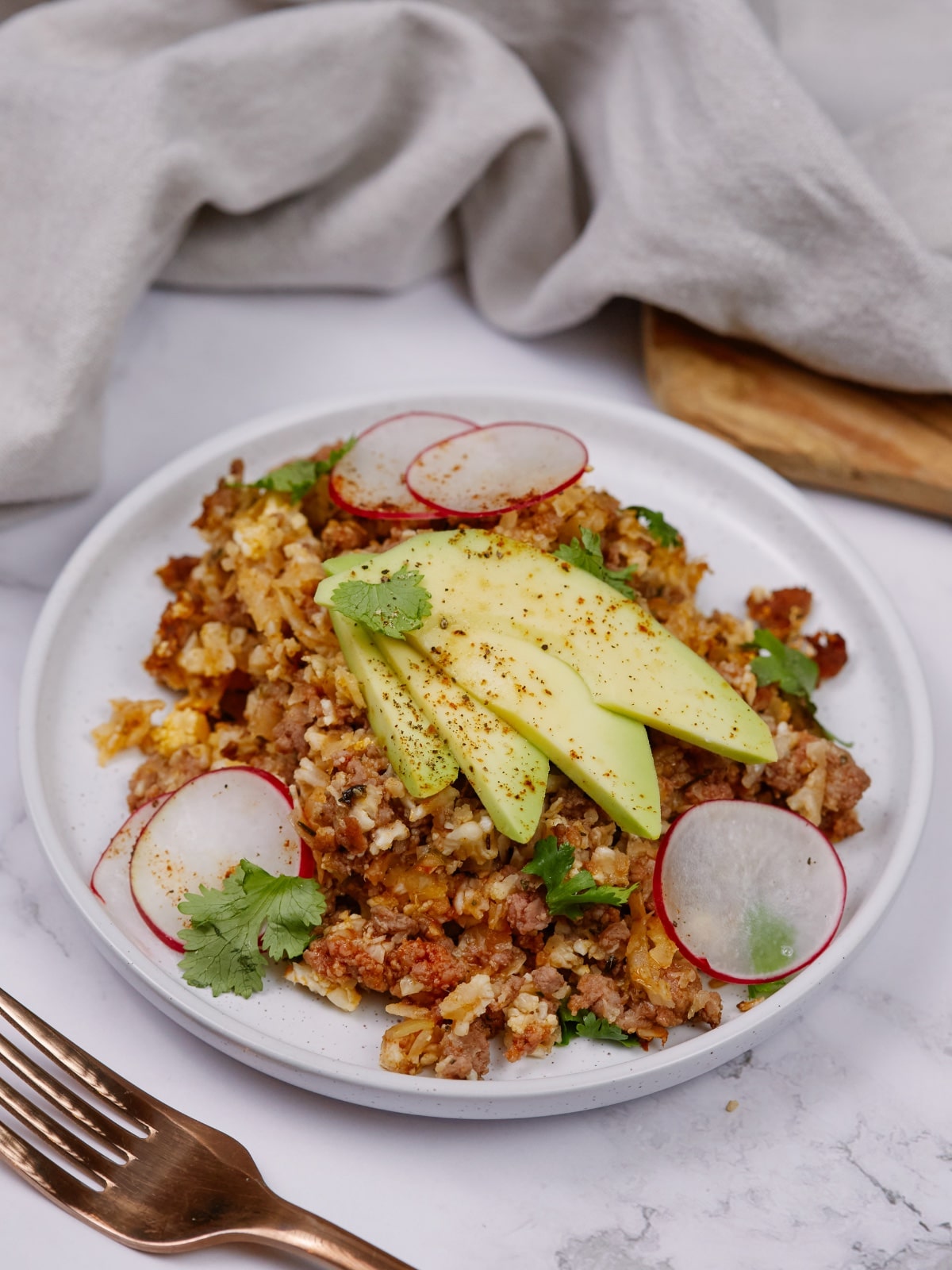 How can I make Keto Taco Casserole in a slow cooker?
If you want to gently cook your casserole for a few hours in the crockpot, it's an easy thing to set up. Follow the directions for the casserole and then pour the mixture into the bowl of the slow cooker, place the lid on, and cook on high for three to four hours.
What other vegetables can I add to this dish?
If you're looking to add some additional vegetables to really make this dish filling, here are some great options. Try corn, bell peppers, zucchini, squash, Rotel salsa, lentils, and tomatoes. These will make your casserole even healthier and tastier than it already is!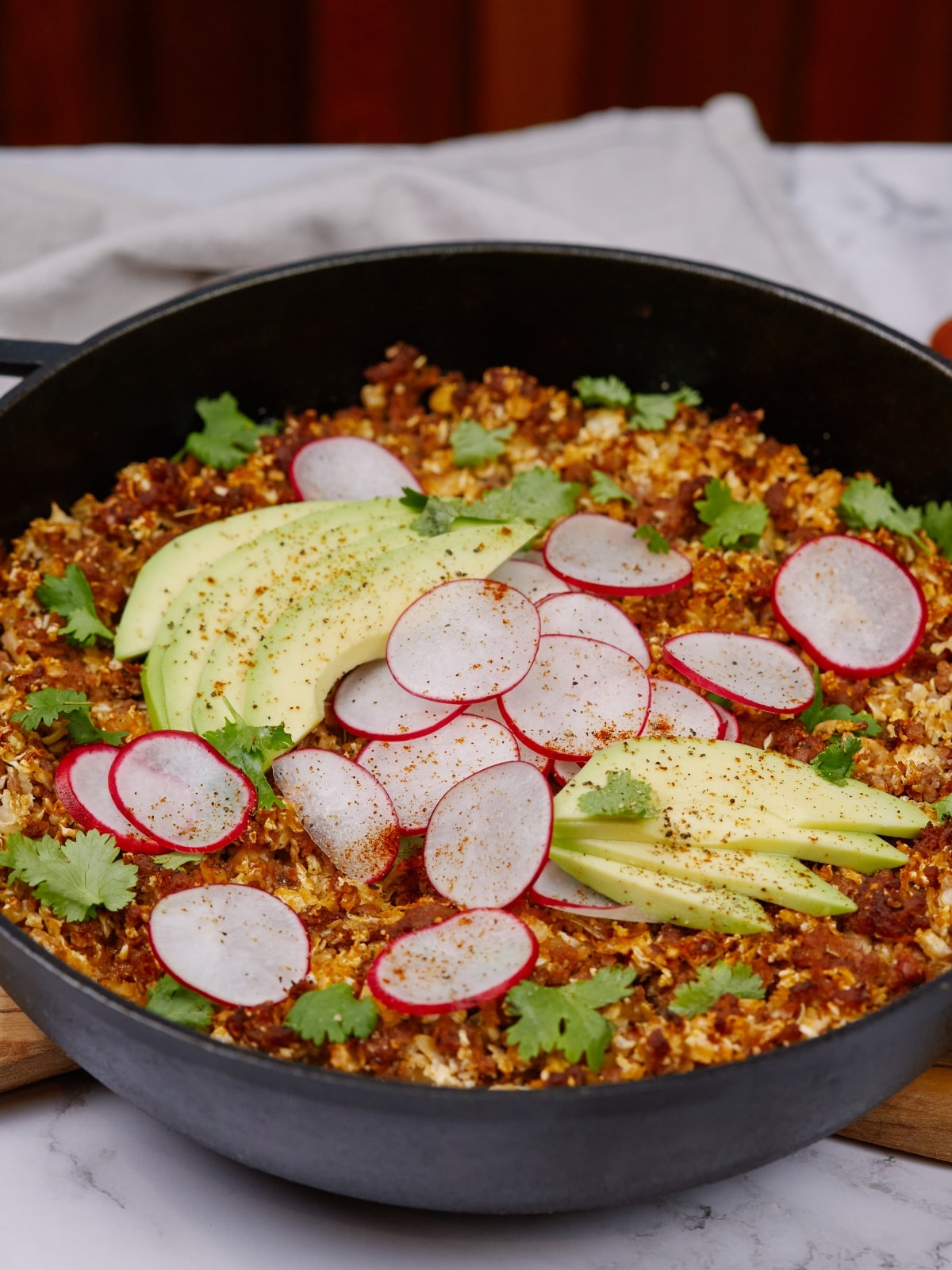 How to store:
Store any leftover casserole in an airtight container in the refrigerator for up to five days. Reheat it in the microwave with 30-second increments until it's hot all the way through.
To freeze the entire casserole, wrap it in aluminum foil and then plastic wrap. Label it with what it is, how to cook, and the date. This will help you remember later. Remember that if you cook it from frozen, without thawing first, it will take longer to cook in the oven. Keep the foil on until the last 30 minutes of cooking so the top can brown.
FAQs:
How can I make Keto Taco Casserole creamy?
If you want to make this dish creamy, add four ounces of softened cream cheese or cottage cheese to the ground beef and stir until it's all mixed in.
How can I make this dish spicy?
Add some spicy chiles depending on your level of tolerance. Be sure to taste a piece of the pepper you decide to use to make sure it's the level of spice that you like before adding in the whole pepper. Try some jalapenos, serranos, fresnos, chipotles, or poblanos.  
What are the best Keto Taco Casserole toppings? 
If you want to add some fun toppings, try cheese, chopped lettuce, diced tomatoes, minced raw garlic, crumbled tortilla chips, olives, pickled jalapenos, or sour cream.
Yield: 6 servings
Keto Taco Casserole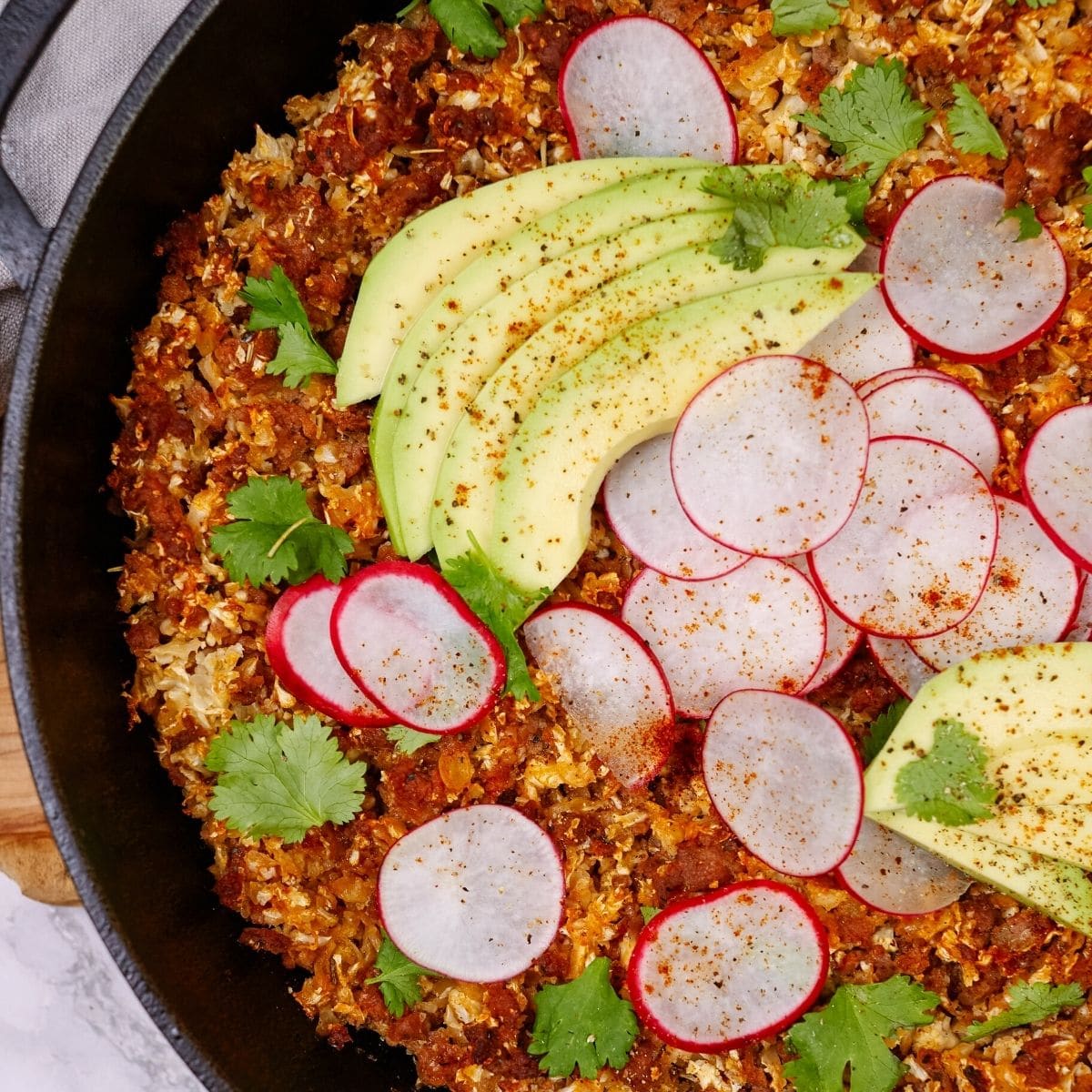 Keto Taco Casserole is a low-carb dish that is filled with onions, ground beef, seasonings, garlic, tomato paste, and cauliflower rice.
Ingredients
2 tablespoons olive oil
1 medium onion, chopped
1 pound ground beef
2 tablespoons dry Italian herbs
1 1⁄2 teaspoons chipotle powder
1 1⁄2 teaspoons salt
1 teaspoon garlic, minced
1 teaspoon onion powder
2 1⁄2 cups cauliflower rice
2 tablespoons tomato paste
Instructions
Preheat the oven to 350F.
Sauté onions in olive oil for 2 minutes.
Add ground beef and cook for 10 minutes, breaking the meat up with a fork.
Season beef with salt, chipotle, herbs, and onion powder. Mix in garlic and tomato paste.
Combine meat with cauliflower rice and bake for 20 minutes.

Nutrition Information:
Yield:
6
Serving Size:
1
Amount Per Serving:
Calories:

273
Total Fat:

18g
Saturated Fat:

6g
Trans Fat:

1g
Unsaturated Fat:

10g
Cholesterol:

67mg
Sodium:

635mg
Carbohydrates:

6g
Fiber:

2g
Sugar:

2g
Protein:

22g