Cabbage Casserole is filled with shredded cabbage, onions, soup, and homemade breadcrumbs. This tasty dish is an unstuffed and vegetarian version of a classic cabbage casserole. It's so easy to make, you'll want to make an extra to freeze and eat later.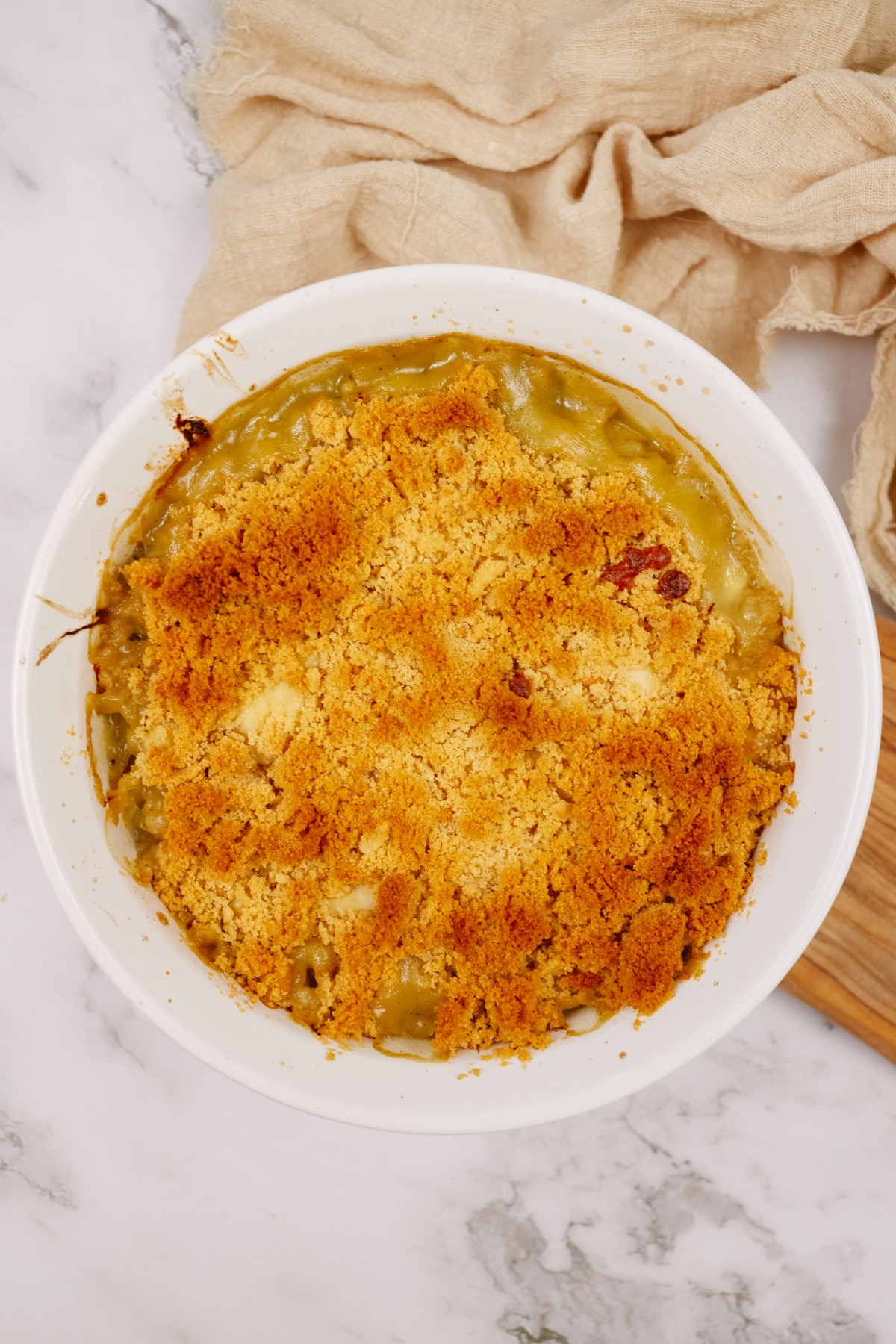 Jump to:
What is cabbage casserole?
This cabbage casserole recipe is in no way old-fashioned. It's a fun new take on baked stuffed cabbage. There's no need to carefully roll cabbage leaves (and end up breaking half of them) to make this dish perfect. The shredded cabbage is wilted with the onions and then cream of mushroom soup is poured over the top. It's then spread into a baking dish and topped with mozzarella cheese and breadcrumbs made from saltine crackers. This cheesy and creamy casserole is the perfect dinner for vegetarians or a side dish at your next holiday party or pot-luck.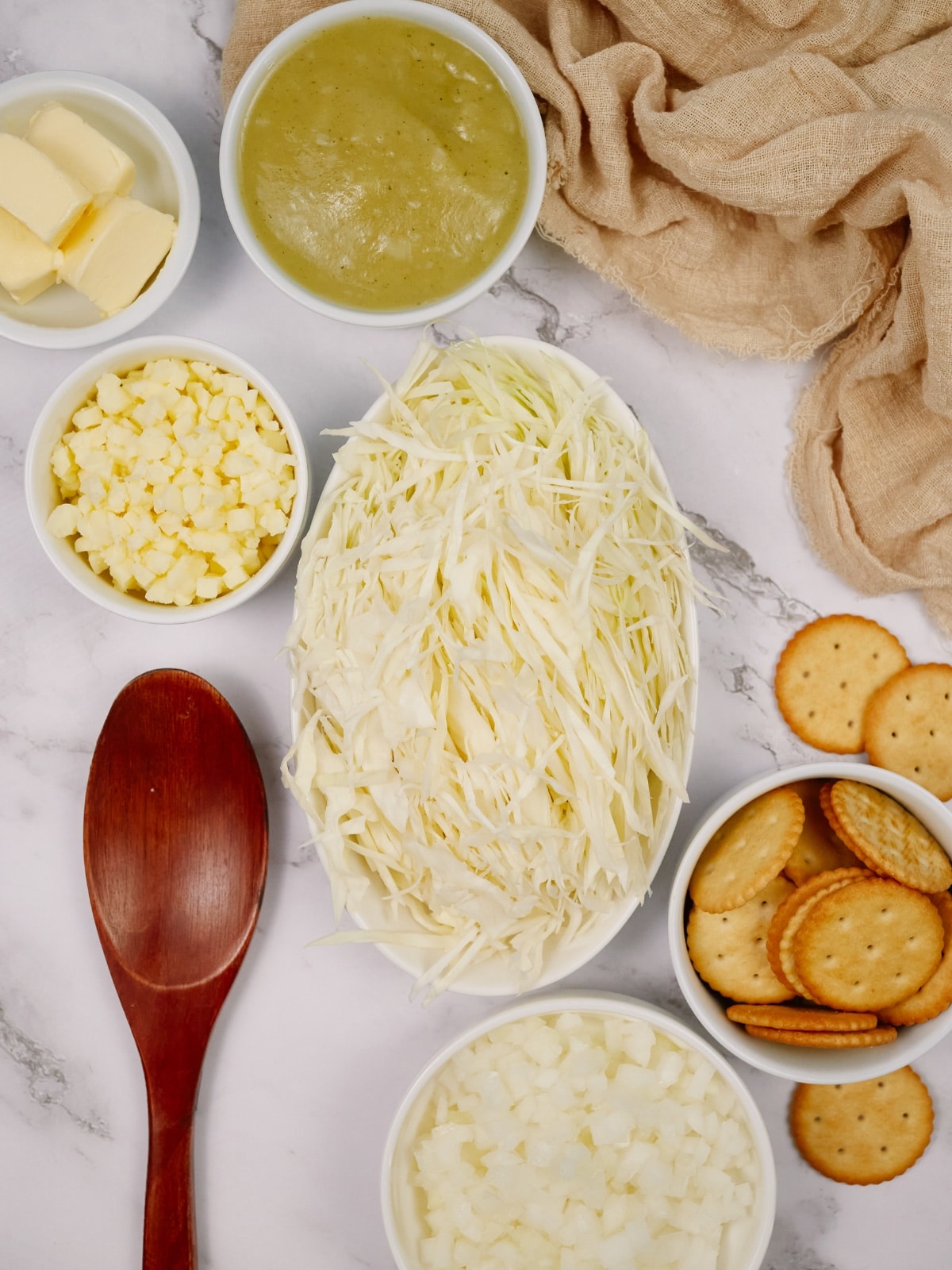 Ingredients:
1 medium cabbage: Sliced or shredded cabbage is so much easier to use than trying to roll leaves around the stuffing. It works wonderfully in this dish.
1 medium onion: Onions are flavorful and are a great match for cabbage.
6 tablespoons butter: Rich butter is used to saute the onions and cabbage until soft.
1 ½ cups cream of mushroom soup: Soup makes this dish creamy and keeps it from drying out.
1 cup mozzarella cheese: Mozzarella is perfect for this dish because of its ability to melt and become gooey and stringy.
30 saltine crackers: Crushed crackers create the breadcrumbs that are sprinkled on top of the cheese and get golden brown when baked.
Video Recipe
How to make cabbage casserole:
1. Preheat the oven.
2. Saute the onions in butter.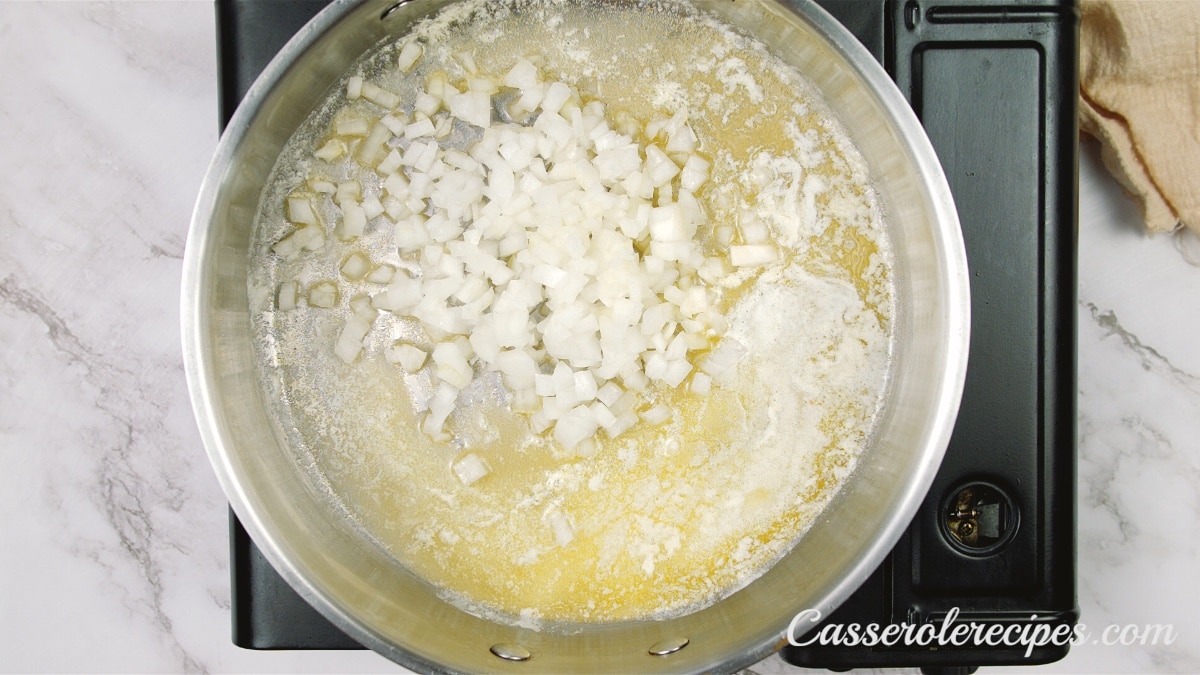 3. Add in the shredded cabbage and cook until it softens.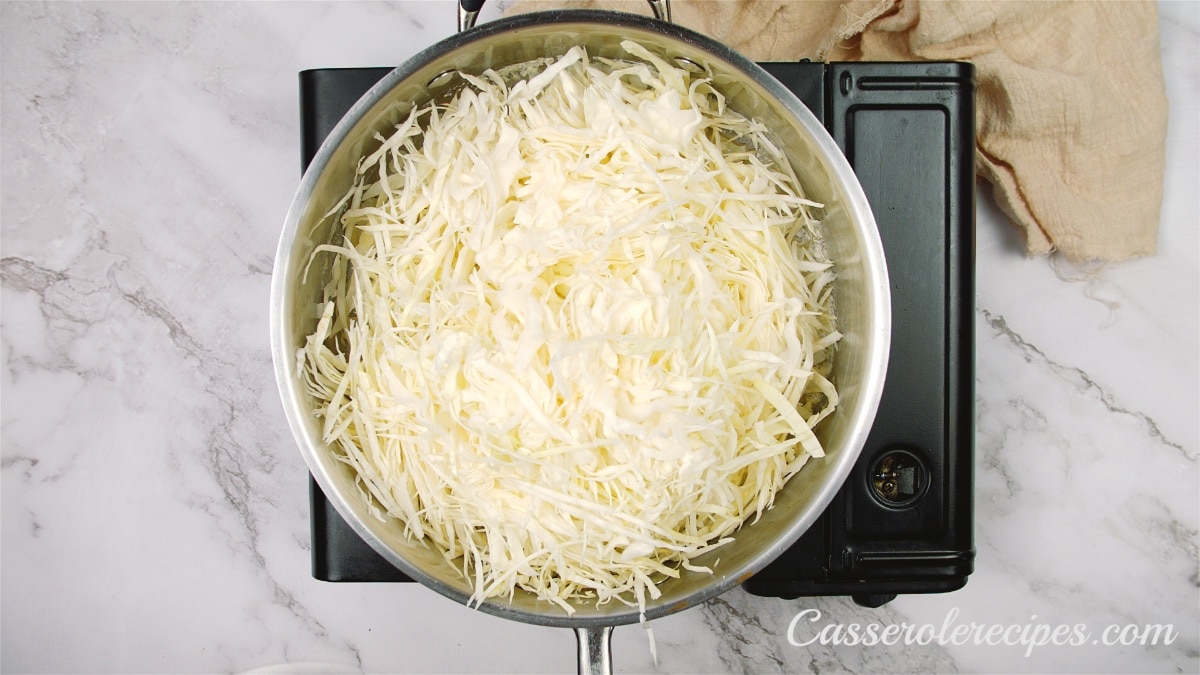 4. Blend the crackers to make breadcrumbs, add the oil, and stir.
5. Add in the seasonings and stir.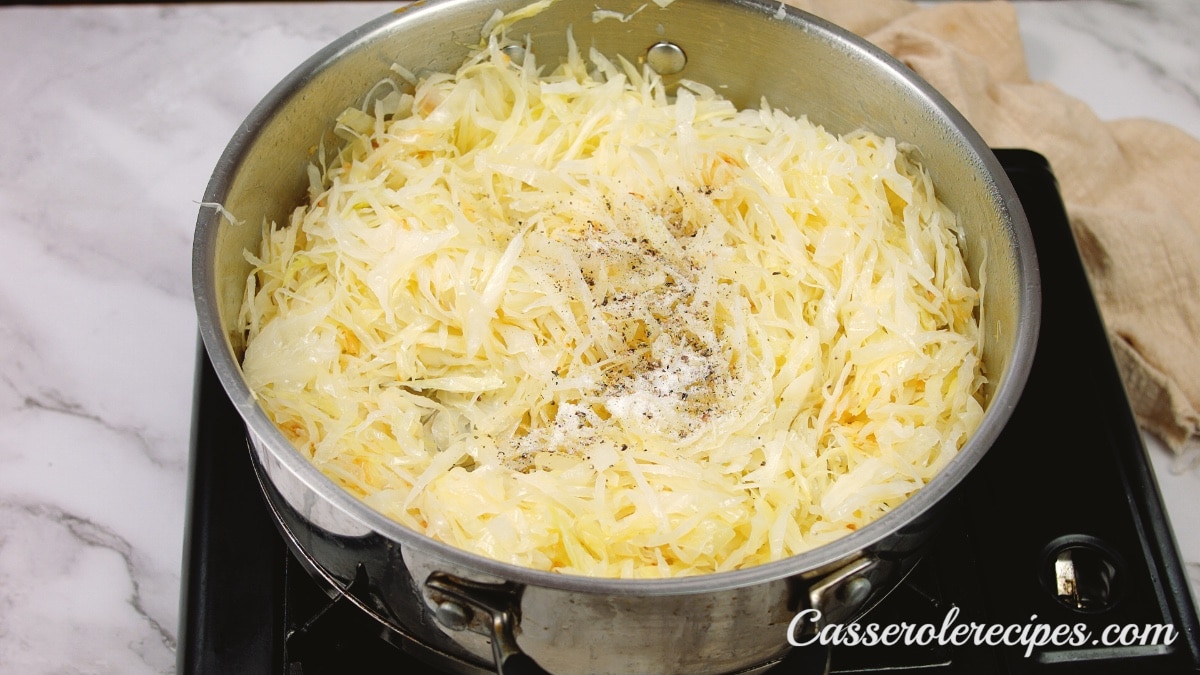 6. Spread the cabbage mixture into a baking dish and top with cheese.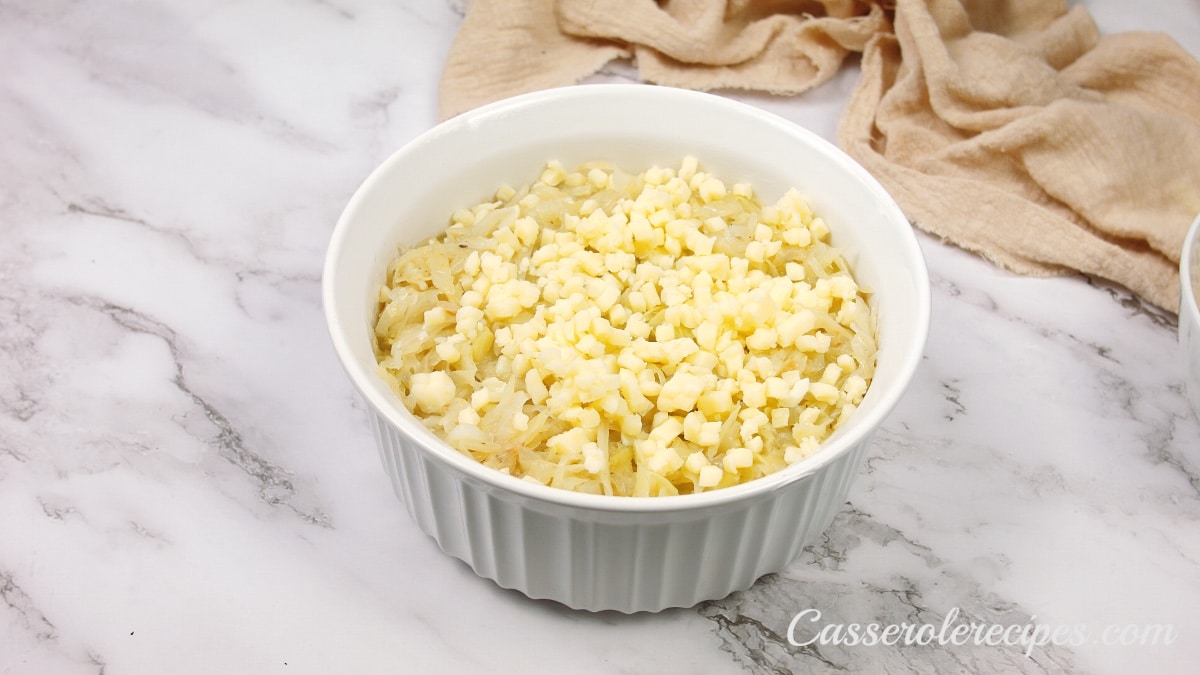 7. Top with the breadcrumbs.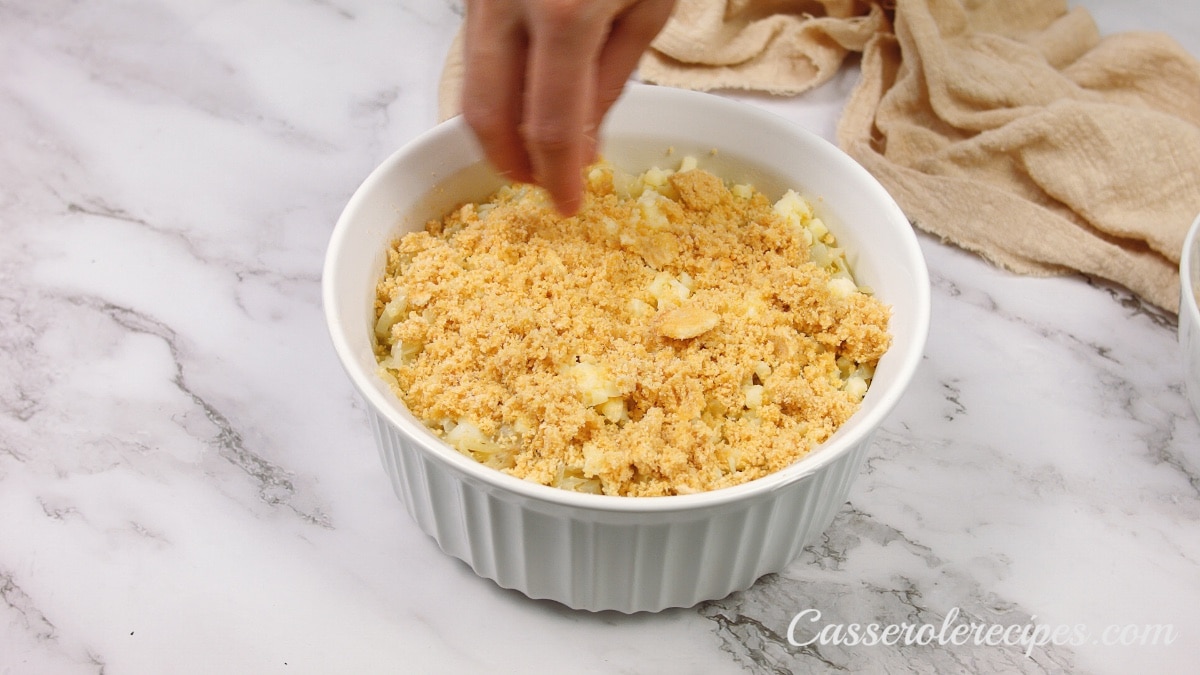 8. Bake until bubbly and cooked all the way through.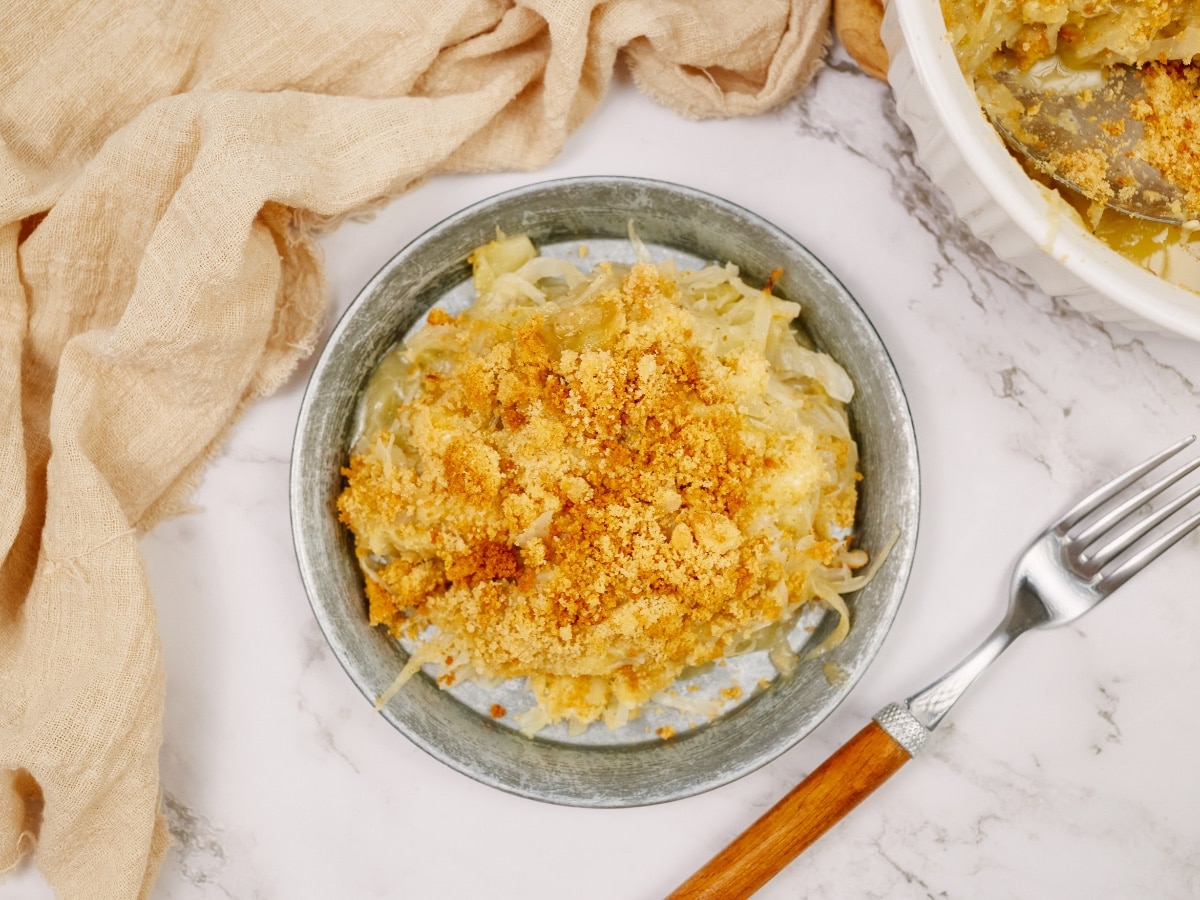 Tips for success:
Here are a few tips for success and variations you can try to make this the best cabbage casserole you've ever had.
Feel free to play with the ingredients and add any that sound good. Some examples are white rice, cauliflower rice, ham, corn, mushrooms, garlic, herbs, or squash.
Try using cream of chicken soup if you don't have cream of mushroom soup or if you don't like mushrooms.
Panko breadcrumbs will work just as well as crackers if you want to cut out this step and buy some from the grocery store.
Can I add meat to this cabbage casserole recipe?
Yes! If you want to add some meat, there are lots of options that would work well in this layered Amish dish. Try shredded chicken, ground beef, ground sausage, or corned beef. Any of these would taste great and add flavor and texture to the casserole.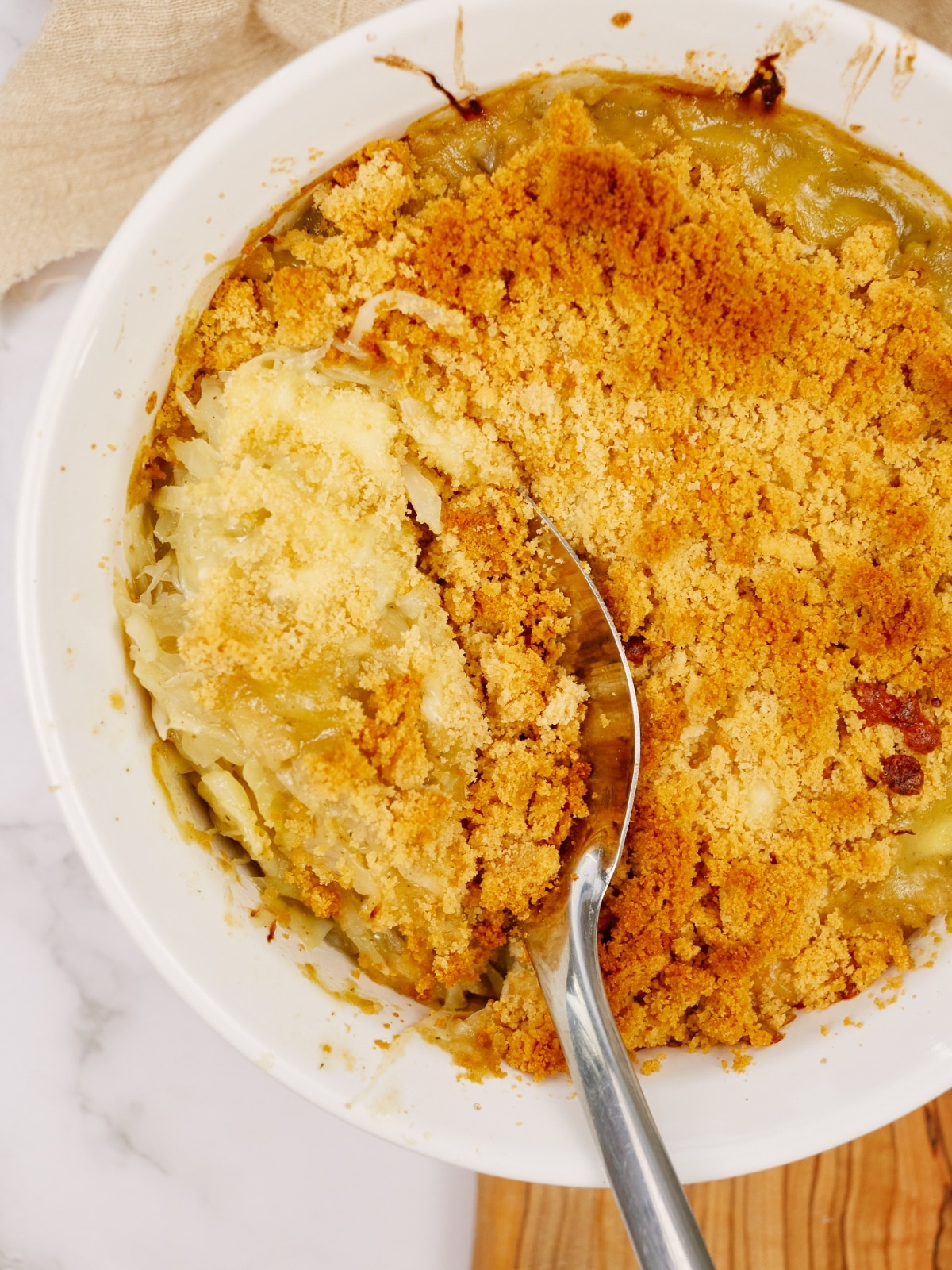 Can I make this dish keto-friendly?
Good news, this cabbage casserole is already ketogenic! The ingredients are all low-carb and can fit right into a keto diet. The even better news is that with the melty cheese and crispy breadcrumbs, it's a dish your whole family will love.
How can I make this casserole healthier?
Want a healthier version of this tasty casserole to serve as a side dish or for dinner? No problem.
Trade the butter for olive oil or another neutral oil and the soup with sour cream. It has fewer calories and will give the dish a tangy flavor while keeping it creamy.
You can also add some grains or vegetables depending on what you like best.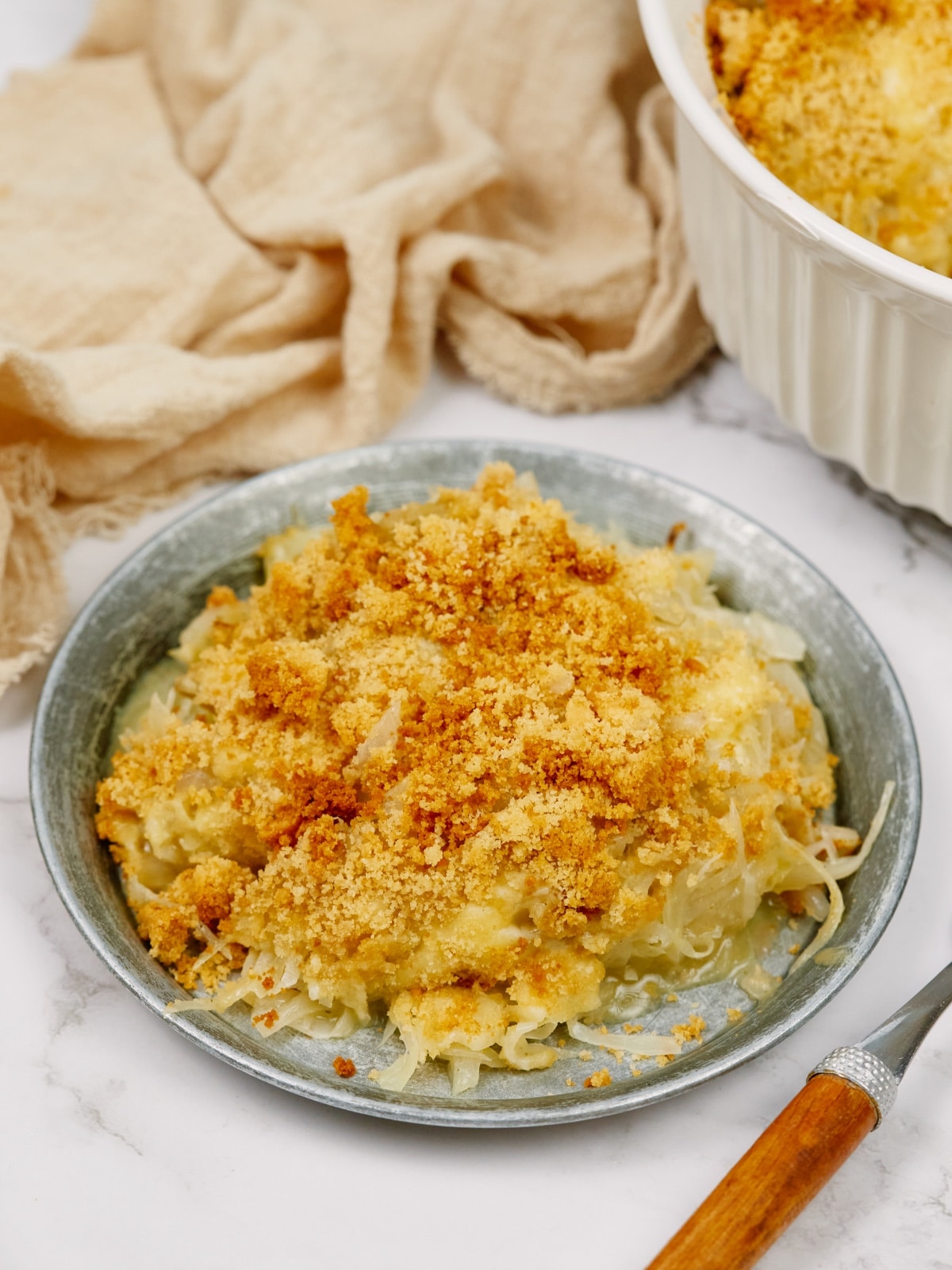 How to store:
If you have any leftover spaghetti casserole, you can save it in an airtight container in the refrigerator for up to five days. To reheat it, just place it in the microwave and heat in 30-second increments until it's heated all the way through.
You can also make this dish ahead of time and freeze it until you're ready to use it. Wrap it in aluminum foil and then plastic wrap. Label it with the date, name, and baking instructions so you won't forget in the future. Remember, if you make it from frozen, it will take longer to bake in the oven.
FAQs:
What can I serve with cabbage casserole?
Some great options to serve with this casserole is anything that compliments and balances the flavors or texture. Tomato soup, grilled cheese sandwiches, a crunchy salad, or roasted veggies nicely balance this dish.
What other kinds of cheese can I use in this casserole?
This recipe uses mozzarella cheese, but you can use grated parmesan, Havarti, Gruyere, or a blend of them all. Each will give a slightly different flavor that all work well together.
Do I need to roll and stuff the cabbage for this casserole?
Nope! The cabbage is shredded so there's no need to roll them up and there's no chance of tearing the leaves. That's a win!
Yield: 6 servings
Cabbage Casserole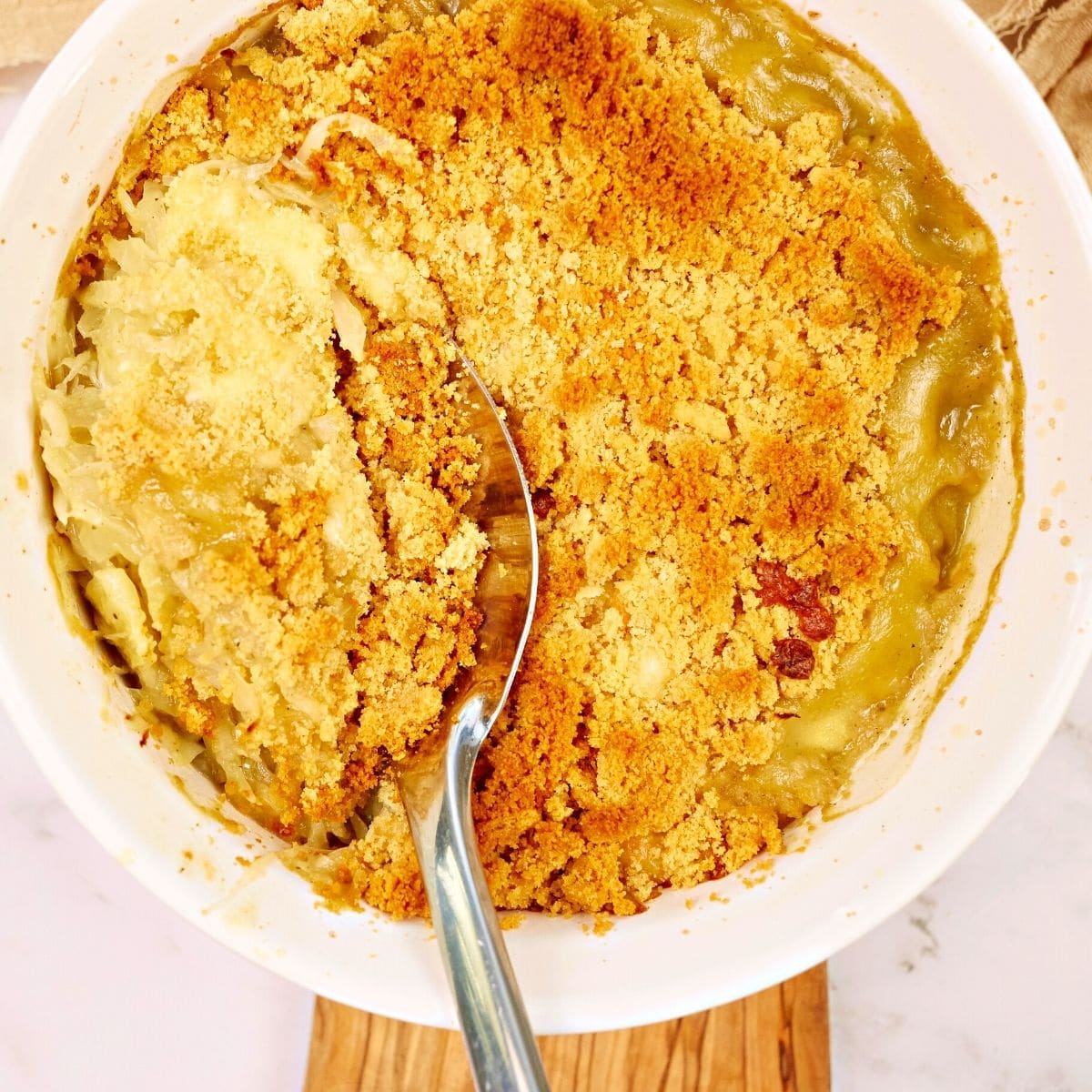 Cabbage Casserole is filled with shredded cabbage, onions, soup, and homemade breadcrumbs. This tasty dish is a vegetarian version.
Ingredients
1 medium white cabbage, chopped
1 onion, chopped
6 tablespoons butter
1 1⁄2 cups cream of mushroom soup
3 tablespoons olive oil
1 cup shredded mozzarella cheese
30 saltine crackers
Instructions
Melt up the butter and saute onions until translucent.

Add the cabbage in and cook until it softens. Season with salt and pepper.

Blend crackers to make crumbs. Add in olive oil and mix everything well.

Transfer cabbage into the baking pan and top with cheese and cracker crumbs.

Bake for 30 minutes at 180C/350F.

Nutrition Information:
Yield:
6
Serving Size:
1
Amount Per Serving:
Calories:

321
Total Fat:

25g
Saturated Fat:

11g
Trans Fat:

1g
Unsaturated Fat:

12g
Cholesterol:

42mg
Sodium:

558mg
Carbohydrates:

19g
Fiber:

1g
Sugar:

4g
Protein:

7g