Cornbread casserole is an easy weeknight dish that's perfect for the whole family. The mixture of cornbread, corn, bacon, and cheese makes it a delicious combination of ingredients that will be the centerpiece of your dinner table. This will be your new favorite dish this month.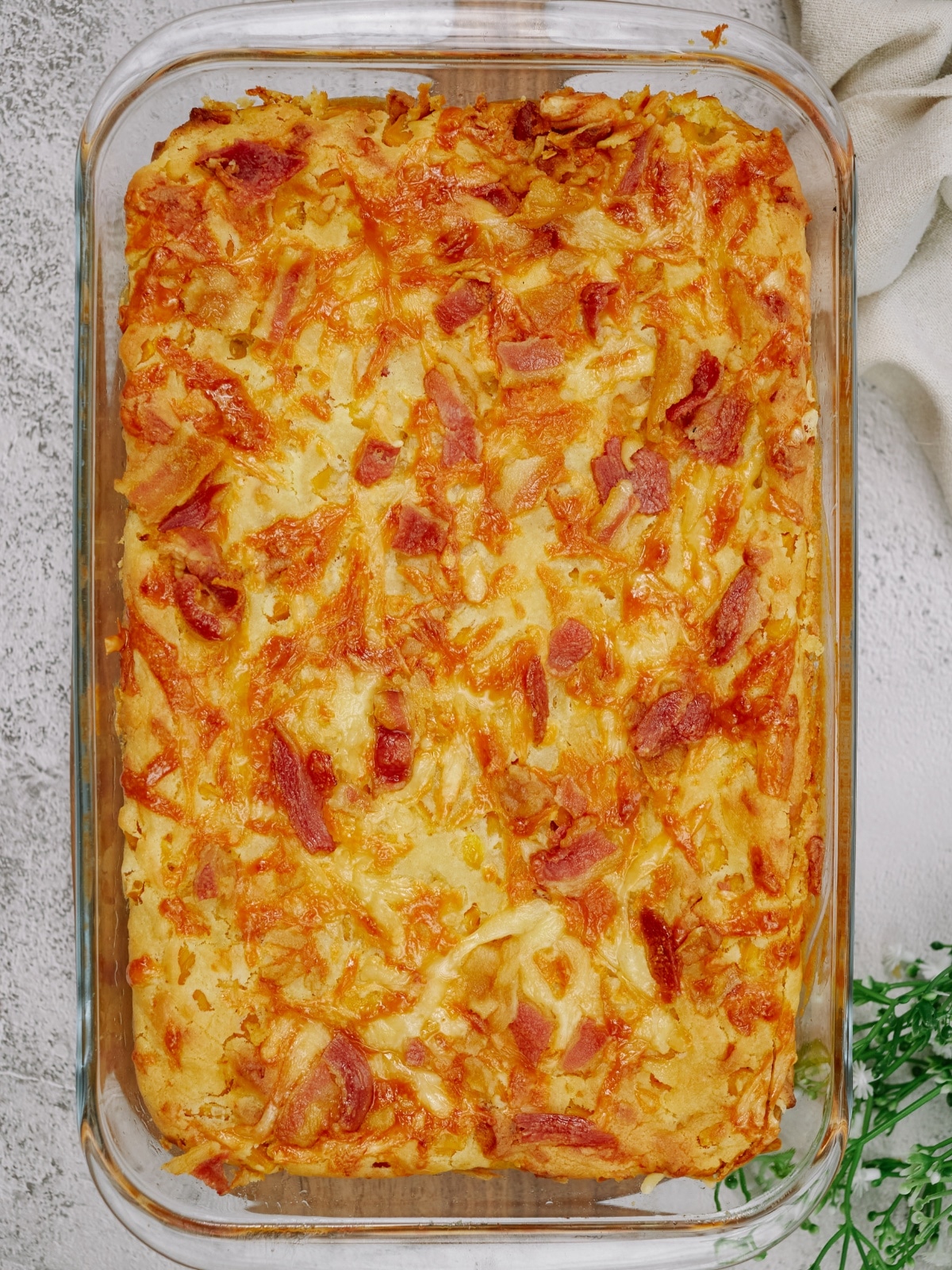 Jump to:
What is Cornbread Casserole?
This savory dish is made by combining ingredients for cornbread along with cooked bacon bits, corn kernels, and cheese. It's then baked until the cornbread is golden brown and done all the way through.
It's moist and filling and a great option for dinner when you're short on time but still want to eat a home-cooked meal. Ordering food to go is a drain on your healthy diet and budget. There's no need to compromise. This cornbread casserole is easy to make and everyone will ask for seconds!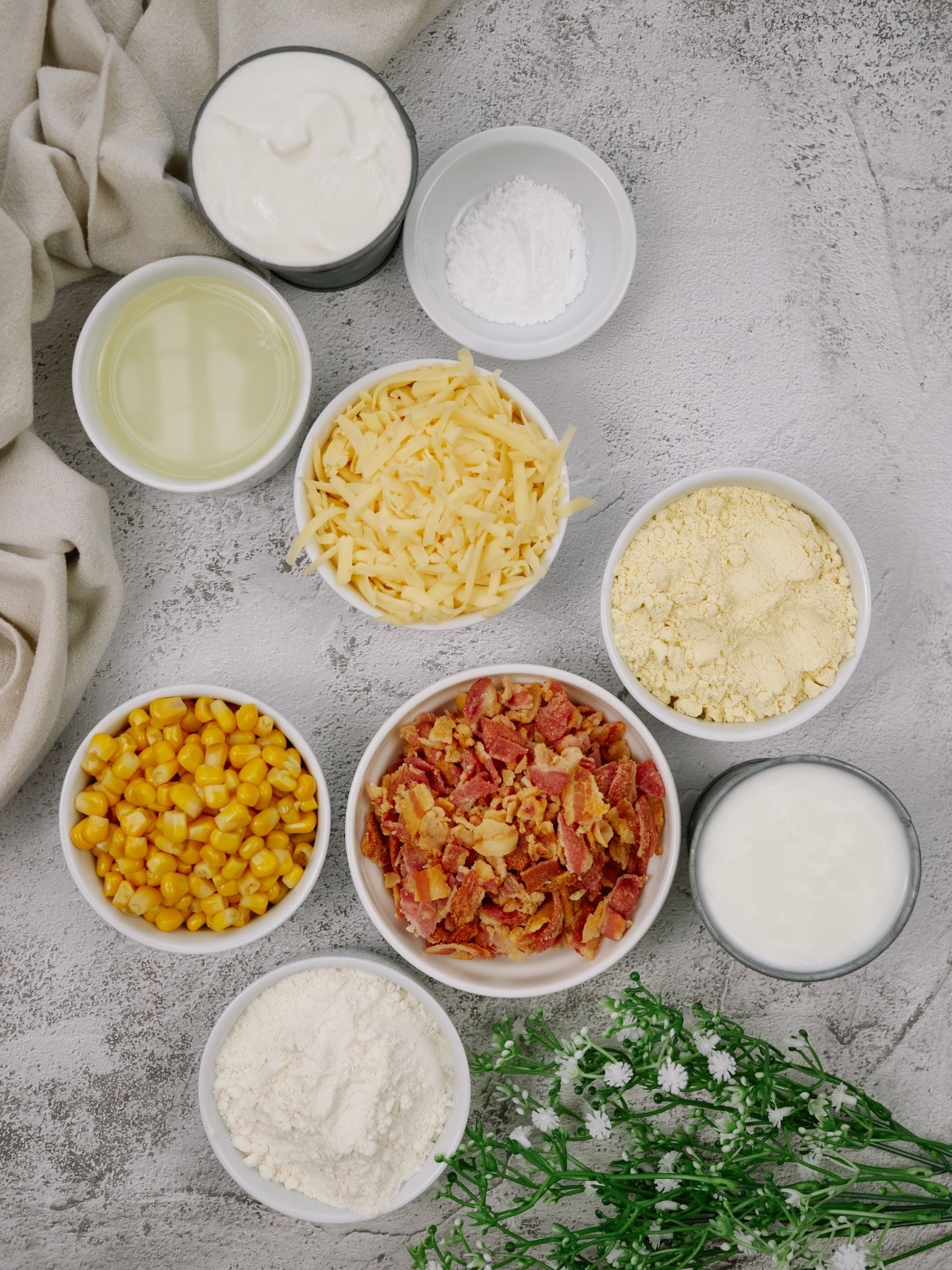 Ingredients:
1 cup cornmeal: This is needed to make the cornbread topping rather than just a biscuit topping.
1 cup all-purpose flour: A little flour is used to give the dish substance.
1 tablespoon baking powder: This is a leavener and makes the dough rise.
1 teaspoon salt: Salt is the ultimate flavor enhancer and without it, the dish would be bland.
1 can corn kernels: These give the dish texture and are a fun surprise when taking a bite.
1 cup buttermilk and 1 cup sour cream: These provide moisture and make the cornbread soft.
½ cup vegetable oil: A little fat is needed to help the dough stick together.
7 ounces bacon and 1 ½ cups cheese: These are added flavorings and help make the dish taste cheesy and incredible.
How to make Cornbread Casserole :
1. Preheat the oven.
2. Whisk together the dry ingredients in a medium bowl.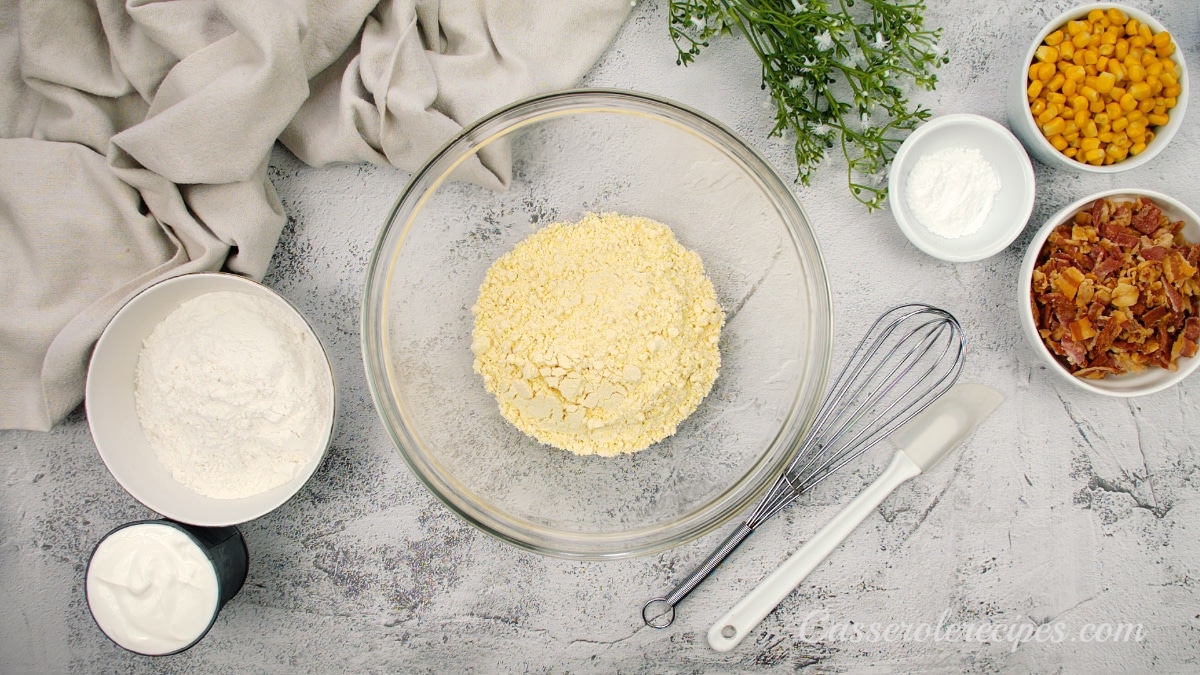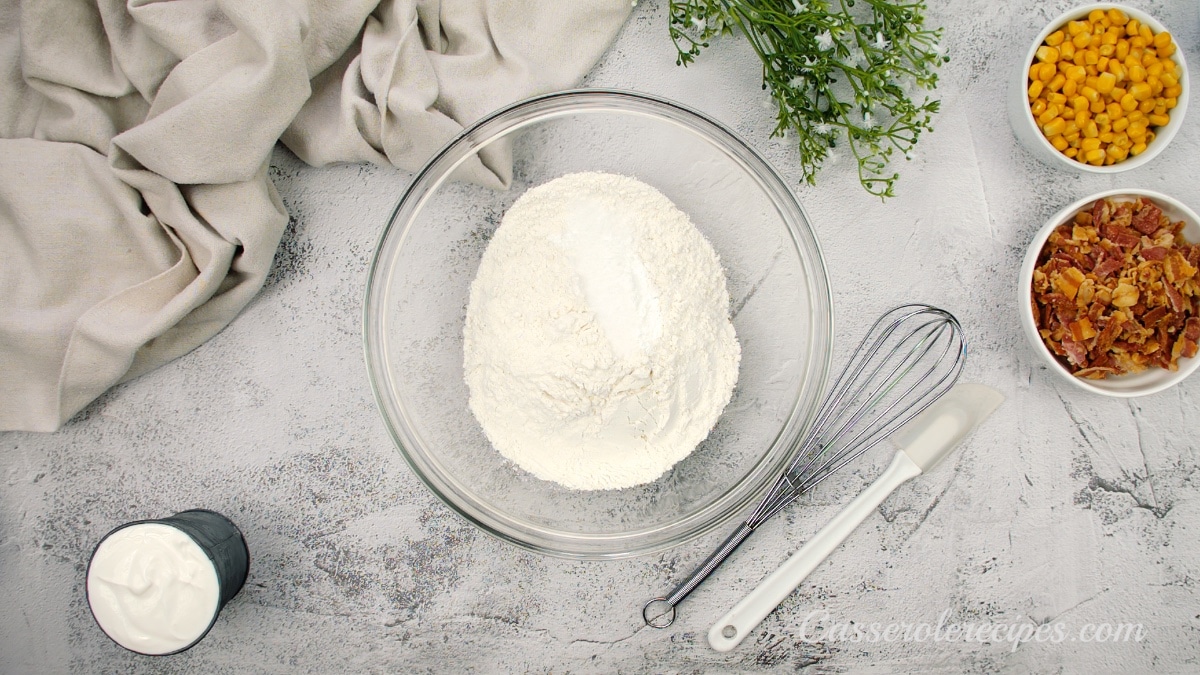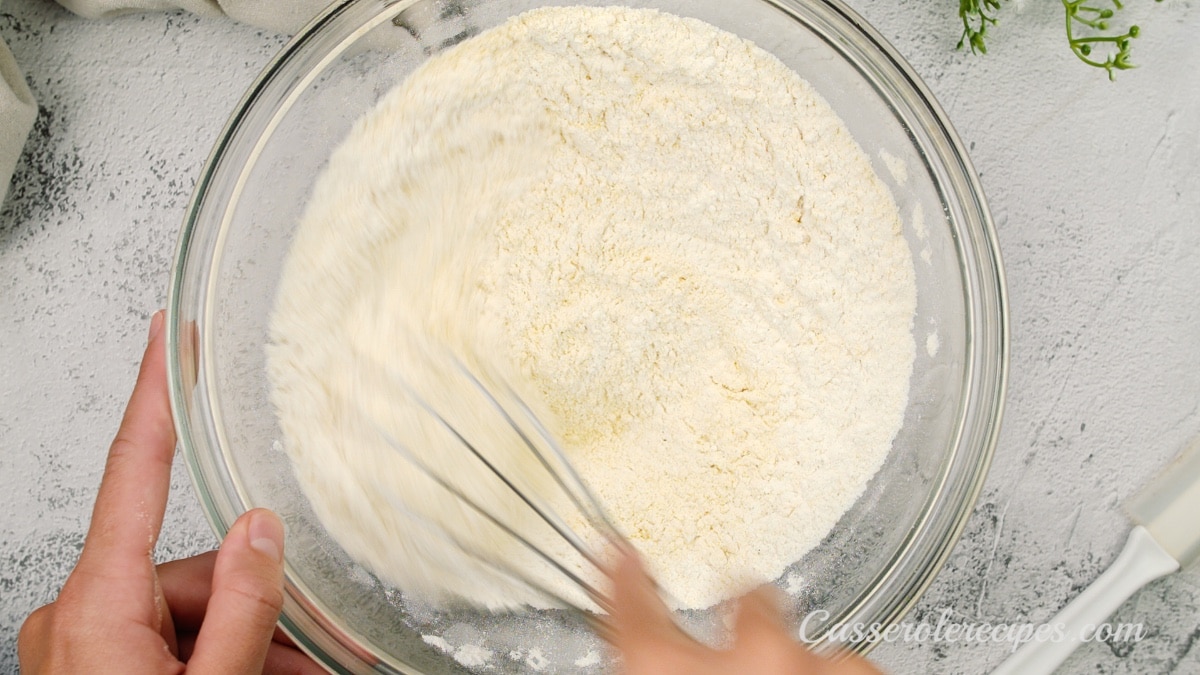 3. Whisk in the wet ingredients with the dry ingredients.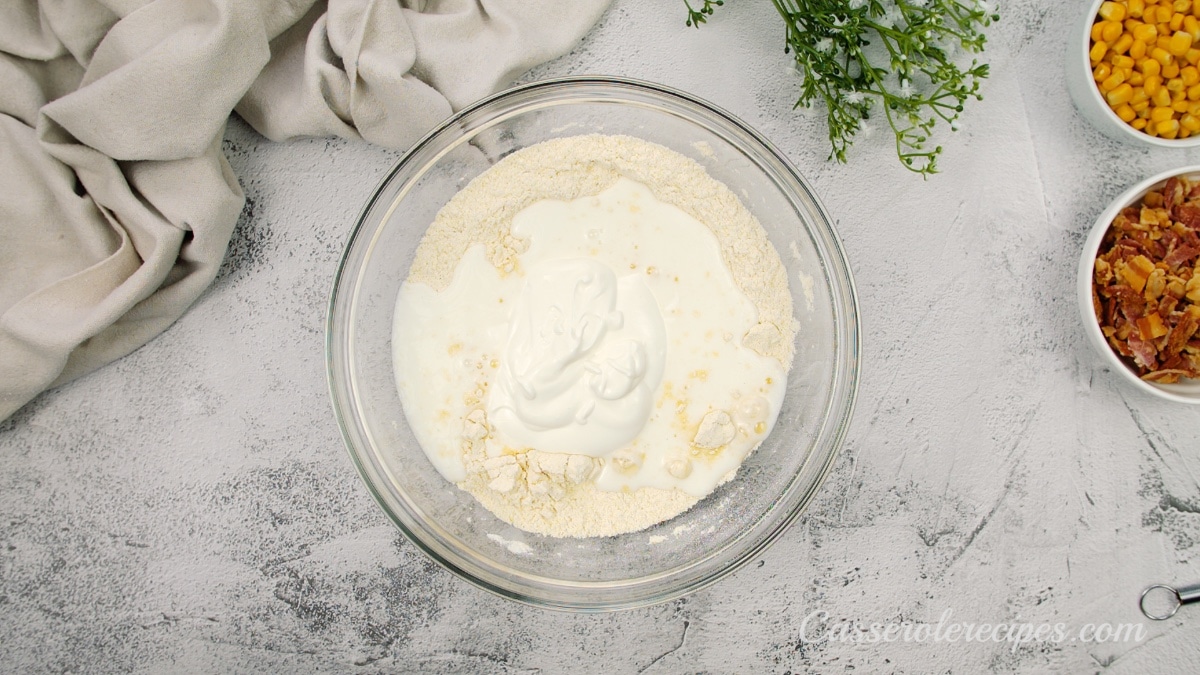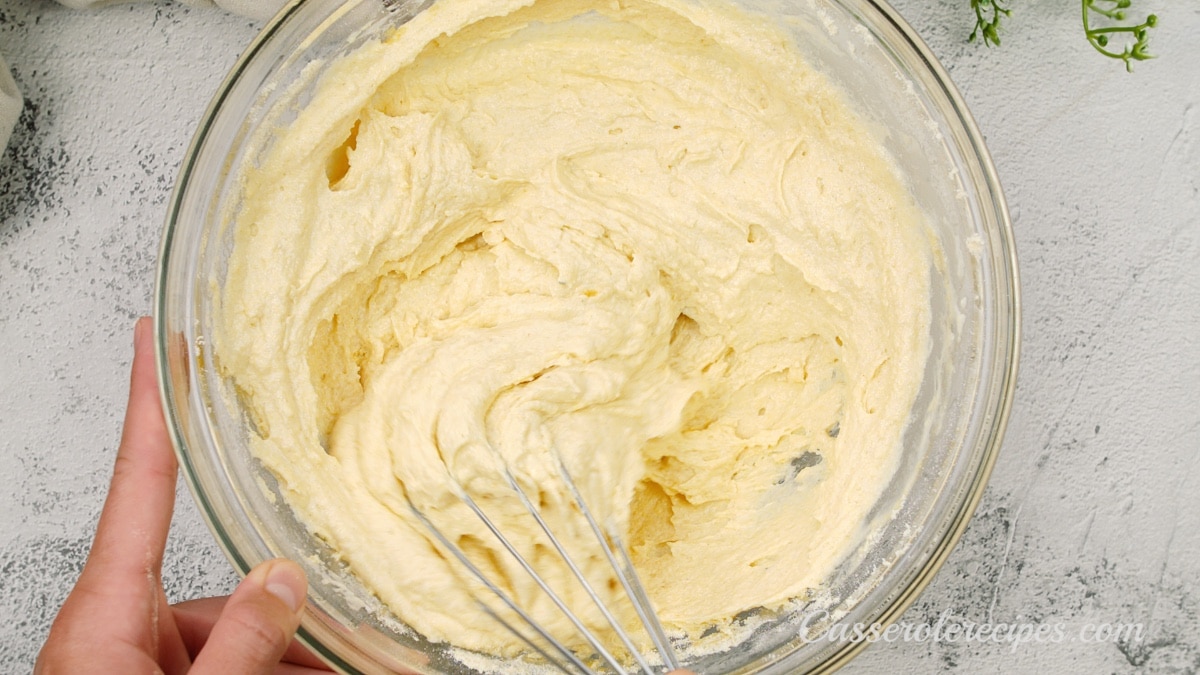 4. Stir in the bacon, cheese, and corn kernels.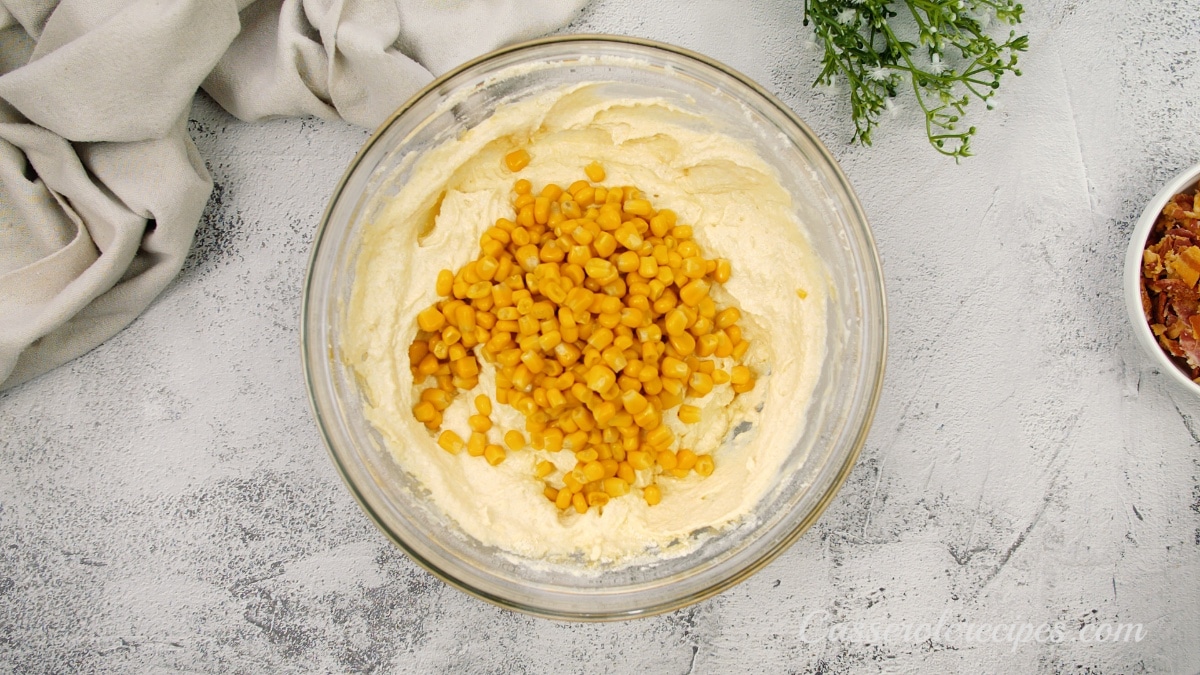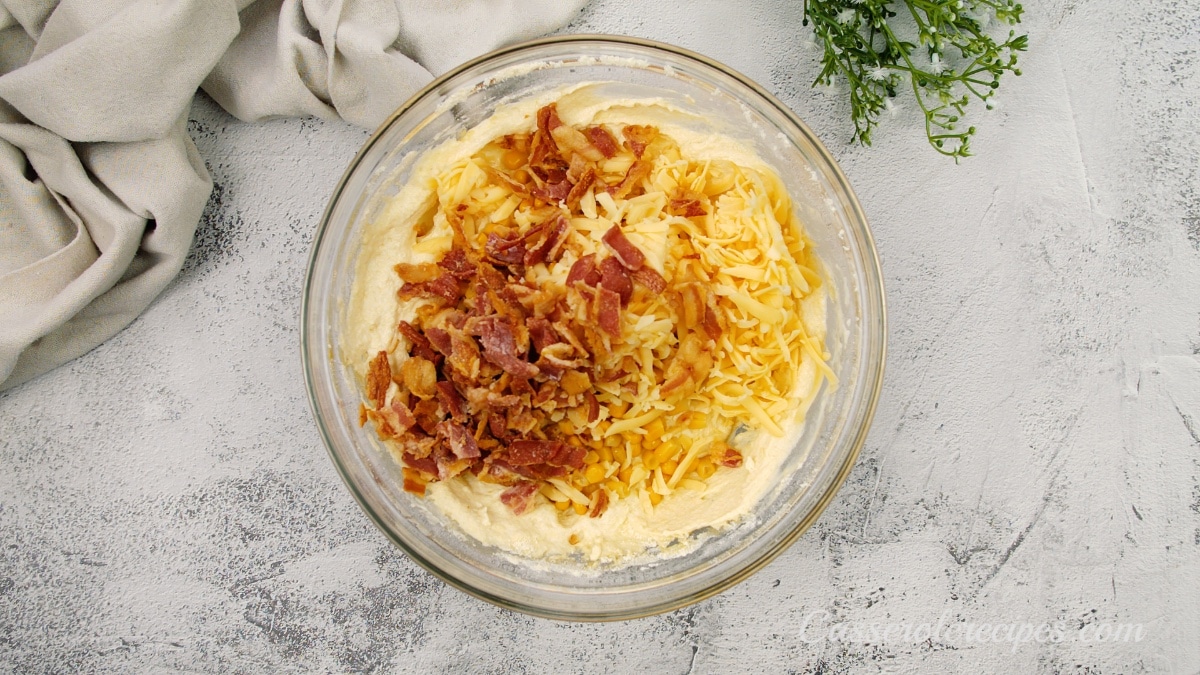 5. Spread the mixture into a baking dish.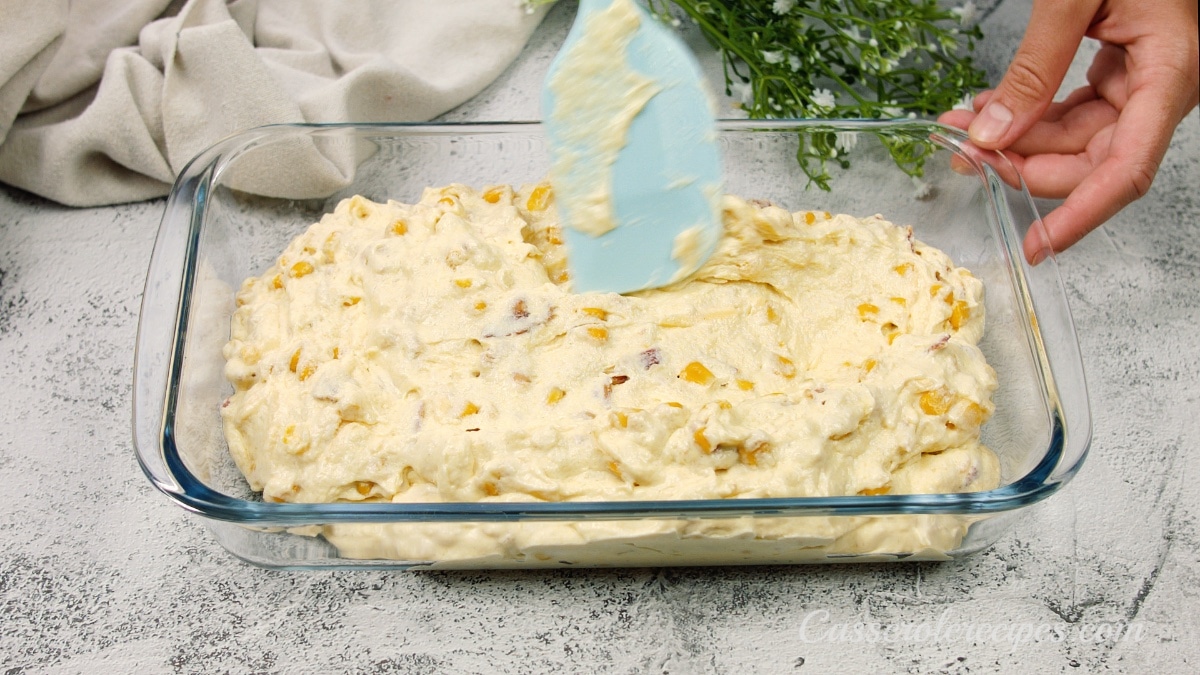 6. Top with the remaining cheese and bacon pieces.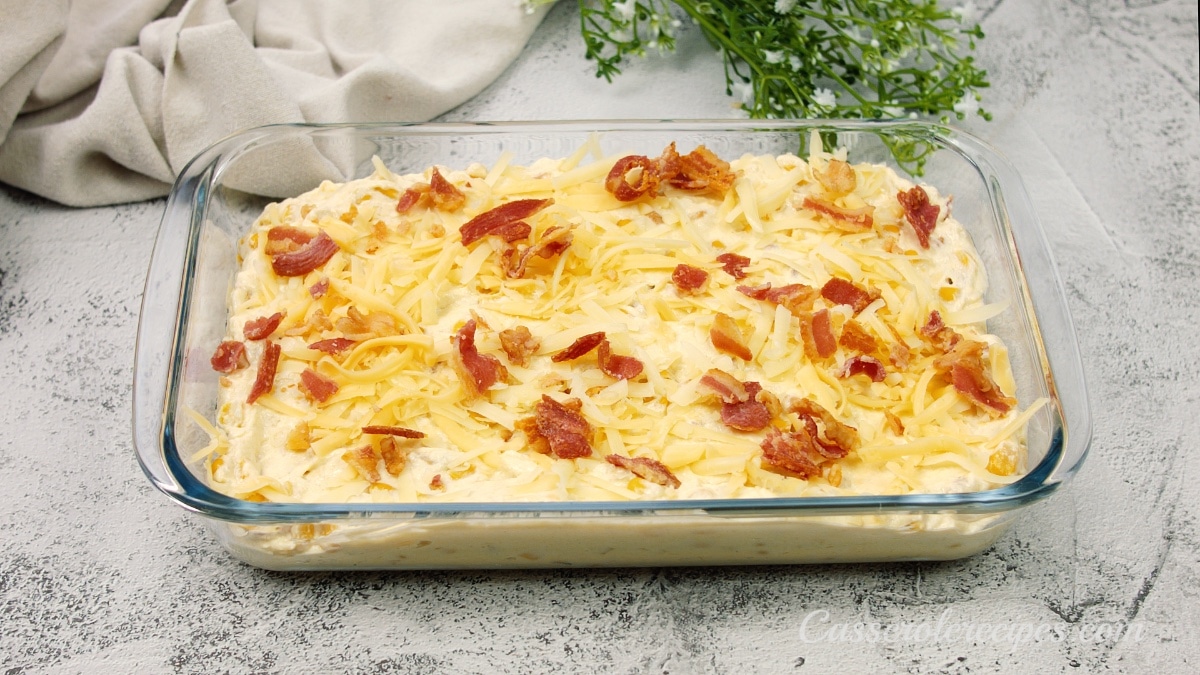 7. Bake in the preheated oven until it's golden brown and cooked all the way through.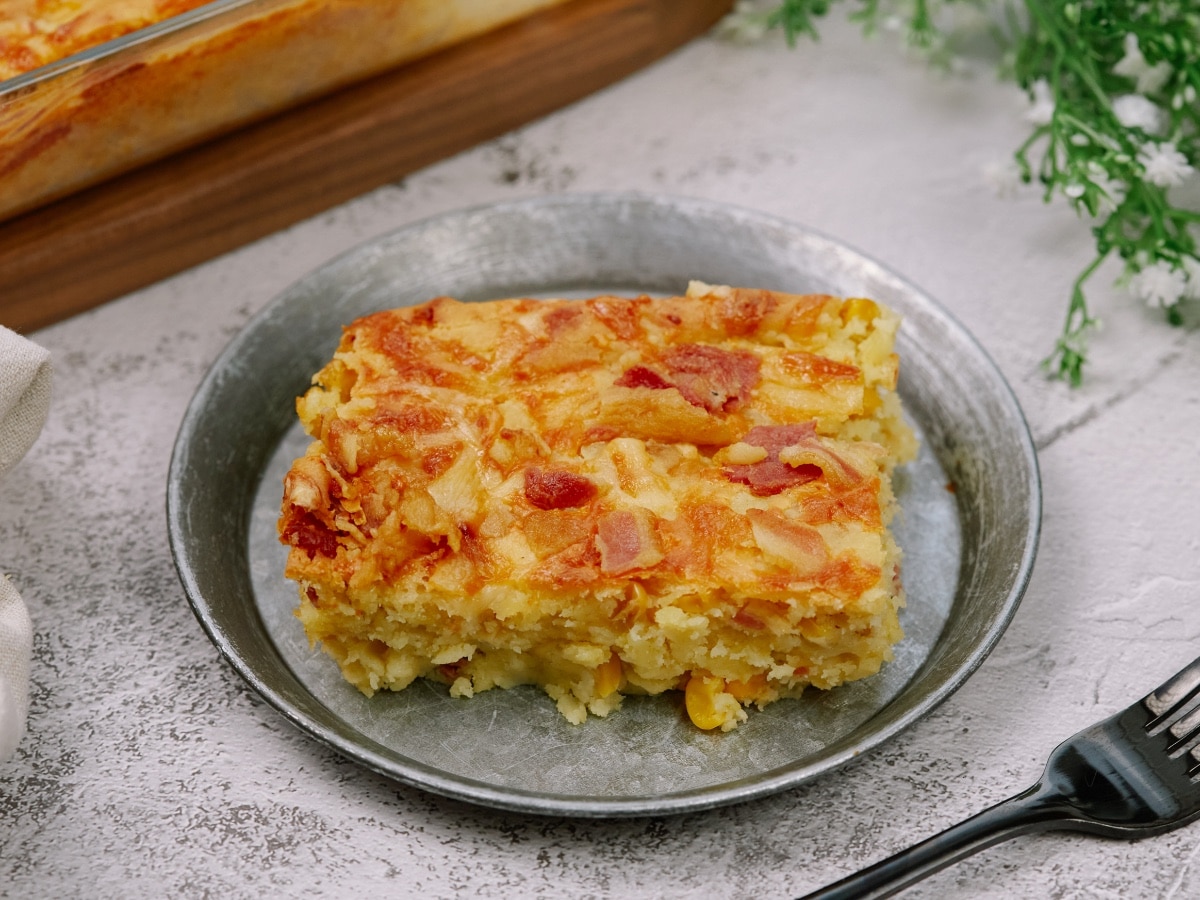 Tips for success:
Here are a few tips for success and variations you can try to make this the best cornbread casserole you've ever had.
Add in four ounces of cream cheese to make this dish extra creamy!
A fun idea is to make this into a chili cornbread casserole. You would need to add a cup of premade chili to the mixture. You'd have all that ground beef, tomato, and bean goodness combined with golden-brown cornbread. Mmm!
**Thanksgiving Hack: Easily make this casserole into Thanksgiving stuffing. All you need to do after it's baked is crumble it up and put it in a decorative bowl for serving.
Can you make this cornbread casserole recipe in a crockpot?
Yes, you can make cornbread casserole in a slow cooker! The low heat of the bowl will cook the dish in about three hours. You'll need to spray the bowl with oil or use a removable crockpot bag otherwise the bread will stick to the bottom.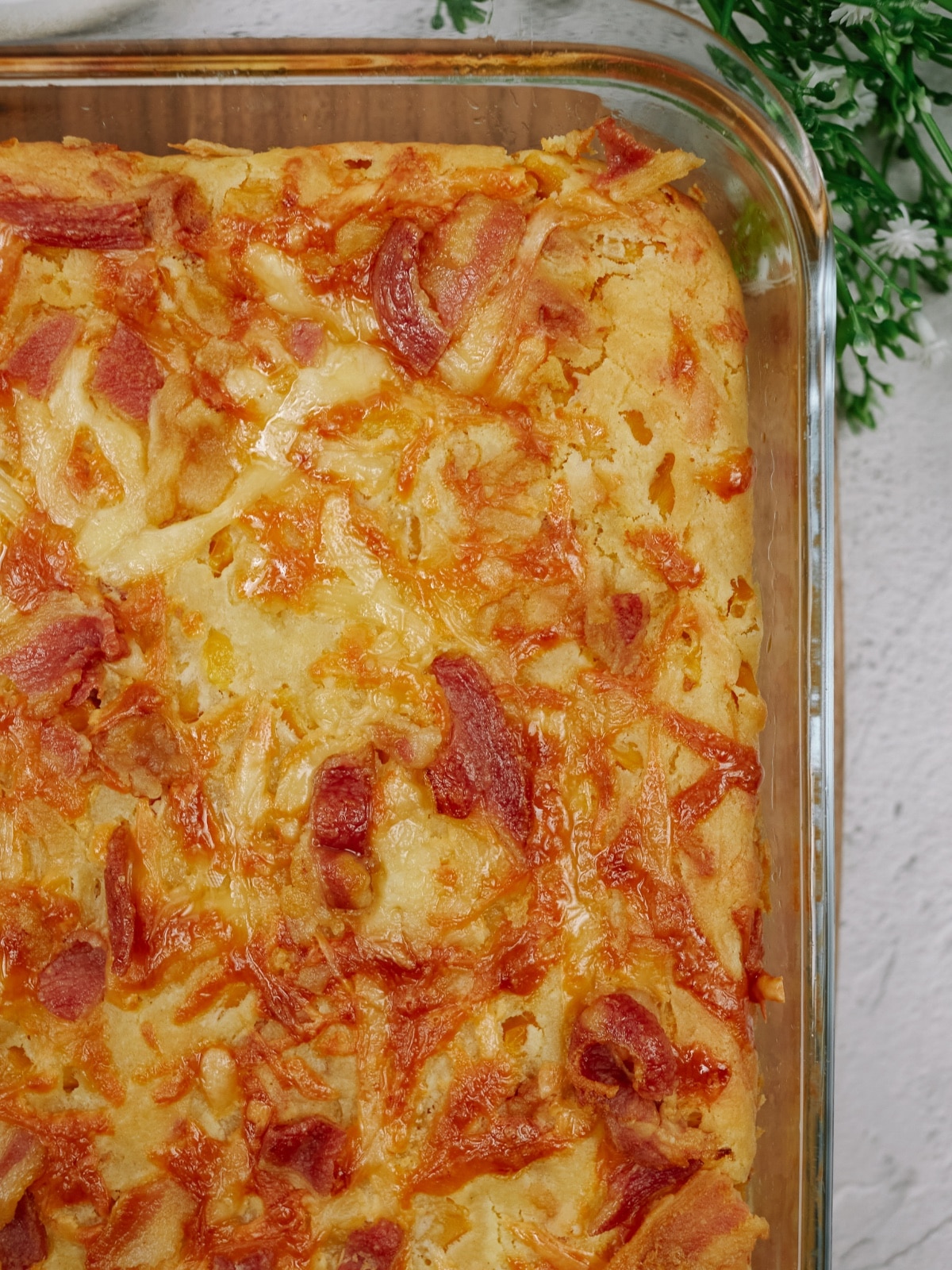 Can you turn this dish into a breakfast casserole?
Cornbread casserole for breakfast?? Yes, please! Add in zucchini, mushrooms, yellow squash, tomatoes, onions, garlic, and possibly cooked ground sausage. The addition of plenty of vegetables will give you a hearty breakfast to start your day off right.
What kind of meat can you use in Cornbread Casserole?
It's easy to add protein to this dish. Hamburger is a beefy and delicious addition. You can also try some shredded chicken or ground sausage. Be sure to cook the beef and sausage separately in a pan and then add it into the casserole. This will give the meal more flavor and texture.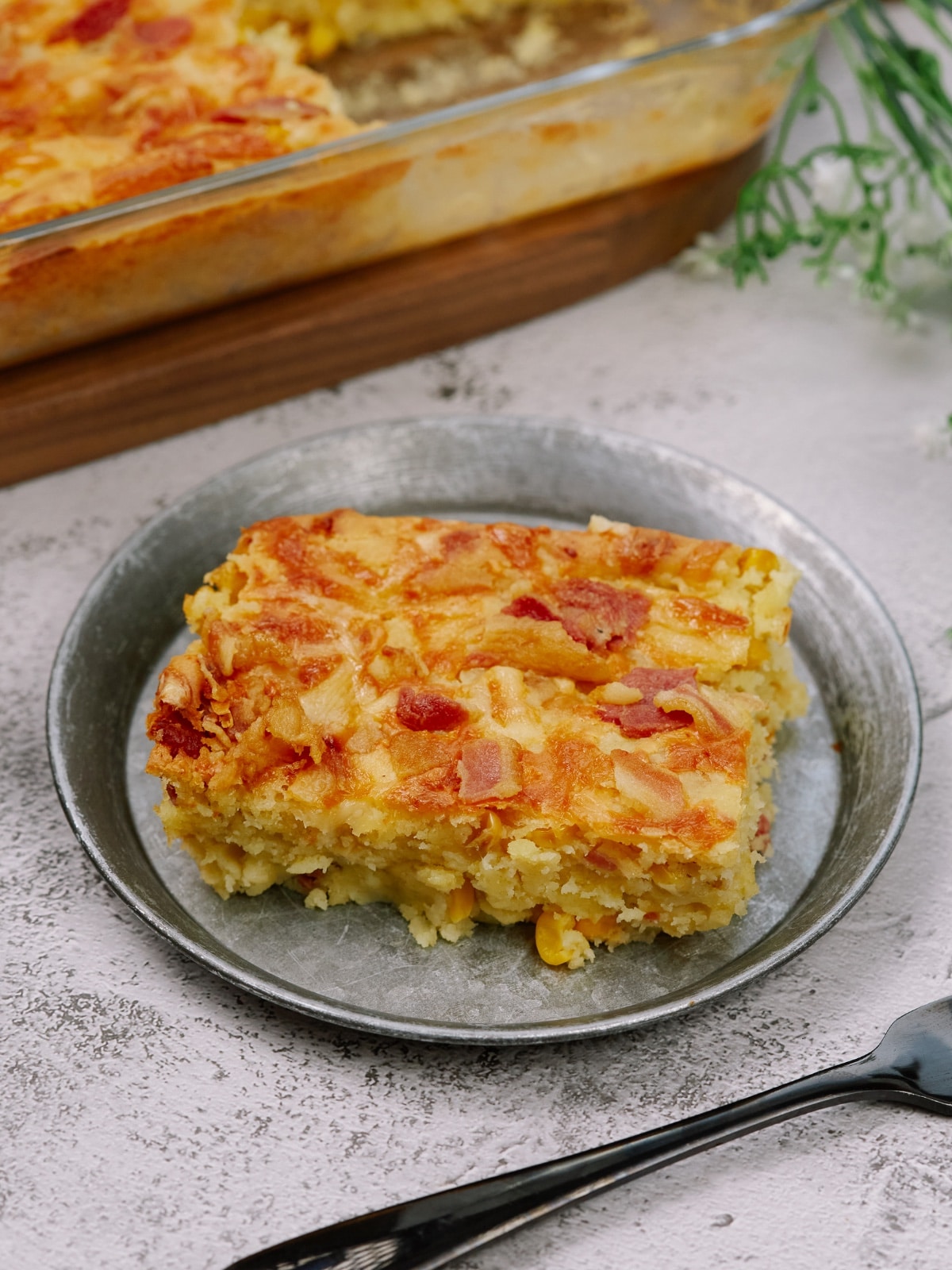 How to store:
If you have any leftover casserole, you can store it in an airtight container in the refrigerator for up to five days. To reheat it, microwave in a bowl in 30-second increments until it's heated all the way through.
This is also a great casserole to freeze if you want to make it ahead of time and bake it later. The cooking time will increase if you bake it straight from the oven. Cover it with foil until the last 30 minutes so the top will brown.
FAQ's
Can you make cornbread casserole dairy-free?
You can substitute the Jiffy cornbread mixture and use water in place of the buttermilk and sour cream and leave out the cheese to make this dish dairy-free.
How can you use leftover cornbread casserole?
If you have leftover cornbread casserole and you want to repurpose it, just crumble it up and use it as a bread topping for other casseroles, sprinkle it on top of a bowl of chili, or bake it into breadcrumbs.
Can you turn this into a Mexican cornbread casserole?
This is absolutely possible! If you're craving tacos, enchiladas, or tamales, you can easily turn this dish into your favorite Mexican casserole. Add in some chili powder, jalapenos, green chiles, enchilada sauce, or ground beef. You can decide what to add depending on your mood and favorite ingredients.
Yield: 6 servings
Cornbread Casserole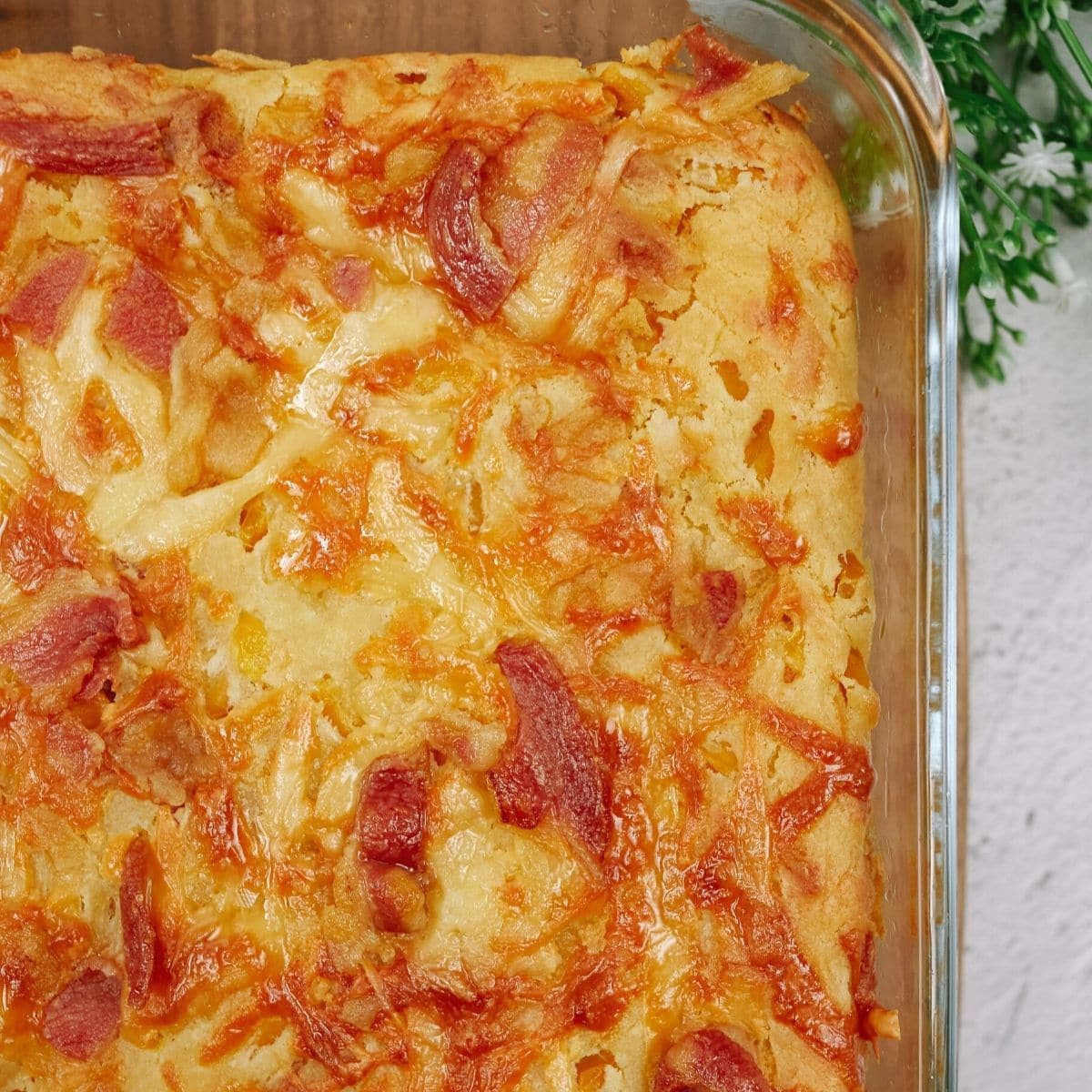 Cornbread casserole is an easy weeknight dish that's perfect for the family. The mixture of cornbread, corn, bacon, and cheese is delicious.
Ingredients
1 cup yellow cornmeal
1 cup all-purpose flour
1 tablespoon baking powder
1 can corn
1 cup buttermilk
1 cup sour cream
1⁄2 cup vegetable oil
7 ounces bacon, chopped and cooked
1 1⁄2 cup cheese
1 teaspoon salt
Instructions
Preheat the oven to 350F.
Whisk the cornmeal with all-purpose flour, baking powder, and salt.
Mix in all of the liquids: buttermilk, oil, and sour cream.
Mix the batter with a spoon until combined, then add corn and 3⁄4 of the bacon, 1 cup of cheese, and stir.
Spread cornbread mixture in a baking pan and top with leftover cheese and bacon.
Bake for 40 minutes.


Nutrition Information:
Yield:
6
Serving Size:
1
Amount Per Serving:
Calories:

708
Total Fat:

49g
Saturated Fat:

15g
Trans Fat:

1g
Unsaturated Fat:

30g
Cholesterol:

87mg
Sodium:

1569mg
Carbohydrates:

43g
Fiber:

3g
Sugar:

6g
Protein:

25g