Baked Ziti Casserole is comforting and cheesy. It's made with penne pasta, ground beef, onions, garlic, tomato sauce, cheeses, and a splash of cream. This dish hits the spot! It's the perfect weeknight meal that the whole family will love. You'll definitely want to add this one to your "most loved" meals list!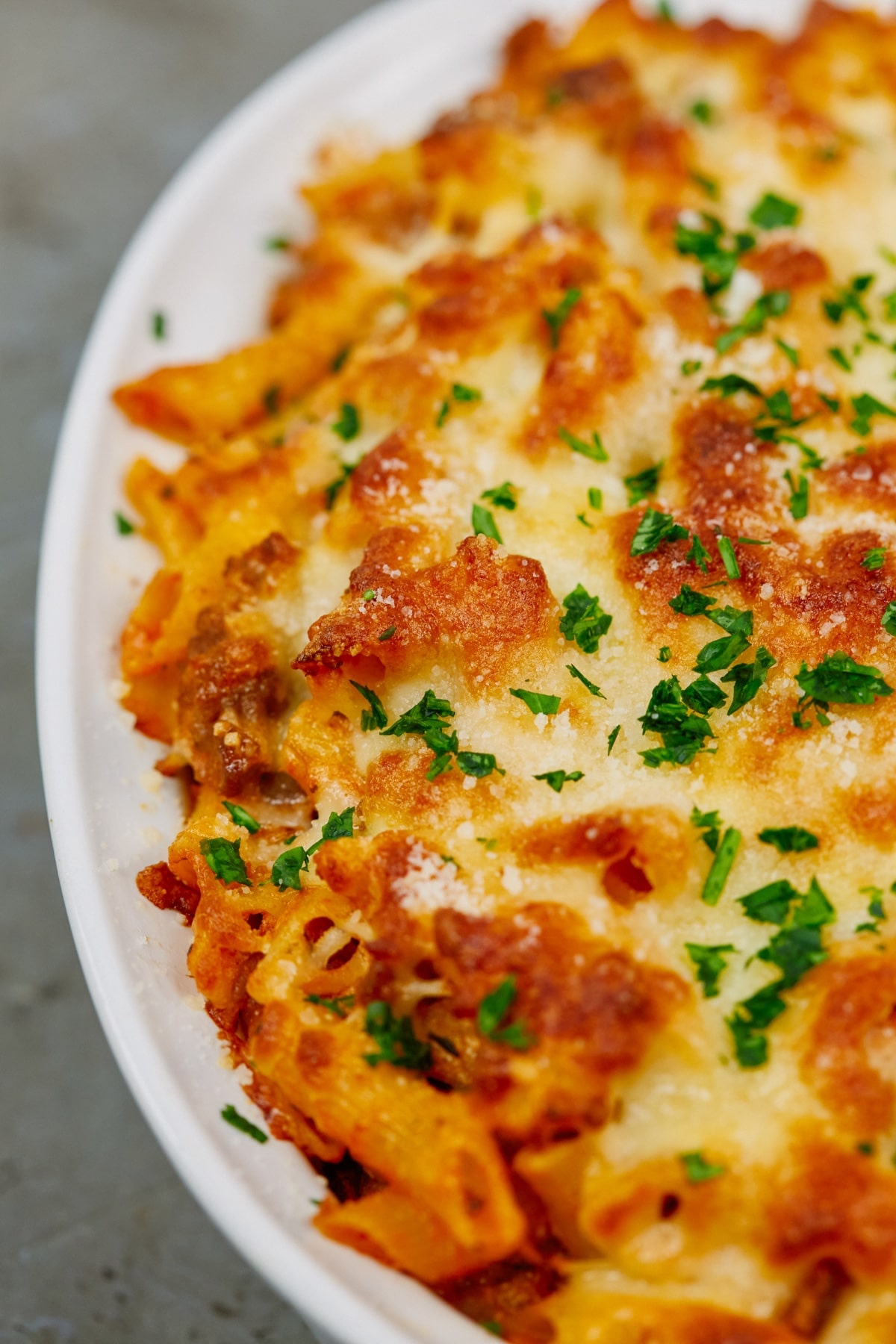 Jump to:
What is Baked Ziti Casserole?
This baked ziti casserole recipe is a classic Italian American dish that has become a family favorite over the years. The smells of onions, beef, Italian herbs, tomato sauce, and cheese baking in the oven will make your mouth water. That first big cheesy piece pulled from the baking dish is truly an experience. If you aren't already in love with baked ziti, you will be after taking that first hot bite!
Ingredients:
14 ounces cooked penne pasta: Penne pasta is perfect for this dish because it's small and easy to eat in a single bite.
1 pound ground beef: The flavors of beef and onions are the base of this dish.
1 medium white onion: White onions are considered cooking onions, but you can also use a red or yellow onion. They will all taste slightly different.
2 garlic cloves: This is about 2 tablespoons worth of minced garlic.
1 teaspoon dried Italian herbs: You can buy a bottle of mixed herbs or you can use dried oregano, thyme, and basil to make your own.
4 cups tomato sauce: You can use canned tomato sauce here.
10 ounces ricotta: Ricotta cheese helps make this dish creamy.
2 cups mozzarella: Mozzarella cheese is very melty.
1⁄2 cup chicken stock: Some chicken stock helps make this dish moist.
1⁄2 cup cream: Heavy cream makes this dish creamy as well.
Shredded parmesan for topping: A little more cheese on top of the casserole will make it golden brown in the oven.
Video Recipe
How to make baked ziti casserole :
Here's a brief overview of how to make this dish. See the recipe card below for the specific recipe instructions.
1. Preheat the oven.
2. Saute chopped onions in some olive oil until translucent (2-3 minutes).
3. Add ground beef to the pan.
4. Break it up with a spatula.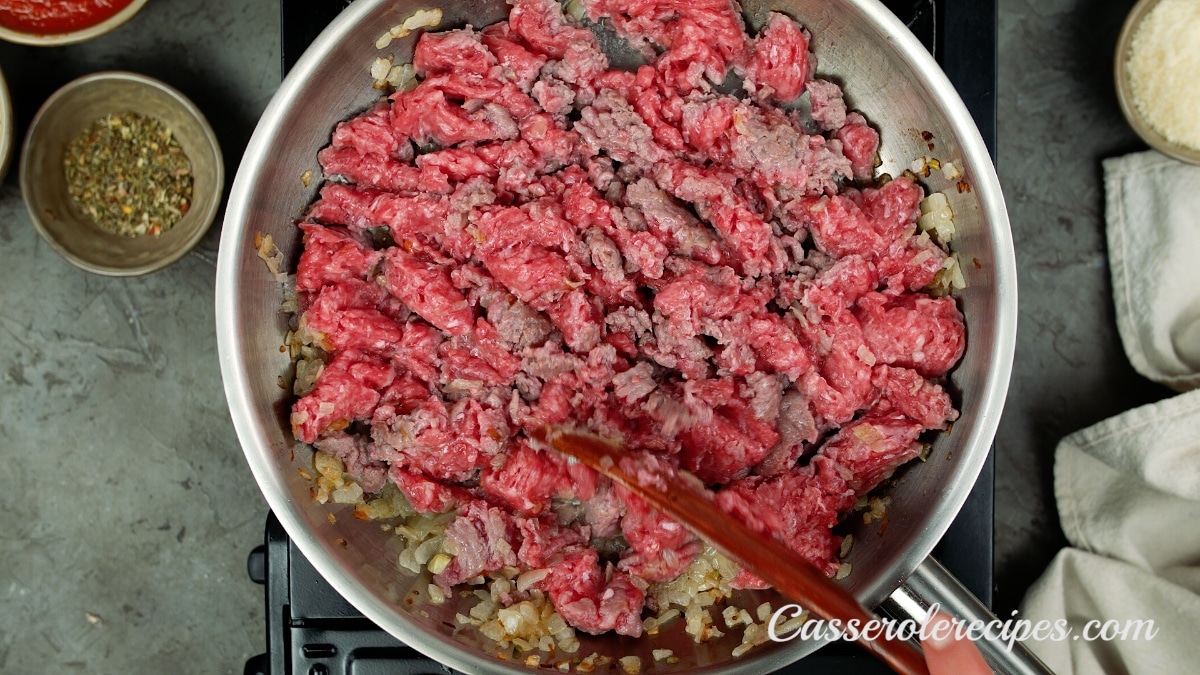 5. Season with salt, pepper, garlic, and Italian herbs.
6. Combine cooked meat with tomato sauce and chicken stock.
7. Add ricotta cheese and cream, stir to combine.
8. Mix meat sauce into the pasta.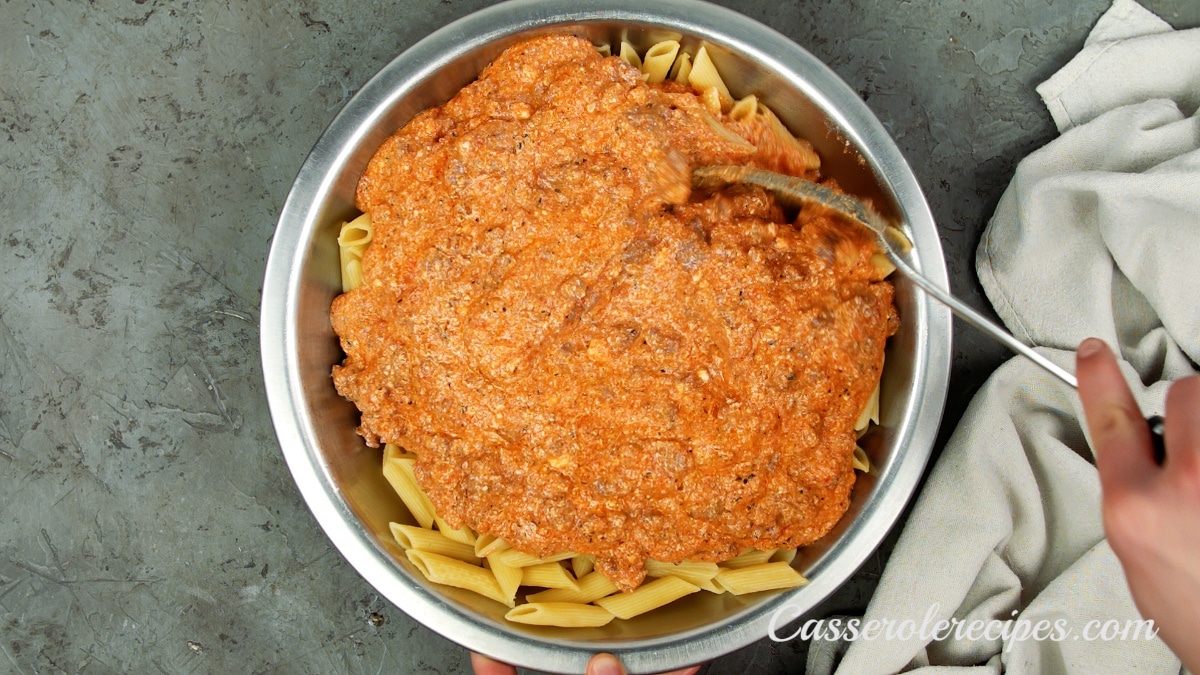 9. Transfer half of the mixture into the baking dish.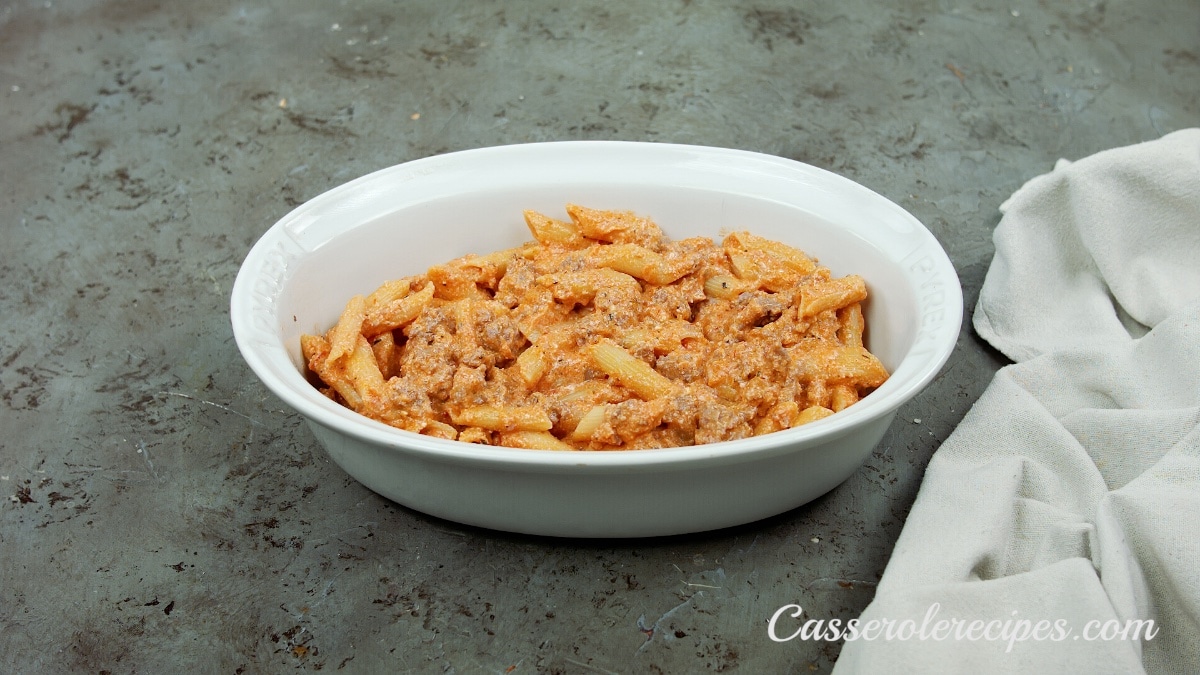 10. Top with half of the mozzarella.
11. Add more pasta and cheese on top. Sprinkle with more parmesan cheese.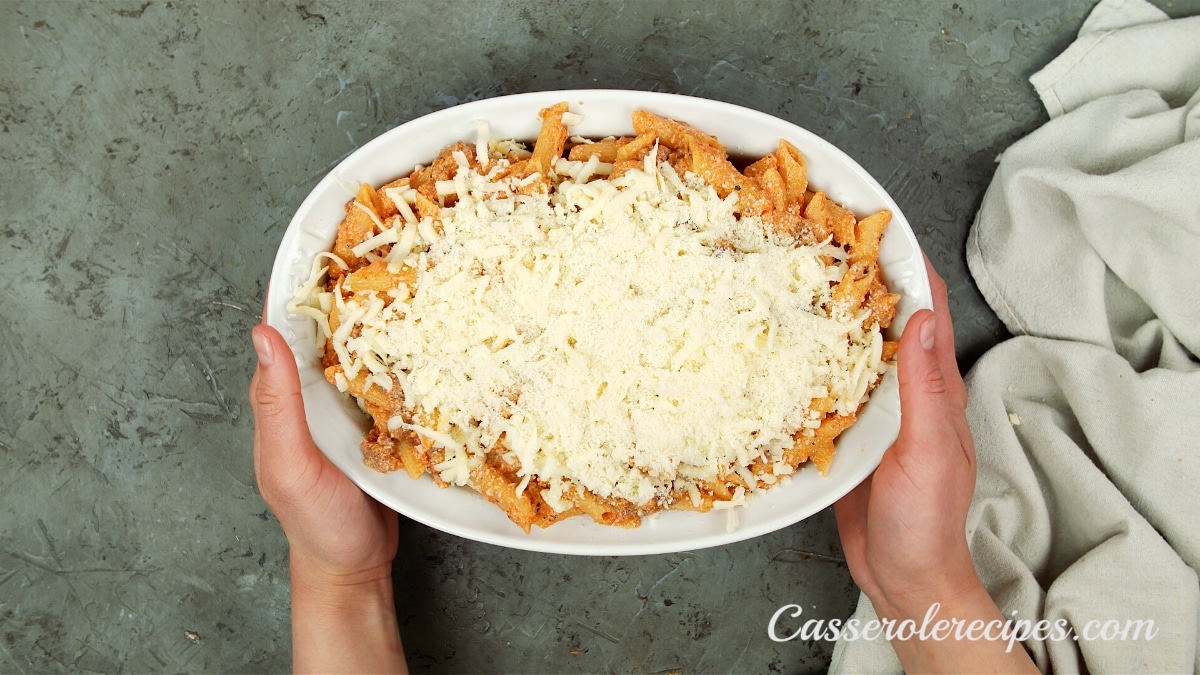 8. Bake.
Tips for success:
Here are a few tips for success and variations you can try to make this the best baked ziti casserole you've ever had.
If you are on a no-dairy diet, you can make this casserole without ricotta, and use dairy-free cheese.
To make this dish vegan, replace the cheese with dairy-free cheese, the chicken stock with vegetable stock, and leave out the cream.
This is a great dish to make ahead of time so you can pull it out of the refrigerator and cook it when you're ready to eat.
Double the recipe to make a party size so you can take it to your next holiday party.
What other meats can I use in baked ziti?
Try using different meats in your casserole. Here are some ideas: shredded or ground chicken, Italian sausage, pork, turkey sausage, or ham. This dish is tasty with meat, so why not try mixing it up and trying something other than ground beef?? It's fun to try new things.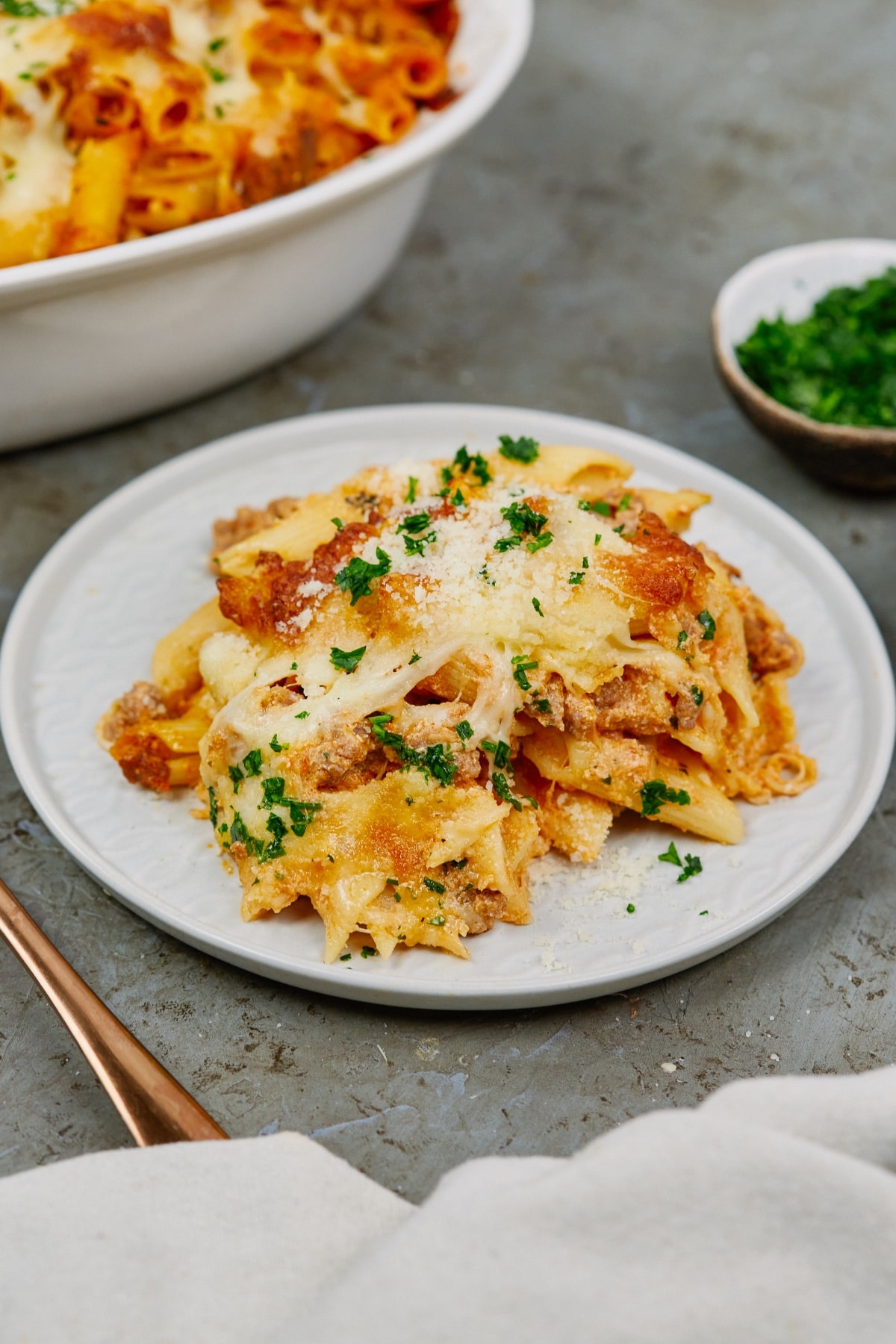 Can I add other vegetables?
You can definitely add other vegetables to ziti casserole. Some tasty options are eggplant, broccoli, mushrooms, asparagus, or green beans. Adding these will make this dish even more filling and flavorful!
How can I make this casserole in a crockpot?
To make this casserole in a slow cooker, you will need to follow the instructions through number five. Spray the bowl of the crockpot with oil or line it with a cooking bag then pour the casserole mixture into the bowl. Place the lid on, set it to high, and cook for three to four hours.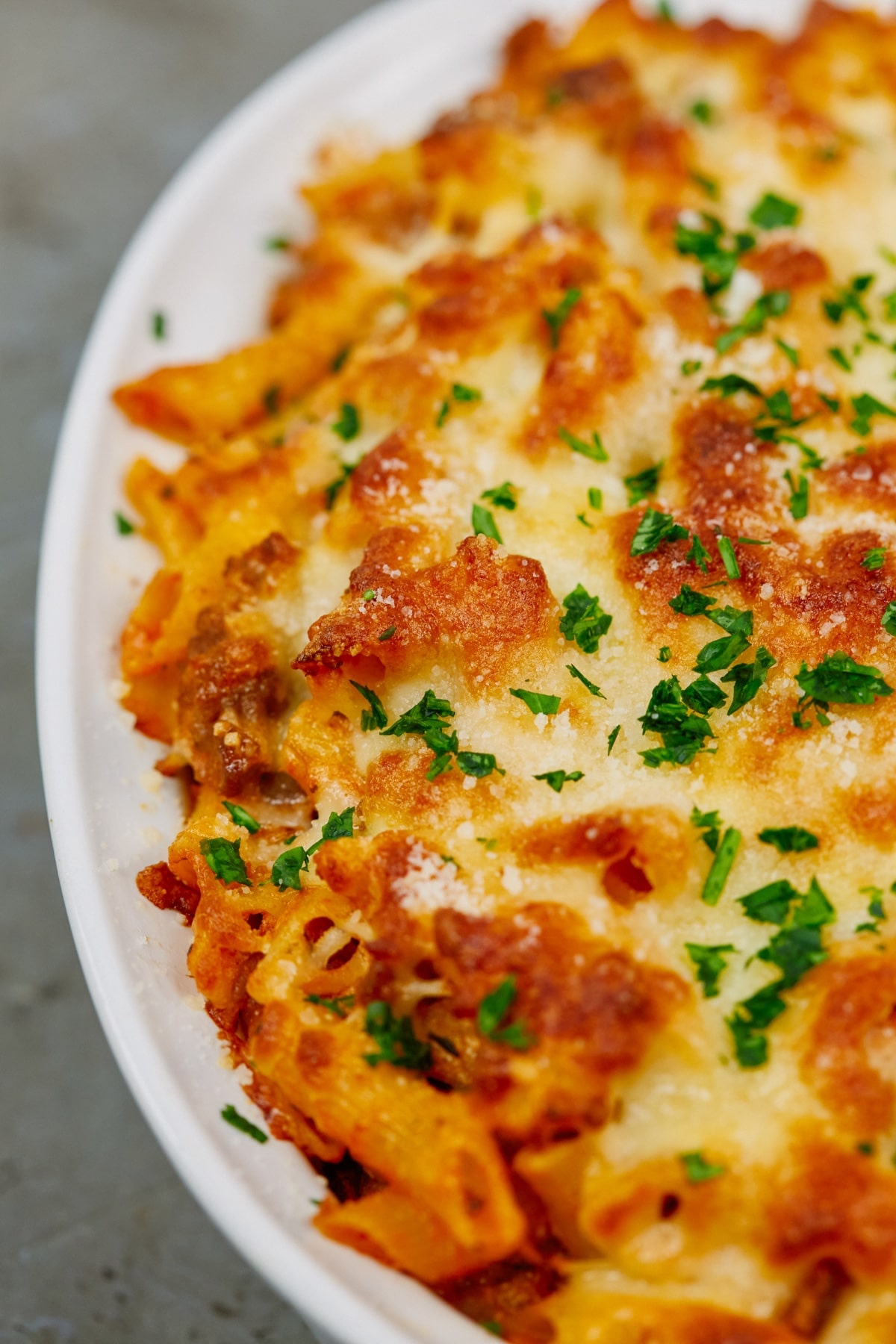 How to store:
Store any leftover casserole in an airtight container in the refrigerator for up to five days. Reheat it in the microwave with 30-second increments until it's hot all the way through.
To freeze the entire casserole, wrap it in aluminum foil and then plastic wrap. Label it with what it is, how to cook, and the date. This will help you remember later. Remember that if you cook it from frozen, without thawing first, it will take longer to cook in the oven. Keep the foil on until the last 30 minutes of cooking so the top can brown.
FAQs
Can I make baked ziti casserole vegetarian?
To make a meatless casserole, all you need to do is leave out the ground beef. Easy peasy!
Can I make this dish more creamy?
This dish is already pretty creamy, but you can always add four ounces of cream cheese to really amp up the creamy factor.
What can I serve with baked ziti?
Try serving chicken parmesan, crunchy salad, chicken alfredo, or roasted vegetables with your baked ziti casserole.
Yield: 6 servings
Baked Ziti Casserole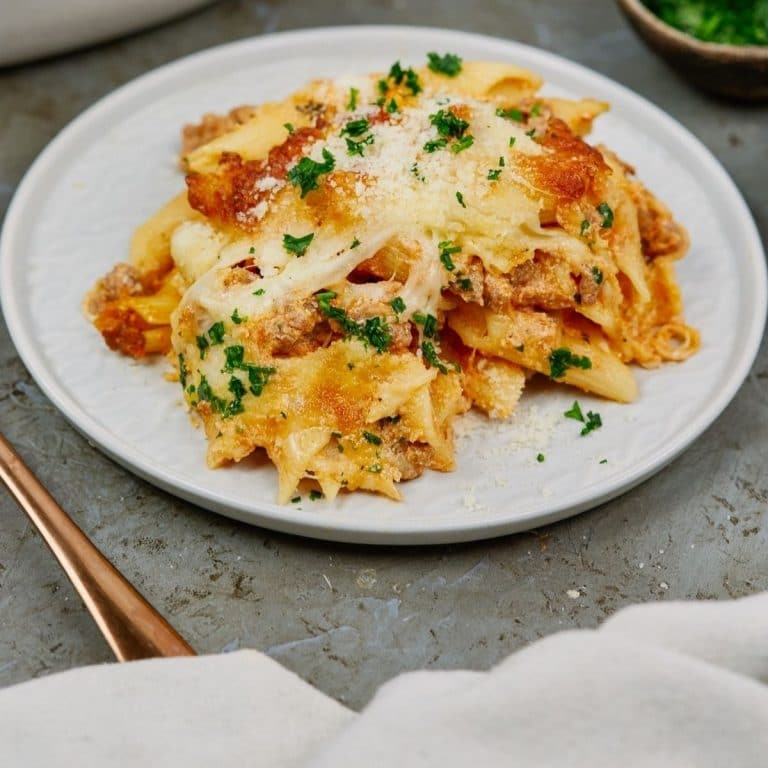 Baked Ziti Casserole is comforting and cheesy. It's made with penne pasta, ground beef, onions, garlic, tomato sauce, cheeses, and cream.
Ingredients
14 ounces cooked penne pasta
1 pound ground beef
1 medium white onion, chopped
2 garlic cloves, minced
1 teaspoon dried Italian herbs
4 cups tomato sauce
10 ounces ricotta
2 cups mozzarella, shredded
1⁄2 cup chicken stock
1⁄2 cup cream
Shredded parmesan for topping
Instructions
Preheat the oven to 350F.
Saute chopped onions in 2 tablespoons olive oil until translucent (2-3 minutes).
Add ground beef and break it with a spatula and season with salt, pepper, garlic, and Italian herbs.
Combine cooked meat with tomato sauce and chicken stock. Cook for 7 minutes.
Add ricotta cheese and cream, stir to combine.
Mix meat sauce into the pasta and transfer half of the mixture into the baking dish.
Top with half of the mozzarella, leftover pasta, and cheese on top.
Bake at 350F for 20 minutes
Nutrition Information:
Yield:
6
Serving Size:
1
Amount Per Serving:
Calories:

588
Total Fat:

31g
Saturated Fat:

16g
Trans Fat:

1g
Unsaturated Fat:

12g
Cholesterol:

124mg
Sodium:

1135mg
Carbohydrates:

37g
Fiber:

4g
Sugar:

9g
Protein:

40g